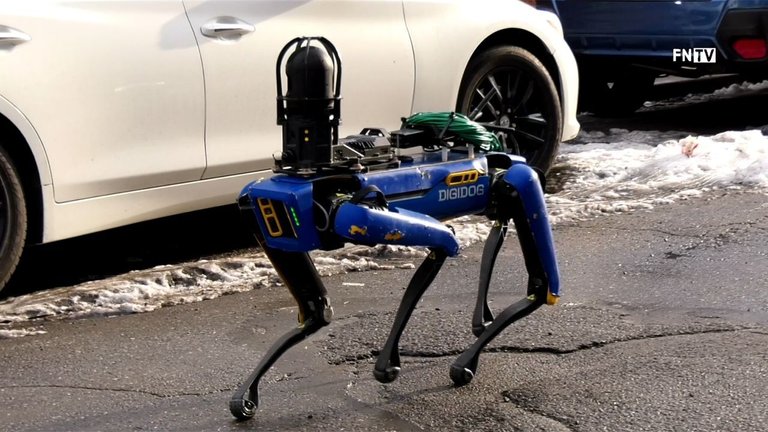 Source
Surely you have all seen or heard about Spot, a robot with a shape that vaguely resembles that of a pooch or some other quadruped, manufactured by Boston Dynamics to be used in industrial environments, rescues, emergencies and, in general, actions in hostile environments. and potentially dangerous.
Seguro que ya todos habéis viso u oido hablar de Spot, un robot con una forma que recuerda vagamente a la de chucho o algún otro cuadrúpedo, fabricado por Boston Dynamics para ser usado en entornos industriales, rescates, emergencias y en general actuaciones en entornos hostiles y potencialmente peligrosos.
Last year the NYPD contracted with Boston Dynamics the services of a version of Spot dubbed Digidog with the honorable aim of protecting people and agents from the dangers of the city, Digidog went into action half a dozen times acting mostly as a robotic surveillance camera.
El año pasado la policía de Nueva York contrató con Boston Dynamics los servicios de una versión de Spot apodada Digidog con el honroso fin de proteger a las personas y a los agentes de los peligros de la ciudad, Digidog entró en acción media docena de veces actuando mayormente como cámara de vigilancia robótica.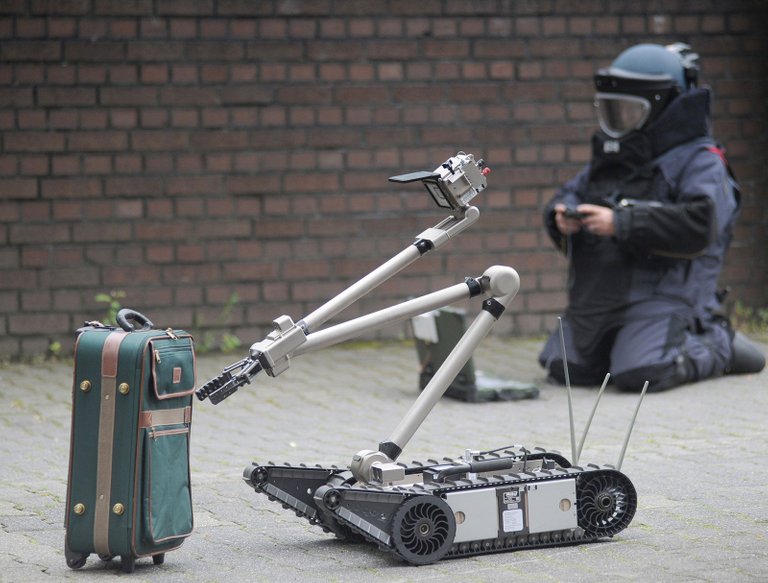 Source
This is really nothing new since the NYPD has been using more or less robotic gadgets for actions that carry special danger since the 1970s, but it seems that the new Boston Dynamics doggy robot looks much more disturbing than the toasters on wheels used so far.
Realmente esto no es nada nuevo pues la policía de Nueva York viene utilizando artilugios más o menos robotizados para las acciones que conllevan un peligro especial pero, pero parece que el nuevo robot perruno de Boston Dynamics tiene un aspecto mucho más inquietante que las tostadoras con ruedas utilizadas hasta ahora.
For many citizens the robot seemed to them, not only a waste of money but also as an overly aggressive tactic at a time of special tension between citizens and the forces of order, even a New York councilor proposed the creation of a law that would prohibit to the police the use of armed robots.
Para muchos ciudadanos el robot les parecía, no solo un despilfarro de dinero sino también como una táctica demasiado agresiva en un momento de especial crispación entre los ciudadanos y las fuerzas del orden, incluso un concejal de Nueva York propuso la creación de una ley que prohibiera a la policía el uso de robots armados.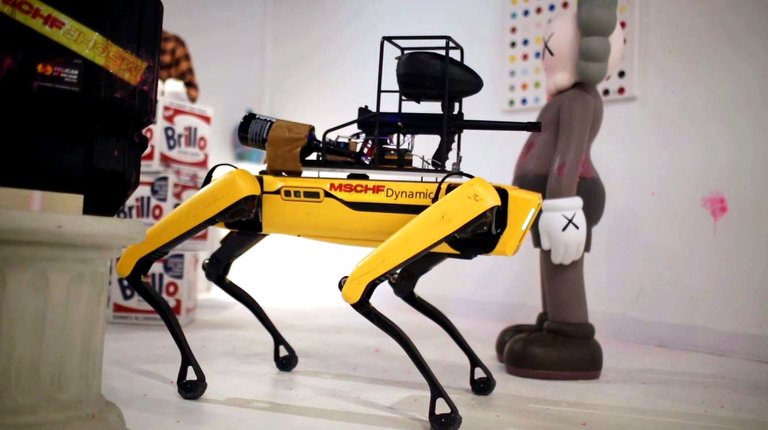 Source
It is true that the main idea of Boston Dynamics for these robots is the use in industrial environments and the use of these robots as weapons would violate even the terms of business of the company, but the law enforcement bodies and military forces are becoming more and more interested in them to use it as weapons and we all know how this could end.
Es cierto que la idea principal de Boston Dynamics para estos robots es el uso en entornos industriales y el uso de estos robots como armas violaría incluso los términos de negocio de la empresa pero, los cuerpos del orden y fuerzas militares cada vez se fijan más en ellos para usarlos como armas y todos sabemos como podría acabar todo esto.
Although I have always been averse to considering apocalyptic and conspiracy scenarios, we have to admit that these robodogs are quite intimidating, even carrying a tray with pizza and, taking into account the density of bastards and idiots per square inch that populate the so-called civilized world, I'm afraid worst.
Aunque yo siempre he sido contrario a plantearme escenarios apocalípticos y conspiranoicos tenemos que reconocer que estos roboperros intimidan bastante, incluso llevando una bandeja con pizza y, teniendo en cuenta la densidad de malnacidos e imbéciles por pulgada cuadrada que pueblan el llamado mundo civilizado, me temo lo peor.
More information/Más información
https://www.theverge.com/2021/4/29/22409559/nypd-robot-dog-digidog-boston-dynamics-contract-terminated
https://hipertextual.com/2021/04/boston-dynamics-perro-robot-nypd