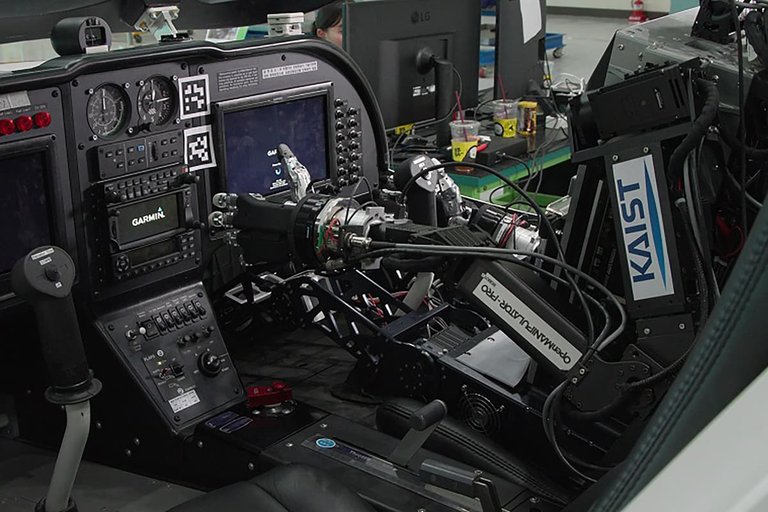 Source
Lately it seems that all the big technology companies have taken to creating humanoid robots that, in theory, will free us humans from the most unpleasant and repetitive tasks both in the industrial world and in domestic tasks, even now they have developed a robot humanoid capable of piloting a conventional aircraft.
Últimamente parece que a todas las grandes compañías tecnológicas les ha dado por crear robots humanoides que, en teoría, nos librarán a los humanos de las tareas más desagradables y repetitivas tanto en el mundo industrial como en las tareas domésticas, incluso ahora han desarrollado un robot humanoide capaz de pilotar un avión convencional.
This is PIBOT, a humanoid robot developed by a research team from the Korea Advanced Institute of Science and Technology (KAIST), capable of understanding aircraft flight manuals written in human language and not only understands the manuals but also it can fly the plane autonomously.
Se trata de PIBOT, un robot humanoide desarrollado por un equipo de investigación del Instituto Avanzado de Ciencia y Tecnología de Corea (KAIST), capaz de entender los manuales de vuelo de los aviones escritos en lenguaje humano y no solo entiende los manuales sino que además puede pilotar el avión de forma autónoma.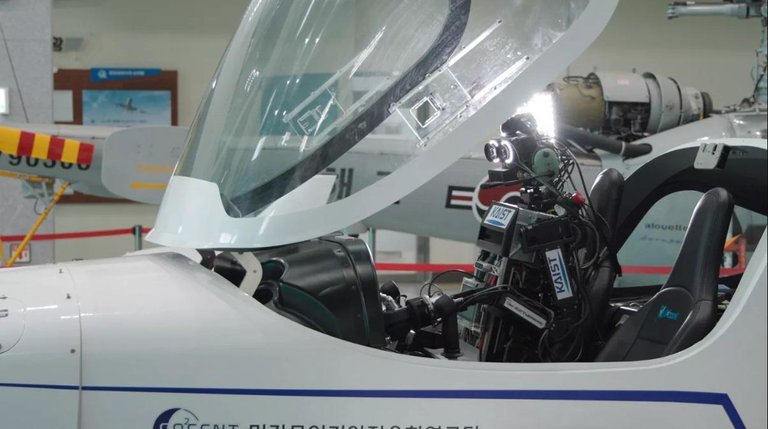 Source
PIBOT is not only capable of flying in cruise mode, but it can perform all the maneuvers, starting the plane, taxiing, taking off and landing perfectly using a flight simulator, in addition these maneuvers can be performed in any conventional aircraft cabin without having to to do any reform.
PIBOT no solo es capaz de volar en modo crucero sino que puede realizar todas las maniobras, arrancar el avión, rodaje, despegue y aterrizaje a la perfección utilizando un simulador de vuelo, además estas maniobras las podrá realizar en cualquier cabina de avión convencional sin tener que hacerle ninguna reforma.
Instead of having the movements programmed, PIBOT is able to analyze the state of the cabin and the exterior of the aircraft through a camera, it can precisely operate all the switches in the cabin through high-precision control technology that controls its arms and hands, even in the event of turbulence.
En lugar de tener los movimientos programados PIBOT es capaz de analizar el estado de la cabina y del exterior del avión mediante una cámara, puede manejar con precisión todos los interruptores de la cabina mediante una tecnología de control de alta precisión que controla sus brazos y manos incluso en caso de haber turbulencias.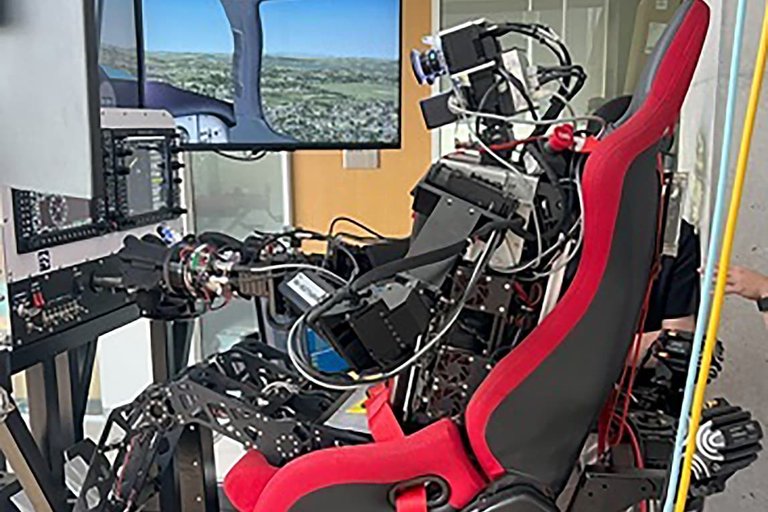 Source
According to its creators, this is only the first stage, as they believe that these robots can be easily adapted to all types of vehicles, from cars and trucks to industrial or military vehicles, without having to make major changes in the design of neither vehicles nor robots.
Según sus creadores esta es tan solo la primera etapa, pues creen que estos robots se podrán adaptar fácilmente a todo a todo tipo de vehículos, desde coches y camiones hasta vehículos industriales o militares, sin tener que hacer grandes cambios ni en el diseño de estos vehículos ni en el diseño del robot
The idea is that PIBOT will be available by next year 2026, so they are already looking for commercial strategies for its distribution in both the civil and military spheres.
The idea seems a bit silly if we think that autonomous vehicles will be able, in the more or less near future, to do the same without the need for the robot, but I suppose they have done their math.
La idea es que PIBOT esté disponible para el próximo año 2026 por lo que ya están buscando estrategias comerciales para su distribución tanto en el ámbito civil como militar.
La idea parece un poco tonta si pensamos que los vehículos autónomos podrán, en un futuro más o menos cercano, hacer lo mismo sin necesidad del robot, pero supongo que habrán hecho sus cálculos.
More information/Más información
https://newatlas.com/robotics/pibot-worlds-first-humanoid-robot-pilot/
https://www.dw.com/es/un-equipo-de-investigadores-desarrolla-el-primer-piloto-humanoide-del-mundo/a-66593020