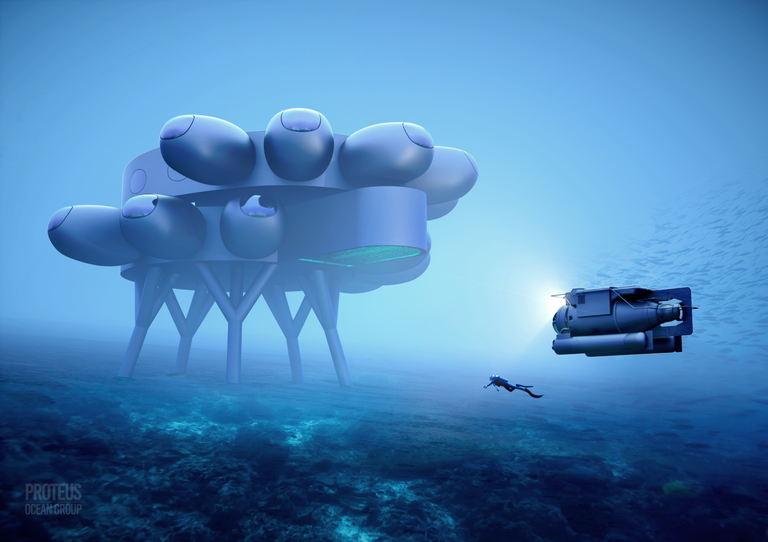 Source
It is at least curious that human beings have visited stellar objects billions of kilometers away and even want to settle in them and yet our ignorance of the ocean floor is almost total, although the investments required for underwater inspection are considerably minors.
Resulta cuando menos curioso que el ser humano haya visitado objetos estelares a miles de millones de kilómetros de distancia e incluso quiera establecerse en ellos y sin embargo nuestro desconocimiento del fondo de los océanos es casi total, aunque las inversiones requeridas para la inspección submarina sean considerablemente menores.
Now Fabien Cousteau, grandson of the famous French oceanographer Jacques Cousteau, together with the Proteus Ocean Group, are planning the construction of a kind of underwater International Space Station to investigate the ocean floor and, of course, be able to examine the impact of climate change on the coral reefs.
Ahora Fabien Cousteau, nieto del famoso oceanógrafo francés Jacques Cousteau, junto con el Proteus Ocean Group están planeando la construcción de una especie de Estación Espacial Internacional submarina para investigar el fondo del océano y poder, como no, examinar el impacto del cambio climático en los arrecifes de coral.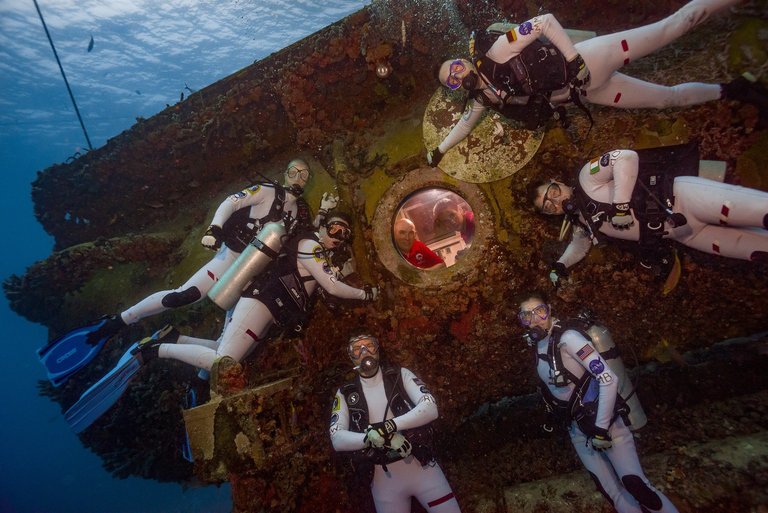 Source
This underwater space station, as Fabien imagines, will not simply be sealed bubbles like in submarines but will have a kitchen, work and bedroom spaces as well as windows to be able to contemplate the fauna and flora of the seabed, all with the money of the suffering taxpayers.
Esta estación espacial submarina, según la imagina Fabien, no serán simplemente burbujas selladas como en los submarinos sino que contará con cocina, espacios de trabajo y dormitorio además de ventanas para poder contemplar la fauna y flora de los fondos marinos, todo ello con el dinero de los sufridos contribuyentes.
Of course, it will also have state-of-the-art laboratories, a marine observatory and an underwater garden where they can grow its food, with an entire video studio to live stream its educational activity in the purest style of the novelist Jules Verne and his "Twenty Thousand Leagues under the seas".
Por supuesto también contará con laboratorios de última generación, un observatorio marino y un jardín submarino donde cultivar sus alimentos, con todo un estudio de vídeo para transmitir en directo su actividad educativa al más puro estilo del novelista Julio Verne y sus "Veinte mil leguas de viaje submarino".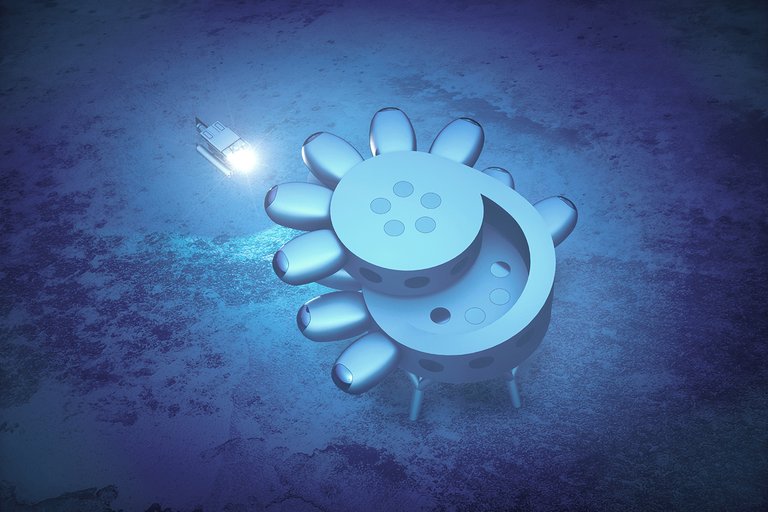 Source
The first of these facilities will be built on the island of Curaçao, an island north of Venezuela and will be able to house eight crew members and occasionally up to twelve people with an occasional tourist, it appears that the team is looking for other locations in both Europe and the United States for future installations.
La primera de estas instalaciones se construirá en la isla de Curaçao, una isla al norte de Venezuela y podrá albergar ocho tripulantes y puntualmente hasta doce personas contando con algún turista ocasional, según parece es equipo está buscando otras ubicaciones tanto en Europa como en Estados Unidos para futuras instalaciones.
If everything goes as planned, the first of these underwater stations will come into operation next year 2026 and a land monitoring station will be built in parallel.
Without a doubt a great tribute from his grandson to the great Jacques Cousteau who made us so amazed in our pre-adolescence with his programs.
Si todo sale según lo previsto, la primera de estas estaciones submarinas entrará en funcionamiento el próximo año 2026 y se construirá en paralelo una estación de seguimiento terrestre.
Sin duda un gran homenaje de su nieto al gran Jacques Cousteau que tanto nos hizo alucinar en nuestra pre-adolescencia con sus programas.
More information/Más información
https://news.northeastern.edu/2022/09/12/underwater-laboratory/