Source
Although this is nothing new because it has been several years since it has been possible to produce meat from various animals such as cow, pork, lamb or chicken in the form of a hamburger in a laboratory petri dish with an increasingly affordable cost but these hamburgers had never been removed from the lab.
Aunque esto no es nada nuevo pues ya hace varios años que se consigue producir carne de varios animales como vaca, cerdo, cordero o pollo en forma de hamburguesa en una placa de petri de laboratorio con un coste cada vez más asumible pero nunca se habían sacado estas hamburguesas del laboratorio.
The news is that, to the delight of vegans and animalists, during last December the health authorities of Singapore gave the green light to the consumption of chicken meat grown "in vitro", becoming the first country in the world to launch meat made in cell cultures.
La noticia es que, para alegría de veganos y animalistas, durante el pasado mes de diciembre las autoridades sanitarias de Singapur dieron luz verde al consumo de carne de pollo cultivada "in vitro", convirtiéndose en el primer país del mundo en lanzar al mercado carne fabricada en cultivos celulares.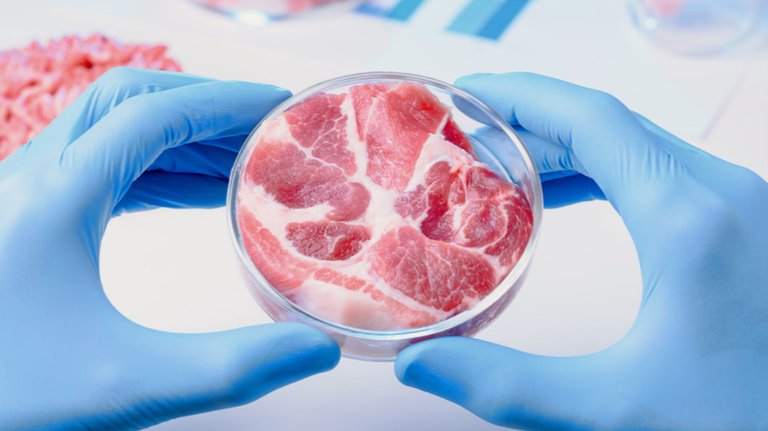 Source
For its preparation, stem cells are taken from donor animals or from the cultured cell reserves, which are then replicated in culture media in which the amino acids, lipids, carbohydrates and other ingredients necessary for these cells to proliferate are found, until they form a piece of edible meat.
Para su elaboración se cogen células madre de animales donantes o de las reservas de células cultivadas, que luego se replican en medios de cultivo en los que se encuentran los aminoácidos, lípidos, glúcidos y demás ingredientes necesarios para que estas células proliferen hasta formar un trozo de carne comestible.
Eat Just, which is what the company is called, is not the only one dedicated to this as there are some 80 companies dedicated to the manufacture of synthetic meat and seafood in its different stages, either manufacturing culture media, bioreactors or the creators of computer applications in charge of managing the entire process.
Eat Just, que es como se llama la empresa, no es la única que se dedica a esto pues hay unas 80 empresas dedicadas a la fabricación de carnes y mariscos sintéticos en sus distintas etapas, ya sea fabricando los medios de cultivo, los bio reactores o los creadores de aplicaciones informáticas encargadas de gestionar todo el proceso.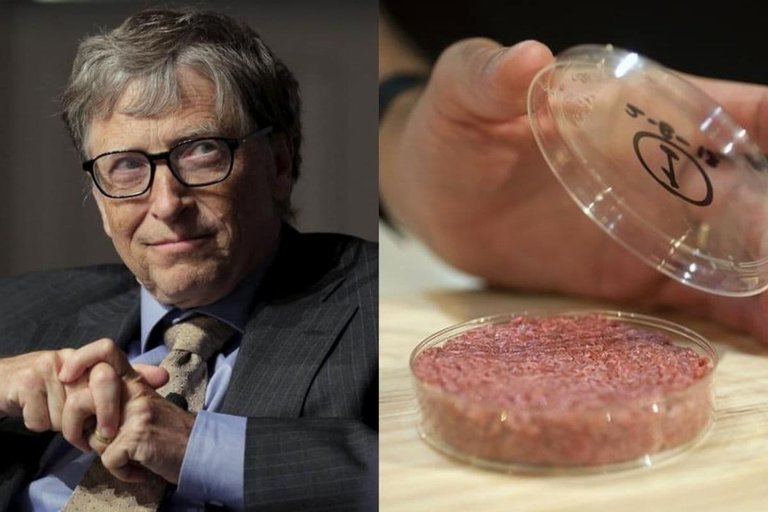 Source
At the moment, the Eat Just company has a 1,000-liter capacity plant in which a few hundred kilos can be manufactured per year, but it plans to expand its capacity to 50,000 liters in order to supply a wider market and obtain some benefit that they estimate that it can be within a period of 3 to 6 years.
De momento en la empresa Eat Just cuentan con una planta de 1.000 litros de capacidad en la que se pueden fabricar unos cientos de kilos año pero plantea ampliar su capacidad a 50.000 litros para poder abastecer a un mercado más amplio y obtener algún beneficio que calculan que pueda ser en un plazo de 3 a 6 años.
The benefits of this technology are many and very evident, only if we think about the amount of water that would be saved because, according to experts, with the water needed to raise a calf, a destroyer would float, not to mention the amount of waste that cattel generates and the extra ration of methane that they contribute to the atmosphere with their flatulence.
Los beneficios de esta tecnología son muchos y muy evidentes, solamente si pensamos en la cantidad de agua que se ahorraría pues, según dicen los expertos, con el agua que se necesita para criar un ternero se pondría a flote un destructor, por no hablar de la cantidad de desechos que el ganado genera y la ración extra de metano que aportan a la atmósfera con sus flatulencias.
More information/Más información
https://www.nature.com/articles/s41587-021-00855-1#:~:text=Slaughter%2Dfree%20meat%20grown%20in,the%20form%20of%20chicken%20nuggets.&text=Singapore%20regulators%20in%20December%20approved,industry%20its%20official%20commercial%20start.
https://www.investigacionyciencia.es/noticias/la-carne-de-pollo-sinttica-llega-a-la-mesa-19928