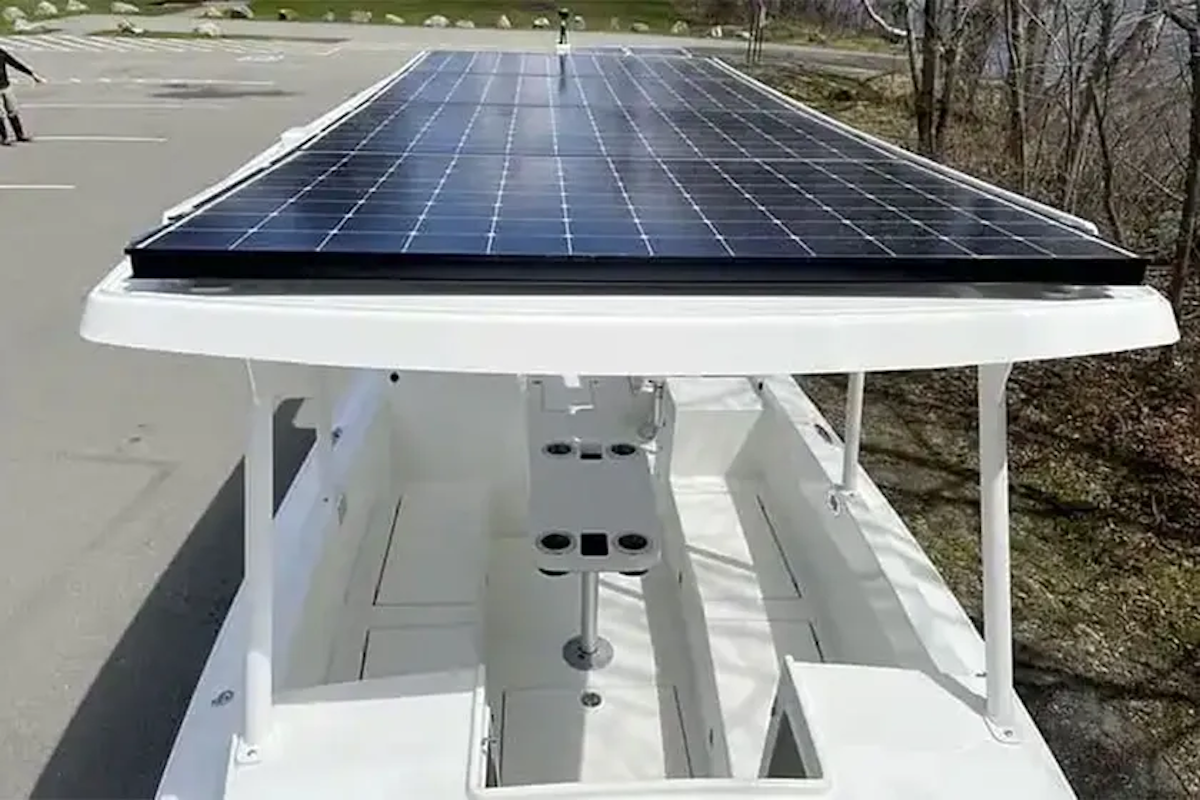 Source
There is no doubt that the energy obtained from our star, in my opinion, is the cleanest and most elegant of all the forms of sustainable energy that have been developed so far, but it is not as efficient as could be expected to solve our greed for energy, especially for the transport of passengers and goods.
No cabe duda de que la energía obtenida de nuestro astro rey, a mi juicio, es la más limpia y elegante de todas las formas de energía sostenible que se han desarrollado hasta ahora, pero no es todo lo eficiente que se podría esperar para solucionar nuestra avidez por la energía, sobre todo para el transporte de pasajeros y mercancías.
But little by little, developments are emerging that make more and better use of this energy, such as the Solar Sal 24, an electric boat with capacity for ten occupants created by the company Belmont Boatworks in Maine, United States, which can navigate with electricity across infinite time as long as the Sun shines.
Pero poco a poco van surgiendo desarrollos que aprovechan más y mejor esta energía, como es el caso del Solar Sal 24, un barco eléctrico con capacidad para diez ocupantes creado por la empresa Belmont Boatworks en Maine, Estados Unidos, que puede navegar con electricidad por tiempo infinito siempre y cuando luzca el Sol.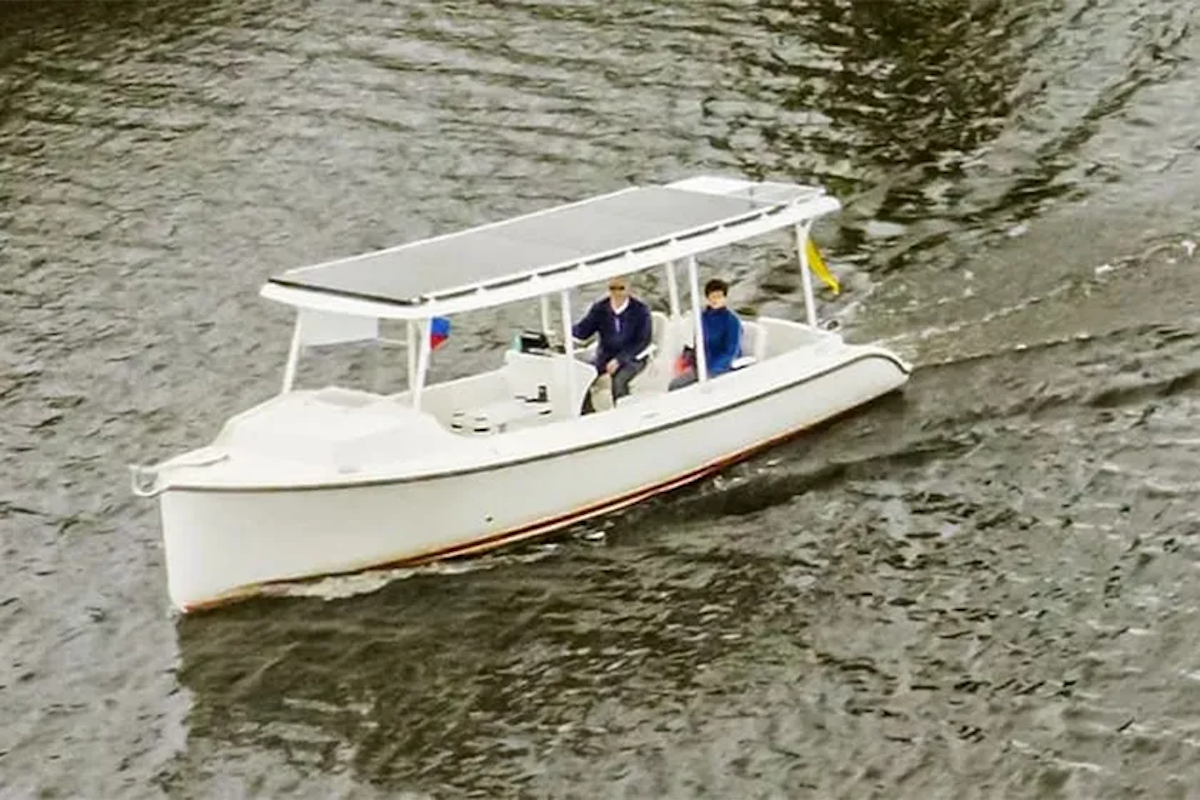 Source
The Solar Sal 24 has an electric motor powered by four solar panels of 7.3 square meters of 360 W each that provide a solar charge of 1,440 W, in addition to a pack of four lithium-ion batteries with a capacity of 14 kWh that allow you to continue sailing on days with many clouds or at night with considerable autonomy.
El Solar Sal 24 lleva un motor eléctrico alimentado por cuatro paneles solares de 7,3 metros cuadrados de 360 W cada uno que aportan una carga solar de 1.440 W, además de un pack de cuatro baterías de iones de litio de 14 kWh de capacidad que le permiten seguir navegando en días con muchas nubes o durante la noche con una autonomía considerable.
If we sail at cruising speed, that is, at 5 knots or 9 km/h, it has a range of 72 km and at its maximum speed, which is 6 knots or 11 km/h), we could sail 39 kilometers and if we are not in a hurry and go at 4 knots the autonomy can reach up to 160 km, but the best thing is that, if the Sun is shining and at cruising speed, you can navigate indefinitely without using the batteries.
Si navegamos a velocidad de crucero, es decir a 5 nudos o 9 km/h, tiene autonomía para 72 km y a su velocidad máxima que son 6 nudos o 11 km/h) podríamos navegar 39 kilómetros y si no tenemos prisa y vamos a 4 nudos la autonomía puede llegar hasta los 160 km, pero lo mejor es que, si luce el Sol y a velocidad de crucero, puede navegar indefinidamente sin usar las baterías.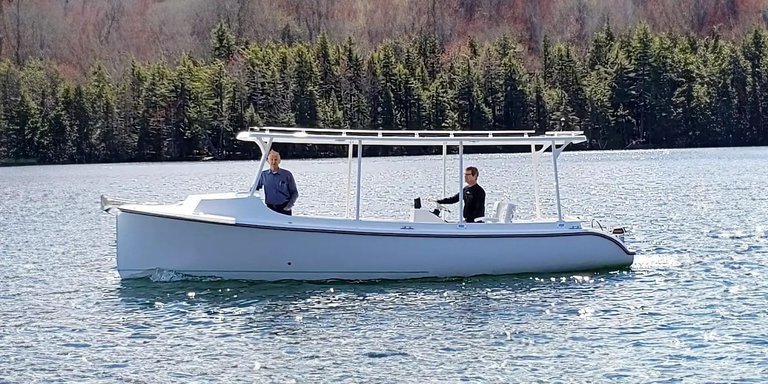 Source
Of course, the boat is fully equipped as standard with all the necessary furniture for both pilots and passengers, USB chargers, bilge pump and anti-slip surfaces on the floor and deck. Optionally, you can also add an enclosure with windows, a marine toilet and other advantages.
Por supuesto el barco está totalmente equipado de serie con todo el mobiliario necesario tanto para pilotos como para pasajeros, cargadores USB, bomba de achique y superficies anti deslizamiento en el suelo y cubierta, opcionalmente también se le pueden poner un cerramiento con ventanas, inodoro marino y otras ventajas.
The only thing that is not so good is its price of almost €130,000, which is not a big deal compared to the prices of electric yachts but this boat is not a luxury yacht either.
In any case, the interesting thing is that research continues on how to increasingly optimize solar cells to get the most out of the Sun.
Lo único que no es tan bueno es su precio de casi 130.000 €, que no es gran cosa comparado con los precios de los yates eléctricos pero esta embarcación tampoco es un yate de lujo.
De cualquier manera lo interesante es que se siga investigando en como optimizar cada vez más las celdas solares para sacar el máximo rendimiento al Sol.
More information/Más información
https://nationworldnews.com/this-10-seater-boat-has-unlimited-electrical-autonomy-as-long-as-the-sun-shines-on-it/
https://forococheselectricos.com/2023/11/barco-10-plazas-autonomia-electrica-infinita-siempre-sol.html