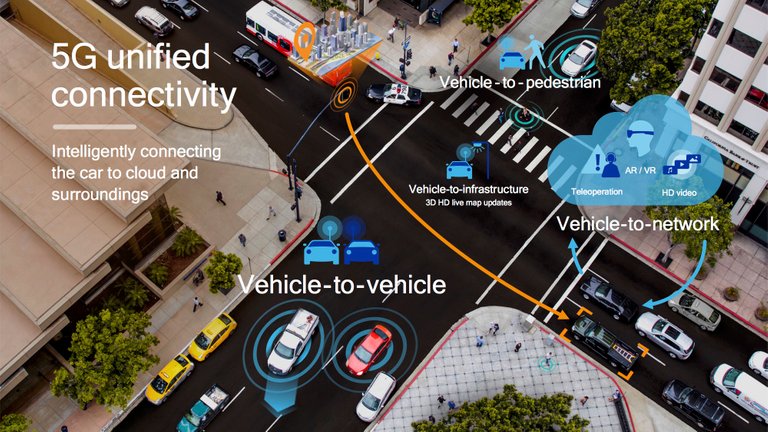 Source
C-V2X is a wireless communication system compatible with 5G and specific for autonomous vehicles, which allows them to communicate with each other and with all the other elements, infrastructures and subjects that surround them in a certain environment, beyond what technology visual reaches.
C-V2X es un sistema de comunicación inalámbrica compatible con 5G y específico para vehículos autónomos, que permite a éstos comunicarse entre sí y con todos los demás elementos, infraestructuras y sujetos que lo rodean en un determinado entorno, más allá de lo que la tecnología visual alcanza.
No matter how much lidar and radar technology advances in autonomous vehicles, there will always be cases in which they will not be able to detect obstacles, especially when they are in motion and make their own decisions as pedestrians or cyclists who may appear suddenly on the scene.
Por mucho que avance la tecnología del lídar y radar en los vehículos autónomos siempre habrá casos en los que no podrán detectar los obstáculos, sobre todo cuando estos están en movimiento y toman sus propias decisiones como peatones o ciclistas que pueden aparecer súbitamente en escena.
The C-V2X technology is developed to make up for all these shortcomings, C-V2X defines a group of technologies that put autonomous vehicles in communication with their entire environment, whether they are other vehicles, street furniture or pedestrians.
Para suplir todas estas carencias se desarrolla la tecnología C-V2X que define un grupo de tecnologías que ponen en comunicación a los vehículos autónomos con todo su entorno, ya sean otros vehículos, mobiliario urbano o peatones.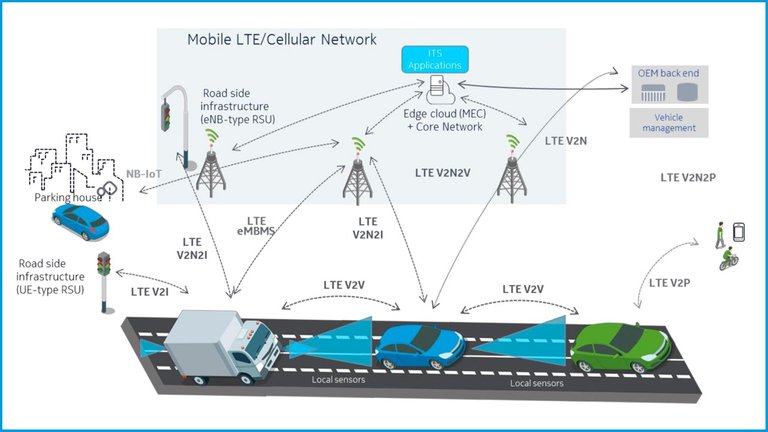 Source
These technologies are:
V2V --- Vehicle to Vehicle, allows the exchange of information between autonomous vehicles.

V2I --- Vehicle to Infrastructures, communicates the autonomous vehicle with the static elements of the environment such as traffic lights, priority signs and urban furniture.

V2P --- Vehicle to Pedestrian, which allows the interaction of autonomous vehicles with mobile devices and wearables of pedestrians who circulate in the environment.

V2N --- Vehicle to Network, to complete the circle, all this information can be sent to the cloud for complex decisions and autonomous vehicles can receive instructions from the cloud.
Estas tecnologías son:
V2V --- Vehículo a Vehículo, permite el intercambio de información entre vehículos autónomos.
V2I --- Vehículo a Infraestructuras, comunica al vehículo autónomo con los elementos estáticos del entorno como semáforos, señales de prioridad y mobiliario urbano.
V2P --- Vehículo a peatón, que permite la interacción de los vehículos autónomos con los dispositivos móviles y wearables de los peatones que circulen por el entorno.
V2N --- Vehículo a la nube, para completar el círculo, toda esta información podrá ser enviada a la nube para decisiones complejas y los vehículos autónomos podrán recibir instrucciones desde la nube.
The wireless communication technology used by this system has twice the range and is much faster, more reliable and works better when there are obstacles, than the one used in the WiFi technology that we usually handle.
La tecnología de comunicación inalámbrica que utiliza este sistema, tiene el doble de alcance y es mucho más rápida, fiable y funciona mejor cuando hay obstáculos que la que se utiliza en la tecnología WiFi que manejamos habitualmente.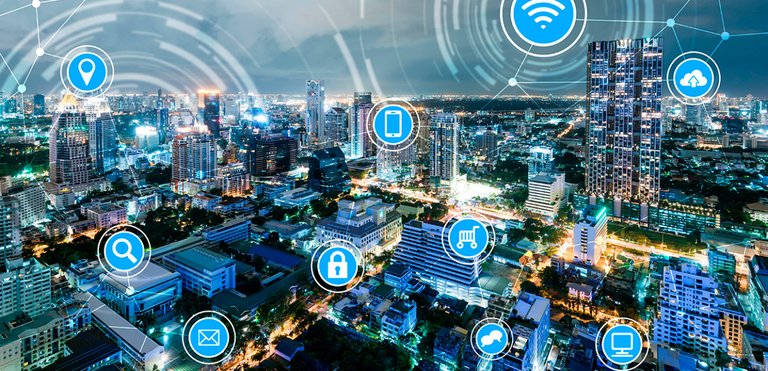 Source
In summary, before the autonomous vehicle reaches the corner of your street, it already knows that you are going to work and that you are looking at WhatsApp instead of looking where you step, it also knows that, at the speed you are going, it will cross you at a certain zebra crossing and will have to stop because you will continue to watch the WhatsApp.
En resumen, antes que el vehículo autónomo llegue a la esquina de tu calle ya sabe que vas a por el pan y que vas mirando al whatsapp en lugar de mirar por donde pisas, además sabe que, a la velocidad que vas, se cruzará contigo en determinado paso de cebra y tendrá que parar porque tú seguirás mirando el whatsapp.
This technology has already been in development for several years and we should start to see it in operation sooner rather than later, which is good for me because I'm already around the third youth.
Esta tecnología ya lleva varios años desarrollándose y deberíamos empezar a verla en funcionamiento más pronto que tarde, la cuenta para mí que ya voy rondando la tercera juventud.
More information/Más información
https://www.hibridosyelectricos.com/articulo/tecnologia/qualcomm-c-v2x-tecnologia-permitira-coches-hablen-todo/20180615154243019939.html
https://arstechnica.com/cars/2017/09/qualcomm-covers-all-the-bases-with-a-cellular-vehicle-to-everything-chipset/