This is my entry for the Secrets of Organ Playing Contest, Week 79. I play a choral prelude by Gottfried Kirchhoff, "Was mein Gott will, das g'scheh allzeit".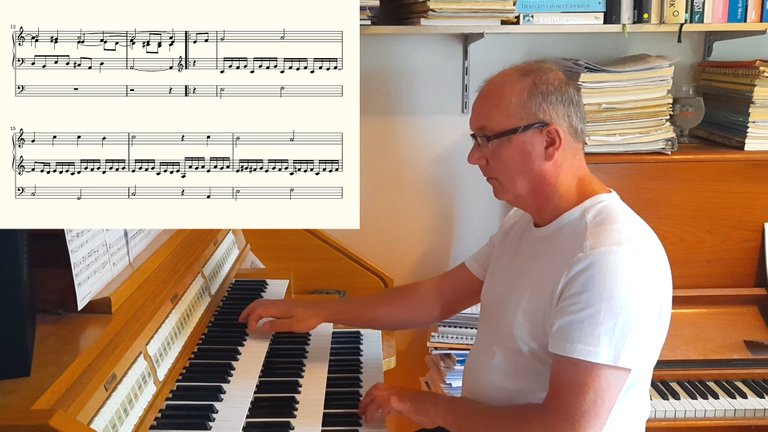 Two days ago the new power supply for my computer arrived. It was a bit of a hassle to plug it in, mainly because there turned out to be some differences in how it is supposed to be connected to the motherboard and the CPU, compared to the old power supply. The first time I tried I connected it in the same way as the old power supply. You can imagine my dismay when the computer would not start up. Luckily, with some proper preparation (RTFM!!!) I was able to connect it correctly and my computer was again operational.
Phew....
And the nice thing is: I don't hear it. There's no noise coming from the computer, the new power supply does it's work silently. Quite a difference with the old one. Now I have only the sound of my playing and I don't have to pretend the noise I hear is the wind in the organ. What a relief, I should have bought a new power supply months ago!
This choral prelude by Kirchhoff is a new publication on my website, after a pause in my publishing efforts of almost two months. As much as I like to create scores and publish them, it is also a lot of work and I was a bit tired. This composition by Kirchhoff is one of a few scores I had already created though not yet practiced and recorded. And today I thought it a nice idea to combine the efforts of creating an entry for the contest and publishing a new score.
It is a straightforward piece. The introduction is a short fugato on the first line of the choral melody. Then follows the complete chorale melody as a solo voice, accompanies by rapid sixteenth notes in the left hand and a simple bass line for the feet. The second half of the introduction is then repeated to conclude the piece.
Not really a masterwork. Tricky to play though, with all those rapid notes for the left hand in a very open Trio like structure.
The recording was done with the Hauptwerk software and the sampleset, made by Sonus Paradisi, of the Schittger organ in the St. Martini-kerk, Groningen (http://www.sonusparadisi.cz/en/organs/netherlands/groningen-st-martini.html).
Score available here: http://partitura.org/index.php/gottfried-kirchhoff-was-mein-gott-will