This is my entry for the Secrets of Organ Playing Contest, Week 102. I play Vierne's Toccata, from the second suite of his Pièces de Fantaisie.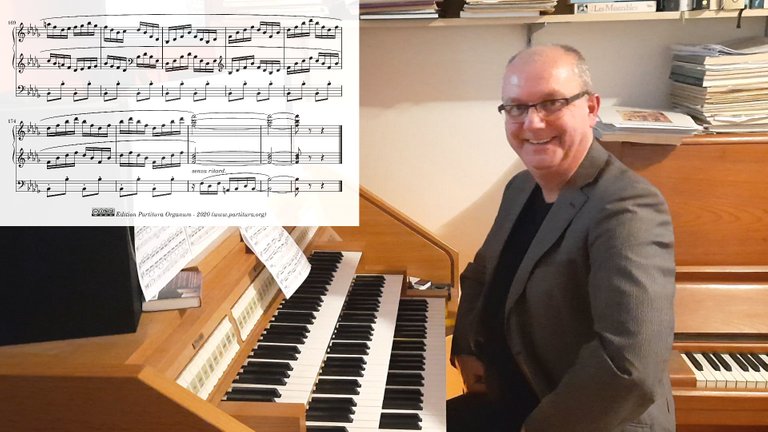 Probably everyone who plays an instrument as an amateur or as a beginner, has a dream of once being able to play an iconic piece from the repertoire for his or her instrument. I know I do. I know that for my wife it is Bruch's second violin concerto. And for me it is Bach's Passacagia. And this Toccata.
I vividly remember the first time I ever heard it. As I was mostly listening to Bach at the time, the harmonies and tonal colours of this piece were totaly foreign to me, yet somehow enormously fascinating. And I listened again and again and again to it. And every time I listened to it I got goose bumps and tears in my eyes near the end of the piece. What a marvelous piece. And the dream started of perhaps one day being able to play it.
The first time I tried it, I was not up to it. Far too difficult for my hands and feet. That was 10 years ago. In that time I was hardly practising and soon after quit playing the organ. Too busy with work, small children etcetc.
Three years after I started practising organ again. And five years ago I started my website with publications of (mostly) unknown organ compositions. And as I wanted to present a recording of every composition together with the score, I had to practise really hard and played nd recorded an enormous amount of pieces. And the old dream of Vierne's Toccata resurfaced, nagging "play me, play me".
As I knew how I failed 10 years ago, I thought it best to approach it slowly and first play some of the other well known French Toccatas, like the ones from Gigoult, Dubois, Boëllmann, Widor and then take on Vierne's Toccata.
I did play Gigoult's Toccata a few weeks ago and wanted to continue with Boëllman's Toccata. However, Vierne's Toccata kept nagging at me "play me, play me". So, to hell with the idea of careful preparation and just play it.
I cannot describe how much I love this piece. I can not describe how exhilarating it is to play it. It is literally a dream come true. I guess the joy at the end of the video says all.
It is not a perfect performance and there is still a lot of practising to be done. Yet, I played it and I wanted to share my dream!
The recording was done with the Hauptwerk software and the sampleset, made by Sonus Paradisi, of the Cavaillé-Coll organ in the St. Omer church in the city of St. Omer (http://www.sonusparadisi.cz/en/organs/france/st-om.html).