WARNING: this post contains spoilers from the third season of She-Ra and the Princesses of Power.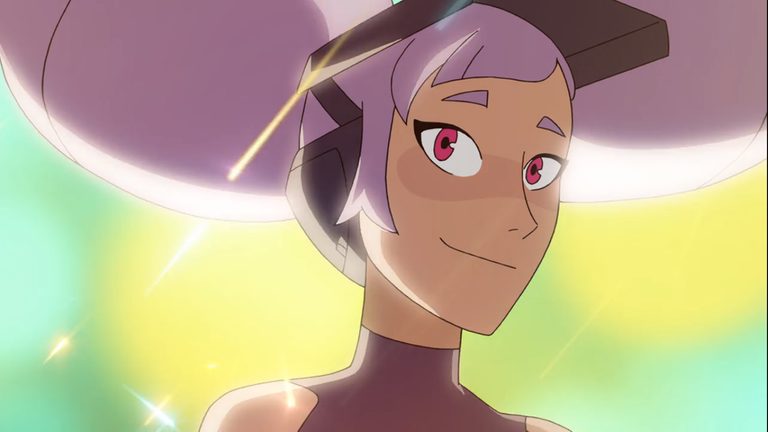 Source
Recently, the third season of She-Ra and the Princesses of Power (2018) has been released, the reboot of the original series of the 80s in which Prince Adam's twin sister, Adora, is the protagonist and heroine, who is in charge of protecting the planet Etheria "for the honour of Grayskull." This version of Netflix and DreamWorks, by talented showrunner Noelle Stevenson and her entire team, casts a fresh, complex, diverse and honest view of this story. Until now we do not know if Eternia and He-Man will play any role in this series, as Adora is the center and force that drives the plot and the rest of the characters. However, the end of the third season indicates that we will be able to see something beyond Etheria.
In this post, I want to focus on one of the most important messages conveyed by this season, hand in hand with two characters that, at first, nobody imagined would develop such a special relationship: Entrapta and Hordak.
Entrapta: the princess who is not afraid of failure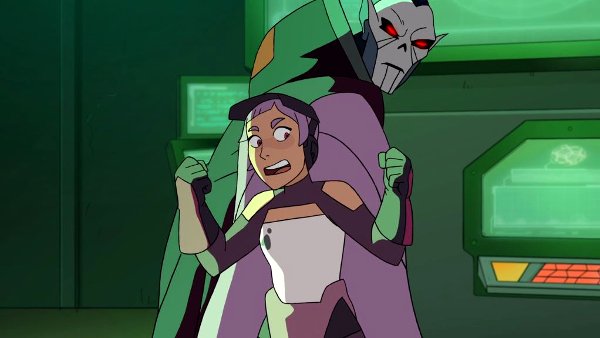 Source
At the end of the first season, Entrapta is trapped in the Fright Zone and is considered dead by the Princess Alliance. Entrapta survives for a while hiding in enemy territory while waiting for her friends to rescue her, but she is found by Catra, who manipulates her into believing that she was left behind by the princesses. Entrapta is saddened by this, but decides to stay in the Fright Zone due to the technological advances found there and all the discoveries she can make with them. At this point, we must understand that the character of Entrapta does not adapt to social norms (she has characteristics of the autistic spectrum) and she does everything in the name of science. She is a morally neutral character; she is not a bad person, but can collaborate with the enemy only for the opportunity to work with their technology, without wishing to intentionally harm others.
Thus, during the second season of the series, Entrapta begins to interact with the fearsome leader of the Horde, Lord Hordak. Until now, he has always been a mysterious character, appearing rarely and taking considerable distance with his subordinates, across screens, sitting on his throne or alone in his laboratory. The Horde follows their leader inspired by the fear he causes and not many are able to approach him, only those with a high enough rank to deal directly with him.
With this in mind, Entrapta begins to interact with Hordak because she infiltrates his laboratory to take a tool she needed, and ends up fixing an energy source that Etheria's tyrant was struggling with. In spite of trying to intimidate her, as he does with everyone, this has no effect on Entrapta, which confuses Hordak and at the same time causes him interest, added to the impression that her scientific knowledge gives him, allowing her to stay by his side. In this way, Entrapta and Hordak begin to work together as lab partners in a portal that would allow them to travel to other worlds.
Source
Through each interaction between these two characters, we can appreciate the intimacy that arises between them thanks to their body language. They have been united by a common goal (to build the portal) but it is their own similarities that bring these characters closer and closer. Entrapta has never felt that she fits in with others, she has always lived surrounded by the robots she builds and sees meetings as social experiments. Hordak is the only person she has ever met who shares her passion for science and does not reject her for her behaviour.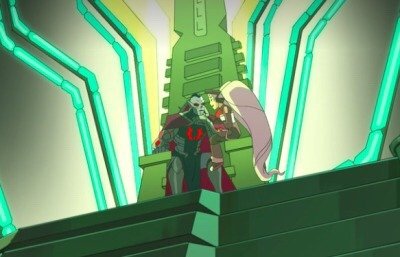 Source
As we see in the third season, Hordak even shows his vulnerability to her and reveals his story to her: he is a clone of Horde Prime, he was his former general, discarded as a failure and sentenced to die on the front lines of battle. Hordak was stranded on Etheria's planet thanks to a portal that transported him there, and since then he has been trying to find a way home. Hordak's goal is to prove to Horde Prime that he is not a failure by conquering Etheria together.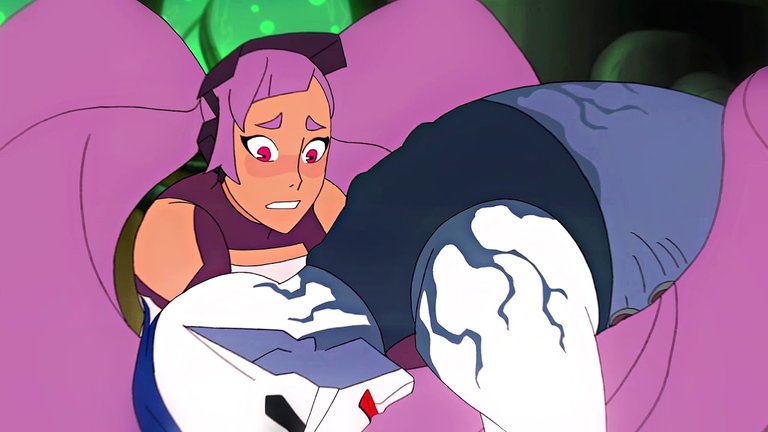 Source
However, Hordak's perception of himself is that of being a failure, and so he confesses to Entrapta. Our scientific princess replies that "she is also a failure," because she has not been able to make friends even though she has tried, but she will not give up.
It is here that one of the most significant dialogues in the series arises, where Entrapta speaks to Hordak about the beauty of imperfection:
Imperfection is what makes scientific experimentation possible. Imperfection is beautiful!... At least to me.
When she says this, from Hordak's perspective, we see Entrapta shining among a sea of sparks, with an ethereal, almost angelic aura. Hordak shows a stunned face. He doesn't know what happened to him, but we as spectators know that at that moment he felt love for Entrapta.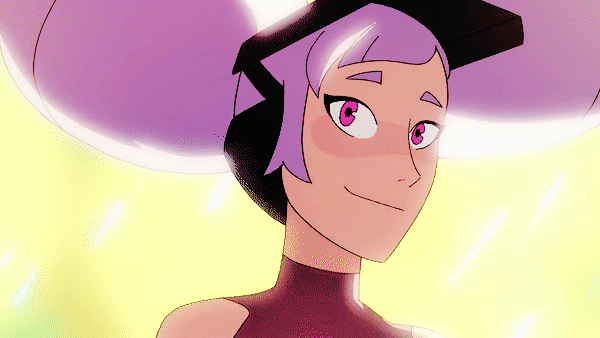 Source
Before the weakness of the leader's body, Entrapta builds an armor with the technology of The First Ones to compensate the organic failures of Hordak, making him feel powerful and in control of his body. He thanks her with the following words:
No matter what you say, you are not a failure. Any who discounts you are utter fools.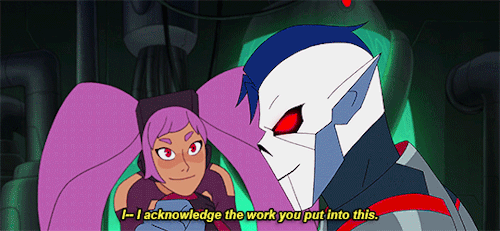 Source
The mutual validation, respect and affection between Hordak and Entrapta, not in spite of their defects, but precisely because of them, is what makes this one of the best developed relationships of the whole series and with a great message. These characters cannot "save" each other, but they can help each other, support each other and allow each other to change their perspective. Feeling accompanied in a world where perfection and appearances are often given priority, when our singularities are what makes us unique.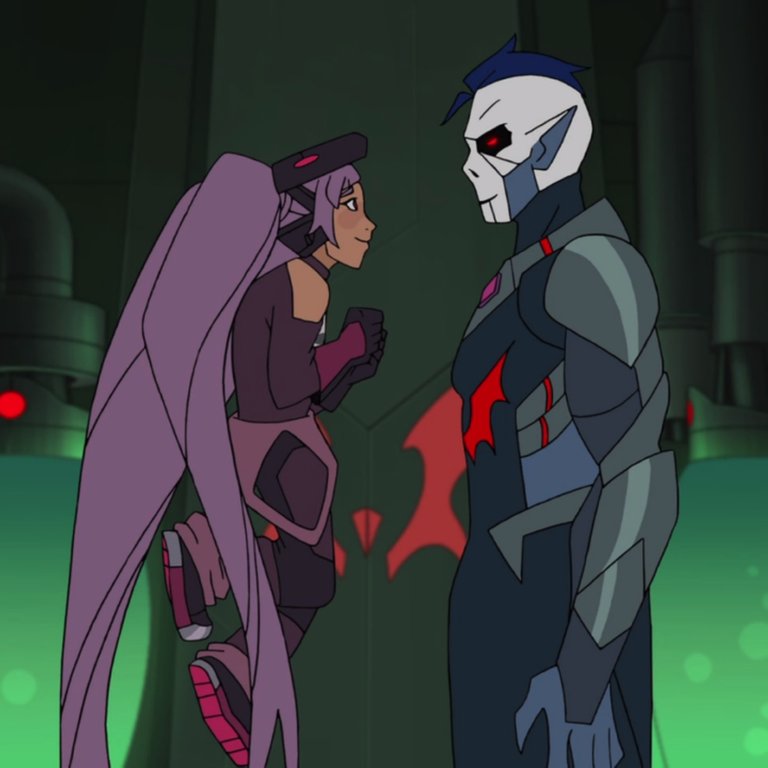 Source