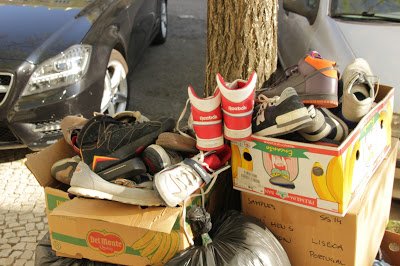 I still remember hearing the mother of a friend who had been living here for some time say that they found several things in good condition in the trash, even one of the TVs they had taken back had been found in the trash.
Today, many years later, and in a time of crisis, I was walking in the Bairro Azul, one of Lisbon's neighbourhoods, when I see all these sweets. I had seen sneakers in the trash before, but never in this state, never these brands all at once, were in these boxes four pairs of Js, one of Dunks, three of Reeboks High Top, one of Reebok Classic Alife Edition, two of Vans , and many others as you can see, most of them in very good condition, just needed a cleaning, I just left them there because they were all of size 45 and I do not know anyone who wears that size.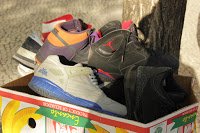 One sentence came to me, "One man's trash can be another man's treasure," as in times of calamity back in MZ. I hope these have come to rest at the feet of someone who needs them.