When I got into physical silver purchasing I didn't think of a collapse plan. I just started a couple years ago and have stacked physical US bullion minted coins.
I currently see that an exit plan is needed when the profiteers snatch physical gold. Physical silver will have more value because of its commodity and intrinsic value.

---
Read more: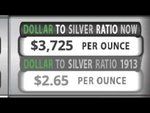 The Ultimate Silver Exit Strategy
Silver Shield Collection Silver Shield Mer...
Source:
https://youtu.be
---
Walking Liberty Silver Rounds -
https://bit.ly/2MOBS1D
Join Reebok affiliate team - https://bit.ly/3iawh4T

---
Share this post:
Facebook | Twitter | Linkedin | Reddit | Xing | Telegram
---