SimCity 4 Deluxe Edition está disponivel na Steam! Um classico de 2003 da Electronic Arts!
O SimCity 4 Deluxe Edition inclui o best-seller SimCity 4 e o novo pacote de expansão SimCity 4 Rush Hour.
Download: https://store.steampowered.com/app/24780/SimCity_4_Deluxe_Edition/


---
Read more: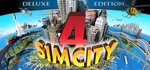 SimCity™ 4 Deluxe Edition on Steam
SimCity 4 Deluxe Edition includes the bestselling SimCity 4 and the all-new SimCity 4 Rush Hour Expansion Pack. Create the most massive region of cities ever, with a farming town, bedroom community, high-tech commercial center, and industrial backbone.
Source:
https://store.steampowered.com
---
Share this post:







---