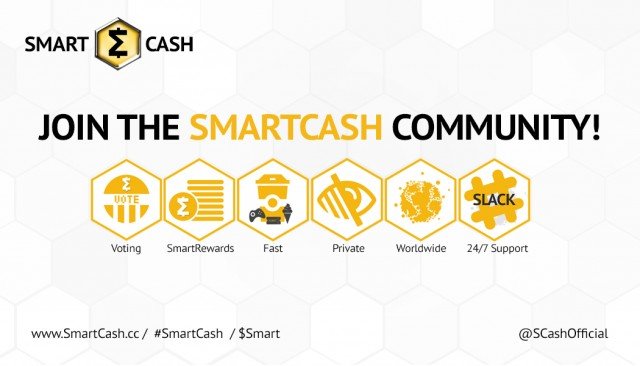 SmartCash Weekly Recap #2: SmartCash is attending Blockchain for Africa in Nairobi, Kenya! Governance Platform is live, 1st Ever SmartRewards Snapshot completed, Coinmarketcap.com & Cryptopia!
# First Ever SmartCash Presence at 'Blockchain for Africa' in Nairobi, Kenya! Description:"This will be a convergence of developers, incubation hubs, micro, small & medium enterprises to practically explore how blockchain technologies can be integrated into various aspects of business to save costs, from human resources management, data back up to expense tracking and more. This event will end with practical solutions that can can adopted for development or test integration." The expenses for this event have been covered by the Outreach Hive Budget, but alternate events are fundable via the SmartHive Governance Platform which is the next thing to cover this week! We have one of our community members at the event and will be pushing out content from the event as it becomes available.
The SmartCash Governance & Funding platform is live and ready for proposals. Bring your talents and knowledge!
We are proud to announce that https://vote.smartcash.cc is officially live and ready for your proposals! Do you have the skills to assist in the growth of the project? Maybe a personal project you want funding for that will help SmartCash users have better access to more tools? Well thats what the SmartHive is meant for, the community to get involved and a way to incentivize good workers to be more involved. What ideas do you have? We'd love to hear them! The best place to start would be the SmartCash community forums, where you could start a pre-proposal discussion and get some community backing for your ideas. We are very much looking forward to seeing how creative the community can get.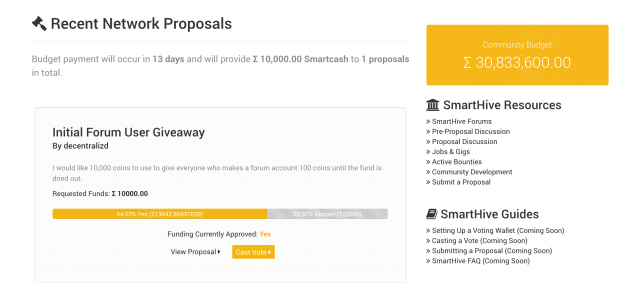 First Ever SmartRewards Snapshot has been recorded. Any address that is holding 1000+ Smart from 25th to 25th each month will be eligible for Smartrewards! Tracking website coming soon as well.
SmartRewards have officially begun, our very first Snapshot of wallet balances above 1000 Smart has occurred and anyone holding these coins this time next month that was eligible will be receiving a portion of the 15% of block rewards that have been site aside since launch. The amount of coins expected to be split between the 11th and 11th is roughly 22 million coins.
SmartCash has been added to CoinMarketCap.com.
After a short waiting period and some corrections to be made, we are finally live on Coinmarketcap.com (https://coinmarketcap.com/currencies/smartcash/)! This is huge for us because not only is it great visibility for the coin, but it also provides the community with a way to easily and quickly monitor the coin price, stats and rankings. As of writing this CoinMarketCap places us between rank 200-400 depending on the volume that given day. No where to go but up from here!
SmartCash will soon be coming to Cryptopia! Fee's have been paid & development has begun.
To top things off we have been in contact with https://www.cryptopia.co.nz/ and have paid the listing fee, thus we should be live on Cryptopia in the coming weeks, so stay tuned! This should really open up the gates for new users and provide a much more mainstream exchange to trade SmartCash on!
PS, seems like noone upvotes posts that choose to have no voting rewards, so I'm trying out 100% power up instead...
Questions? Comments? Leave them Below! Until next week Steemians!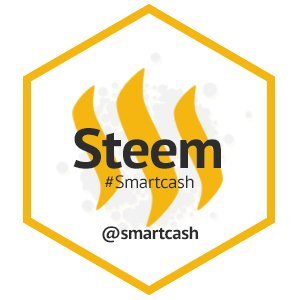 www.SmartCash.cc | Get SmartCash | Forums | SmartCash Slack