Hey Jessolar energy
I'm always looking for new ways to invest and earn a little bit of passive income even if its a few bits and bobs here and there. My journey to find new income streams leads me down quite a few rabbit holes. Those of us in cryptocurrency realise the considerable upside potential of this asset class and what it can bring to a range of sectors but finding legitimate investment opportunities can be hard. There are so many scams and failed projects out there, and nothing is a given in cryptocurrency, NOTHING!
You can do all the research you want, map out all the sequences on your graphs but to me, it's all about playing the game and taking a raffle ticket. When going into a crypto investment, be aware that you could lose all your money and be okay with that, never invest more than you can afford to lose and look to play the long game.
That's my strategy, and I'm sticking to it. Not saying its sound investment advice, I'm just saying what I'm doing, I'm picking a few projects I like the sound of and investing a little bit of money for a long term return. At the end of the day, for me, as long as I end up with more Satoshis than I had before, I am a happy camper.

Image source: - thesunexchange.com
Time to monetise the sun
I recently came across a site called The Sun Exchange, which is based in Cape Town and is a pretty exciting concept. It merges two fascinating fields which are renewable energy and cryptocurrency. Investors can purchase a piece of a project and in return, get fees paid to them in Bitcoin.
How Sun Exchange works
It negotiates with institutions like stores, schools and even nursing homes to supply energy to these buildings using solar energy. When they come to an agreement, a crowdfunding style campaign is launched on their site where ordinary investors from around the world can purchase cells on a solar panel. Once the campaign is fully funded, the solar facilities are built and connected to the institution's power supply system.
The institution will now receive renewable energy to power their building and of the fees paid for the supplied energy investors will receive a share of the costs in return.
How to get involved
I liked the idea of having something created physically and generating revenue and cryptocurrency being optional. In these early stages I think it pays to be a lot more flexible with your implementation then trying to be a cryptocurrency purist.
I decided to try it out and visit the thesunexchange.com
Sign up is easy, all you need is an email and password
Once you get your email verification you're in, and you can log in to your account
Your account does have the option of activating 2 Factor Authentication but this is optional, which I think they should be changed to mandatory. You can never be too careful when funds and accounts are involved.
Next you will need to pick from the projects available.
You can purchase a cell from as little as R72 or $5
The more cells you purchase, the larger your potential ROI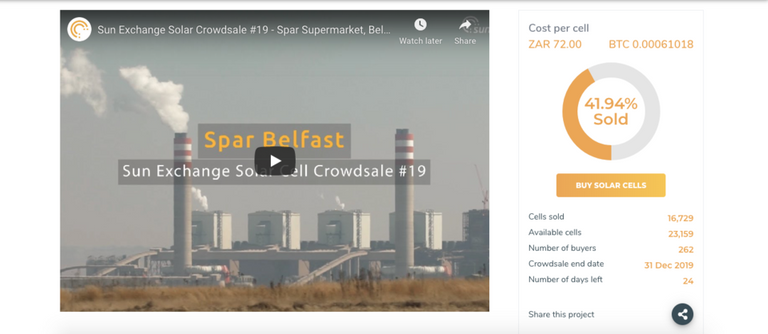 Picking a Sun Exchange Project To Fund
Once you've decided on how many cells you would like to purchase you will need to complete a KYC form
Then you can proceed to payment which can be done via Credit Card or Bitcoin
I chose Bitcoin, naturally
You also need to set the currency you want your returns paid back in, either Rands or Bitcoin.
Again I chose Bitcoin
Project estimates
Now that you've successfully purchased your cells, you will need to wait for the project to be commissioned, and before you can gain any benefit from this investment. A return is estimated at a 20 year period so this really is a long term investment and one of those set and forget initiatives.
What I don't like is that your fees are placed into a custodial wallet, so you're at the mercy of The Sun Exchange should anything happen to the project. Remember if you don't have the keys to your wallet then it's not your Bitcoin.
I do have to say the process was pretty easy and took me all of 10 minutes to invest which I do appreciate. I think that projects like these can make some serious inroads in developing nations and I'm pretty excited to see how it rolls out. I may purchase a few more cells on various projects in the future as I see the income from my first investment start to roll in :)
Disclaimer
I am an investor in Sun Exchange, but they have not paid me to create this content. I only thought it would be interesting to review and share my thoughts on the project. I'm not vouching for the authenticity of the project and remember all investments contain risk.
Let's connect
If you liked this post sprinkle it with an upvote or resteem and if you don't already, consider following me @chekohler


---
Buy & sell STEEM
Donate LikeCoin For Free
Earn Interest On Crypto
re