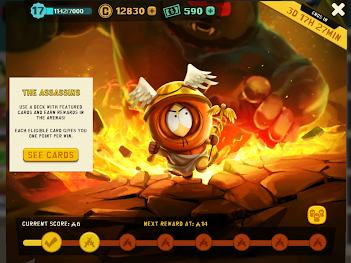 The Cards
Astronaut Butters
Gizmo Ike
Inuit Kenny
Hermes Kenny
Canadian Ike
Powerfist Dougie
Rat Swarm
Prophet Dougie
Underpants Gnomes
Bandita Sally
##The Pack Tiers
A lot of the tiers are still unknown. If I don't find out somewhere, I'll update it as I complete the event.
Solo
?,14, 30,?,?,?,?,195
Team
?,?,725,1600,2600,?
Thoughts
It's odd that the devs would hold a card based event right before the end of the legendary season. This throws people off as they may have to edit their decks. Unfair as some individuals with decks already assassin heavy would have a big advantage and may move up in ranks. If rank is not an issue to you, load up your deck with 3-5 eligible cards and derank. It's too hard to win games with a weaker deck unless the cards you swapped out happened to be powered up already. However, being how resource intensive powering up cards are, I suspect many people do not have such luxury. Enjoy and good luck!