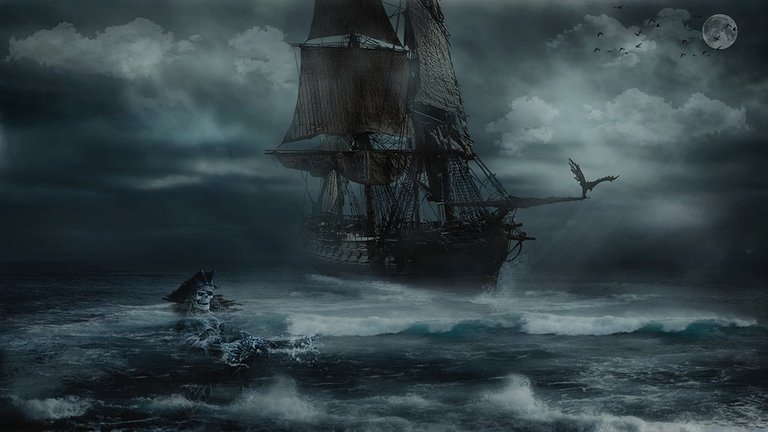 IMAGEN
Un crucero emocionante se vivía en alta mar
turistas degustando de los mejores vinos y platos exóticos,
música suave producían los músicos de turno,
una gala de alta sociedad se mostraba como de costumbre.
La tarde se iba apagando
para darle la bienvenida a una noche de placeres,
la luna se presentaba entre los ventanales,
nubes oscuras acechaban desde el cielo
hasta apagar el brillo de a estrella lunar,
centellas se dispersas improvisadamente desde las nubes
resplandeciendo con sorpresa la superficie acuática.
Las luces del barco parpadeaban de repente,
¡No se alarmen! -grita uno de los tripulantes,
esto es producto de la tormenta, continuó hablando.
Una luz blanca se esparce entre el salón principal,
en la pared va figurándose la forma de una mujer,
se escucha una risa malvada en el ambiente
mientras la gente se alarma verdaderamente.
El piso se torno de agua, todos los presentes subían hacia las sillas ante la inundación,
aquella mujer de un blanco tenue amenazó a todos los que abordaban aquel barco.
¡Váyanse de aquí, o los tomaré como esclavos!
gritó aquella mujer.
De repente, la luz volvió a la normalidad,
confundidos y asustados, todos los presenten rompen el silencio con aplausos.
creyendo que era un acto de terror programado durante el itinerario.
sin embargo, los responsables del barco se dieron cuenta de que era algo real,
y que la malvada Annie Palmer habría regresado del más allá.
Se trata de un pequeño ejercicio literario, esta vez tomando como referencia el carácter histórico de la comunidad jamaicana. Los invito a promover la buena literatura. A medida que practique y escriba más, le será más fácil hacerlo.
This is an Invitation to join #ccc for Guaranteed 👍 Daily Income 💵 and Payout 💸 for Newbies (2.0) 🐟 🐜 🐛 in #ccc 👣 and Follow 👣 the Honor Code 🏅 - the Creed (Conditions and Limits Inside)com/ccc/@freedomshift/guaranteed-daily-income-and-payout-for-newbies-2-0-in-ccc-and-follow-the-honor-code-the-creed-conditions-and-limits-inside)
AND
the latest update <<< please click to read.
I hope you enjoyed it, if you have any recommendations, please can leave it through a comment
This has been all for the moment.

---
Posted via ReggaeSteem | Reggae Culture Rewarded