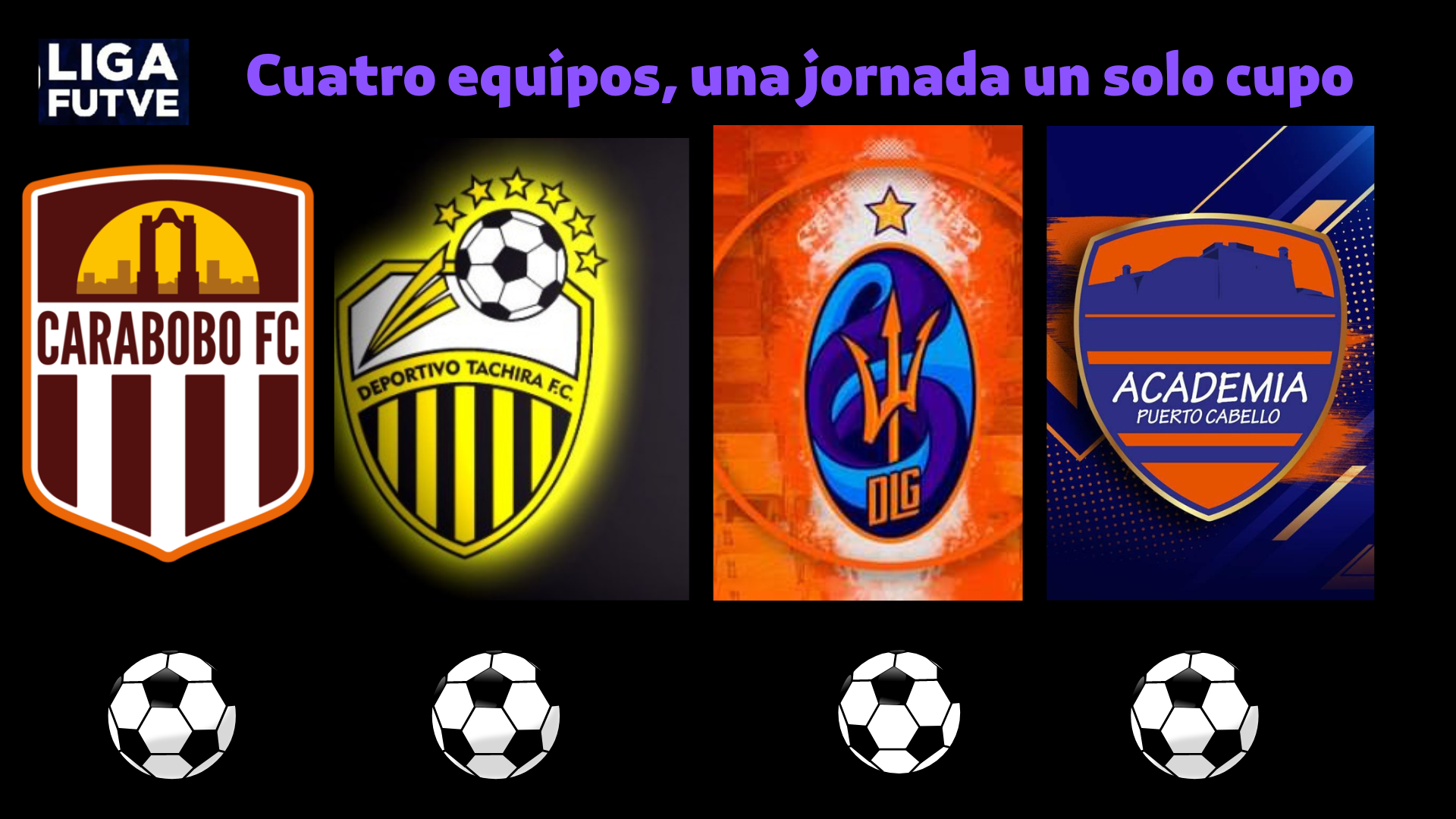 Imagen elaborada y editada en canva

---
Hola que tal amigas y amigos es un placer de nuevo estar en la plataforma de HIVE, para postear un contenido escrito en la comunidad de @fulldeportes, en esta ocasion para hablar del ultimo cupo para el cuadrangular de semifinal que se disputa en la liga Futve y que da dos equipos clasificados a la gran final del campeonato 2023 de la categoria de oro en Venezuela. Finalizada la penultima jornada de campeonato hay tres equipos clasificados: Zamora FC, Metropolitanos FC y Monagas SC quienes aseguraron el primero, segundo y tercer lugar en la tabla respectivamente al menos hasta la penultima jornada; lo que matematicamente les dio la clasificacion de acuerdo a los puntos acumulados.
Ahora bien en la cuarta posicion se ubican tres equipos igualados con 43 puntos; Carabobo FC que tiene una diferencia de goles positiva de 10, Deportivo Tachira con un average a favor de 5 y La Guaira FC con mas 3. Los carabobeños con una victoria estarian sellando su clasificacion combinando derrotas de los otros dos equipos, pero si Tachira gana a Estudiantes de Merida por diferencia de 6 sin recibir anotacion, Carabobo deberia ganar y marcar mas de dos dianas en el compromiso frente a U.C.V FC y no recibir para avanzar, de igual manera si La Guaira gana ante Metropolitanos deberia hacerlo por un marcador extremadamente abultado es decir; con diferencia a favor de al menos 7 goles y que Tachira y Carabobo reciban muchos goles. Pero si estos tres cojuntos pierden y Academia de Puerto Cabello gana su compromiso frente al Portuguesa FC estaria llegando a 44 puntos uno por encima de los tres que ocupan en la cuarta casilla y estaria clasificandose en el cuarto puesto para el cuadrangular. En cuanto al descenso ya el Aragua FC es el equipo que baja de categoria, ya que ocupa el ultimo lugar en la tabla con 21 unidades. Se viene la ultima jornada donde todo puede pasar amanecera y veremos todos los juegos se realizaran el domingo 18 de septiembre , solo queda un cupo para seguir con vida y oficialmente un equipo que perdio la categoria; "El Aragua FC".
Hello friends, it is a pleasure to be back on the HIVE platform, to post a content written in the community of @fulldeportes, this time to talk about the last place for the semifinal quadrangular that is disputed in the Futve league and that gives two teams qualified for the grand final of the 2023 championship of the golden category in Venezuela. After the penultimate day of the championship there are three qualified teams: Zamora FC, Metropolitanos FC and Monagas SC who secured the first, second and third place in the table respectively at least until the penultimate day; which mathematically gave them the qualification according to the accumulated points.
Now in the fourth position there are three teams equal with 43 points; Carabobo FC with a positive goal difference of 10, Deportivo Tachira with an average of 5 and La Guaira FC with plus 3. Carabobo with a victory would be sealing their qualification by combining defeats of the other two teams, but if Tachira beats Estudiantes de Merida by difference of 6 without conceding, Carabobo would have to win and score more than two goals in the match against U. C.V FC and not concede to advance, likewise if La Guaira wins against Metropolitanos it should do so by an extremely high score, i.e. with a difference in favor of at least 7 goals and that Tachira and Carabobo concede many goals. But if these three teams lose and Academia de Puerto Cabello wins its match against Portuguesa FC, it would reach 44 points, one above the three teams in fourth place and would qualify in fourth place for the quadrangular. In terms of relegation, Aragua FC is the team that has already been relegated, since it occupies the last place in the table with 21 points. The last day is coming where anything can happen and we will see all the games will take place on Sunday, September 18, there is only one place left to stay alive and officially a team that lost the category; "Aragua FC".