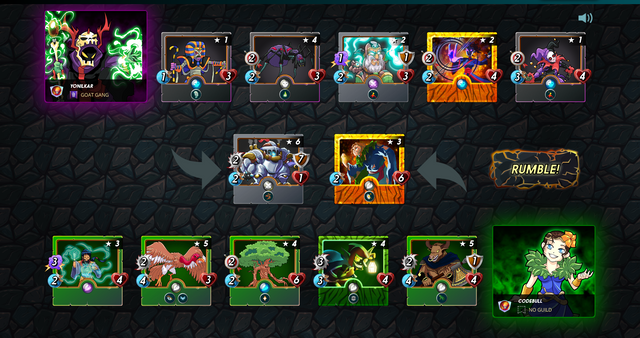 Battle Link
Today's top battle is between me and yonilkar.
Ruleset: Reverse Speed and Little League
Mana Limit: 32
I have selected Lyanna Natura (Lvl 4) summoner, and Failed Summoner (Lvl 3), Minotaur Warrior (Lvl 5), Goblin Thief (Lvl 4), Earth Elemental (Lvl 4), Screeching Vulture (Lvl 5), Magi of the Forest (Lvl 3) monsters. Opponent has fielded Zintar Mortalis (Lvl 8) summoner and Enchanted Defender (Lvl 6), Undead Priest (Lvl 1), Haunted Spider (Lvl 4), Dwarven Wizard (Lvl 2), Dark Astronomer (Lvl 2), Twisted Jester (Lvl 1) monsters.
This battle has earned me 34.788 DEC and 36 rating points.
Today's Quest Rewards
| Cards | Gold | Legendary | Dec | Orb |
| --- | --- | --- | --- | --- |
| Wave Runner, Naga Windmaster, Furious Chicken, Barking Spider | 2 | 3 | 140 | 0 |
Today's All Battles
| Me | Result | Opponent |
| --- | --- | --- |
| Lyanna Natura (Lvl 4), Failed Summoner (Lvl 3), Minotaur Warrior (Lvl 5), Goblin Thief (Lvl 4), Earth Elemental (Lvl 4), Screeching Vulture (Lvl 5), Magi of the Forest (Lvl 3) | Win View | Zintar Mortalis (Lvl 8), Enchanted Defender (Lvl 6), Undead Priest (Lvl 1), Haunted Spider (Lvl 4), Dwarven Wizard (Lvl 2), Dark Astronomer (Lvl 2), Twisted Jester (Lvl 1) |
| Lyanna Natura (Lvl 4), Failed Summoner (Lvl 3), Earth Elemental (Lvl 4), Goblin Sorcerer (Lvl 4), Khmer Princess (Lvl 4) | Win View | Daria Dragonscale (Lvl 4), Lord Arianthus (Lvl 3), Goblin Sorcerer (Lvl 5) |
| Lyanna Natura (Lvl 4), Flesh Golem (Lvl 5), Rexxie (Lvl 5), Screeching Vulture (Lvl 5), Goblin Thief (Lvl 4), Wood Nymph (Lvl 5), Khmer Princess (Lvl 4) | Win View | Lyanna Natura (Lvl 4), Flesh Golem (Lvl 4), Earth Elemental (Lvl 4), Javelin Thrower (Lvl 4), Mushroom Seer (Lvl 3), Screeching Vulture (Lvl 4), Wood Nymph (Lvl 4) |
| Lyanna Natura (Lvl 4), Lord Arianthus (Lvl 2), Screeching Vulture (Lvl 5), Javelin Thrower (Lvl 4), Goblin Sorcerer (Lvl 4), Brownie (Lvl 3) | Loss View | Tyrus Paladium (Lvl 6), Angel of Light (Lvl 3), Divine Healer (Lvl 4), Feral Spirit (Lvl 8), Elven Cutthroat (Lvl 7), Enchanted Pixie (Lvl 6) |
| Lyanna Natura (Lvl 4), Goblin Mech (Lvl 5), Flesh Golem (Lvl 5), Prismatic Energy (Lvl 4), Javelin Thrower (Lvl 4), Mitica Headhunter (Lvl 1), Mantoid (Lvl 4) | Loss View | Lyanna Natura (Lvl 5), Goblin Mech (Lvl 6), Gelatinous Cube (Lvl 6), Wood Nymph (Lvl 6), Mushroom Seer (Lvl 5), Javelin Thrower (Lvl 5), Cyclops (Lvl 4) |
| Lyanna Natura (Lvl 4), Lord Arianthus (Lvl 2), Screeching Vulture (Lvl 5), Goblin Sorcerer (Lvl 4), Khmer Princess (Lvl 4), Furious Chicken (Lvl 4) | Win View | Daria Dragonscale (Lvl 6), Failed Summoner (Lvl 3), Manticore (Lvl 6), Furious Chicken (Lvl 5), Brownie (Lvl 4), Magi of the Forest (Lvl 4), Creeping Ooze (Lvl 6) |
---