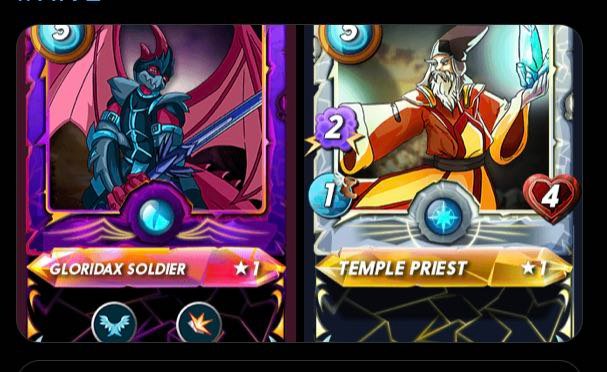 I do GIVEAWAY EVERYDAY until the end of August.
I started this Giveaway on first days of August, to celebrate and as my gesture of gratitude for my main account growth in Splinterlands.
I started playing Splinterlands mid 2019, and the end of that year I decide to spent almost $300 to start growing my collection.
Now it turns into more than $60K. Crazy growth!
Therefore, I start this daily giveaway as my celebration and to raise awareness about Play To Earn movement, to bring more people to amazing blockchain based game like Splinterlands.
The Daily Giveaway winners will be picked randomly around 01 AM (GMT+7).
So here's today's Giveaway! (Aug 18th)
It's two Rare Cards from Dragon Splinter and Life Splinter, "Gloridax Soldier" and "Temple Priest". Both of them costing 5 mana to summon.
It's hosted on Twitter because I want to build more following and awareness about Splinterlands and HIVE blockchain (and its amazing blogging platform). So please help me spread the words!
All you need to do, is Follow me on Twitter, Retweet, Like and comment this tweet below with your in-game username.
Good Luck, guys!
---
For those who don't know what this is all about: Splinterlands is a collectible card crypto game on the Hive blockchain. To (confirm) actions in the game, transactions are used in the blockchain, and each card is a unique token (which you can sell, trade, burn, or rent). In addition, the cards have a fairly wide variety of parameters; daily in the market players sell cards in total about several thousand dollars!