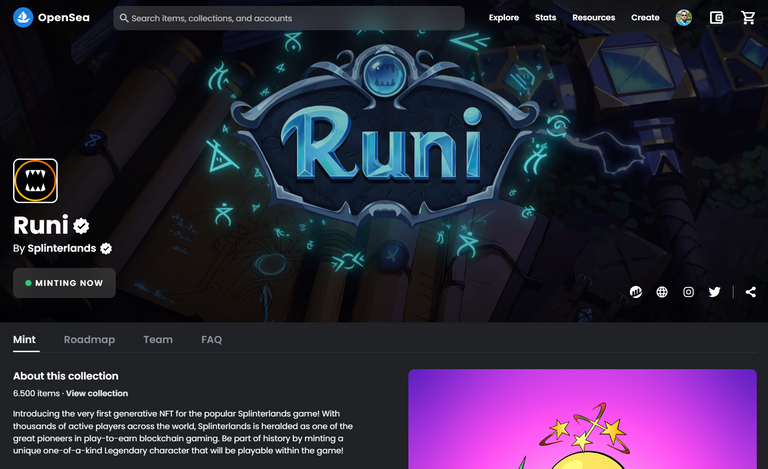 Yesterday evening, at 8pm German time, the time had finally come. We were finally allowed to use our long-awaited whitelist spots and mine our Runis for 0.19ETH (about 280 USD instead of 250 USD). You could mine them directly on https://opensea.io/collection/runi/drop. The process to create a PFP NFT took a long time in the beginning and it felt like we had to wait for an eternity until we knew which parts our Runis got. We spent the whole night looking at a lot of different runis.
Gestern Abend, um 20 Uhr deutscher Uhrzeit war es endlich soweit. Wir durften endlich unsere langersehnten Whitelist Spots nutzen und für 0,19ETH (ca. 280 USD anstatt 250 USD) unsere Runis minten. Diese konnte man auf https://opensea.io/collection/runi/drop direkt minten. Der Prozess zum erstellen eines PFP NFT hat am Anfang echt lange gedauert und gefühlt mussten wir eine ewigkeit warten, bis wir dann wussten, welche Teile unsere Runis bekommen haben. Wir haben uns die ganze Nacht um die Ohren geschlagen und haben uns sehr viele verschiedene Runis angesehen.
---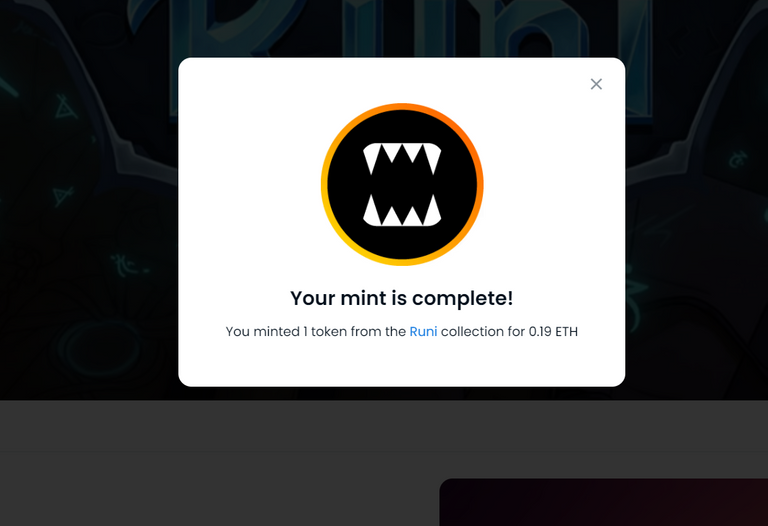 In the process of the evening I have then minted 2 Runis. I am reasonably satisfied with the result - could have been really better. Runis, which were minted later, were better equipped - but that can only be a feeling. I am curious where the prices of the Runis will go. There should also be the possibility to take out items from one runi and put them on another runi. That is quite an interesting aspect.
So far I'm still waiting for my other free Mint, which I won in the Runi ARG. The developers were unfortunately not prepared for the fact that wallets that are on the whitelist also win Runis in the ARG. This is not provided for in the Smart Contract and is currently being fixed. I am curious how my third Runi will look like. It remains exciting.
Im Laufe des Abends habe ich mir dann 2 Runis geminted. Mit dem Ergebnis bin ich so einigermaßen zufrieden - hätten echt besser sein können. Gefühlt waren Runis, die erst später geminted wurden, besser ausgestattet - das kann aber auch nur so ein Gefühl sein. Ich bin gespannt, wo die Preise der Runis so hingehen werden. Es soll ja auch noch die Möglichkeit kommen, das man Items eines Runi herausnehmen kann und auf einen anderen Runi draufpacken kann. Das ist ein recht interessanter Aspekt.
Bislang warte ich noch auf meinen weiteren Gratis Mint, den ich im Runi ARG gewonnen habe. Die Entwickler waren leider nicht darauf vorbereitet, das Wallets, die auf der Whitelist sind, auch Runis im ARG gewinnen. Das ist im Smart Contract so nicht vorgesehen und wird aktuell behoben. Bin gespannt, wie dann mein dritter Runi aussehen wird. Es bleibt spannend.
---