Greetings, my dear readers, we continue to participate in the Splinterlands art contest. Let's get started.
Saludos, mis queridos lectores seguimos participando en el concurso artístico de Splinterlands. Comencemos
RIVER NYMPH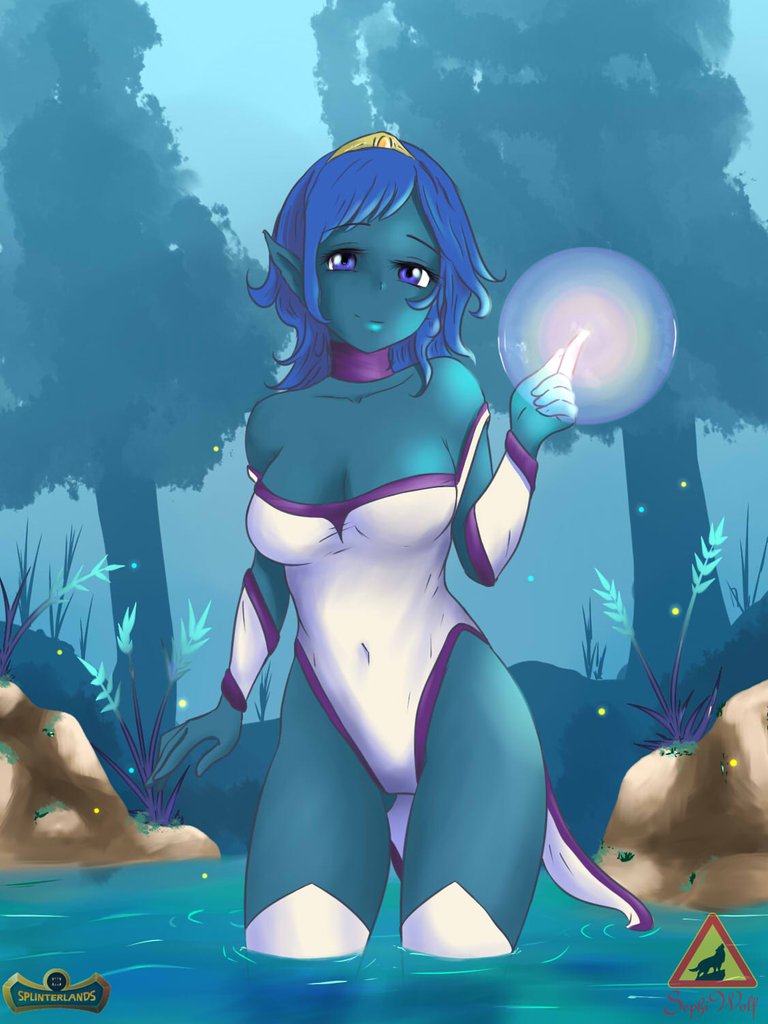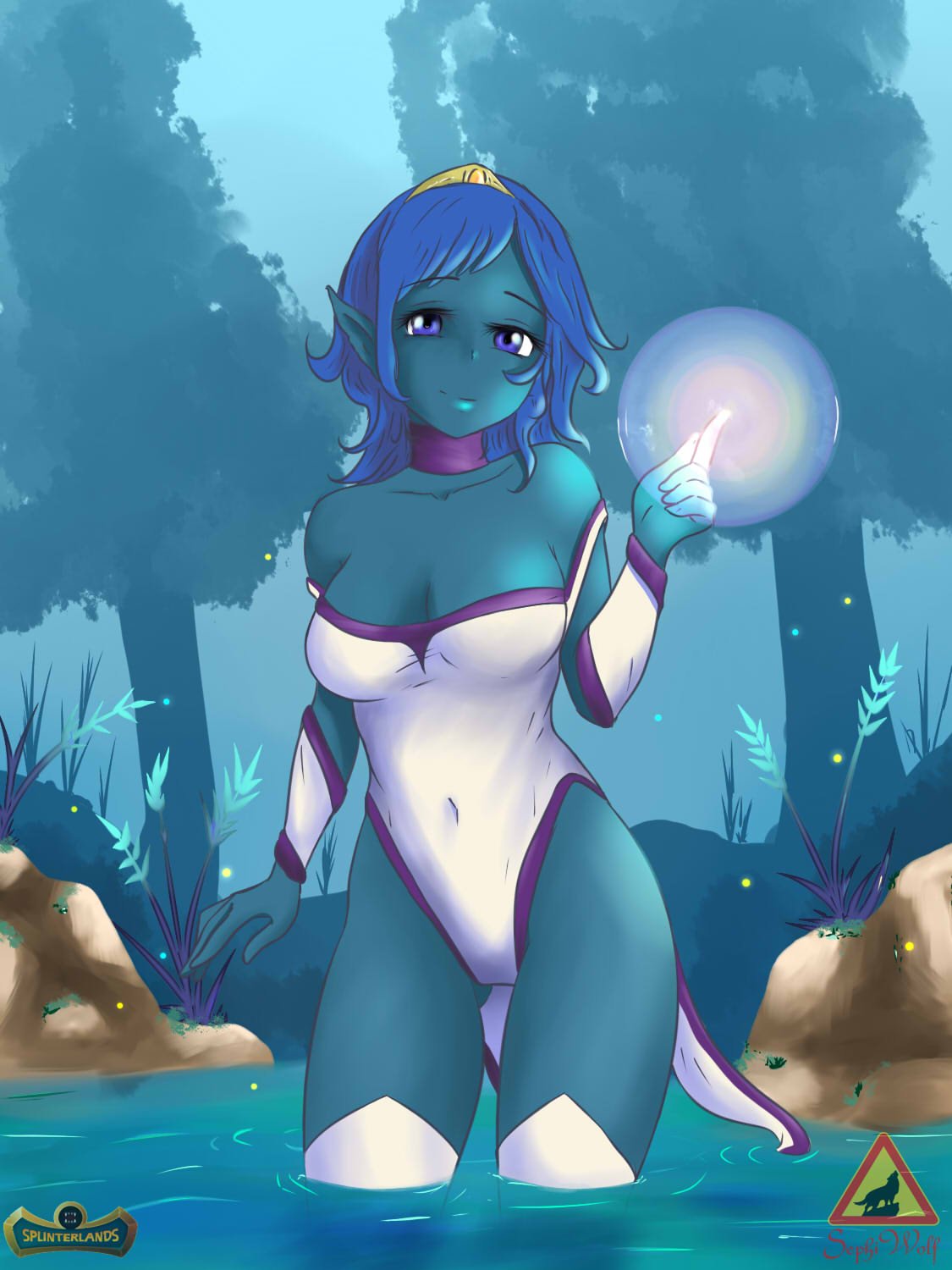 Days before...
Dias antes...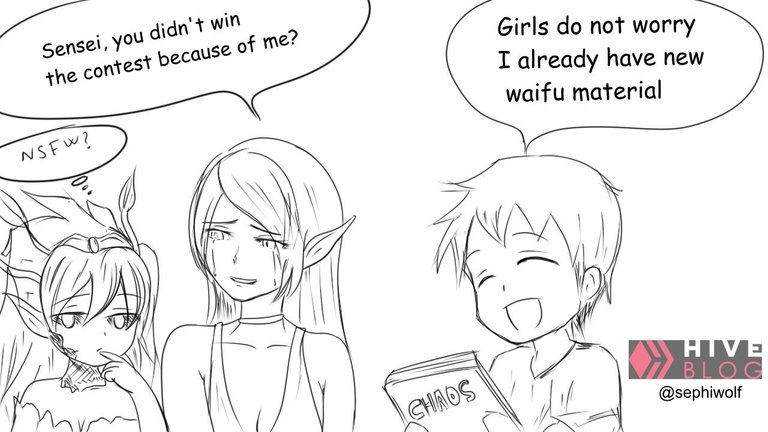 As you may recall, I follow the splinterlands waifus theme and chaos legion brought a lot of new material.
Como recordarán sigo el tema waifus de splinterlands y chaos legion trajo muchísimo material nuevo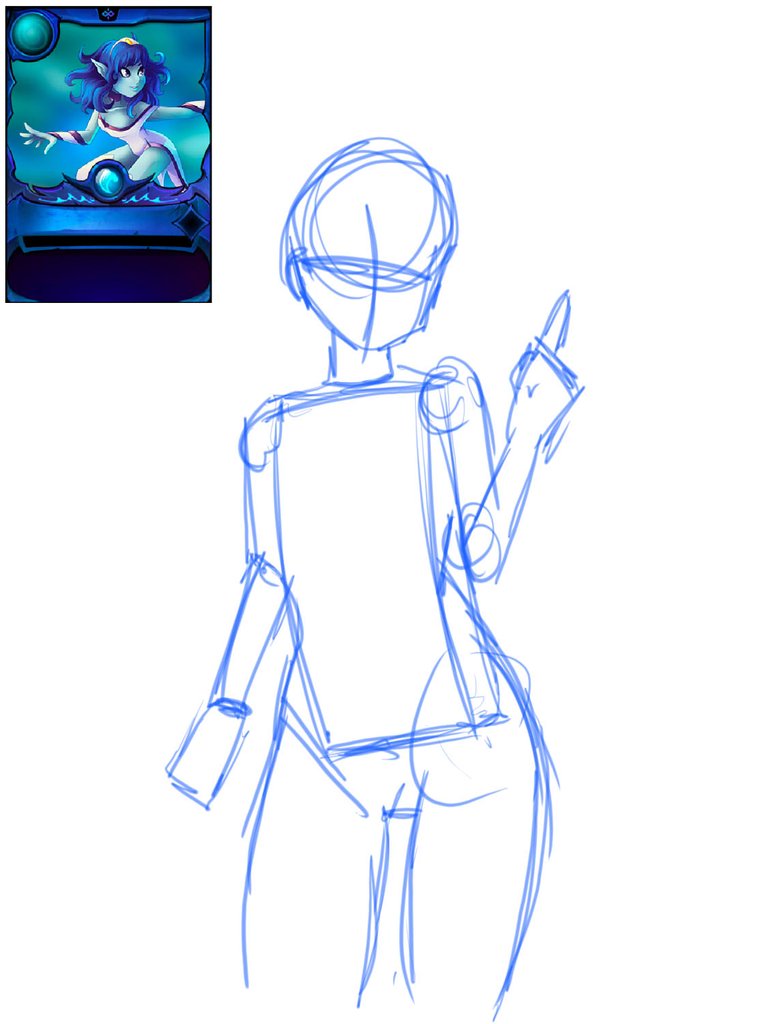 Being new, I did not find many references, only the game card, I imagined her living in a river with a magic touch as it says in its name, in the same way I wanted to make a Triangular composition that is why the two rocks on the sides
Al ser nueva no encontré muchas referencias solo la carta del juego, la imaginé viviendo en un río con un toque mágico como dice en su nombre, de igual forma quería hacer una composición Triangular por eso las dos rocas a los lados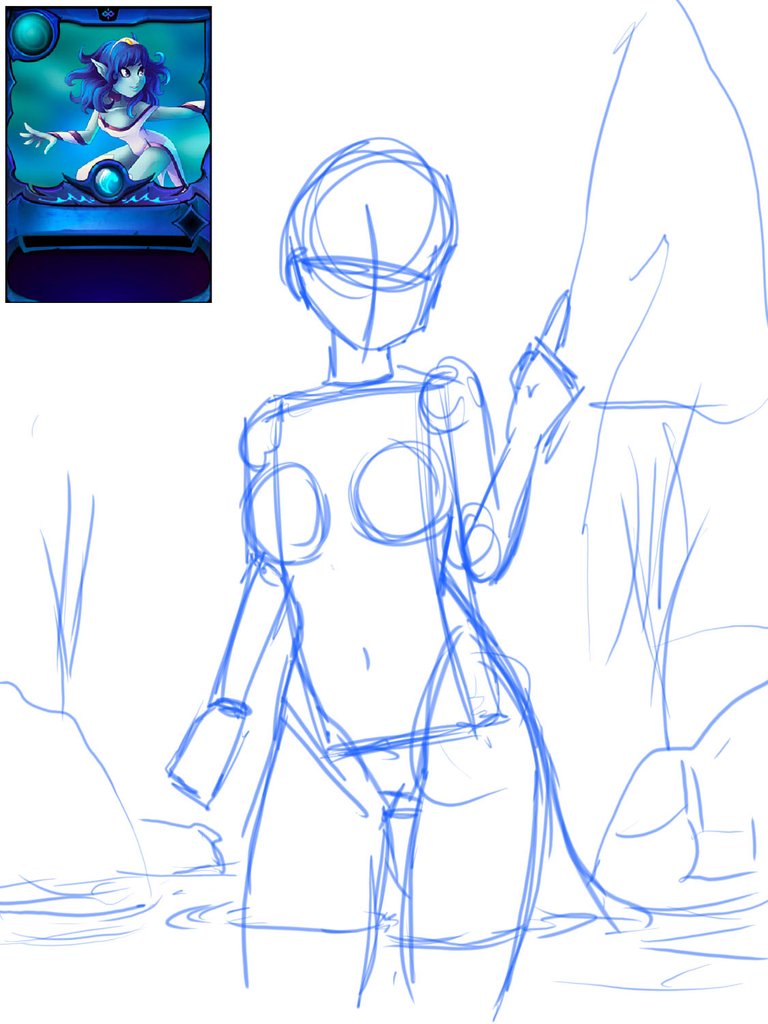 We start with the lineart, here I show a little trick that I use a lot in difficult lines, we create a new layer on the lineart then with the free deformation option we can accommodate the line to our liking, after that we just have to join that layer with the lineart principal
Empezamos con el lineart, aquí muestro un pequeño truco que uso mucho en líneas difíciles, creamos una nueva capa sobre la lineart después con la opción deformación libre podemos acomodar la línea a nuestro gusto, luego de eso solo tenemos que juntar esa capa con la lineart principal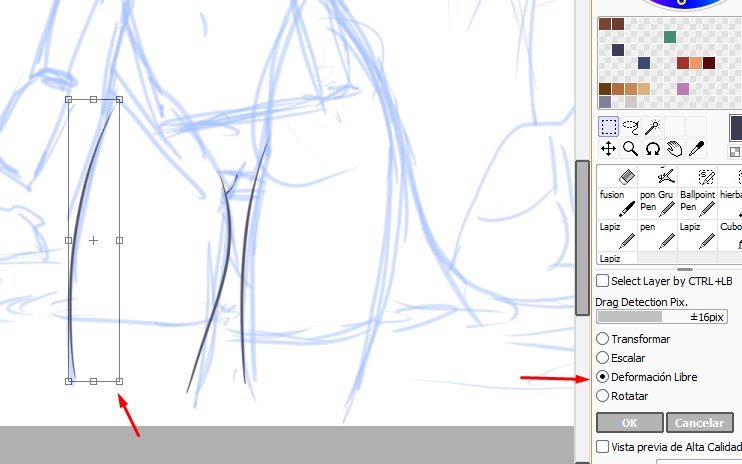 Waifu thighs...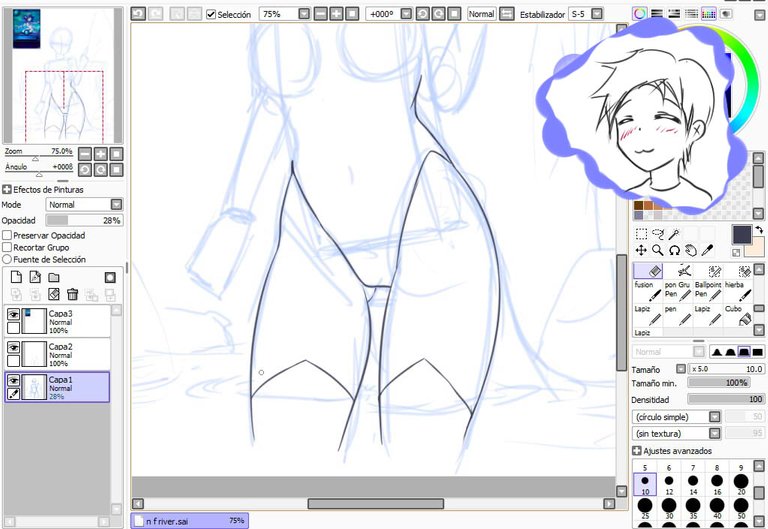 once the entire lineart is finished, along with other details eyes lips hair we have something like this
una vez terminado todo el lineart, junto a otros detalles ojos labios cabello nos queda algo así
I know it is not identical, but it is my interpretation of she
Sé que no es idéntico, pero es mi interpretación de ella.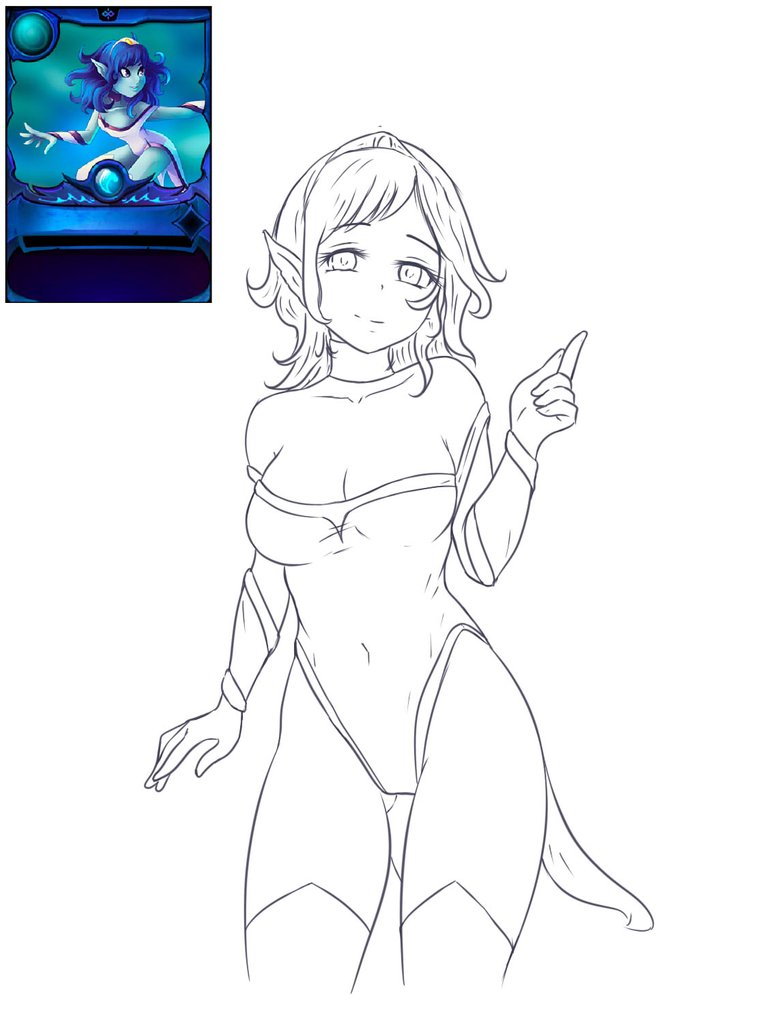 Now I can dedicate time to the background, in a layer I drew these magic herbs and I wanted to give it an edge effect so we have this result
Ahora puedo dedicarle tiempo al fondo, en una capa dibujé estas hiervas mágicas y quise darle un efecto de borde así tenemos este resultado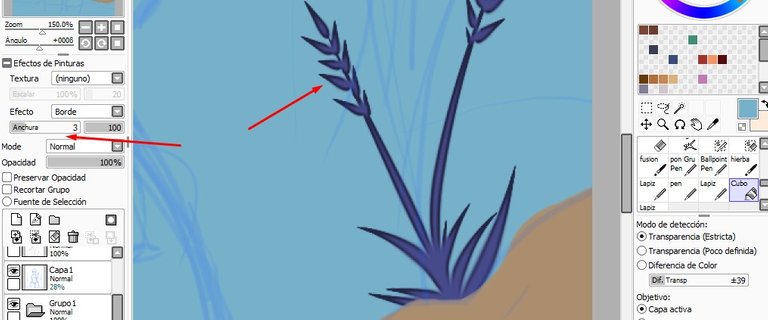 We create another layer above where we draw the magic herb and using the group cut option we color with a fluorescent color and the blur tool until we achieve this result.
Creamos otra capa arriba de donde dibujamos la hierba mágica y usando la opción recorte en grupo coloreamos con un color fluorescente y la herramienta difuminados hasta conseguir este resultado.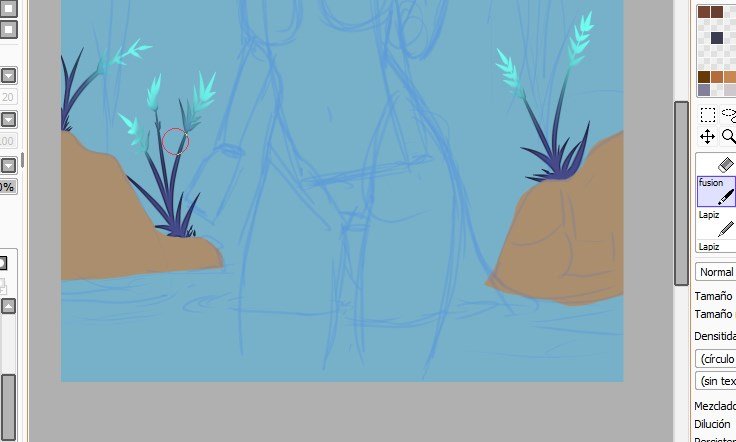 In his magic orb I used several layers and effects looking to give it luminosity, even so later I made new adjustments
En su orbe mágico use varias capas y efectos buscando darle luminosidad aun así más adelante le hice nuevos ajustes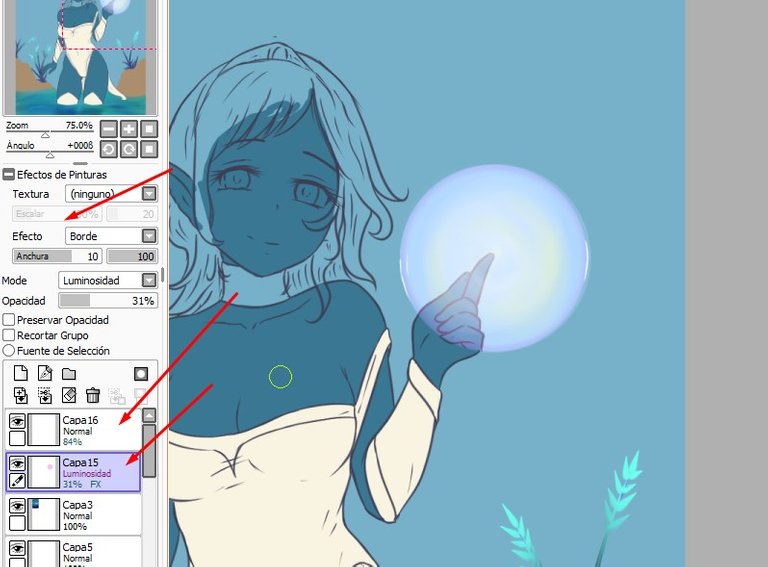 With the base of colors ready and a background already advanced, we have something like this, I did not show the base coloring one by one because it can be somewhat boring and monotonous, I will try to show the most relevant of the process. He was looking for a harmony between his skin color, the river and the background
Con la base de colores lista y un fondo ya avanzado nos queda algo así, no mostré el coloreado base uno a uno porque puede ser algo aburrido y monótono, trataré de mostrar lo mas relevante del proceso. Estaba buscando una armonía entre su color de piel el rio y el background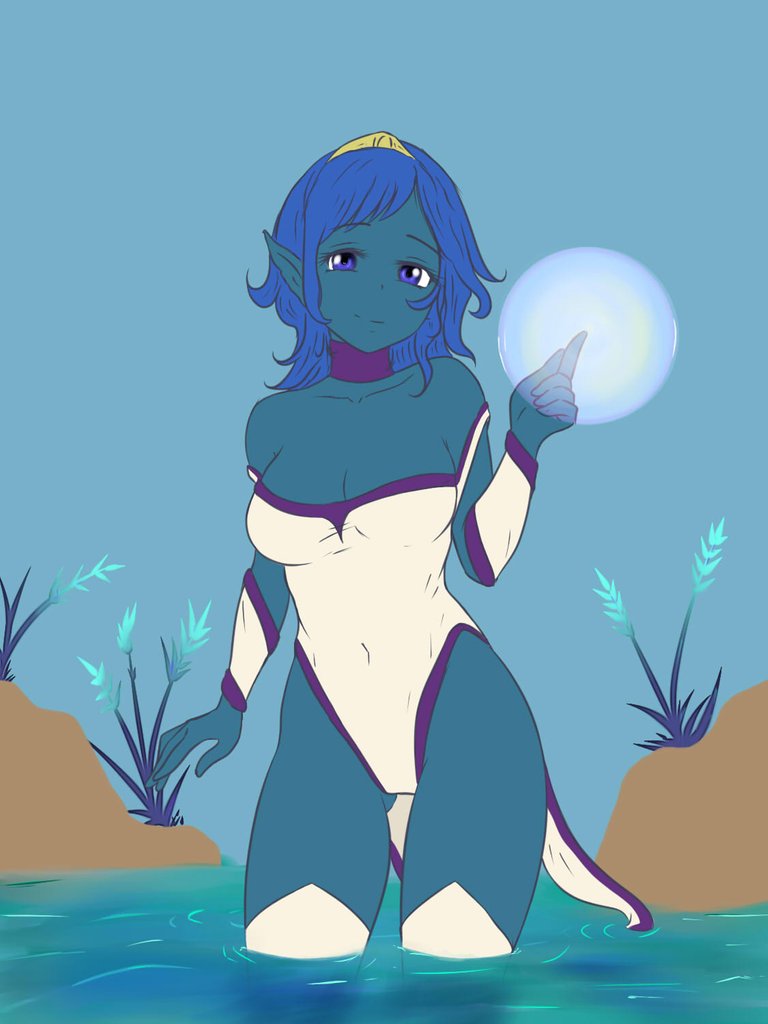 Now we go with the shadows, in this case here we have a source of light also the natural light of the landscape, taking this into account, apply an extra brightness to the areas near the magic orb.
Ahora vamos con las sombras, en este caso aquí tenemos una fuente de luz también la luz natural del paisaje, teniendo esto en cuenta aplique un brillo extra a las zonas cercanas al orbe magico.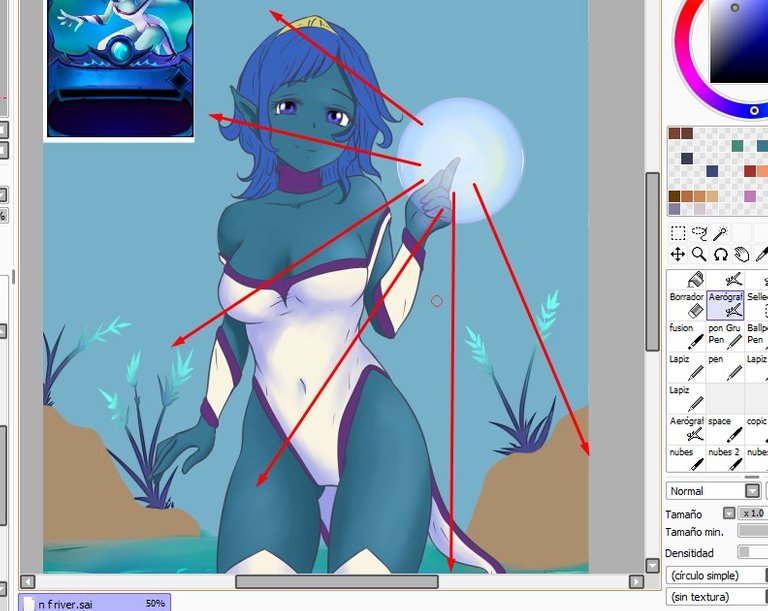 I wanted to give more strength to the magic orb so I used several more layers drawing circles with different sizes, also effects of shadow edge and transparency as shown in the image.
Quise darle más fuerza al orbe mágico así que use varias capas más dibujando círculos con diferentes tamaños, tambien efectos de borde sombra y transparencia como se muestra en la imagen.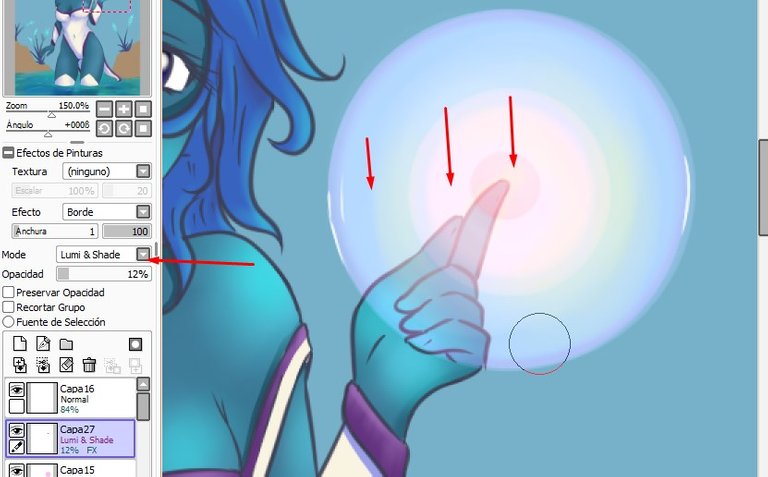 well i really like this color palette. some trees in the background without detracting from the main drawing
bien realmente me gusta esta paleta de colores. unos árboles de fondo sin que le quiten importancia al dibujo principal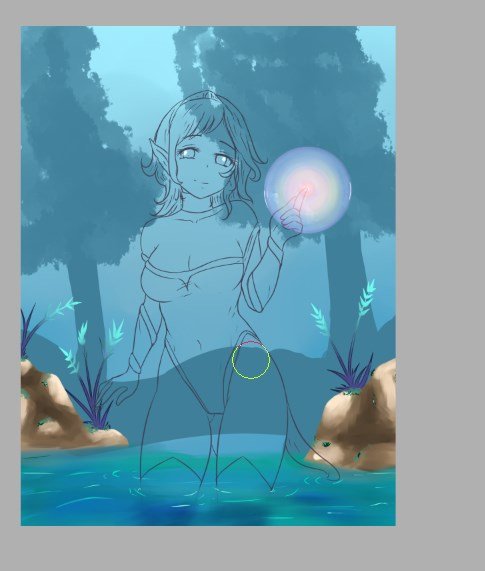 Some fireflies some other sizes and we finished
Algunas luciérnagas otras de talles y terminamos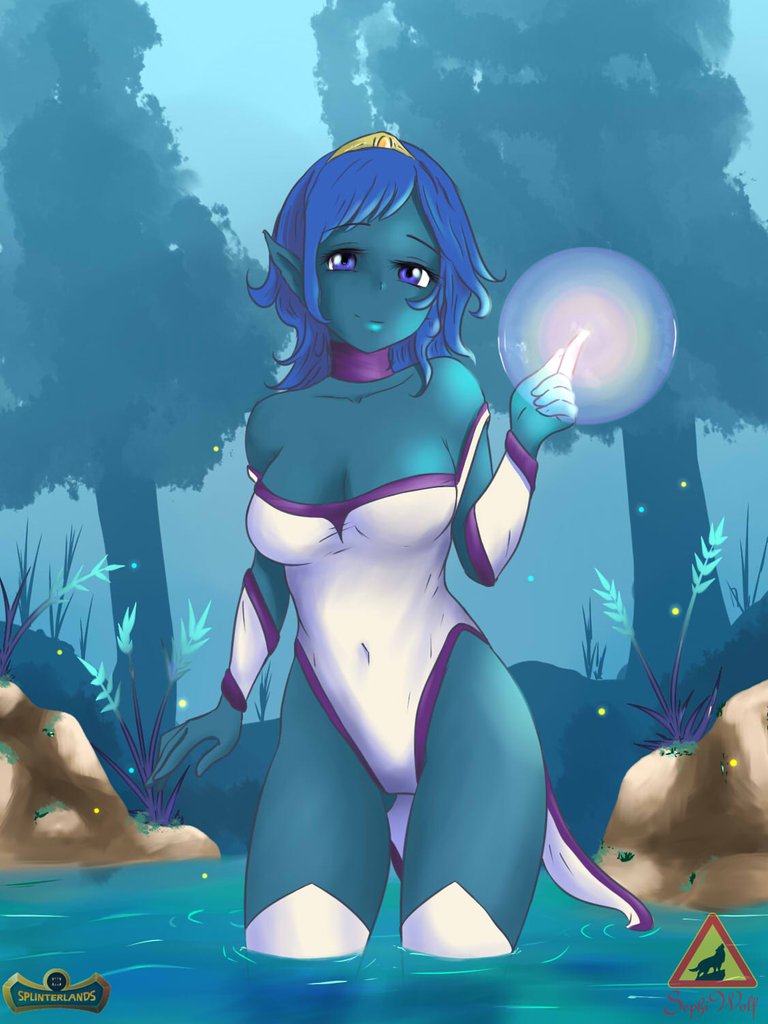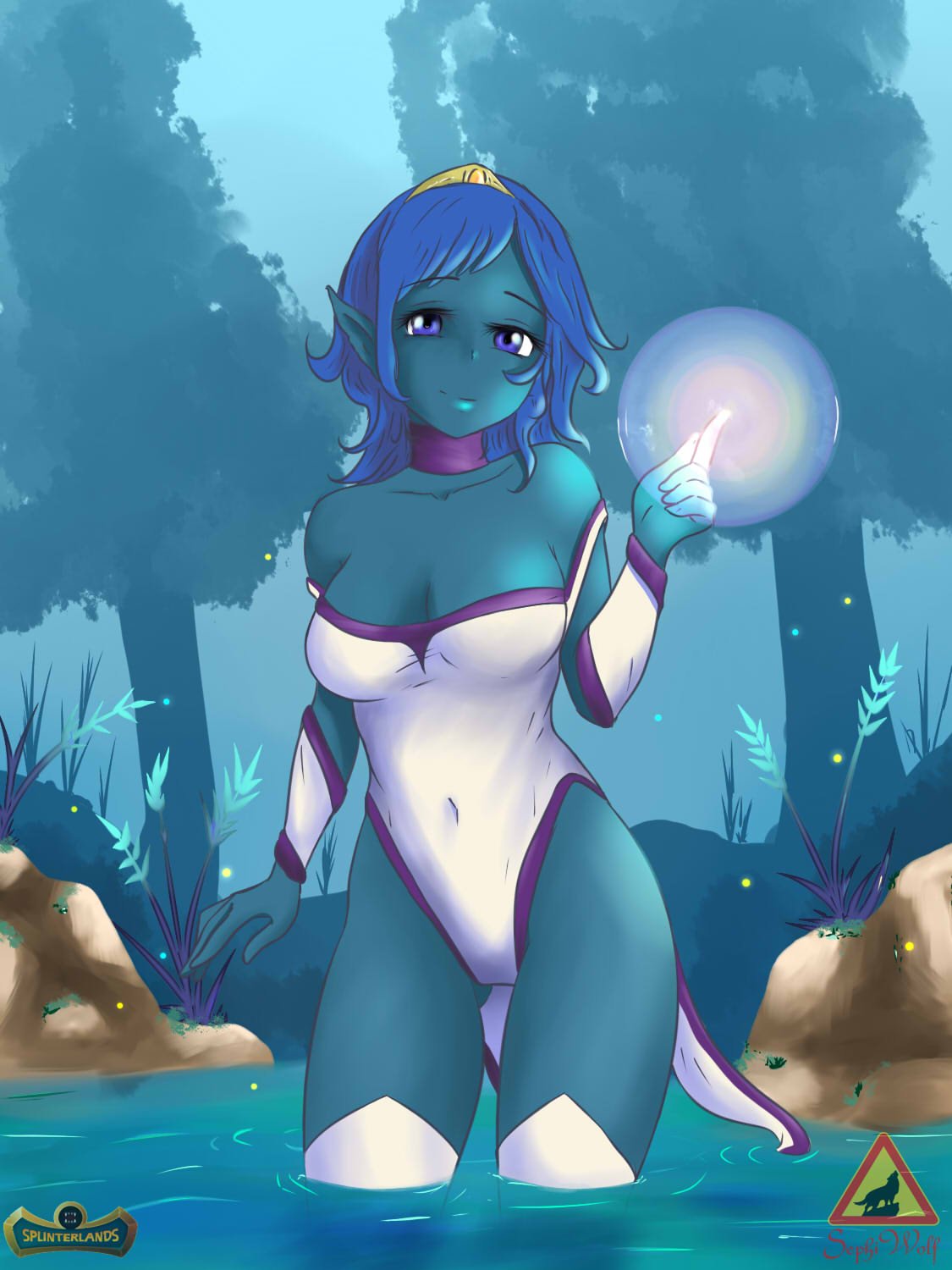 Extra content
In my drawing I tried to make a triangular composition but I am not entirely sure if it applies more as a symmetric or linear composition
en mi dibujo intente hacer una composición triangular pero no estoy del todo seguro si aplica mas como una composición simétrica o lineal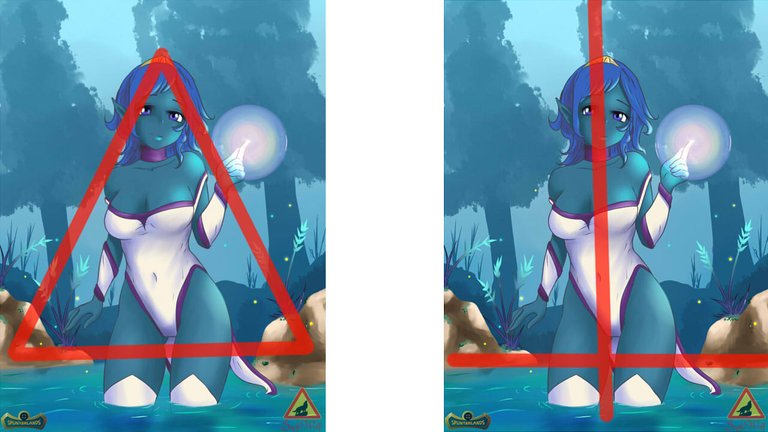 What is your opinion? let me know in the comments :)
¿Cual es tu opinión? dejamelo saber en los comentarios :)

Not part of the Splinterlands community yet? Come I show you the way:
¿aun no formas parte de la comunidad de Splinterlands ? ven te muestro el camino:
https://splinterlands.com?ref=sephiwolf
If you liked the drawing, I would greatly appreciate your curation that helps me bring more content like that. I have written SephiWolf to you and I wish you good night. :)