Hi there my SPLINTERLANDS fam! I'm here again to share my point of view of the top 9 Legendary Melee Attack Monsters and their max-level abilities before the release of Chaos Legion.

TOP 9 LEGENDARY MONSTERS (TANK/MELEE)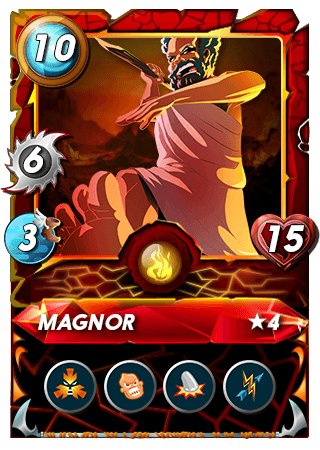 MAGNOR
LORE
Magnor is a remainder of the Titans and Giants that used to thrive in the Splinterlands, before nearly all of them destroyed themselves through war. He resembles a Human, but stands about fifteen feet tall with far greater strength and more durable flesh. Several hundred years ago, Magnor retreated from the public eye to tend the rivers and dams of lava that are always flowing beneath Molten Mountains. Without Magnor's constant and diligent maintenance of the lava, many of the great Ferexia cave cities would have collapsed long ago.
STAT
MAX LEVEL ABILITIES
Taunt
Enrage
Trample
Return Fire
OTHERS
Element: Fire
Mana Cost: 10
Popularity: 10/10
COMMENT
A very strong tank indeed with 6 Melee attacks plus 4 abilities in the maxed out level. One of the best Tanks in the Fire Element Team but cost 10 mana.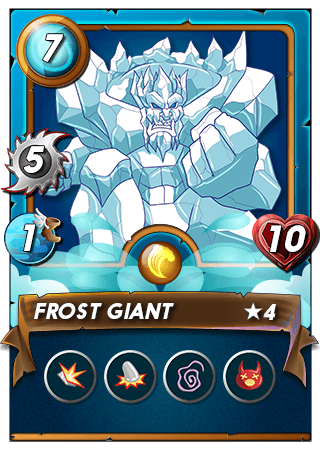 FROST GIANT
LORE
Until the recent arrival of the new Giants from the other side of the world, the Frost Giant thought he was the last of his kind. He has lived longer and seen more than nearly anyone in the Splinterlands, and he is determined to protect the climate of his beloved ΛZMΛRÉ by removing the invading salt with his own frosty hands.
STAT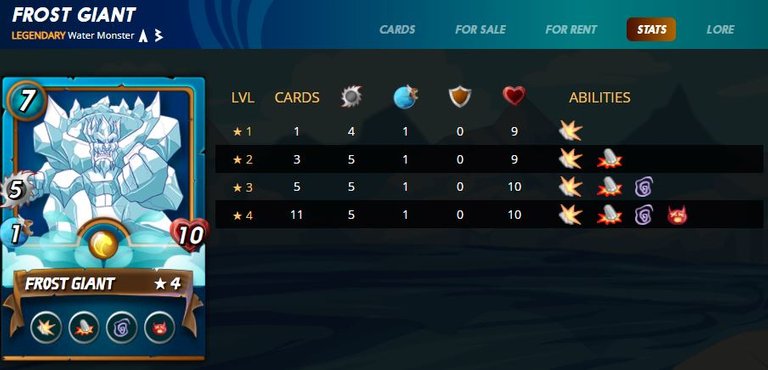 MAX LEVEL ABILITIES
Shield
Trample
Slow
Stun
OTHERS
Element: Water
Mana Cost: 7
Popularity: 9/10
COMMENT
A very nice tank monster in Water Element and provides only 7 mana cost with 4 abilities when maxed out. Speed might be the problem but all the abilities if available will definitely balance it out.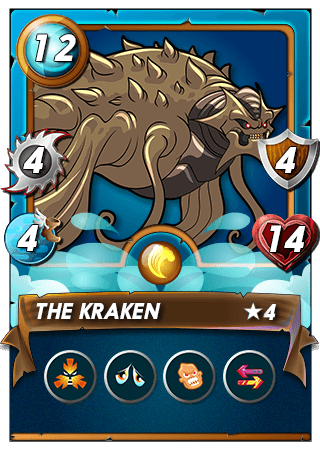 THE KRAKEN
LORE
They say that in the recent shifting of the Planet that has come with the Untamed, great schisms were opened on the floors of the seas. Through these new openings emerged new monsters from the core beyond, larger than anything even the most traveled Azmaré pirate has ever seen.
The Kraken is one such beast, and one that occasionally swims as high as the water's surface. Sailors who have seen it say that it approaches from beneath like a great storm cloud, somehow darkening everything around it with its massive shadow. With the swipe of a single tentacle, the Kraken can capsize the mightiest ships as if they were a child's bath toy.
The Kraken is so huge that special Gloridax sorcery was used to ensure that its projected essence in tournament battle was only a small portion of its actual size. If this precaution had not been taken, summoning the Kraken would have crushed every spectator in the arena.
STAT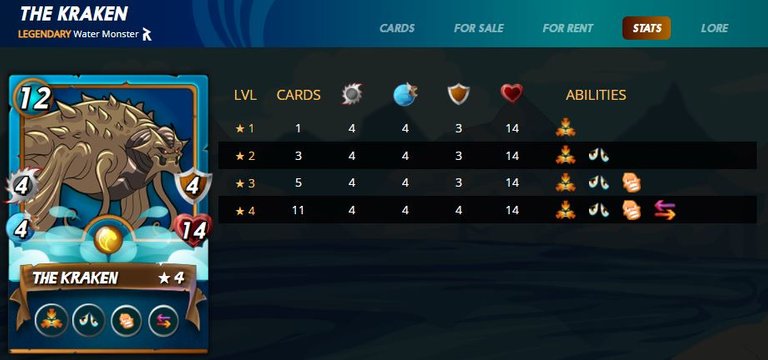 MAX LEVEL ABILITIES
Taunt
Demoralize
Enrage
Retaliate
OTHERS
Element: Water
Mana Cost: 12
Popularity: 10/10
COMMENT
One of the fastest tanks in the game with 4 speed even at Level 1. Combine it will all the available abilities and health, simply this tank is unstoppable.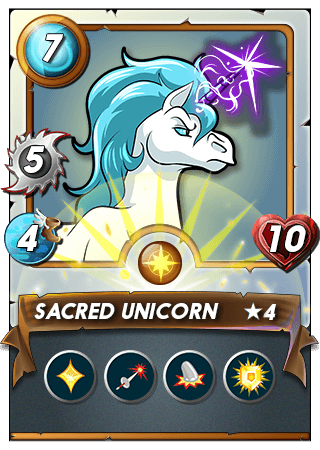 SACRED UNICORN
LORE
No one can tell why the Unicorns of the Splinterlands have become so aggressive lately. When they take the offensive, these beautiful and ethereal beasts become rabid and ruthless agents of chaos. Their piercing horns can break through a thick wall of Dragonglass, and their healing abilities make them difficult to stop with any weapon.
STAT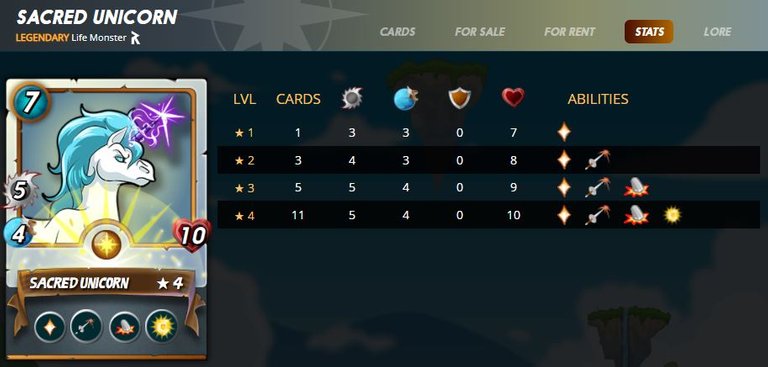 MAX LEVEL ABILITIES
Heal
Piercing
Trample
Divine Shield
OTHERS
Element: Life
Mana Cost: 7
Popularity: 9/10
COMMENT
Who will not like a maxed out Sacred Unicorn that only costs 7 mana, 4 speed, and 4 available abilities? Almost indestructible Tank force for Life Element.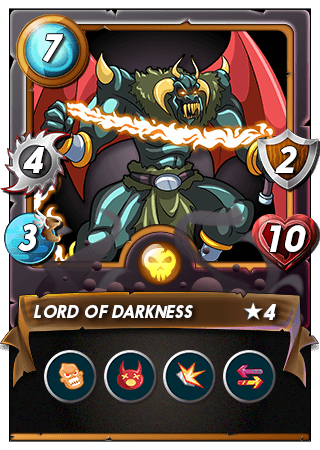 LORD OF DARKNESS
LORE
The Lord of Darkness is the ruler of the Dark Eternals of Mortis. Long ago, when he was named Lagfael, he discovered the truth of darkness from a Dark Tzar who paid him a visit from the dark eternity. Defecting from the living of the Splinterlands, Lagfael wrote the Dark Codex and began recruiting souls for the Dark Eternal collective. The Lord of Darkness loves combat, and his mighty flame whip leads Dark Eternal teams to victory again and again at Mount Mox.
STAT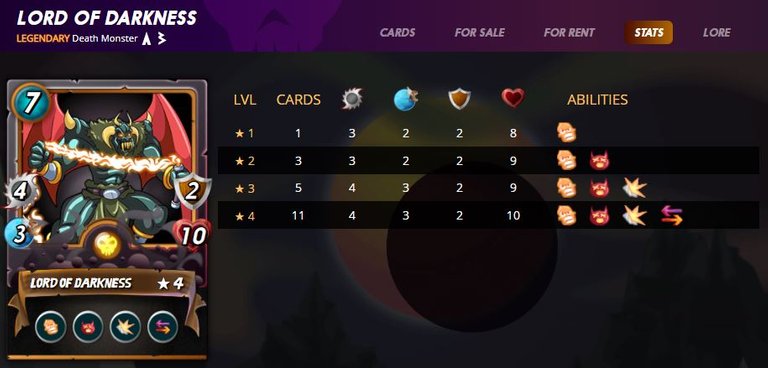 MAX LEVEL ABILITIES
Enrage
Stun
Shield
Retaliate
OTHERS
Element: Death
Mana Cost: 7
Popularity: 10/10
COMMENT
One of the most used tanks for Death Team in higher leagues, one of the oldest legendary cards around. The combination of the 4 abilities above says it all about how powerful this tank is.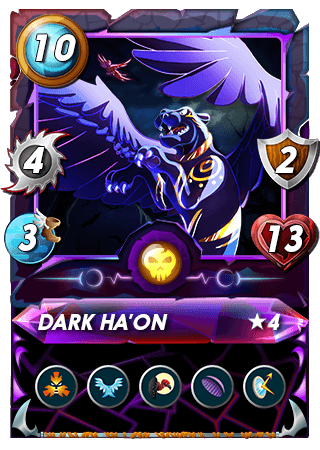 DARK HA'ON
LORE
Scholars of Khymeria have studied the shapeshifting, mystical beasts known as Ha'on extenseively since their appearance ten years ago. At an early age, each Ha'on chooses a single power form, into which they can transform. Their time is then divided into their original humanoid form and the power form, which takes a considerable amount of energy to maintain for long periods of time. The Human forms of Ha'on are recognizable by their frightening single-colored eyes, a trait with which they are endowed when they realize their full shapeshifting potential. The Dark Ha'on is one of the strongest Ha'on, taking the power form of a large flying cat.
STAT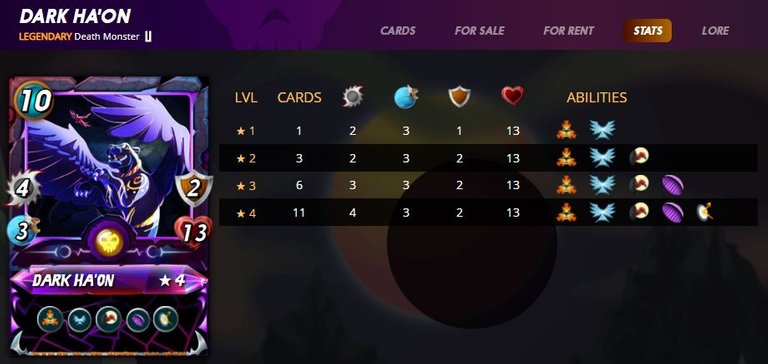 MAX LEVEL ABILITIES
Taunt
Flying
Scavenger
Void
Magic Reflect
OTHERS
Element: Death
Mana Cost: 10
Popularity: 9/10
COMMENT
A very powerful legendary defensive tank monster with 5 abilities when maxed out. Who will not love to have this on their side? Are you kidding me...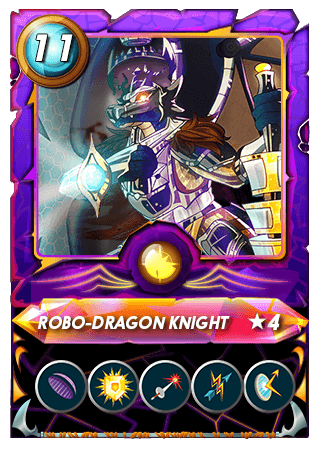 ROBO-DRAGON KNIGHT
LORE
Nothing good came of last year's GSSC (Gloridax Silvershield Sciences Convention), but when the finest Dragon minds come together with the finest minds of the Order of the Silver Shield, good things rarely do. It is the Gloridax who have made incredible advances in technology, such as robotics, genetic manipulation and physical enhancement. The contributions of the Order have always been more magical, like sacred spells of healing stolen from the Angel Realm.
The Robo Dragon Knight is the perfect fusion of Gloridax power and efficiency with Khymian whimsy and life. The Khymians, by giving the metal beast a soul may have gone too far, for if the Order can distribute souls, can they not also take them away?
STAT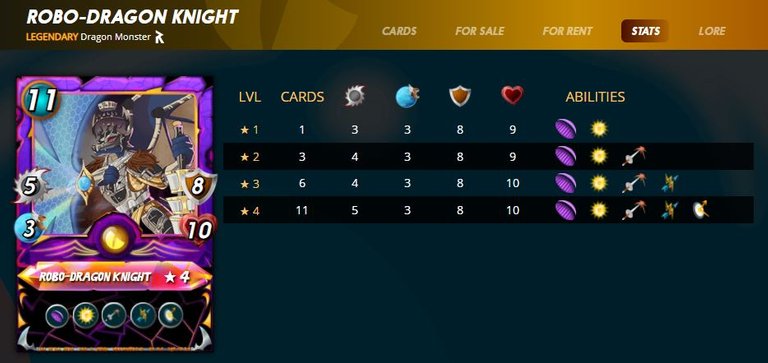 MAX LEVEL ABILITIES
Void
Divine Shield
Piercing
Return Fire
Magic Reflect
OTHERS
Element: Dragon
Mana Cost: 11
Popularity: 10/10
COMMENT
A Legendary Dragon tank monster that features 5 amazing abilities. With the additional armor of 8 at maxed out level, the enemy needs to get a lot of fire power to overwhelm this monster.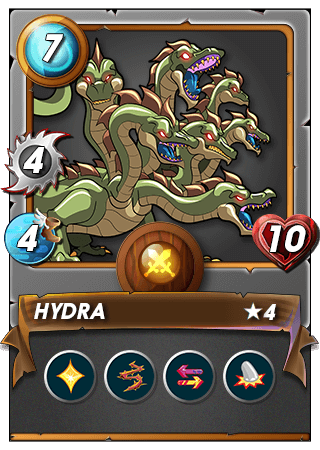 HYDRA
LORE
The Hydra is not a Dragon. It is a despicable and terrifying creature that is as cunning as it is destructive. Since arriving in the Splinterlands, the Hydra has aimed for nothing but total domination through any means necessary. He has an array of formidable defenses, healing, and Dragon-force attack.
STAT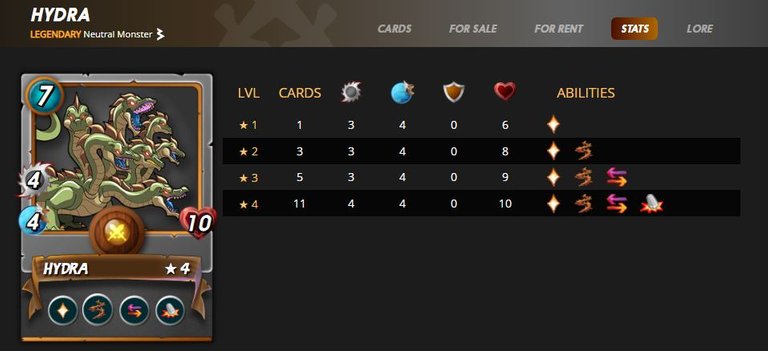 MAX LEVEL ABILITIES
Heal
Thorns
Retaliate
Trample
OTHERS
Element: Neutral
Mana Cost: 7
Popularity: 10/10
COMMENT
One of the best Legendary Neutral monsters around, with a mana cost of 7 and equipped with 4 abilities at maxed out level, the destructive power of this monster is almost second to none.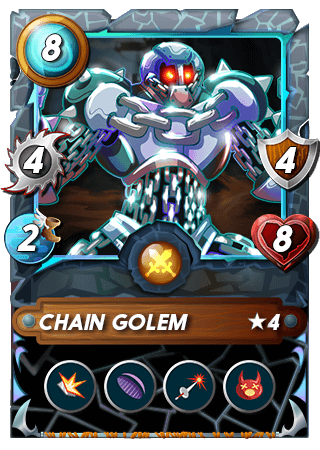 CHAIN GOLEM
LORE
The screech of metal on metal was deafening as the golem's gears first started turning. Archmage Arius cackled in delight. He's alive! He's alive!!! Arius encoded one message before turning the golem loose upon the world: "My brother must die... find him and slay him. Only then will I release your soul back into the void." The golem stood, grabbed a morningstar from the wall, and lumbered loudly into the night with the blood curse and his metal prison heavy on his mind.
STAT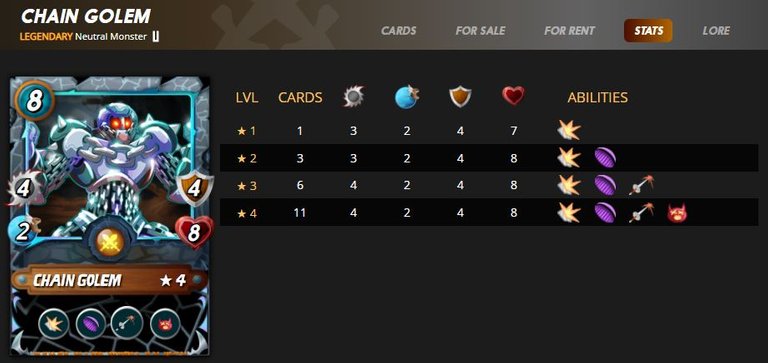 MAX LEVEL ABILITIES
Shield
Void
Piercing
Stun
OTHERS
Element: Neutral
Mana Cost: 8
Popularity: 9/10
COMMENT
Another Legendary Neutral Tank monster that provides 4 abilities when maxed out. A very useful all around tank monster to tandem with any elements around.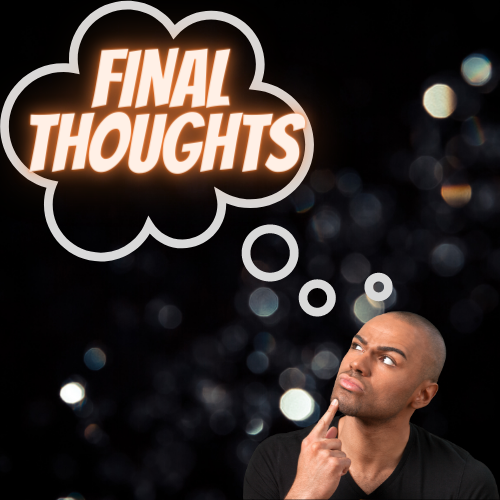 FINAL THOUGHTS
WOW! Finally, I have completed my top 9 Legendary Tank Monster list before Chaos Legion. All the maxed out level legendary monsters say's it all, very powerful and very great to have a card like that every time you battle anyone in the ranked games or tournaments.
However, it depends on the league you are playing or the tournament format you are joining in order to avail all these maxed out abilities but in the end, if you own one of these cards, then even if you can't play it yet, your rental income will grow exponentially as these cards are really hard to get.
Note that I have put all the legendary monsters in any order as the rankings are very hard to determine due to the fact that almost all of them are too powerful with each other.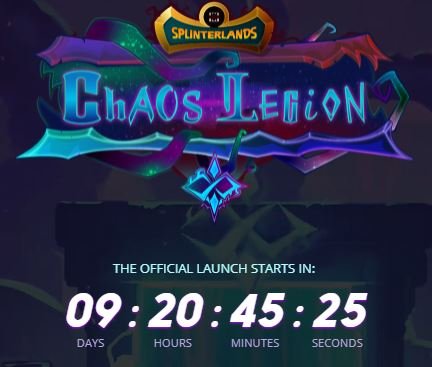 9 MORE DAYS TO GO!!! LET'S GO!!!

If you are now ready to experience this, feel free to sign up now HERE to join this wonderful game and community at SPLINTERLANDS.