Excellent race for K-Mag. Ended in 17th place.
Drove a blinder for most of the race and then a fucking plastic bag gets sucked up into the car.
And then the Haas aerodynamics, for what it is, fell apart.
Grosjean his partner for next year crashed into as many cars as he could and ended up in 11th place.
I heard Hulkenberg wanted to much cash to come and play with Haas. He would have been a great partner for K-Mag.
Ferrari look like they have a car for all tracks now.
Hammy Hamster and Mercedes are on the backfoot. They need to pull their finger out and get moving again.
And we can only hope the Haas boyzz start scoring some points again.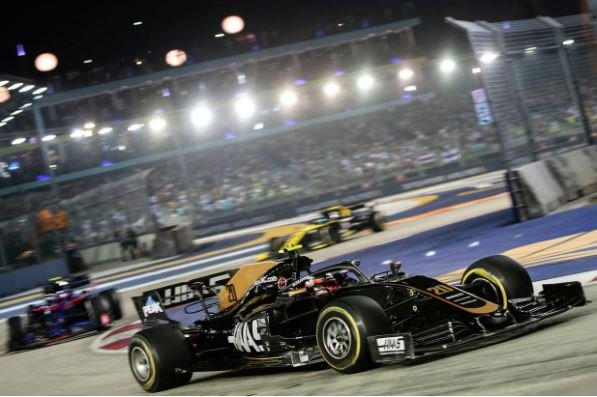 I've said it before. If Grosjean didn't have bad luck he'd have no luck at all.
2019 Singapore Grand Prix: Race Highlights (Watch on Youtube

Singapore Grand Prix: Team Haas Race Recap
Sep 22, 2019
https://www.haasf1team.com/news/singapore-grand-prix-race-recap-2
Sebastian Vettel of Scuderia Ferrari won the Singapore Grand Prix by 2.641 seconds over his teammate, polesitter Charles Leclerc. It was Vettel's 53rd career win, his fifth at Marina Bay and his first of the season. Rounding out the podium was third-place Max Verstappen of Red Bull Racing.
The 2019 World F1 Circus heads for Russia.
The 2019 FIA Formula One World Championship resumes with next weekend's
Russian Grand Prix Sept. 29
At Sochi Autodrom.
Go K-Mag!!!!!!!!!!!!!!
Go Grosjean!!!!!!!!!!!!
Image Courtesy of BT