Moin Moin, ich will nicht lange um den heißen Brei reden, ich bin ein Nebenaccount vom @actifit-devil und diene dazu auf sportstalk den Token zu verbreiten, besonders um in der deutschen Community diesen zu verteilen und natürlich auch zu claimen.
Ich habe neben den Token die ich so bekommen habe, noch ein paar Aufgestockt. Ich komme auf etwas über 50 000 Sports. Wenn du also ein aktives Mitglied bist bei Actifit kannst du mich gerne Unterstützen, damit ich dich Unterstütze.
Wie kann die Unterstützung aussehen, du sendest mir genau 10 Steempower und erhälst derzeit ein 10 % Upvote auf deine Tägliches Actifit Posts (entspricht 100 Sports). Willst du nicht Delegieren, auch nicht so schlimm ich vote auch so diverse Posts und vielleicht bist du ja auch irgendwann dabei. Votes die ich auf jedenfall durchführe sind an User die den @actifit-devil upvoten, diese bekommen zusätzlich zum Vote vom @actifit-devil natürlich auch ein upvote von mir.
Beim @devils.sports geht es allein um das Verteilen von Sports, ein 100 % Upvote hat derzeit einen Votewert von 1040 Sports ungefähr. Ich denke das kann sich doch sehen lassen und wird der Actifitcommunity hier einen kleinen Schub verschaffen.
Also wunder dich nicht wenn es mal ein Upvote von mir gibt :D .... wenn dann solltest du deine sports token auf https://steem-engine.com claimen und vielleicht staken um die Weiterverbreitung dieses Token voranzutreiben.
Zusätzlich zum Sports Token habe ich noch die Token zzan gestaked und verbreite diese nebenbei mit.
Ich werd versuchen wöchentlich einen Report abzugeben in dem die neue Aktuelle Sportspower hervorgeht.
In diesem Sinne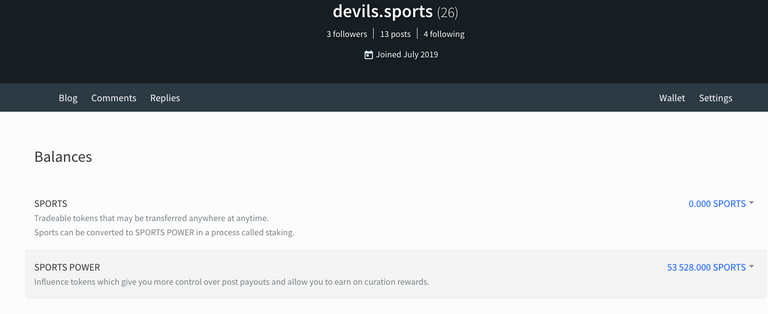 ---
Moin Moin, I don't want to talk about it for long, I'm a side account of @actifit-devil and serve to spread the token on sportstalk, especially to distribute it to the German community and of course to claim it.
Besides the tokens I got in this way, I have added a few more. I come up with a little over 50 000 sports. So if you are an active member of Actifit you are welcome to support me so that I can support you.
What can the support look like, you send me exactly 10 Steempower and currently get a 10% upvote on your daily Actifit Posts (equivalent to 100 Sports). If you don't want to delegate, also not so bad I vote also so various posts and perhaps you are also sometime there. Votes that I do in any case are to users who vote @actifit-devil upvotes, they get in addition to the vote from @actifit-devil of course also an upvote from me.
The @devils.sports is only about the distribution of sports, a 100 % Upvote currently has a vote value of 1040 Sports approximately. I think that's something to be proud of and will give the Actifit community a little boost here.
So don't be surprised if there is an upvote of mine :D .... if you should claim your sports token on https://steem-engine.com and maybe stake to promote the distribution of this token.
In addition to the sports token I also have the tokens zzan gestaked and distribute them along the way.
I will try to give you a weekly report where you can see the new sports power.
In this sense