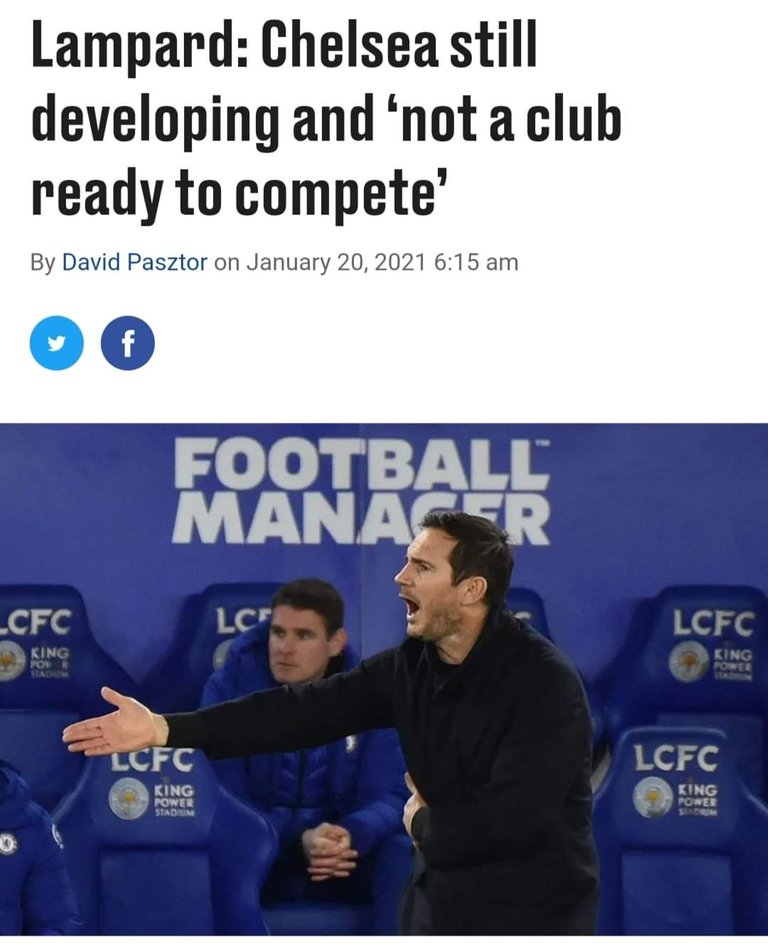 source
Goodevening from here,a bit of "heart in mouth" for me, as I write this my FIRST POST(after the introductory one I did only a few days back). I have been told good things about the Hive set up and I trust you all will rally round your new kid brother.[smiles]
So back to the post. Five days later(the above pic) Mr. Frank James Lampard was sacked. A new Manager in the frame of Thomas Tuchel came on board(mid-season,no pre-season,no signings whatsoever) and Chelsea won the next 14 matches on the trot,no losses. If we stretch further,they won 25 matches and lost only one since Tuchel came on board. You've got to be kidding me if you can't decipher who was the odd man out.
I don't want to go into the nitty-gritty of what Lamps(as Lampard is fondly called) did or did not do here. I concede that he did some things right,afterall he's not a Carpenter,he's a football coach and he was trained for that,so he must know to implement one positive thing or the other. Or can't we, for example, point to some good points in Arsenal under Mikel Arteta? Yet the coach is clearly out his depth at Arsenal,sorely lacking in experience.
Lampard simply didn't do the most important things right. He was too inexperienced for the job and that's the major reason why he failed. There is a saying that "you can't buy experience in the market-square". Intelligence and great ideas are not enough to coach big clubs like Chelsea,Real Madrid,Bayern,etc,you need a certain composure to handle the vicissitudes of big clubs which is beyond just training players and picking a team. How to handle big egos,in-game tactics,the fans,the club heirarchy,and so on; the presure in big clubs is not for apprentice coaches, it takes real experience to do this. Tuchel came in with the requisite experience s big club deserves and the results are testament to this.
Not every young man, is a Guardiola or Zidane,exceptions exist in rules isn't it?[smiles]
Lamps has therefore learned the hard way.
You need to look over at Aston Villa and spot Lamps' former teammate and captain at Chelsea– John Terry. He had offers last summer and even since he retired from playing to be a first team coach,but he has consistently refused and remained grounded at Villa patiently working as an assistant coach. That is John Terry,the coach in the dressing room as the captain of Chelsea,even Lampard confirmed that the entire dressing room felt Terry will be first to begin a coaching career,he was that good then. Also I won't fail to mention a certain mercurial Steven Gerrard(former Captain of Liverpool),who manages Rangers fc,in Scotland. Another wise man! He went away from the spotlight,the pressure..and he has been fantastic there,such that this period a fairly big club like Tottenham(who are currently seeking a new coach) inquired of his services and impeccable sources reveal, they were firmly rebuffed,that Gerrard can only discuss with Liverpool. What honour SteveG(as Gerard is fondly called) has built for himself!
Today Frank has taken the wise men's route and Crystal Palace have taken him in. That's the kind of place to start and hone your craft! You are still a young man, Frank, the big clubs will watch you and like SteveG, one day they should call you, even some may come pleading for your services.
As I finish penning this down it just occurred to me that this is a life's lesson in our hands,on we can appropriate across board– Profession,at home, at school, in worship, just about anywhere. You stoop to conquer!
Thanks a lot for reading through. Hope you enjoyed your read,please do show it visibly.😉
My salutory ending in this platform will be as below
cheerfully..