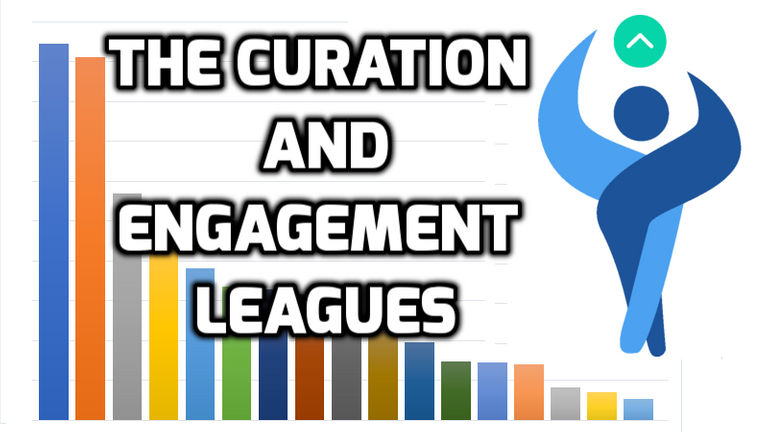 English Section
Hi, all. This is second edition of @paulag's weekly Indonesian version of The Curation League and The League of Excellence after the implementation of Hardfork 20, and the leagues are now ran by me.
History
@paulag's Indonesian version of The Curation League and The League of Excellence were adapted from the original leagues that have been ran by her co-witness partner, @abh12345 (Asher). The original Asher's leagues have proven to increase engagements on Steem blog.
Asher created the Curation League after a group of steemians (later known as #stewardsofgondor) received delegation from @fulltimegeek, and the original purpose of the Curation League was to see how effectively will the people that received the delegation use their newly granted power. The League of Excellence was created not long after that. It's aim was to provide a score for each of the participants based on activities on Steem. And they became a package of a "twin leagues".
@paulag then adapted the leagues and implemented to smaller community on Steem, which is Indonesia community, by limiting the leagues to only search the activities that related to Indonesia-related tags, which are -so far- : #indonesia, #aceh, #ksi, #nsc, #nusantara, and #arteem.
Indonesian Version's Rules
Everyone can join the leagues by showing their interests in the comment section of every post of the leagues.
Membership valids until one asks to be removed from the leagues.
Post, comment, curate articles within the included tags. Failure to do so, will disqualify you from the leagues.
You will miss your chance to receive delegation prize if you are powering down.
Prizes
Three winners of the The Curation League will receive each 1 steembasicincome spot. Three winners of The League of Excellence will receive each 75 SP delegation to be used for 3 weeks. Every winner will be disqualified in the next week's leagues and will be included again on the following week.
What The Leagues Observe
a. The League of Excellence
On The League of Excellence, things that counted to picking up winners are :
number of posts,
number of comments,
replies to replies,
character counts,
number of witness votes,
number of votes,
distinct authors voted for,
taged posts vote, and
power-up.
b. Curation League
On Curation League, to win, members need to use their effective SP to profit the most. All members will be put as they are having the same 1000 SP. The aim of the curation league is to establish how effectively participants are using their SP to earn curation reward. This report takes the value of the curation rewards claimed for a week divided by the SP controlled. This is then multiplied by 1000 to get the SP earned per 1000 SP in a week.If you have any tips to share on how best to curate for financial rewards, please do comment below and share them.
The rules (which will cause auto-filtering of your account if not met so just enter anyway and see what happens!) to appear in this league:
Must have voted at least once on a piece of content in the past 7 days from the tags;
Must not have leased or delegated Steem Power in the last 14 days;
Must not have Started a Power Down (withdrawal of Steem Power) in the last 15 days;
Must not have won the previous week. Don't let this put you off entering though - you will be automatically be excluded/appear depending on the criteria above.
c. Notes
To better your chances on winning either leagues, please study each of the table.
The leagues use SteemSQL database provided by @arcange to gather related data and determine winners. Thanks for the technology.
This Week's Winners
a. The League of Excellence
Below is this week's result of The League of Excellence.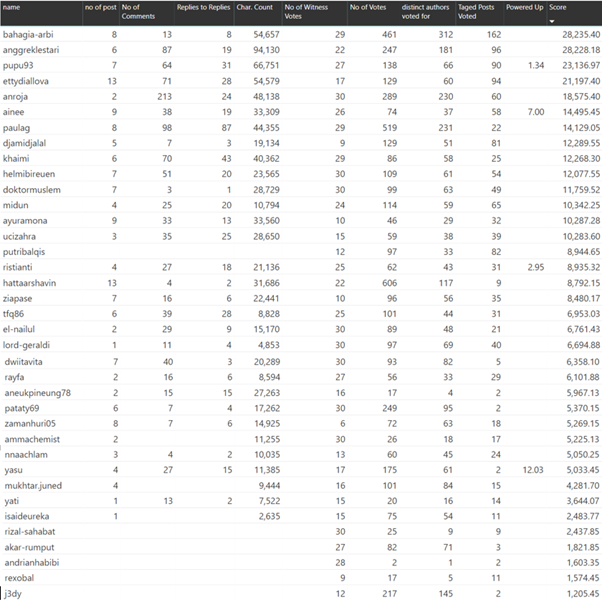 Congrats to @pupu93, @anroja, and @ainee who are eligible for this week's SP delegation from @paulag.

b. Curation League
Below is this week's result of The Curation League.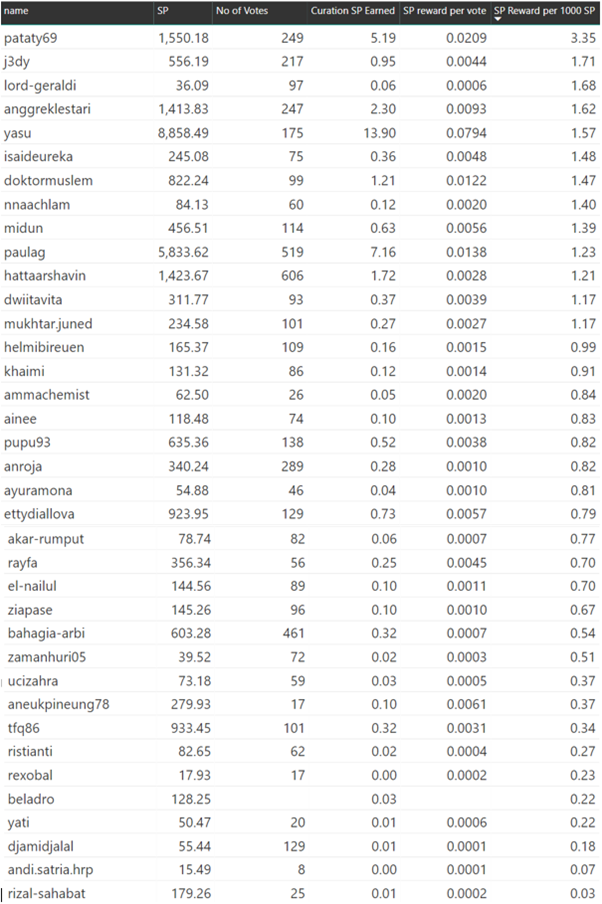 Congrats, @pataty69, @j3dy, and @lord-geraldi, for winning 1 steembasicincome spot each.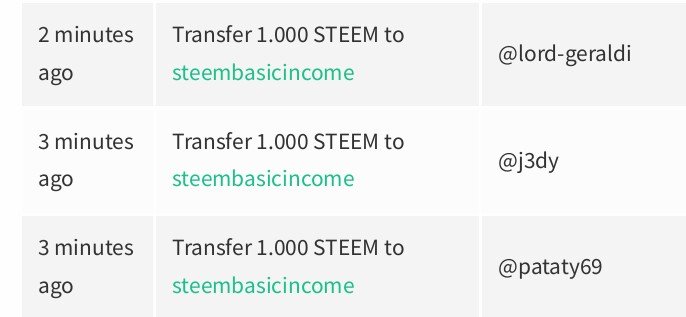 The Promotion
If you think these leagues are helping Steem blockchain and the people who live on it, please consider upvoting steemcommunity as one of your witnesses.
And please help the leagues by upvoting and resteeming this article. And also by promoting them to your colleagues so more people will join, you can start by mentioning them in the comment section.
Highlighted Related Articles
Thanks
Thanks for reading. Please kindly drop your comments.
---
Bahasa Indonesia
Hai. Ini adalah edisi kedua The Curation League and The League of Excellence versi Indonesia (mingguan) setelah mengalami "kemacetan" karena adanya Hardfork 20. Liga kembar ini aslinya dijalankan oleh @paulag dan sekarang telah diserahkan kepada saya.
Sejarah
The Curation League and The League of Excellence versi Indonesia adalah liga-liga yang diadaptasi oleh @paulag dari liga-liga asli yang diciptakan oleh @abh12345 (Asher). Liga-liga kreasi Ashere itu terbukti telah meningkatkan aktifitas di atas Steem blog.
Asher menciptakan Curation League setelah sekelompok steemian yang kemudian menamakan diri sebagai #stewardsofgondor menerima sejumlah delegasi dari @fulltimegeek, dan tujuannya saat itu adalah untuk melihat seberapa efektif para penerima delegasi itu memanfaatkan kekuatan yang baru mereka terima itu. The League of Excellence menyusul tidak lama setelah itu. Tujuannya adalah untuk memberikan penilaian terhadap aktifitas-aktifitas para partisipan di atas Steem. Dan sejak saat itu keduanya selalu hadir sepaket seumpama "liga kembar".
@paulag kemudian mengadaptasi kedua liga tersebut dan mengimplementasikannya ke dalam komunitas yang lebih kecil, yaitu komunitas yang berkaitan dengan Indonesia, dan membatasi pencarian data liga hanya pada aktifitas-aktifitas yang berkaitan dengan artikel-artikel yang memiliki tagar yang berhubungan dengan Indonesia, yang sejauh ini adalah: #indonesia, #aceh, #ksi, #nsc, #nusantara, dan #arteem.
Silahkan baca artikel saya Liga-Liga @paulag : Bergembira di Steemit Seperti Biasa dan Berpeluang Mendapat Reward, untuk mendapat gambaran yang lebih menyeluruh.
Peraturan-Peraturan Dalam Liga Kembar Versi Indonesia
Siapa saja yang ingin bergabung, silahkan nyatakan keinginannya di bilah komentar artikel liga terbaru. Hanya perlu sekali saja menyatakan keinginan untuk bergabung. Kesertaan berlaku selamanya, dan hanya bisa dibatalkan dengan menyatakan keinginan untuk dikeluarkan dari kedua liga, silahkan manfaatkan bilah komentar artikel liga terbaru.
Unggahlah artikel, komentari, lakukan kurasi, segala kegiatan Steem di dalam area artikel yang memiliki tagar yang dimaksud sehingga kegiatan tersebut dinilai. Kegagalan melakukan hal ini akan membuat seseorang didiskualifikasi dari penilaian pada minggu berjalan (bukan dikeluarkan dari liga kembar).
Anggota liga yang melakukan power down akan kehilangan hak mendapat delegasi.
Hadiah
Tiga pemenang Curation League setiap minggu, akan mendapat masing-masing 1 spot steembasicincome. Tiga pemenang The League of Excellence masing-masing akan menerima delegasi sebesar 75 SP dari @paulag untuk dipergunakan selama 3 minggu. Setiap pemenang tidak akan diikutsertakan pada minggu selanjutnya dan akan kembali disertakan setelah "beristirahat" satu minggu.
Apa Yang Dipantau Oleh Liga Kembar
a. The League of Excellence
Pada The League of Excellence, saat ini ada 9 hal yang dinilai, yaitu :
jumlah unggahan artikel,
jumlah komentar,
jumlah balasan-balasan (kedalaman dialog),
jumlah karakter,
jumlah witness yang telah divote,
jumlah vote,
jumlah artikel divote dari penulis yang belum pernah divote sebelumnya,
jumlah artikel yang divote yang memiliki tagar yang disertakan, dan
*power-up,
b. Curation League
Pada Curation League, untuk bisa menang, anggota harus menggunakan kekuatan (SP)-nya seefektif mungkin dalam mengkurasi dan mendatangkan keuntungan finansial. Setiap anggota akan dinilai pada kekuatan yang sama, yaitu dengan anggapan bahwa masing-masing memiliki 1000 SP. Tujuan Curation League adalah mengukur efektifitas partisipan dalam menggunakan SP mereka untuk mendapat reward. Caranya adalah dengan melihat jumlah reward kurasi yang didapat dalam satu minggu berjalan, dibagi dengan jumlah SP yang dimiliki, lalu dikalikan 1000. Jika kalian punya ide atau saran tentang bagaimana lebih baiknya hal ini dijalankan, silahkan ajukan ide atau saran itu di bilah komentar.
Peraturan-peraturan dalam liga Curation adalah:
Harus memvote setidaknya satu kontent steemblog yang ditulis dalam salah satu tagar yang disertakan dalam masa 7 hari terakhir;
Tidak menyewakan atau mendelegasikan SP dalam 14 hari terakhir;
Tidak melakukan Power Down dalam 15 hari terakhir;
Bukan pemenang minggu sebelumnya.
c. Catatan
Untuk memperbesar kemungkinan memenangkan tiap-tiap liga, silahkan pelajari poin-poin yang dinilai di dalam tabel sebagaimana ditunjukkan dalam tabel-tabel yang saya sertakan di bawah.
Para Pemenang Minggu Ini
a. The League of Excellence
Berikut adalah tabel hasil The League of Excellence minggu ini.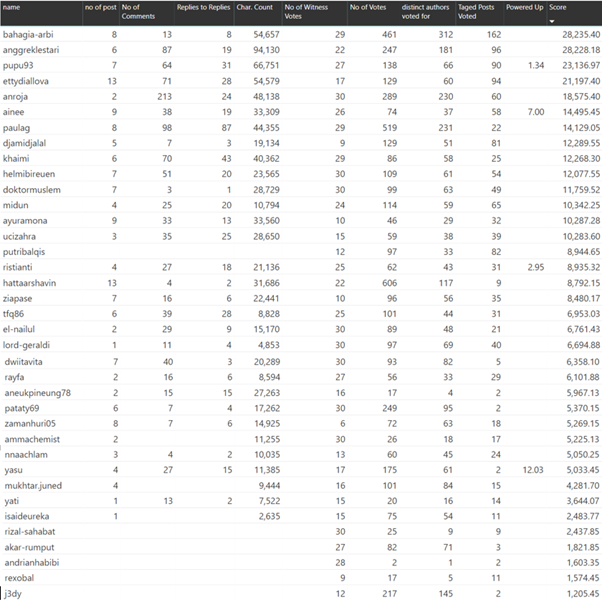 Selamat kepada @pupu93, @anroja, dan @ainee yang minggu ini berhak atas delegasi SP dari @paulag.

b. Curation League
Berikut adalah tabel hasil Curation League minggu ini.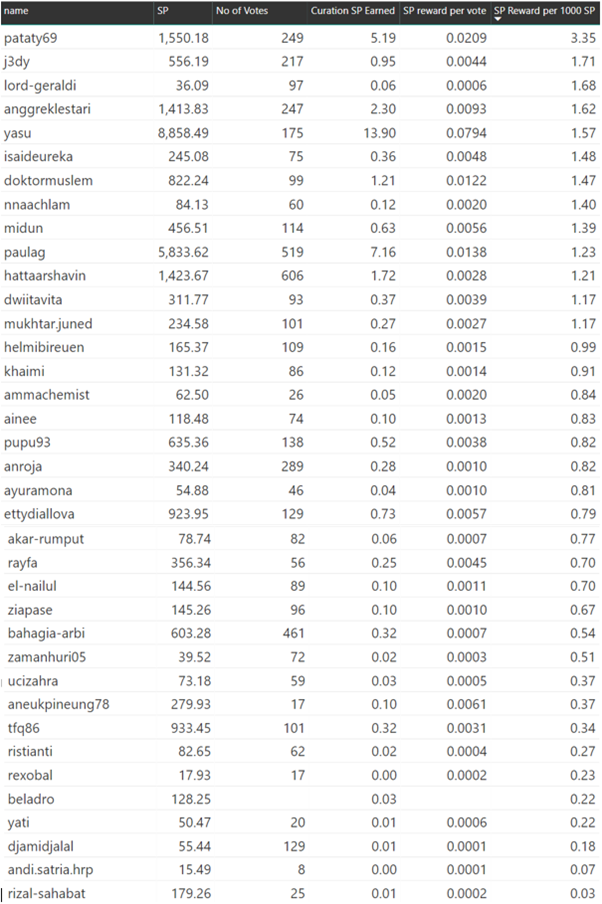 Selamat kepada @pataty69, @j3dy, and @lord-geraldi telah berhak untuk masing-masing 1 spot steembasicincome.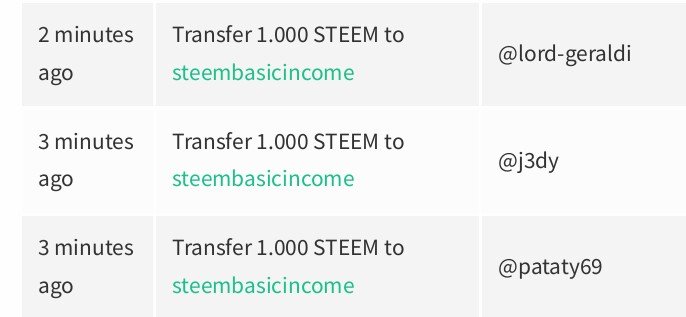 Promosi
Jika teman-teman menganggap bahwa liga-liga ini membantu Steem dan orang-orang yang beraktifitas di atasnya, silahkan vote steemcommunity sebagai salah satu witness kalian. Jika kalian tidak tahu bagaimana, silahkan bertanya dalam bilah komentar.
Dan mohon membantu liga-liga ini dengan mengupvote dan meresteem artikel ini. Dan mempromosikannya kepada rekan-rekan kita yang belum bergabung sehingga lebih ramai yang terlibat, bisa dimulai dengan memanggil nama mereka dalam bilah komentar.
Artikel-Artikel Terkait
Terimakasih
Terimakasih telah mengunjungi. Silahkan tinggalkan komentar.
---