This morning I went to http://contest.gonetcoins.com to check and see if we were still #1 and found this.
---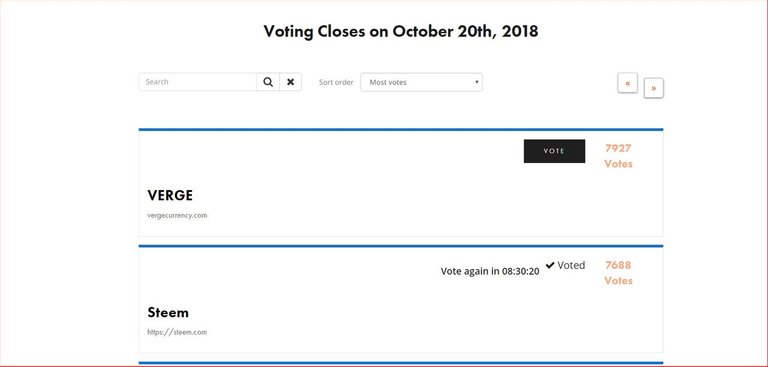 ---
Steem is in #2 not #1 , but I started thinking and here is where I need confused and need help. If steemit has over 1 million users and around 50,000 daily active users, why are we not getting at least 50,000 votes per day? Honestly this should not even be a contest we should be dominating this, but with only 7688 votes there are not many of us voting. Is the steemit community not as strong as we all think? Help your steem investment and go vote , you have an opportunity to help here. Please make a post today about this contest or resteem this one , and go vote every 24hours we only have to day and tommorrow left to vote. @ned is asking we do this. https://steemit.com/steem/@ned/steem-needs-you
Coin Listing Contest
Important Announcement and Reminders
Please be reminded that each user can only vote once per project PER DAY. Any vote that does not comply with this rule will be removed from the count. Netcoins is in the process of removing invalid votes, so please note that the number of votes you see for each project below may not reflect the real number or final count.
Please note that the form you see on the right of the page is for nominations only - to vote, scroll down to the bottom to search for your favourite altcoin.
Nominate and vote for your favourite Altcoin for a chance to win:
#1 TOP VOTED
Free listing worth $30,000 USD
#2 to #10 TOP VOTED
25% off listing fee*
1 RANDOM NOMINATOR
$200 USD Crypto Bundle
What getting listed on Netcoins means:
Getting your coin sold in 171,000 retail locations in over 53 countries across 6 continents
Press releases and media exposure on financial sites and crypto sites (Nasdaq, Globenewswire, Coinmarketcap, Coincodex etc…)
Global OTC desk availability
PHASE 1
Nominate your favourite altcoin:
Fill in the form with your details, and information about the altcoin project you are nominating.
Everyone that submits a nomination will also stand a chance to win a crypto bundle worth $200 USD!
PHASE 2
Vote:
Vote for your favourite altcoin! The altcoin project with the highest number of votes will win a free listing with Netcoins.
*Companies that place 2nd - 10th will also have the opportunity to get listed for a discount of 25% if they sign on with Netcoins in October!
IMPORTANT DATES:
VOTING CLOSES OCTOBER 20th, 11:59 PM PST
---