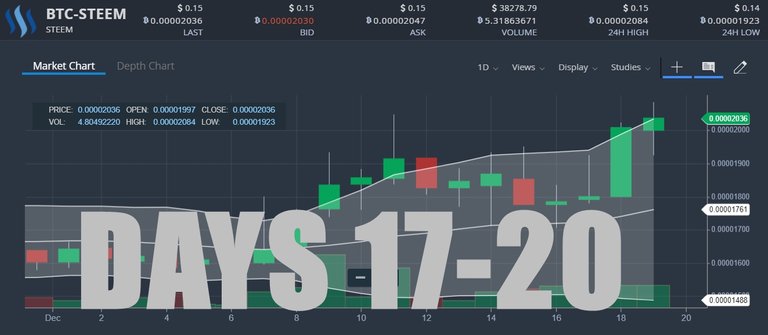 I decided to take a few days and lump them all together since I have not made any trades recently. BTC is stabilizing in the low $7K range while alt-coins are making some serious moves all around. Once BTC starts to gain some more volumes we should see alts follow.

Trading strategy rules:
Use approximately 10% of the starting reserves (in BTC) per day to BUY STEEM when the price is BELOW a set value. In this case that will be the moving average (center line) on the Bollinger Bands using 1-Day candles on the chart. Each 10% chunk will be considered a "unit".
Sell ALL STEEM when the price is above the upper range of the Bollinger Bands (1-Day candles), or 10% per day when ABOVE the moving average (1 unit).
After 5 consecutive days of buying, reduce buy quantity in half (5% or 1/2 unit).
If price is within 10% of the ALL TIME LOW, and there is 50% (5 units) or less reserve BTC, then I am allowed to "go all-in".
"Buy below, sell above" is the golden rule.

The Moving Average is up to 1761 Satoshis now as the price has sustained over 2000 Sats the past two days. This could be a positive sign that STEEM is going to finally start climbing back up. The price corrections have been extremely fast with the price almost immediately swinging back. I have not made any trades for the past 4 days and will most likely need to wait for a 10% retracement to re-enter this week.
Today's Trade:
12/20/2019
NO TRADE
Price: N/A
Quantity: N/A
Total Cost (with fees): N/A 

Trade History:
Day 1) Buy 1 unit- Price: 0.00001611 BTC, Quantity: 84.20909241
Day 2) Buy 1 unit- Price: 0.00001636 BTC, Quantity: 82.92227865
Day 3) Buy 1 unit- Price: 0.00001599 BTC, Quantity: 84.84105558
Day 4) Buy 1 unit- Price: 0.00001615 BTC, Quantity: 84.00052500
Day 5) Buy 1 unit- Price: 0.00001592 BTC, Quantity: 85.21410042
Day 6) Buy 1/2 unit- Price 0.00001618 BTC, Quantity: 41.92238809
Day 7) Buy 1/2 unit- Price 0.00001614 BTC, Quantity: 42.02628496
Day 8) Buy 1/2 unit- Price 0.00001632 BTC, Quantity: 41.56275976
Day 9) Sell 1 unit- Price 0.00001670 BTC, Quantity: 84.107
Day 10) Sell ALL units- Price 0.00001824 BTC Quantity: 462.59148487
Day 11) NO TRADE
Day 12) NO TRADE
Day 13) NO TRADE
Day 14) NO TRADE
Day 15) NO TRADE
Day 16) NO TRADE
Day 17) NO TRADE
Day 18) NO TRADE
Day 19) NO TRADE
Day 20) NO TRADE
Current Holdings:
BTC: 0.01464834 (10 units)
STEEM: 0 (0 units)
*Disclaimer: I am not a financial adviser and this is not financial advice. This information is for entertainment and educational purposes only.