Well, the twists and turns continue in the TRON/STEEM token saga. @theycallmedan has tweeted that TRON offered him the opportunity to buy all of the STEEM tokens at a discounted rate. He says they claimed they would have never bought it if they would have known that it had clauses attached. If true (and I have no reason to think it is not true), then this may be a 180 degree turnaround on @justinsunsteemit's position regarding acknowledging the validity of the community's claims on the tokens.
Also highly relevant is, as I reported previously, that the MD of Steemit inc. stated that she had warned TRON in advance that the tokens had claims on them. This appears to suggest that, again, someone is lying.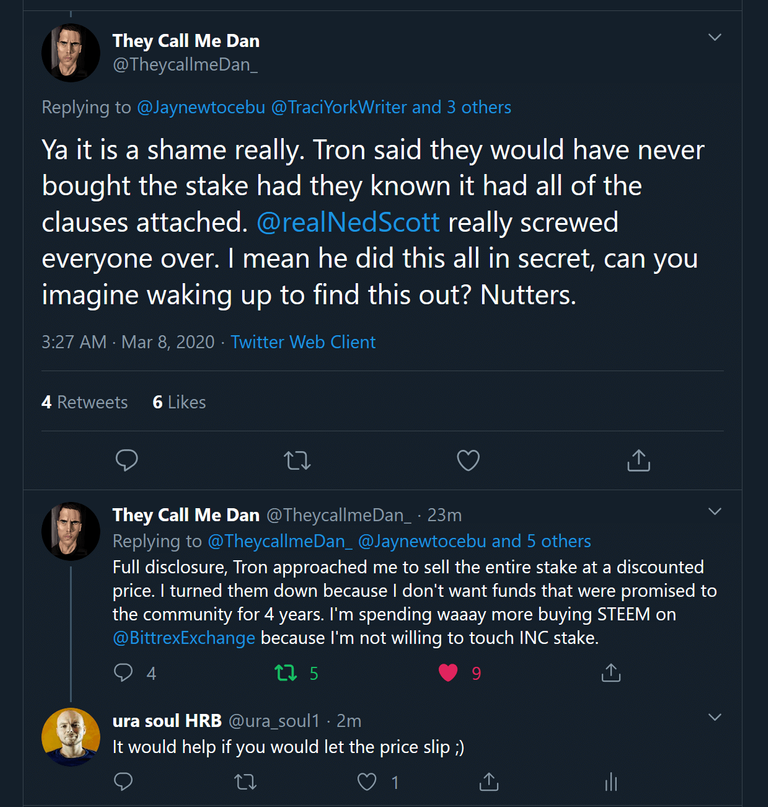 source:
Dan states in his tweets that he turned TRON down as he refuses to touch the Steemit Inc. stake. Finding out the price he was offered would possibly be quite useful in determining the parameters of a community buyout, as suggested by @thecryptodrive, if that were to take place.
What are your thoughts?
Wishing you well,
Ura Soul
---
---
---
---
Proud member of @tribesteemup.