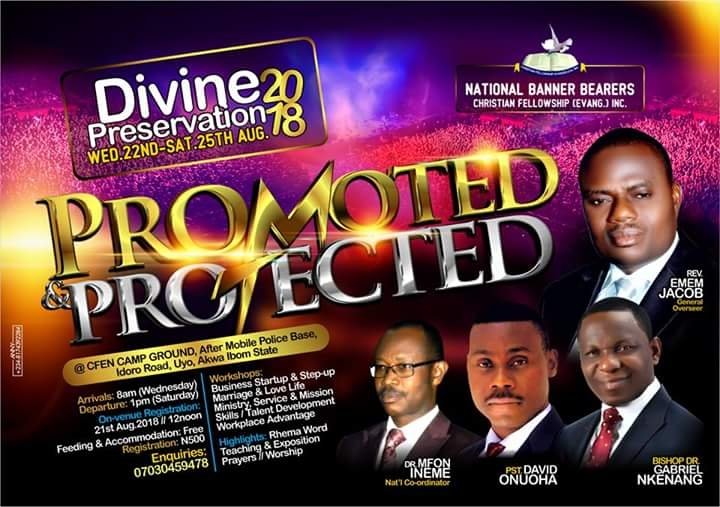 ---
Greetings to every member on the blockchain especially to the Knight @sirknight , Apostles and parishioners in the first ever church on the blockchain - the @steemchurch. Let's keep on taking the gospel to the masses.
I wish to use this medium to invite everyone on the blockchain to this power-packed August meeting of National Banner Bearers of the Christian Fellowship Evangelical Nigeria, Incorporated. It is a yearly programme where the youths are being exposed to series of seminars, teachings, workshops and preachings in order to mould them and build them to perform effectively and project God's name.
This year's conference has the theme DIVINE PRESERVATION and is tagged "PROMOTED AND PROTECTED".
It's a season God wants to promote and preserve His people and God will never fail to promote as many as would focus on Him. Divine Preservation can only come from God, no amount of money can preserve your life. No amount of human security can preserve your life. So, come and see God take you to your place of prominence.
---
The details of the programme are as follows:
---
DATE: Wednesday 22nd August - Saturday 25th August 2018.
VENUE: CFEN Camp Ground, After Mobile Police Base, Idoro Road, Akwa Ibom State, Nigeria.
WORKSHOPS:
Business Start-Up and Step-Up: There will be teachings on how you can setup your business and also step up for those in existing business.

Marriage and Love Life: Teachings will also be given on how to have a successful marriage and have a happily ever after. Singles will also be intimated on the nitty-gritty of marriage.

Ministry, Mission and Service: Many have failed in ministry; many do not know how to render worthy services to God and many do not even know their mission on earth. Are you in any of this category? Don't trouble yourself anymore cause this programme is for you. Come and sit under seasoned men of God that will tell you how to succeed in ministry.

Skills and Talent Development: It is one thing to have talent but it is another thing for your talent to be a blessing to you. You and others can never benefit from your talents until you have developed it. There are many people roaming on streets with undeveloped talents. This teaching will have you develop your talents and also show you the need for acquiring a skill.

Workplace Advantage: This teaching wi be channelled to those working for people or the government. You will be shown how to take advantage of the place where you are working.
HIGHLIGHTS OF THE CONFERENCE :
Rhema Word
Teaching and exposition
Prayers// Worship
---
Meanwhile, your support for the conference will be highly appreciated as there are many things to cater for since it is a camping programme.
---
COME AND BE BLESSED AND IMPACTED UPON AS IT IS ALWAYS AN UNFORGETTABLE EXPERIENCE.

---

Feeding and accommodation is free!!!