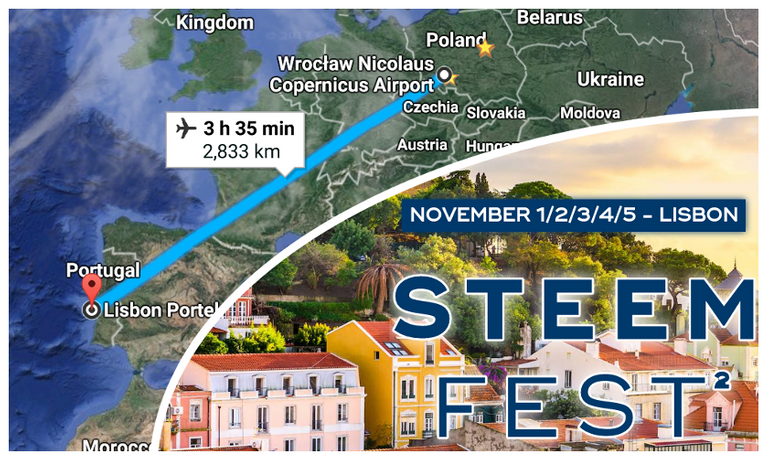 Yeah! My wife Magdalena (@lenka), our 1.5-year old daughter Joanna and me - we are all going together to SteemFest²! Is it official? YES! We already bought all tickets and we made all necessary reservations :)
"I would also like to go, but this is so expensive..."
I talked with many people and I asked whether they will come, and few times those people said... that they cannot afford it :(
For sure, traveling to Lisbon from a certain location outside of Europe can be extremely expensive. But I think, that if you live in Europe, you should consider your travel and participation in SteemFest - something tells me, that it is going to be EPIC! :)
I do not travel very often, but I have already learned, that if you will make a proper research, you can cut costs of trip significantly.
Ok, so what are the costs?
Let's check what SteemFest website is telling about that:...
SteemFest ticket
Nope. Participation in SteemFest is not free. First, you might be surprised about that, but when you will realize, that in the price of a ticket you will get food&drink for all those days, then this doesn't look so expensive anymore or still does?
Well, there are 6-types of tickets:


About Ticket Types: We try to keep SteemFest as inclusive as possible. All ticket types are equal and give access to all events, lunches, dinners, drinks and activities. It's merely how much you want to support towards covering your attendance.
Because we are going with our daughter I wanted to be sure whether I also need to buy a ticket for her:

Knowing that overall cost of this trip still is going to be high, we decided to buy 2 tickets at € 222.22
Accommodation
Of course, you need some place to sleep between those events. On SteemFest website, there is information about Hotels which have a place for Steemians, but as far as I understand, you need to cover the cost of hotels on your own.
Suggested(?) hotels
In my opinion, this is a moment, when potential trip becomes really expensive: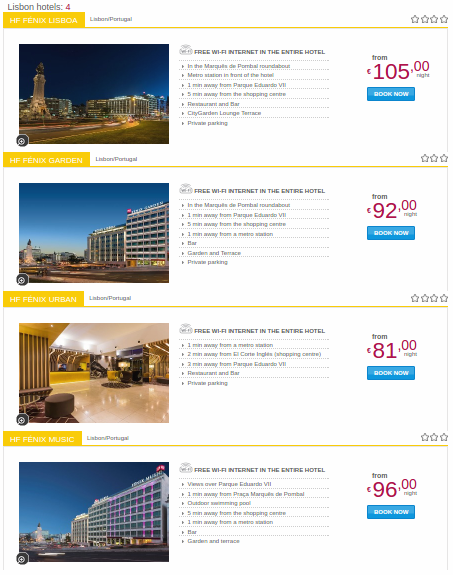 Those prices are per night, per person. So, assuming that we would like to stay for 5 days (I really want to participate in hackathon!), for 2 adults (I am not sure, whether they charge extra for a small baby)... that would give € 810.
That would be way above our limit! :/ So, what we decided to do? We decided to look for alternatives :)
Accommodation for free? CouchSurfing!
Last year, I traveled (without my wife and daughter) to first Steem Hackathon in Oslo, Norway. Oslo is a really expensive city (I spent more on taxis than for airplanes - LOL). I was afraid that I will not afford it, but then... a friend of mine suggested me CouchSurfing service.
This is a service, which gathers people which could let you sleep on their "couch" FOR FREE! Very often (as it was in my case) you will get much more, like separate room :) Why people are doing that for free? My host says, that for him it is a good way to meet new interesting people :)
I need to admit, that CouchSurfing for me was an excellent choice, I slept in an apartment of a guy called Rafid:

I remember, that I spent hours talking with him about many interesting topics. He even created an account on Steemit - @rafidhoda :) he didn't posted yet, but still, it was awesome experience :)
I wanted to describe this service here very quickly because if you travel without children, I think this might be very good and cheap option for you. Of course, you need to find a good host in Lisbon, but I am pretty sure, that there are plenty very nice people there :)
Airbnb
Traveling with a small child is always difficult, and I already know that for us CouchSurfing would not be the best option. And also... finding a good place and a host which would like to share a room to a marriage with an infant, would be much more difficult.
This time we decided to choose an Airbnb. This is what I have found:
https://www.airbnb.com/rooms/6937887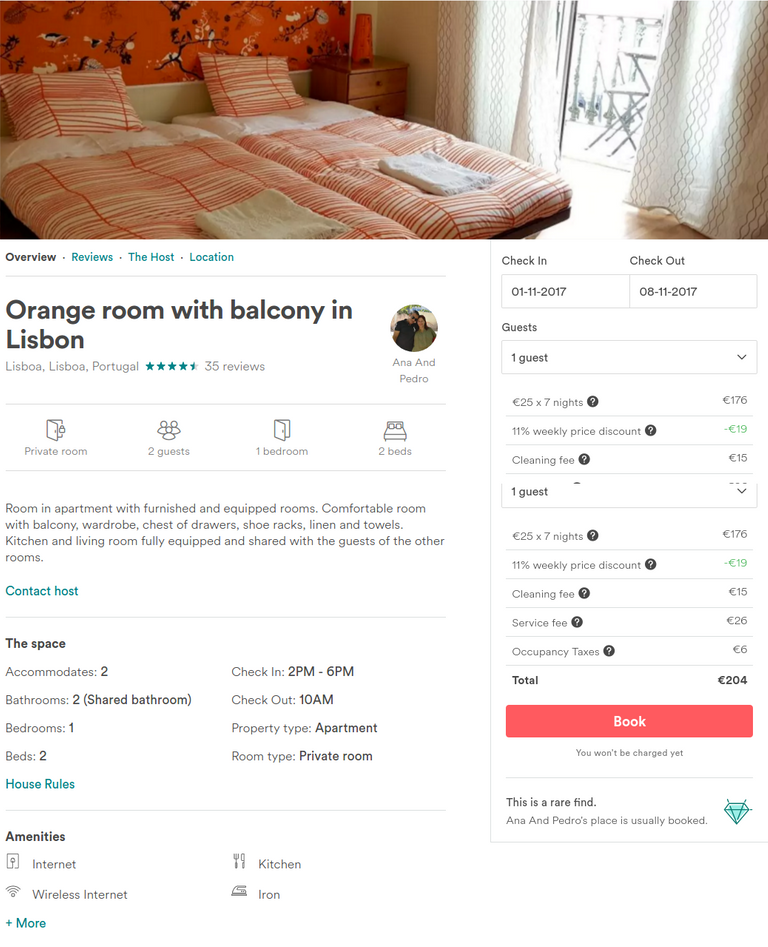 This is 4x cheaper!
Actually, this is not true. We paid €204 only because we decided to stay not 5 days... buy 7days, so it is actually 5.5x cheaper :)
But you may think, that this is a matter of location, right? No, not really. Location is still very good: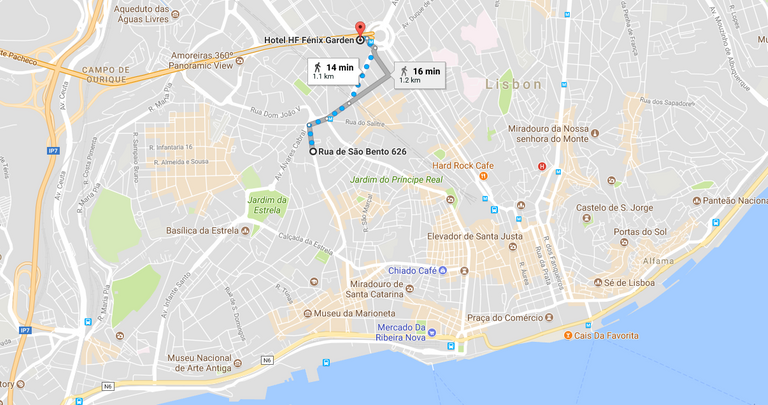 This is only 15 minutes away from a suggested hotel :)
If you would also like to use Airbnb, you can use my invite link, to register: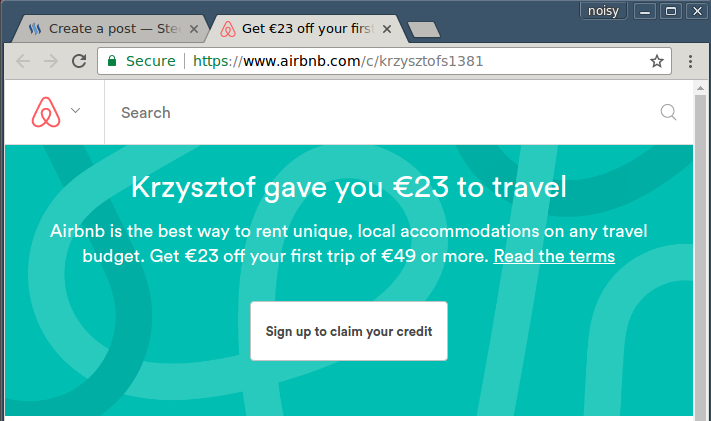 https://www.airbnb.com/c/krzysztofs1381
You will get €23 extra and I will get €12 for next trip :)
Airplane tickets
Ok, for many people airplane tickets will be the most expensive part of the whole journey. There are hundreds of service which help you find a flight, but personally, I really like polish BlueSky. Why is that?
Because I can select the whole country as a starting point or as a destination and a website will take into account all airports from that country - this gives a lot of options :)

Another very cool feature of this website is... a possibility of searching a flight within +/- 3 days range. First I have checked prices for a flight to Lisbon (one direction):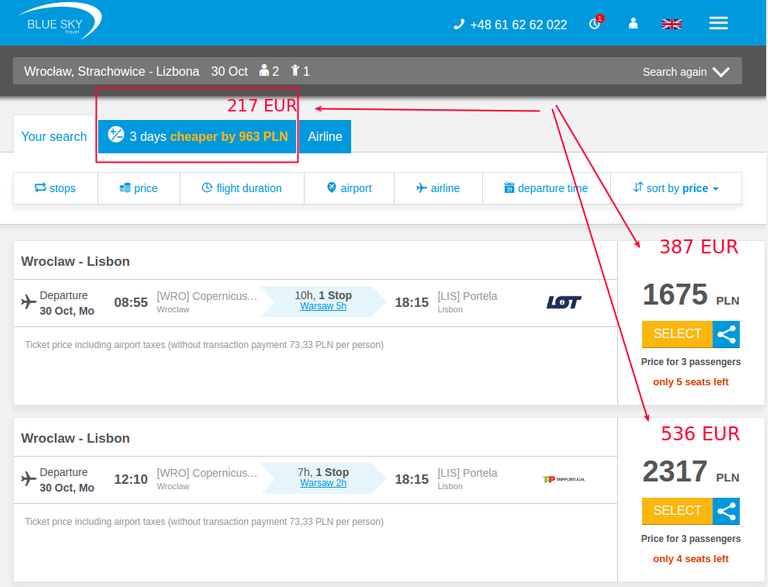 Then I realized, that by extending our staying in Portugal, we can make whole visit... cheaper :)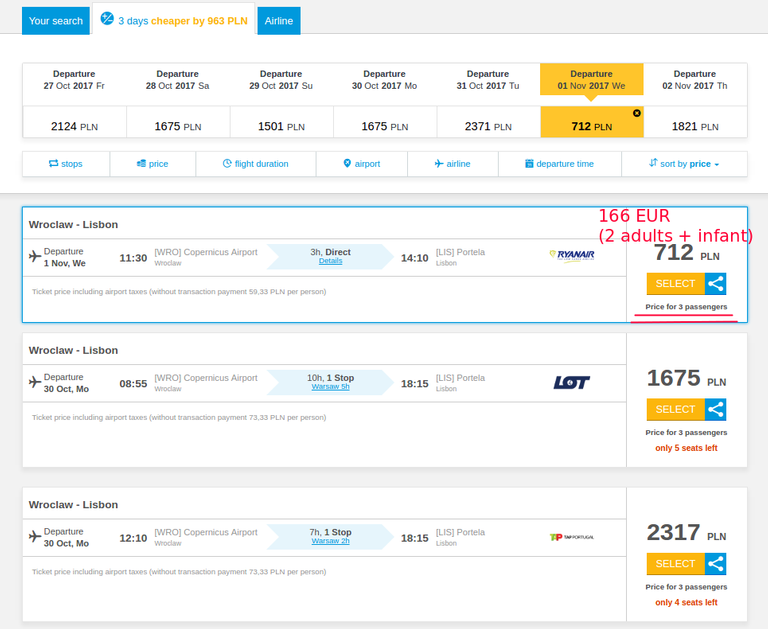 When I realized that Ryanair has direct flights between Wrocław and Lisbon, I decided to book round trip on their website: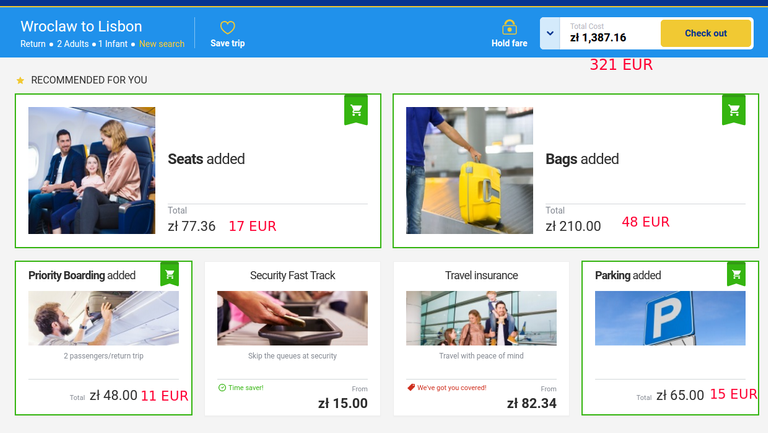 Because we are traveling with a child, we decided to take one extra luggage (20kg). In theory, we could avoid costs of "Seats added", but then we could get seats in different areas of a plane, and I really want to flight next to my wife and daughter :) Priority boarding wasn't expensive, so this time I decided to take it as well. And... we need to park a car for a week next to airplane, fortunately, that also is not very expensive.
The total cost of airplane tickets, luggage, parking : €321.
Our total cost (2 adults + infant)
| Name | Cost per person [PLN] | Cost [PLN] | Cost per person [EUR] | Cost [EUR] |
| --- | --- | --- | --- | --- |
| SteemFest tickets | 958 | 1916 | 222 | 444 |
| Airplane tickets WRO-LIS | 232.20 | 464.40 | 53 | 106 |
| Selected Seats WRO-LIS | 19.34 | 38.68 | 4.5 | 9 |
| Priority Boarding WRO-LIS | 12 | 24 | 3 | 6 |
| Airplane tickets LIS-WRO | 167.20 | 334.40 | 39 | 78 |
| Selected Seats LIS-WRO | 19.34 | 38.68 | 4.5 | 9 |
| Priority Boarding LIS-WRO | 12 | 24 | 3 | 6 |
| Extra 20kg luggage WRO-LIS | - | 105 | - | 24 |
| Extra 20kg luggage LIS-WRO | - | 105 | - | 24 |
| Airport 1-week parking | - | 65 | - | 15 |
| Airbnb | - | 878.85 | - | 202 |
| TOTAL | 1420.08 | 3994.01 | ~329 | ~923 |
~ - price in EUR is rounded, because I paid in PLN
Of course, that is not all. Being there probably we will spend some additional money for uber from an airpoir (~10 EUR), some money for public transport, souvenirs, etc - but in general, I think our costs should not grow very much.
Theoretical minimum cost for 1 adult, traveling from Poland
I think it would be very nice to calculate what would be the cost, if someone would decide to travel with minimum costs, with minimum luggage (Ryanair gives 1 small luggage + hand back for free anyway, but we needed 1 more extra big luggage), without a parking on an airplane, with CouchSerfing instead of Airbnb.. Let's calculate:
| Name | Cost per person [PLN] | Cost per person [EUR] |
| --- | --- | --- |
| SteemFest tickets | 958 | 222 |
| Airplane tickets WRO-LIS | 232.2 | 53 |
| Airplane tickets LIS-WRO | 167.2 | 39 |
| CounchSerfing | 0 | 0 |
| TOTAL | 1357.4 | 314 |
For someone from Poland 1357 PLN (or 314 EUR) for 7 days week vacations, 2800 km from home, with a possibility of meeting few hundreds most dedicated Steemians, in a beatiful Lisbon - I think it doesn't sound so expensive any more :)
I hope to see you on SteemFest! :)