---
---
Hi steemit !!! Hi steemitian !!!
Back again with me ** Abuamann **
On this occasion I will discuss about ** The photoghraphy ** tool needed in the field while in action.
Why do we need a photoghrapy tool? The answer is very necessary, why? Because the tool also includes aspects such as image quality so there is no motion blur (images that are less clear) and can also help if you have a habit of vibrating when lifting weights. Well that's the benefit we need tools. Both photoghraphy and videography.
Pake hand / handle can? He can but less than the maximum results I say. Because the experience has been talkative.
The strong reason I dare to say it. Because now we play with image quality. The angle of taking, the light and the beauty of the image itself. That's if you are photo / videography professional. Others if you want to learn new.
Due to limited funds / budget. I recommend to use with makeshift tools. Karanbsaya was the same in the early pioneering videography. Pake hape guns no tool. Just a hand doang. Yes the result, bad gun bad bad.
Heheh sehh kind bener aja ane this talk. ha ha ha
But if the beginner bole lah. Of not at all and never try. spirit ..
Okay without a long diurutan first mandatory all
** 1. Tripod **
! [Image] (
)
Tripod is helpful for taking. Rather than hold hold vibrate the result. Mending your camera put on a tripod and ... Balanced deh.
Tripod itself has many benefits like
** Antin shake **, ** Makes it easier when you need the upside up angle up and down, left to right ** circle ** and many ways you can create a tripod.
And the tripod itself can be used as a stabilizer for you beginner nih low budget. Just place a tripod on your waist with the camera forward. So deh.
** 2. Monopod **
! [Image] (

)
The use of monopod and tripod is not much different. Just a monopod only 1 footstep only he has.
But the tripod itself has many uses like. You want selfie ni like ala ala handphone. Just put the camera upside down and so.
Oh suppose you want to take a view from above. Just stay up the stick.
Oh you guys want to make your camera as dolly. Can stay pushed forward and backward. But the risk is the image that will be produced rocking.
** 3. Slider **
! [Image] (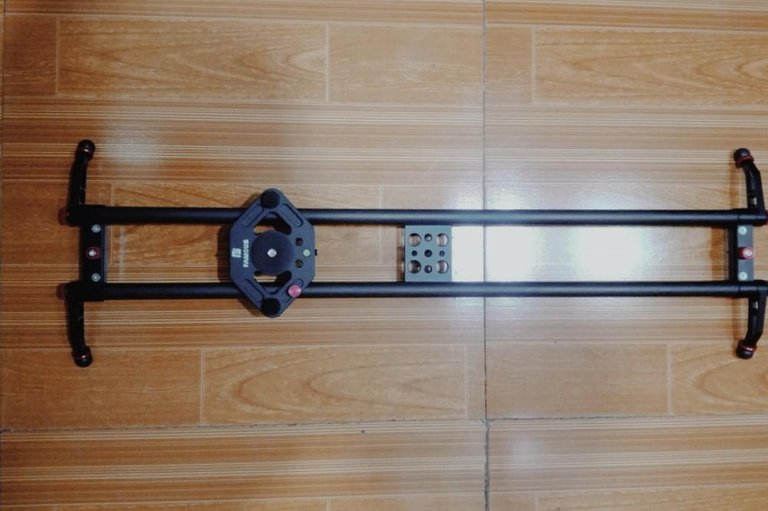 )
nah Klo this slider itself is very nice and helpful if you as videoghraphy which you want to take pictures of Hollywood-style cinematic style so. Well you really fit and definitely need this tool.
** 4. Dreadlocks **
! [Image] (
)
Well this is very special. Why special? Because its utility has covered all the above tools. He can be a tripod, monopod, slider and dreadlocks.
The advantages of gimabal moreover, Well for you ni videographer professional or beginner surplus that is needed by us is. Anti vibration. Whatever we are running jumping and others. The resulting image remains stable smooth and steady soul. Its so amaizing broh.
Oh he is a bit of information that was my friend so if you want a video dibuatin marriage and other events can be tough on instagramnya @fiexarbenion / @ galviofilm
! [Image] (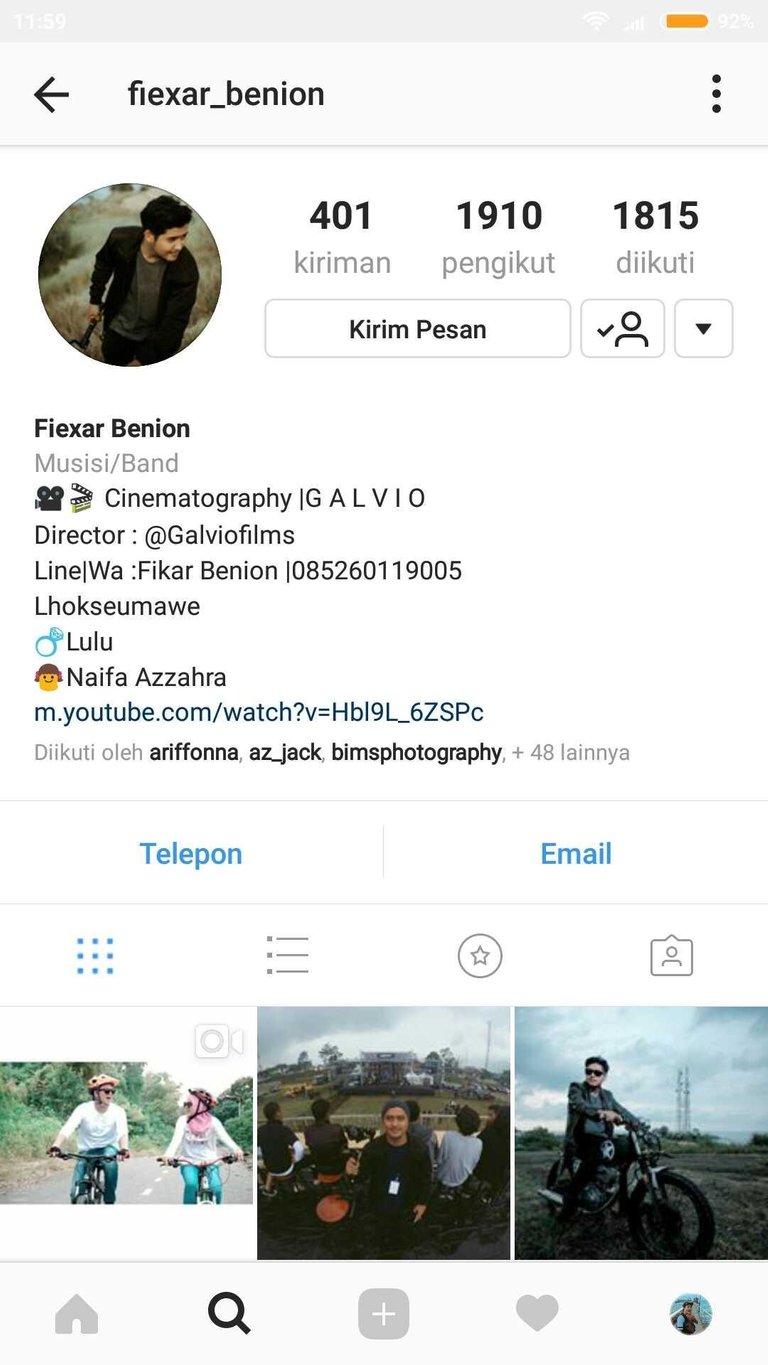 )
! [Image] (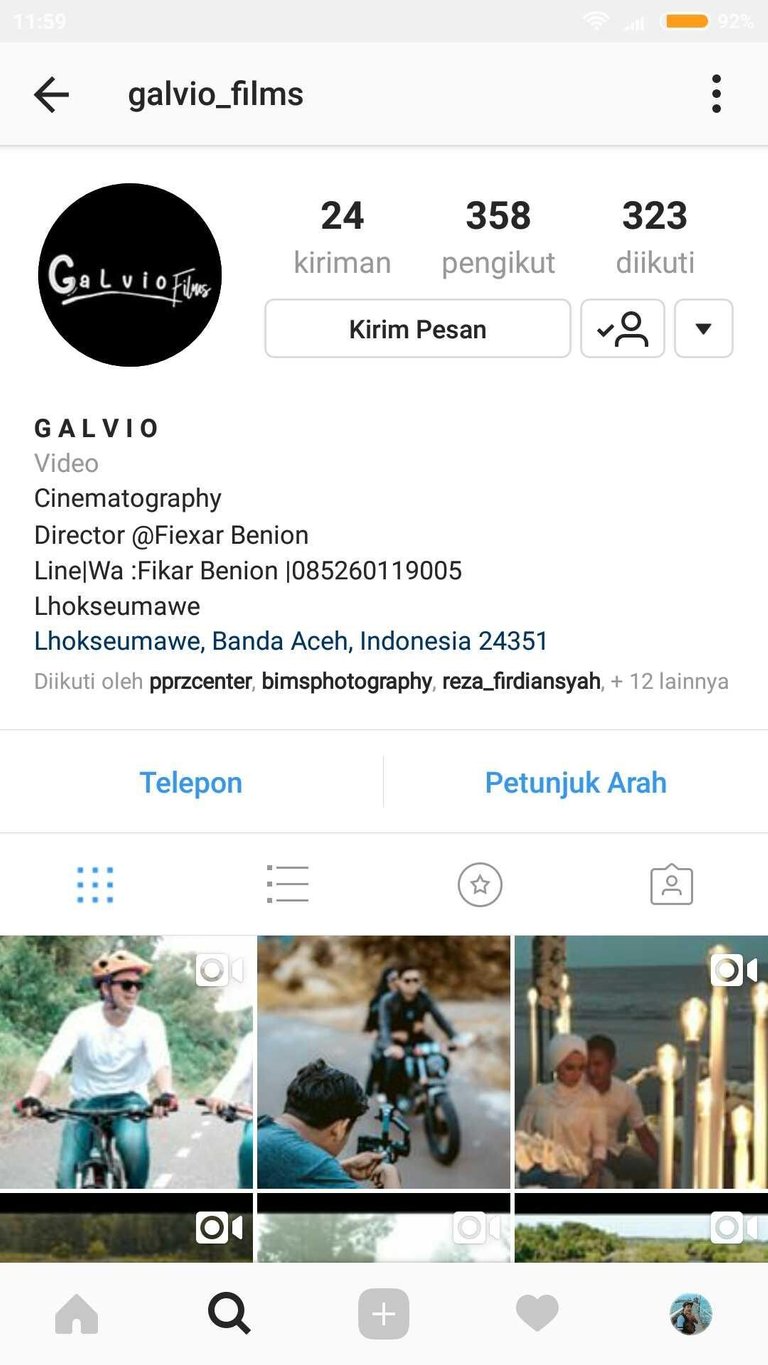 )
Maybe so many reviews that I can say because this is the experience and version I experienced. More and less I apologize.
---
# Hope Enjoy # Hope Enjoy
---
** contac person **
Facebook: abuaman73
Line: abuaman73
Wa: 0822-7654-2853
Instagram :
Abuaman73 (photo only)
Abu.amann (video)
Cnm.kzln (video weeding etc)
---
---
Hai steemit !!! Hai steemitian !!!
Kembali lagi dengan saya Abuaman
Pada kesempatan kali ini aku akan membahas tentang Alat alat photoghraphy yang dibutuhkan di lapangan saat beraksi.
Kenapa kita butuh alat photoghrapy? jawabannya sangat butuh, kenapa? karena alat juga mendunkung aspek aspek seperti kualitas gambar agar tidak ada motion blur (gambar yang kurang jelas) dan juga dapat membantu jika kamu ada kebiasaan bergetar saat mengangkat beban. Nah itulah manfaat kita membutuhkan alat. baik photoghraphy maupun videography.
Pake tangan/handle kan bisa? ia bisa tapi kurang maksimal hasilnya saya katakan. karena pengalaman telah banyak bicara.
Alasan kuat saya berani mengutarakannya. karena sekarang kita bermain dengan kualitas gambar. sudut pengambilan, cahaya dan keindahan gambar itu sendiri. itu kalau kamu photo/videography professional. lain jika anda yang ingin baru belajar.
Karena keterbatasan dana/budget. saya sarankan pakailah dengan alat seadanya. karanbsaya pun sama dalam awal merintis videography. pake hape ngga ada alat. cuma tangan doang. ya hasilnya, ngga buruk buruk amet.
heheh sehh macam bener aja ane bicara ini . hahaha
Tapi kalo pemula bole lah. dari pada tidak sama sekali dan tidak pernah mencoba. semangat ..
oke tanpa panjang lebar diurutan pertama yang wajib semua
1. tripod

Tripod sangat lah membantu untuk pengambilan. daripada dipegang terus bergetar hasilnya. mending camera anda letakkan di tripod dan... Seimbang deh.
Tripod sendiri banyak banget manfaat seperti
Antin goyang , **Mempermudah disaat kamu membutuhkan sudut pengambilan naik keatas dan kebawah, kiri ke kanan melingkar dan banyak cara yang dapat kamu kreasikan dengan tripod.
dan tripod sendiri bisa dijadikan stabilizer bagi kamu nih pemula yang low budget. cukup letakkan tripod di pinggang kalian dengan kamera tertuju kedepan. jadi deh.
2. Monopod


Kegunaan monopod dan tripod sebenarnya ngga jauh beda. cuma monopod hanya 1 pijakan saja yang dia miliki.
tapi tripod sendiri banyak kegunaan seperti. kamu ingin selfie ni seperti ala ala handphone. cukup letakkan kamera terbalik dan jadi.
oh misalkan kalian kepingin mengambil view dari atas. tinggal panjangkan tongkatnya.
oh kalian mau jadikan kamera kalian sebagai dolly. bisa tinggal sorong kedepan dan kebelakang. tapi resikonya ialah gambar yang akan di hasilkan goyang.
3. Slider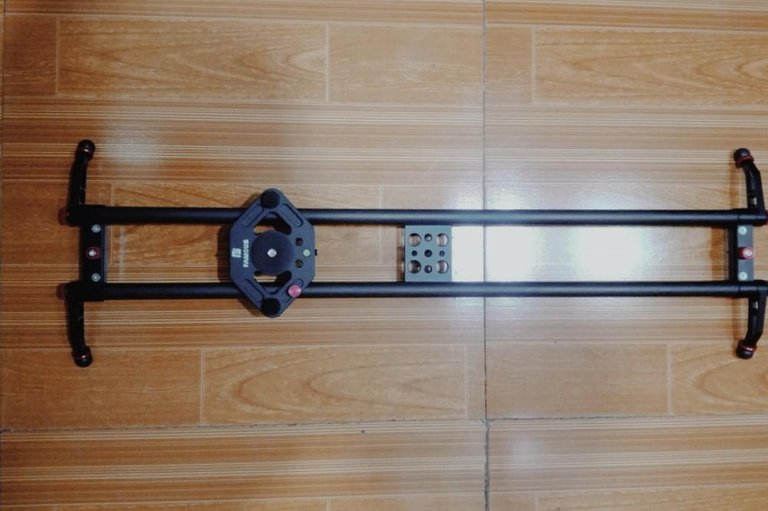 nah klo slider ini sendiri sangat bagus dan membantu jika kamu sebagai videoghraphy yang mana kamu kepingin mengambil gambar cinematic ala ala hollywood gitu. nah kamu pas banget dan pasti membutuhkan alat ini.
4. gimbal

Nah ini sangat spesial. kenapa spesial? karena kegunaanya sudah mencakup seluruh alat diatas. dia bisa sebagai tripod, monopod, slider dan gimbal.
kelebihannya dari gimabal apalagi, Nah bagi kamu ni videographer professional atau pemula kelebihannya yang sangat dibutuhkan oleh kita adalah. anti getaran. segoyang apapun kita berlari loncat dan lain lain. gambar yang dihasilkan tetap stabil smooth dan mantap jiwa. its so amaizing broh.
Oh ia sedikit informasi itu adalah teman saya jadi kalau kalian kepingin dibuatin video nikah dan acara lainnya bisa liat di instagramnya @fiexarbenion /@galviofilm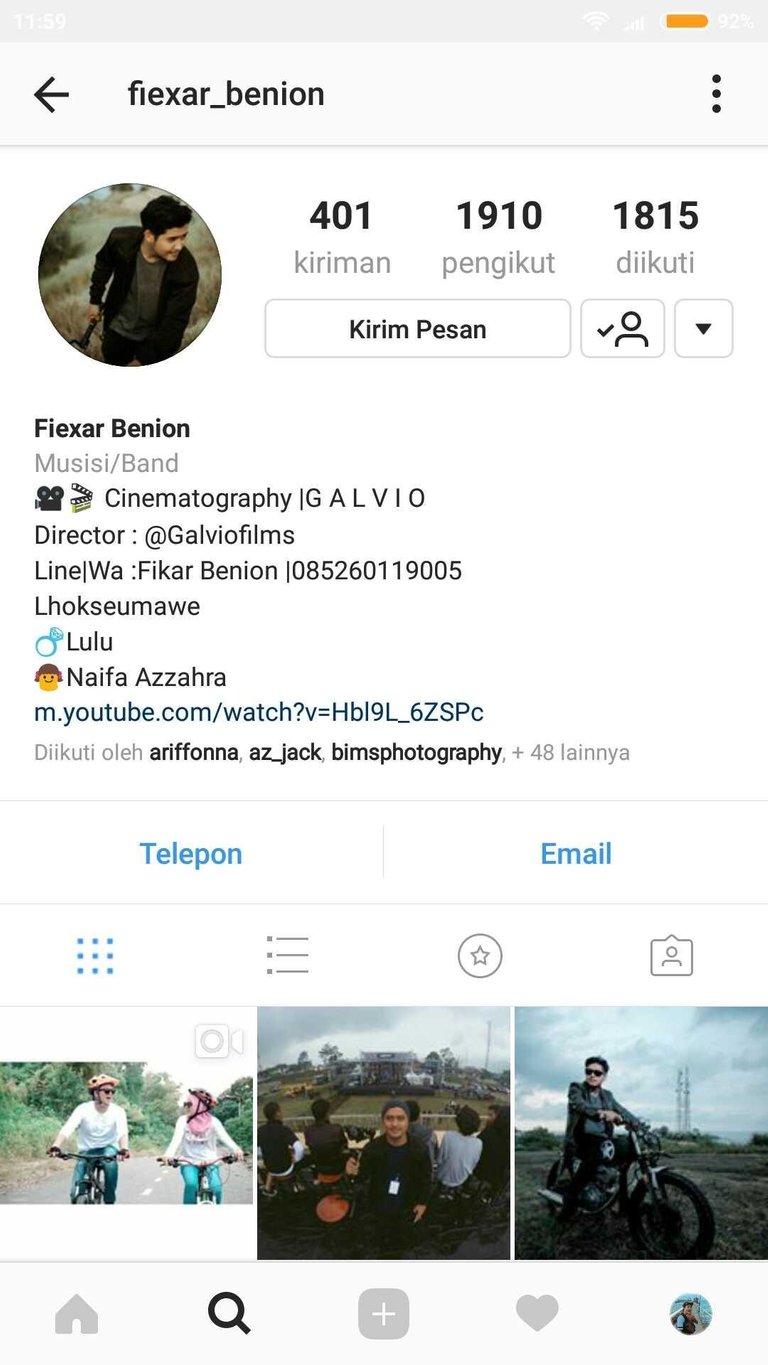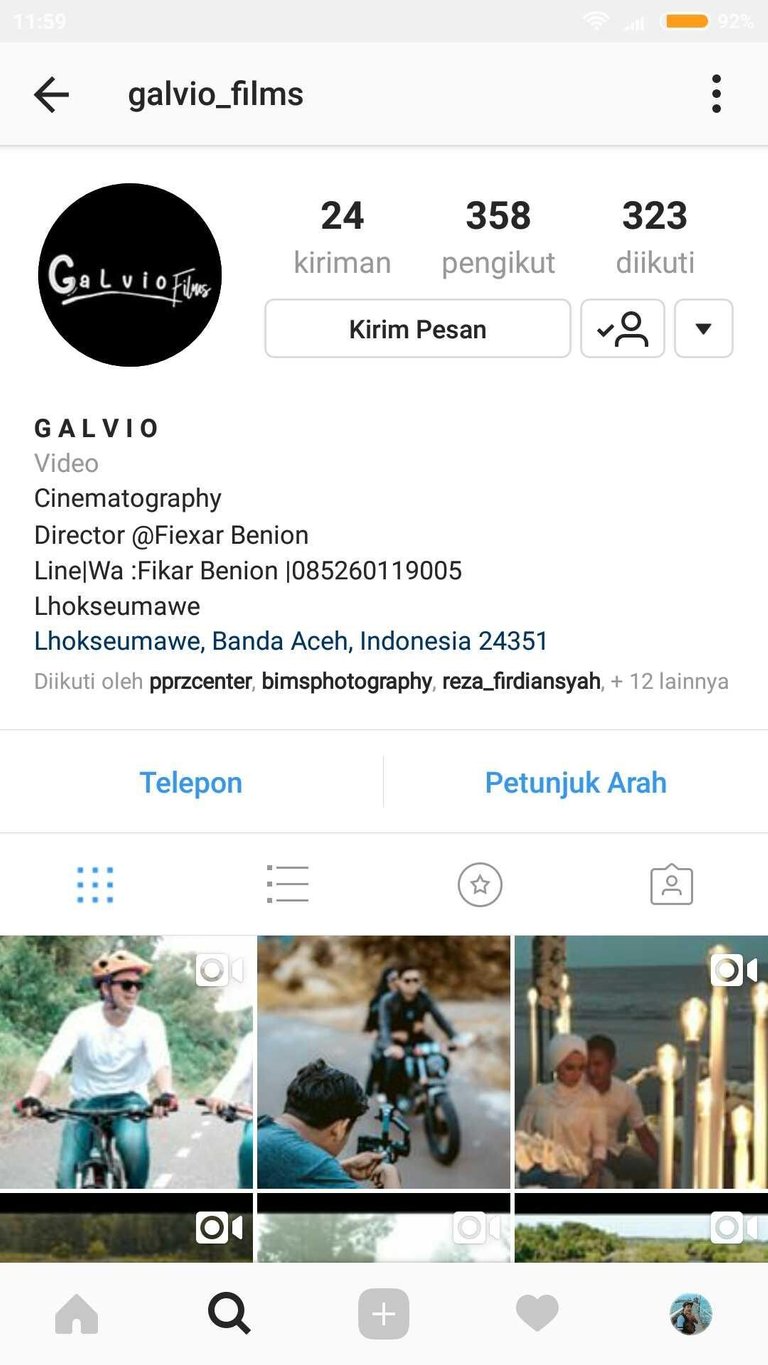 Mungkin sekian ulasan yang dapat saya sampaikan karena ini adalah pengalaman dan versi saya alami. lebih dan kurang saya minta maaf.
---
# Semoga Enjoy # Semoga Enjoy
---
contac person
Facebook : abuaman73
Line : abuaman73
Wa : 0822-7654-2853
Instagram :
abuaman73 (photo only)
abu.amann (video)
cnm.kzln (video weeding etc)
---
---
こんにちはsteemit! こんにちはsteemitian !!!
もう一度私と一緒に** ** Abuamann **
この機会に私は実際に現場で必要なフォトグラフィーツールについて議論します。
なぜ光治療ツールが必要なのですか?答えは非常に必要です、なぜですか?このツールには画質などの要素も含まれているため、モーションブラー(画像があまり明確ではありません)がなく、重量を持ち上げるときに振動する癖がある場合にも役立ちます。それがツールが必要なメリットですフォトグラフィーとビデオ撮影。
パークハンド/ハンドルできますか?彼は私が言っている最大の結果よりは少ないかもしれません。経験はおしゃべりしているので。
私はそれを言いたい強い理由。今我々は画質で遊ぶので。撮影の角度、光と画像そのものの美しさ。あなたが写真/ビデオ専門家であればあなたが新しいことを学びたいなら、他のもの。
限られた資金/予算のために。私は慣れ親しんだ道具で使うことをお勧めします。 Karanbsayaは初期の先駆的なビデオ撮影と同じでした。 Pake hape gunsツールなし。ちょうど手がdoang。はい、結果、悪い銃悪い悪い。
Heheh sehh kind bener aja aneこの話。ハハハ
しかし、初心者がラーを抱くなら。まったくではなく、決して試してはいけません。スピリット..
大丈夫ですか?
** 1。三脚**
![画像](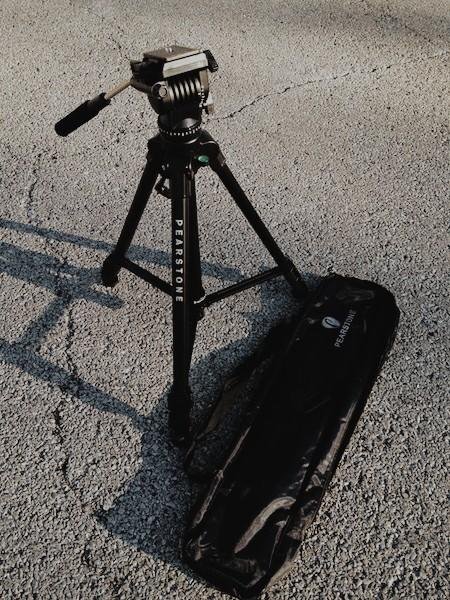 三脚は撮影に便利です。ホールドするのではなく、結果を振動させる。カメラを三脚にして修理して...バランスのとれたデー。
三脚自体には多くの利点があります。
** Antin shake 、上下左右の角度を上下に、左から右に円で、三脚を作るためのさまざまな方法が必要なときは簡単になります。
そして、三脚そのものは、初心者の安い予算のための安定剤として使用することができます。カメラを前にして、腰に三脚を置くだけです。だからデホ。
** 2。一脚**
![画像](

モノポッドと三脚の使用はあまり変わらない。彼は一歩一歩足を踏み出すだけです。
しかし、三脚自体には多くの用途があります。あなたはala ala handphoneのようなセルフ・ニーが欲しいです。カメラを上下逆さまにするだけです。
ああ、上から見てみたいと思う。ちょうど棒の上にいてください。
あなたはカメラを台車にしたいと思っています。押し続けることができます。しかし、リスクはロッキングされたイメージになります。
** 3。スライダー**
![画像](
Nah Kloスライダー自体は、あなたがハリウッドのような映画のようなイメージを撮りたいと思っているビデオ撮影の場合、とても素敵で便利です。あなたは本当にフィットし、間違いなくこのツールが必要です。
** 4。ドレッドロック**
![画像](
これは非常に特別です。なぜ特別なの?そのユーティリティは上記のすべてのツールをカバーしているからです。彼は三脚、一脚、スライダ、ドレッドロックになります。
また、私たちが必要とする専門家や超初心者のために、あなたはニーマンの利点があります。防振。私たちがジャンプして走っているものは何でも。結果としてのイメージは安定した滑らかで安定した魂のままです。そのとても美味しい豚。
ああ、彼の小さな情報は私の友人ですので、あなたは結婚ビデオや他のイベントをinstagramnya @ fiexarbenion / @ galviofilmで見ることができるようにしたい場合
![画像](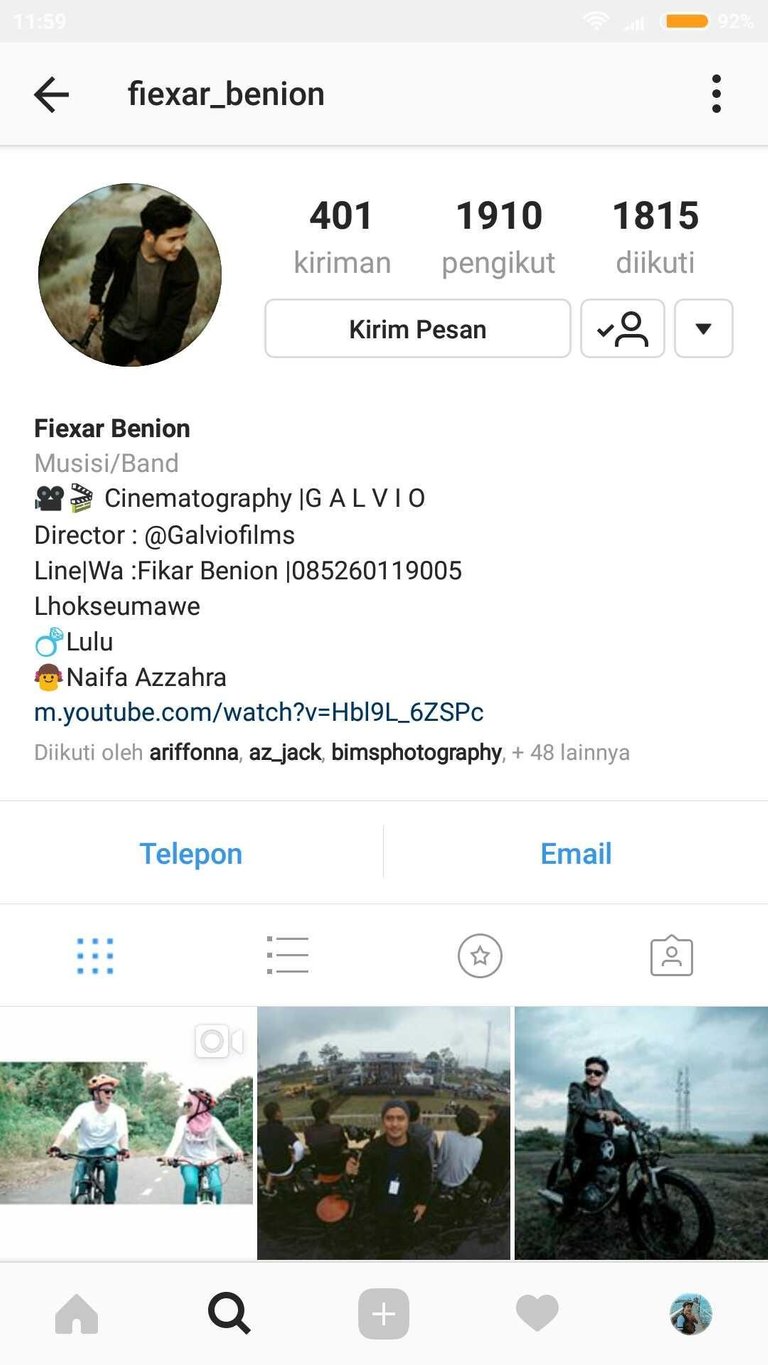 ![画像](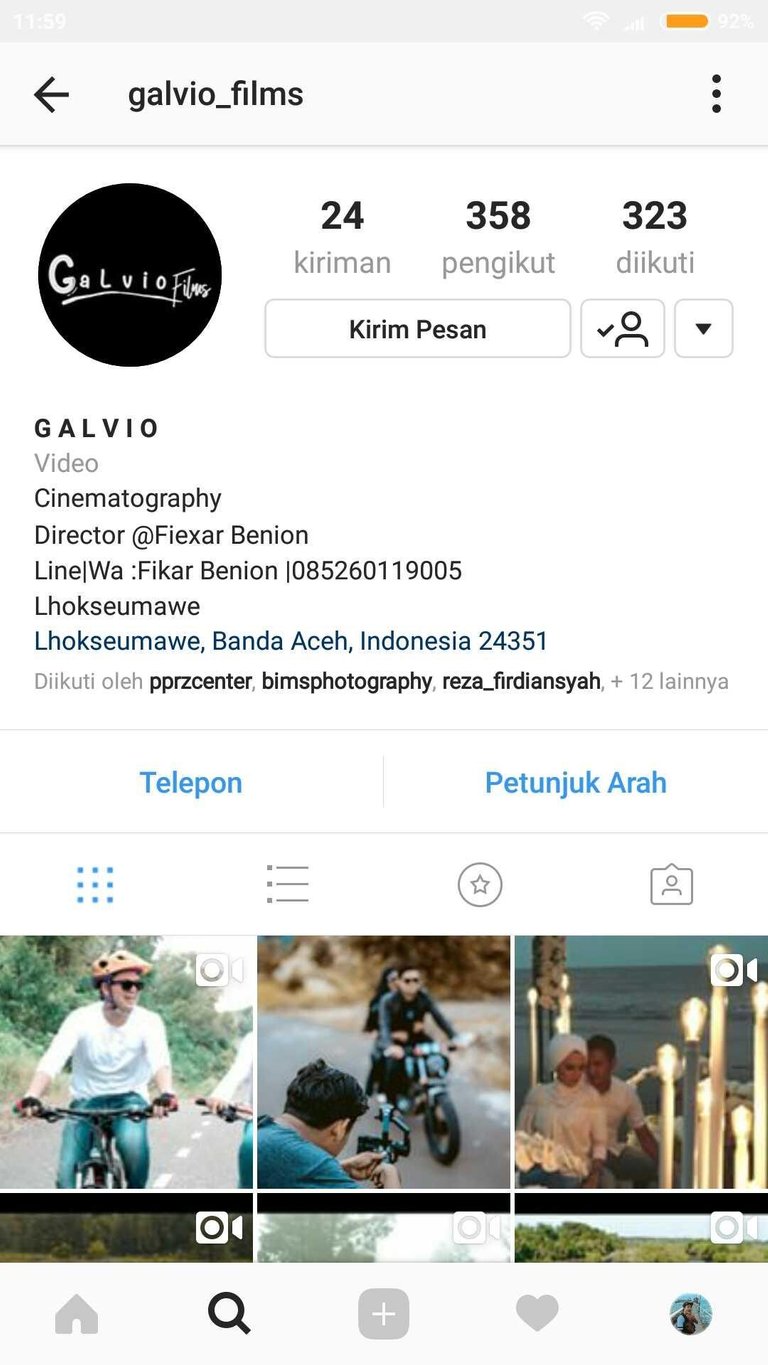 多分私が言うことができる多くのレビューは、私が経験した経験とバージョンなので、ますます私は謝罪します。
---
#ホープを楽しむ #ホープを楽しむ
---
** contac person **
Facebook:abuaman73
ライン:abuaman73
ワ:0822-7654-2853
Instagram:
アブアマン73(写真のみ)
Abu.amann(ビデオ)
Cnm.kzln(ビデオ除草など)