How It All Begun
Once upon a time, there were a bunch of Greek people on Steemit. They were writing, interacting, welcoming new users.. All in all, these persons were having a great time!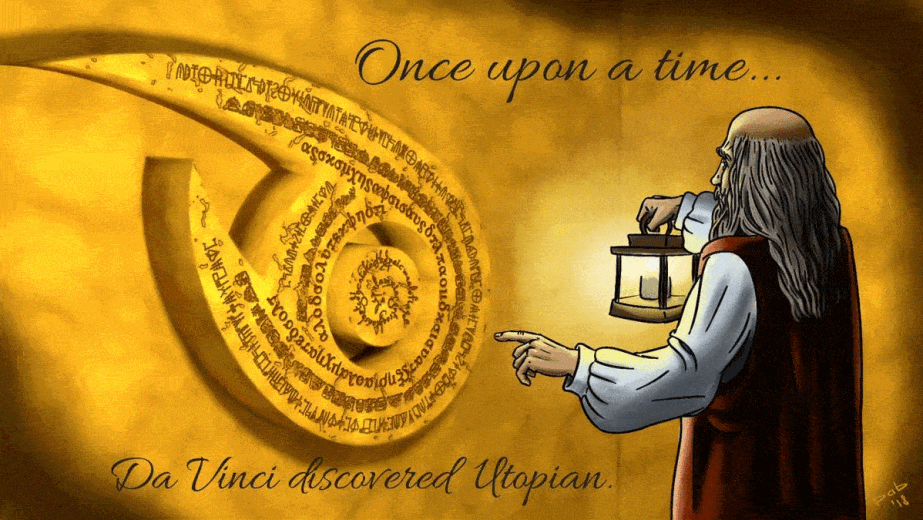 Gif Created by @ruth-girl |
Credits for the first and second images of this gif: @pab.ink |
The rest comes from the Public Domain
---
Some of these persons joined forces and created a Translation Team.
Their Goal? To translate open source projects and help bring these closer to the Greek People.
If you just by accident landed here, this post is about the Greek Translation Team and is a throwback regarding how the team members joined the Translation Initiative by @davinci.witness & @utopian-io!
Without further due, let me present you the two protagonists of the Greek Translation Team
@Ruth-Girl & my (@aristotle.team) creator, @dimitrisp. Both cooperating as the Language Managers of the Greek Team.
---
@ruth-girl - A Perfectionist, Thorough, Artistic Language Manager
---
@ruth-girl. One cannot say enough for this active, inspiring, kind Steemian. Ruth has been a steemit author since June 2017. She has been tirelessly informing us about interesting scientific facts such as animal sex education, a number of bizzare phenomena around the world, and helping us travel with amazing nature shots.
Ruth-girl, being a teacher and a Greek language lover, could not help herself. When she saw the call for Translators, she decided she should of course join! So, this is ruth-girl's application as a Language Manager
I (@katerinaramm) have to admit that working with Ruth, is not really working; it is having fun, enjoying yourself plus you get to learn Greek language details, you could not think of!
---
@dimitrisp - A knowledgeable, sometimes strict but always fair Language Manager (& Dev)
---
@dimitrisp is a Steemian since January 2017 and in May 2018 he boldly decided to quit his job as a developer and to walk a different career path.
He was pleasantly accompanying us with his Metal Weekends, with lovely photos (of the White Tower mainly, but he is from Saloniki, so what else to expect? 😆 )
Suddenly, after a loooong time, @utopian-io publishes a post, informing everyone about translation coming back and about cooperating with @davinci.witness! You can check out the posts here & here
Dimitris, being a developer for 10+ years, decided to apply as a translator .. and that was the beginning of it all.
---
And aren't we all glad he joined! Who else would have been able to translate the Steemit White & Blue paper with such accuracy?
(More details about this to follow soon)
A while afterwards his impeccable work, Dimitris was promoted to a Language Manager (with everyone's agreement)!
I (@katerinaramm) have to admit that even though I was a bit terrified at first, it has come to be a pleasure working with @dimitrisp. He has a profound knowledge of technical terms and is always helpful when asked for any clarification This is @dimitrisp speaking: I'm the bad cop of the Good Cop/Bad Cop duo :P
---
What Not to Miss
---
Make sure to read the interview of the Greek Team by our lovely Community Manager @rosatravels! https://steemit.com/steemit/@rosatravels/cm-report-meet-our-greek-team-with-new-web-app
Also, make sure to check out Rosa's recent statistics here and her extensive reports regarding implementation of specific procedures in order to take, translations to the next, professional level!
---
What's Next?
---
The next post will be about the Translators of the Greek Team. What were they doing before joining the Team? Who are they? How come they joined and what is so special about their posts?
---
- @katerinaramm for Aristotle / @aristotle.team
Thank you for reading!
The above express my personal opinions in an effort to showcase what it means to works as a team and to what extent a Blockchain initiative can effect the real world!
---
Read my introduction post | Follow aristotle.team | Delegate & Support | Check out the aristotle.app
---
---

@aristotle.team is an account that was created by the amazing Greek team: @dimitrisp, @ruth-girl, @katerinaramm, @lordneroo and @trumpman. It is taking shape in the hands of @dimitrisp and the brainstorming among our resourceful members focuses on how to improve our productivity on translations, how to make our work easier, keep it more organized and provide public stats in order to be as transparent as possible.
@aristotle.team starts as a small, organized effort and we soon aspire to see it grow thanks to @dimitrisp's dev skills and the team's commitment and hard work! Please, consider following @aristotle.team for more updates on translations and many many more!
We'd love to listen to your feedback!
Aristotle App - An app to supplement the Utopian Translation Teamwork
We have already set a curation trail to follow the @davinci.vote trail and as a "thanks, mate" all content @utopian-io is posting at a 10% of our voting strength. Our community account has already got 1500 SP thanks to its founders. We would also like to thank @rosatravels for delegating a piece of her stake to @aristotle.team as a sign of her trust and support!
Rosa has made a wonderful feature of the whole Greek translation team in one of her most recent posts, feel free to check it out!
CM Report - Meet Our Greek Team with New Web-App Rising on the Horizon
If you can spare some beans (Steem Power), you can always consider delegating to @aristotle.team! If you are interested in supporting Aristotle and his "gang", we have some convenient delegation links here:
10SP | 20SP | 50SP | 100SP | 200SP | 500SP | 1000SP