Fellow Gamers,
Thank you so much for the enormous flood of traffic to our platform. Since the past 2 weeks, our traffic volumes have increased 11 times and our user base has scaled up 9 times the initial volume. In addition to that, the love and support that we are receiving from the steem community is tremendously inspiring for us due to which our team's efficiency has doubled. As a result, we have launched our GAMER token one week ahead of schedule.
GAMER Token
We are proud to launch GAMER token – the First Fully Transparent, Transferable, Tradable & Dividend Bearing Gaming Token powered by the Steem Blockchain through Steem Engine.
All GAMER tokens earned through different channels are of same value and can be directly accessed from your dashboard: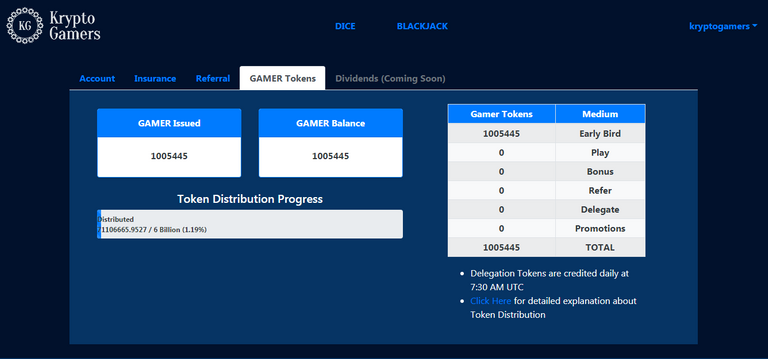 GAMER Token Features
Transparent

Since GAMER token is created with Steem Smart Contracts through Steem Engine, any transaction related to a GAMER token can be verified and accessed by anyone.

Transferable

All GAMER tokens are transferable. This means you can send or receive GAMER tokens from your friends and family right from the start.

Tradable

All GAMER tokens are tradable with STEEM through the Steem Engine internal exchange. Last Traded Price at the time of writing this post is 0.001 STEEM.

Dividends

All GAMER tokens are entitled to receive dividends arising from the profits generated by the platform. 70% of the profits will be distributed in the form of dividends to all our community token holders. Our Dividend system will launch in the next 2-3 weeks. All community token holders will start receiving dividends as per their share of STAKED tokens right from the day of the dividend launch. More information regarding staking will be announced in the next post.

Steem Keychain Support

GAMER Tokens is easily accessible via the TOKENS section in the Steem Keychain. You can view your current balance, transfer tokens or access your transaction history directly in your steem keychain wallet from your browser.
All bets placed till now have received their share of tokens PLUS an Early Bird Bonus of 10%
All bets placed from now onwards will receive Bonus Tokens as per the Club Rewards System
For a detailed distribution plan of our tokens, check out our last post: Token Distribution Plan
Surprise Rewards
We are really happy to see that in the last two weeks, some of the community members have gone the extra mile and supported us without any expectation of rewards or incentives from us. So we have distributed some surprise rewards worth 2 Million GAMER tokens for them as a token of our appreciation:
Support
For any questions, feel free to contact us on discord: https://discord.gg/KpFUZh2
Thanks again for all the love. Stay Happy! Stay Motivated!