PLACE YOUR BETS! @STEEMBET.ASIA DICE GAME NOW LIVE!
Well, it took some time – as we wanted to bring all steem game players out there, the ultimate, the very best new STEEM dice gambling bot. We are a re-master of the original; grown with community. Now rocking a completely new look and feel, just as promised back when this gaming bot first rattled its dice pot! So, now Steemian game fans …. Our latest STEEM Dice gambling game is here to stay, bigger and better than ever.
If you know the rules and can't wait to get going, click https://steembet.asia/ and feel free to get back here and tell us about your experience later on. It's your roll … more announcements to follow soon regarding juicy STEEM/SBD prizes up for grabs for our early top players !!!
This new STEEM dice gambling table is a complete UI/UX makeover as @steembet.asia relaunches an even more secure and optimized bot. Expect lightning fast rounds at our dice table, and no delays in placing bets even with multiple players in the game.
For now, 25 STEEM is the limit per win, soon to be increased. SBD will also be added soon.
Let's have a look around the main site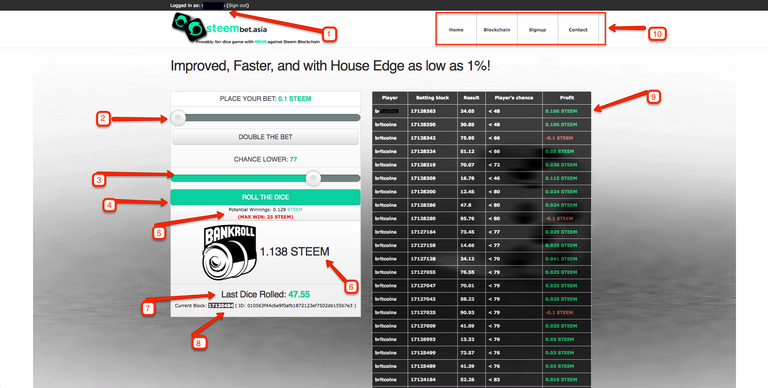 ---
1 - At the top here you can select log in with your Steemit.com account.
2 - PLACE YOUR BET - Amount of STEEM you want to play. Minimum just 0.1 STEEM. The slider will automatically restrict to your wallet amount and the max bet/win (currently 25 STEEM per game). You can also use the DOUBLE YOUR BET button to up the game stakes.
3 - CHANCE LOWER - Your predicted bet, the dice will land below this number, with 1-99 being the possibilities.
4 - ROLL THE DICE - Click to place your bet, once you are sure of your settings for this round of dice!
5 - A readout of the potential winning of the game bet, and the current house maximum (which will be increased at a later date)
6 - your current bankroll including winnings
7 - The previous result - between 0.01 and 99.99
8 - The current block ID
9 - Table of the latest game results, for all recent players
10 - Further pages of the website where you can find more information about Steembet.asia!
---
@steembet.asia takes your security seriously. Commodo SSL is implemented, which means a $10,000 guarantee your wallet cannot be hacked on the webite. Just one of the extensive security features - authentication is also through SteemAPI, so the steembet.asia site never even touches your password.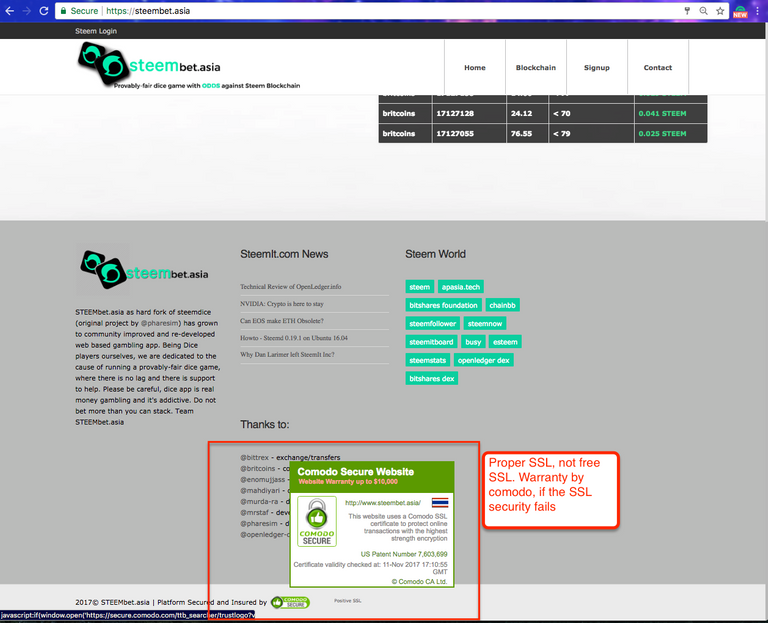 the footer
---
Why do you have 'Asia' in your name?
Well, many of our players are in Asia. Some of the developers of the game also. It just happens, our longer-term commitment is to the ever popular gambling and casino market in Asia, that we wish to develop more blockchain based games for. Expect translations soon!!!!
Take a spin of the dice with us over at http://steembet.asia :)
Please, only use your spare STEEM to play. Gambling is addictive.
Thanks goes out to:
@bittrex - exchange/transfers
@britcoins - copywriter
@enomujjass - 1st beta tester
@mahdiyari - dev consulting
@murda-ra - developer
@mrstaf - developer
@pharesim - developer of the original