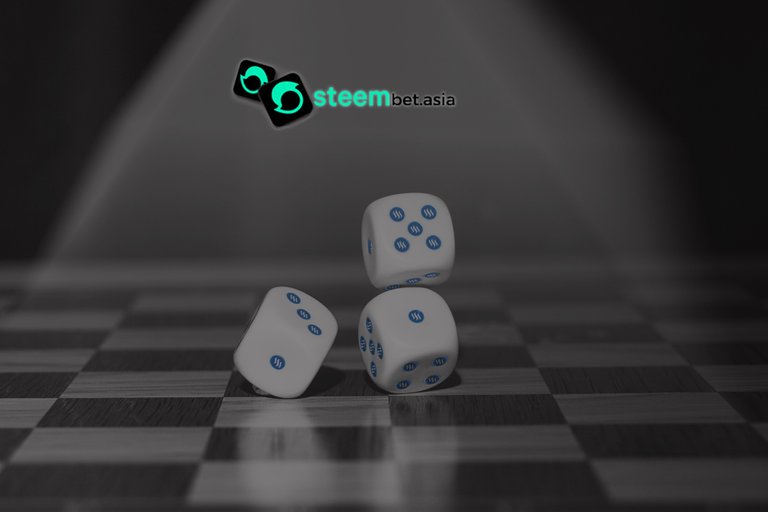 ---

---
Our latest official fork of original STEEM DICE - Play with SBD or STEEM. Fully revamped UI/UX. We are giving the chance to win 10% of house winnings in our GRAND OPENING DRAW!
Throughout the next 1 month - a few games on our new STEEM DICE gambling bot, could end up winning you a very handsome prize if you are drawn as the lucky winner that had played even 1 game during the period. Results to be announced by the 5th of the month. (We plan to do a comp every month).
Play to win, just click login at the top left of the site to login. It's using Steemconnect API, for your assurance password never leaves your browser). You're in with a higher chance of the grand draw with every game you play ...
---
The game is yours to shape
RULES OF GRAND DRAW: Simply play to win! 1 PLAY = 1 CHANCE
Launch Contest Start: NOW until Feb 28th 23:59hrs GMT
Winner & payout: By 5th of following month (new contests every month)
A bot will be programmed to 'draw' 1 random block ID played during the period
All players on that block ID will share the grand prize. (Most likely 1 person).
Play only with your spare SBD/STEEM. Gambling can be addictive, and, there are no refunds. STRICTLY OVER 18s ONLY.
---

Steembet.Asia provably fair and with odds against the Steem blockchain.
SBD Enabled
Now you can play with either SBD or STEEM, just click to switch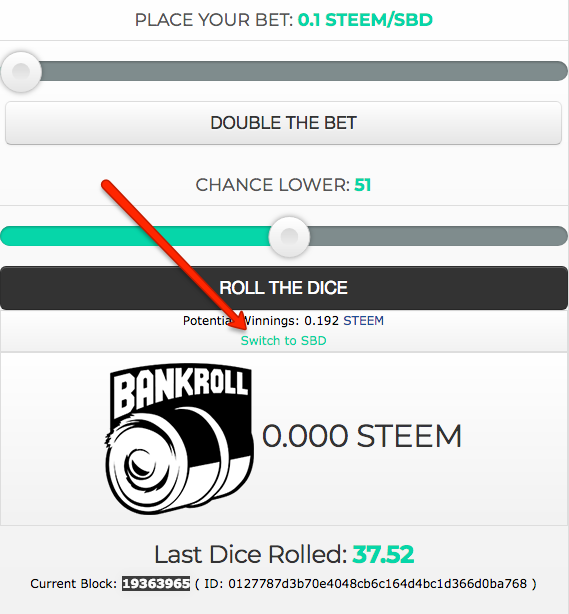 ---
Since promised in last update, we have now fully secured the site with SSL encryption. (Actually twice, we moved server and had to issue again)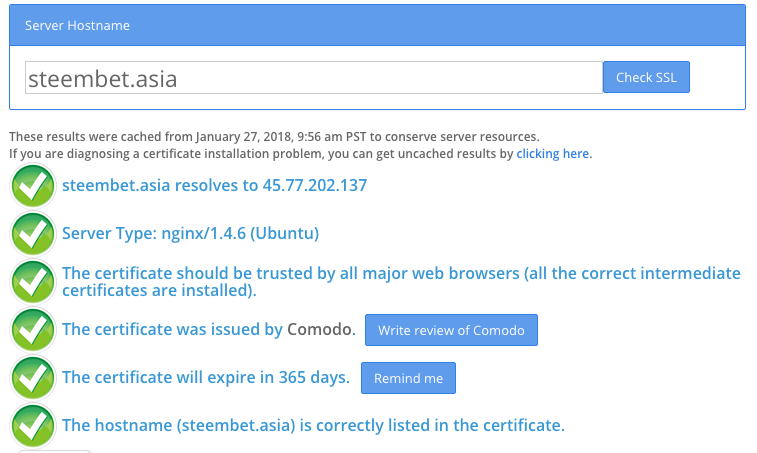 ---
What is Steembet.Asia?
https://steembet.asia is the casino built on STEEM blockchain. Steembet.Asia is run by developers planning to give away generous prizes and donations from the house profits - they just need enough to not get hungry or fed up. Expect more interfaces, games, and contests in the future. Being one of our early players, automatically makes you our VIP!
Steembet.Asia's setting out to bring you casino-style betting games on the STEEM blockchain. Launching with this simple, genuine, PROVABLY fair, elegant re-master and re-design with improvements based on an open source GitHub original. We deployed the bot with full security and stability on its own server here in Asia, and built a shiny new website to go along with it.
---
Be in it to win it!
If you know the rules and can't wait to get going, click https://steembet.asia/ and feel free to get back here and tell us about your experience later on. It's your roll … Remember to FOLLOW for updates!!!
This new STEEM dice gambling table is a complete UI/UX makeover of our most secure and optimized bot ever. Expect lightning fast rounds at our dice table, and no delays in placing bets even with multiple players in the game.
25 STEEM or SBD is the max bet limit, soon to be increased to 100
Let's have a look around the main site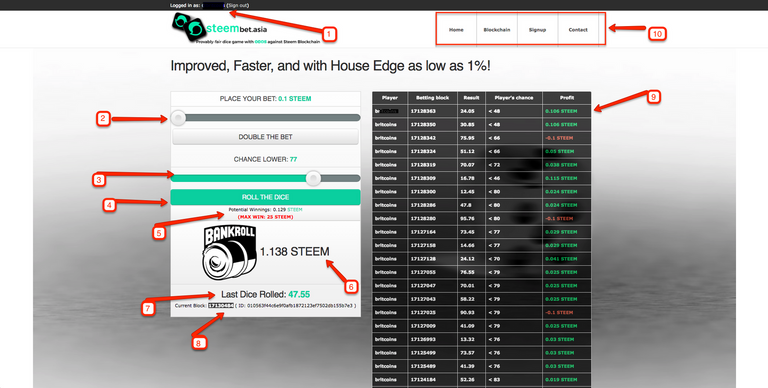 ---
1) At the top here you can select log in with your Steemit.com account. SteemConnect API is used, your password never leaves your browser. Close it to log out. 2) PLACE YOUR BET - Amount you want to play. Minimum 0.1 STEEM. The slider will automatically restrict to your wallet amount and the max bet/win (50 STEEM). You can also use the DOUBLE YOUR BET button to up the stakes. 3) CHANCE LOWER - You win if the dice result is lower this number, 0.01-99.99 being range of possibilities.
4) ROLL THE DICE - Click to place your bet, once you are sure of your settings for this round of dice!
5) A readout of the potential winning of the game bet, and the current house maximum (which will be increased at a later date) 6) Your current bankroll including winnings 7) Previous result - between 0.01 and 99.99 8) Current block ID 9) Table of the latest game results, for all recent players 10) The footer contains more to learn and explore, captured in this exclusive design shot

exclusive shot from design process
Remember please, only use your SPARE TOKENS to play and know when to stop. This game is intended to be enjoyable, but never forget that gambling can be addictive.