A tasty, juicy, cheddar bacon burger! This was my dinner tonight!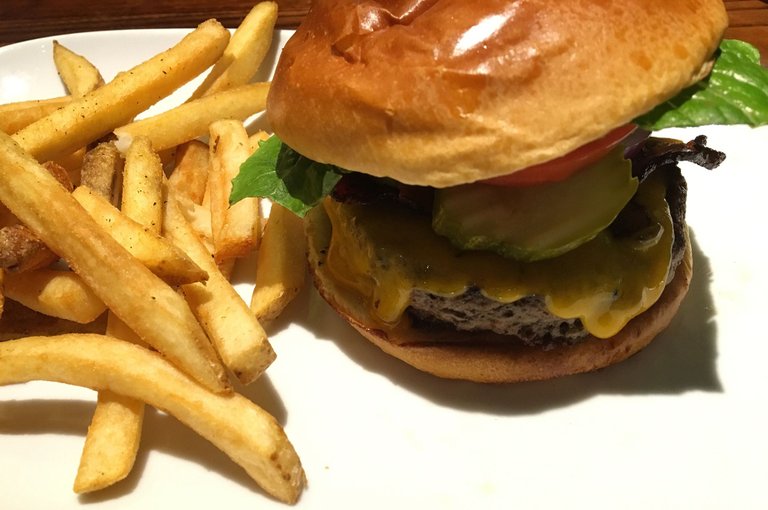 It kind of reminds me of Steemit in a way.
It sounds really good when you're ordering it.
But when you get it, it looks slightly disappointing, but still could be really great!
You have a little taste of it and you think, "WOW! This is pretty damn good! I could do this all day every day!"
Then you notice that the different toppings are all starting to taste the same. They get smashed into one big ball of goop in your mouth and you can't tell the difference between the delicious bacon or the processed, room temperature ketchup you mistakenly added into the mix.
After you're about half-way through it you start to think, "Did I make the right choice? Should I have stuck with the usual steak and potato?"
When you're done and all you have left is a few scraps of broken or soggy fries, you realize that the excitement was so short-lived and that you really needed something a little more hearty to fulfill you. Maybe the burger was the right choice, but perhaps you should have expected a little more from the kitchen staff.
And while you sit and wonder about your dinner choice the waitress brings you the check that says you owe $6.50 for two soft drinks.
TWO SOFT DRINKS! FOR $6.50!
Then you can't help but think, "I've been had!"
Is it just me? Or is this here burger not living up to the hype?
I don't care, I guess. I'm still able to make money from internetting. That would be cool even if it was like eating a crusty old heat lamp burger from McDonald's.
Beggars can't be choosers. And there sure are a lot of beggars around here!
SGL
---
The burger photo is mine. Ain't I talented?
If you enjoy my posts, please upvote, follow me, and Re-Steem!