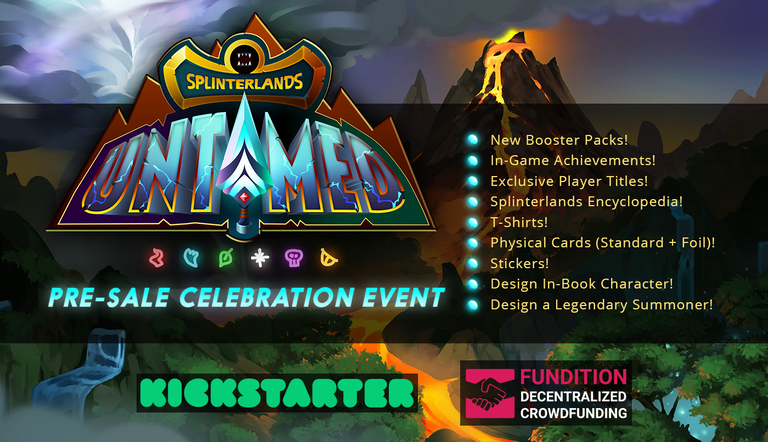 Well, just 2 hours ago I posted a link to the Splinterlands Kickstarter and it's already hit goal!!! Admittedly we set the goal for this a little on the low side since it's featuring physical products rather than focusing just on crypto and it's a giant bear market instead of a raging bull. But qualifiers aside it's still pretty awesome. Our community is amazing, and every day I figure out new levels of gratitude to the players in the game!
You can find the kickstarter here: https://www.kickstarter.com/projects/526764488/splinterlands-untamed-a-blockchain-trading-card-game?
Whales
What is a little shocking is that the number of people it took to fill the kickstarter is under 20. We had a number of whales step up right off the bat. Pretty amazing. We designed the rewards to have a slowly increasing benefit as players pledged more. So far it seems the whales are hopping on the larger bonuses.
Less expensive pledge tiers
There's a concern that the deals aren't as good on the low end. That's tough to say. It is true the bundled price isn't quite as good, but if you're judging solely on the packs purchased you're missing a few points. This is a physical kickstarter and you're receiving limited edition printed goods. The early packs will have access to the most airdrops. So, a $2 pack now isn't the same as a $2 pack a year from now even if it is still UNTAMED!!!
First Quest- REACHED
Quest 1: Reach $10000 and 100 backers in the first 24 hours of the campaign

Quest 1 Reward: $100/week added to the tournament prize pool!

The reward says it's $10k and 100 backers, but I'll accept filling the campaign in the first 2 hours as good enough. When the campaign ends I'll add $100 to the weekly prizepool. If you guys get up to the 100 backer mark in 24 hours I'll add another $100 to the weekly prize pool.