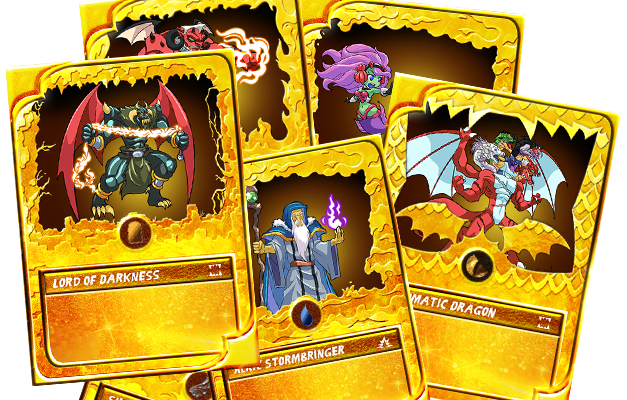 A number of players have asked for us to introduce some really limited edition cards which would be very rare collector's items. To that end, we are excited to announce that we have now added gold foil versions of all of the cards into the game! Gold foil cards will be able to be used in battles and tournaments just like regular cards, and are planned to be exactly the same as their regular counterparts as far as stats are concerned. This should be very familiar to Magic the Gathering and Hearthstone players as those games also have "foil" and "gold" cards respectively.
Distribution of Gold Foil Cards - If you bought the pack you got a chance at earning gold retroactively.
What we don't want to do is punish our early adopters who already purchased booster packs and have them miss out on a chance of gold foil cards because they weren't released yet. Therefore we will be going through every booster pack purchased to date and randomly determining if that pack would have received a gold foil card, had they been available at the time the pack was purchased. If so, that player will be given a new random gold foil card in their collection.
Don't worry if you traded after you bought the pack. We did it based on packs purchased not on cards currently held.
tl;dr - If you've bought a lot of packs you're likely to wake up to a fair number of gold foil cards in your collection! From here on out all the cards purchased going forward will have a small chance of being a gold foil card. You may notice that there is now a new "Gold Cards" filter option in the collection screen on the Steem Monsters website which will allow you to see the gold foil cards in your collection.
XP and Combining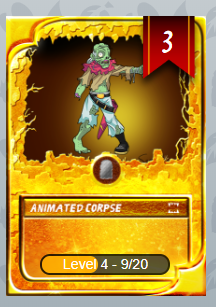 Gold foil cards will be separate from the non-gold foil versions of the same card. This means that gold foil cards cannot be combined with non-gold foil cards of the same type. Duplicate gold foil cards can be combined with each other to increase their XP and level just like regular cards can. Additionally gold foil cards start out with some XP and at a higher level than regular cards when first opened, and are worth more XP when combining so that it requires fewer of them to reach max level.
You'll still see the red drape with a number in it to indicate how many of those new gold cards you own.
Legendary Cards with foils
When we launched this there were 21 legendary cards that went out to the world. Only 2 gold Selena Sky's are in existence in the whole game.
Opening New Packs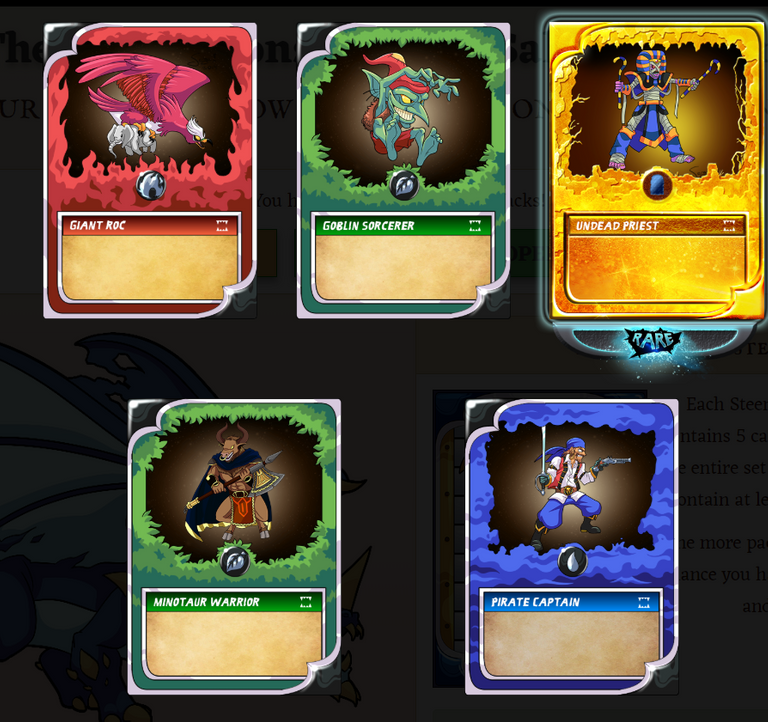 There is a random chance that you'll get gold foil cards in the packs you open now. Roughly 2% of the cards in game should end up with foils.
Opening up Golden Legendary Cards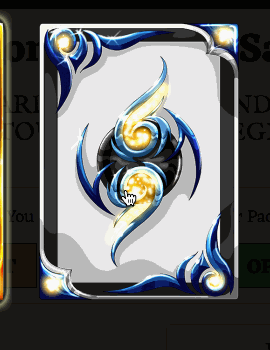 Technical Notes
For those of you building card explorers and/or who are generally interested in the technical details behind what's going on, gold foil cards will be indicated with a 'G-' prefix on the card's unique identifier, whereas regular cards have a 'C-' prefix. Additionally, all new gold foil cards awarded to players who have previously purchased booster packs will be published via custom_json transactions on the @steemmonsters account with the name "card_award".
New Dragon Card Type
Some of you might be thinking - wait a minute, they already have gold cards in the game! Well, you're right...so in order to reduce confusion between what is a gold foil card and what isn't, we have changed the cards that were previously gold to be dragon cards instead (since they're all dragons, or dragon riders anyway). You can see the new dragon card design below which we think looks pretty cool! Props to @nateaguila for that and for the gold foil card art!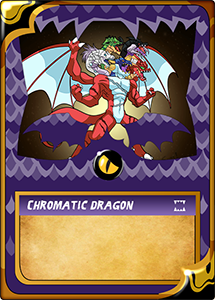 In case you were wondering, there are gold foil versions of the dragon cards too! They are super rare, but please let us know if you get one!
New Card Design and Other Changes
Once you move past the new, shiny objects, you may notice that the rest of the cards have a slightly updated design as well. The card names are now at the top of the bottom panel and include an icon that indicates the card type (currently only Monster or Summoner, but more card types are planned for the future). This is in preparation for adding stats and abilities to the cards which will utilize that bottom panel space.
In addition to all of the above, there is now the option to purchase booster packs directly for another player. It has been pointed out that the current method of gifting packs after they are purchased and generated can potentially be open to scamming. I'm not going to go into details here so as not to give people any ideas. As a result, in the near future we will be removing the ability to gift packs once purchased and if you would like to gift packs to someone you will need to purchase it for them directly.
Last, but not least, for those of you who have bought hundreds of packs and had to open them all one at a time - first of all, thank you! - and second, you will hopefully be happy to know that we have now added the ability to open multiple packs at once. With one click you can now open any number of packs simultaneously and instantly reveal all of the cards at once!
On the Horizon
The top priority going forward is implementing the battle system and tournaments. Collecting cards is fun, but being able to use them and earn rewards is so much better! We are working hard on building out a unique, and well balanced fighting system which we hope will involve significant skill to master and naturally create an intricate meta-game.
On top of that we're working on building out the lore of the game world and the characters within it to create a truly immersive experience beyond the game play itself, building out the market functionality to facilitate the exchange and sale of cards, and also even starting on the next set of cards for the first expansion!
We are completely humbled by the overwhelming response Steem Monsters has received and we look forward to delivering a fun and engaging game play experience, all on the amazing Steem blockchain!