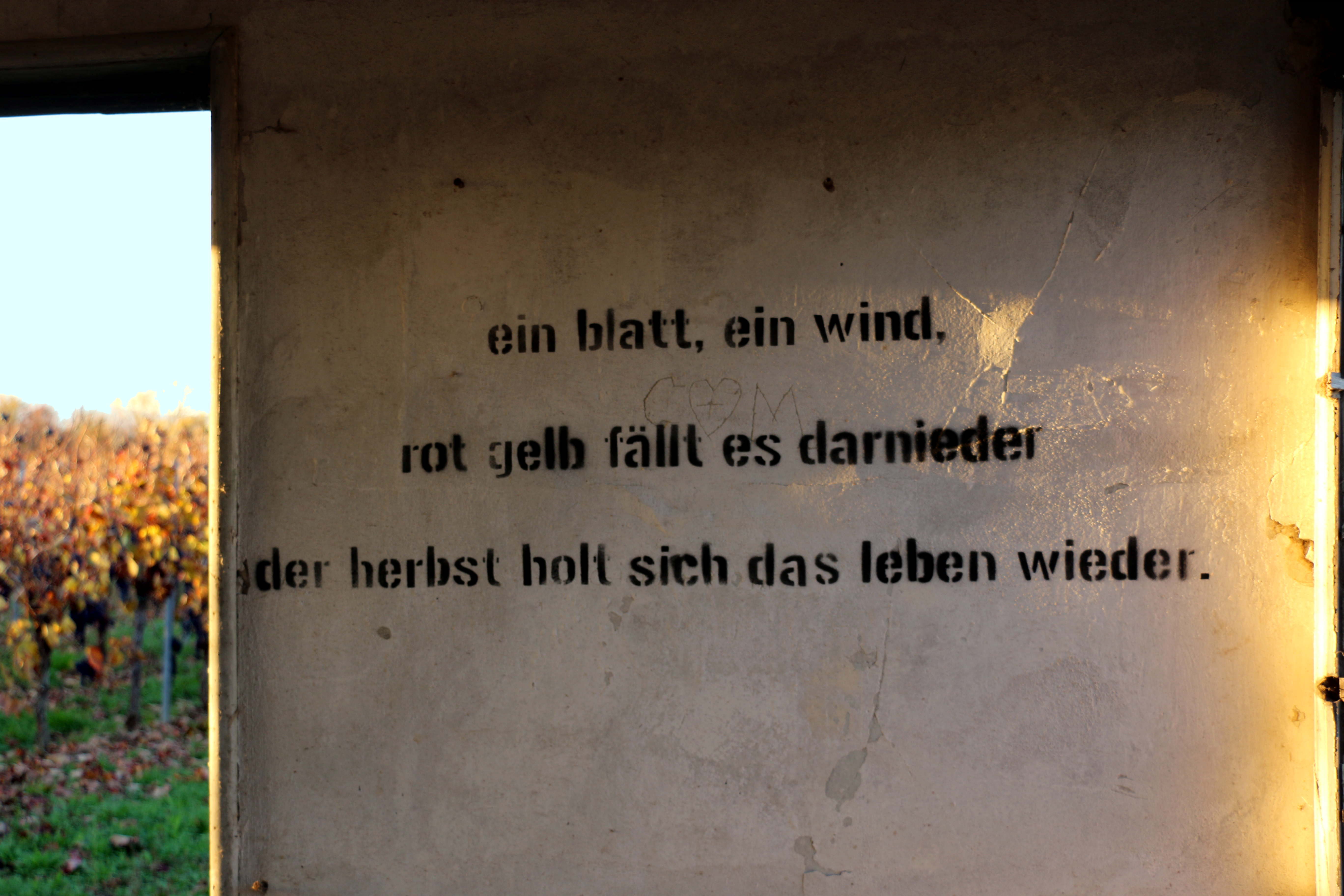 here the contribution to CCC's Street Art Contest #12 by käpt'n kalle fresh out of his spray can on the wall and not even as old as the post of @digi-me. even the place is not located in urban space. the hut is next to a street (even if it's more of a country lane) in rhineland-palatinate ;).
it's autumn again in germany. but not only after the season. at the moment it often seems that the whole world is in an atmosphere of doom. everywhere fear and panic seem to dominate confused people. we don't know what the future will bring. but we shouldn't let fear rule, we should rather let hope prevail. in every end there is a new beginning. in the ripe harvested grapes, for example, there is new wine. and for sure, tomorrow the sun will rise again, no matter how painful today has been. and the rain is followed by sunshine. is this not wonderful?
the abandoned cottage is nearing its end. soon only ruins will be visible in the unknown place in the countryside in the middle of the palatinate vineyards.
who knows for how long captain kappen'n kalles words will hang on this wall.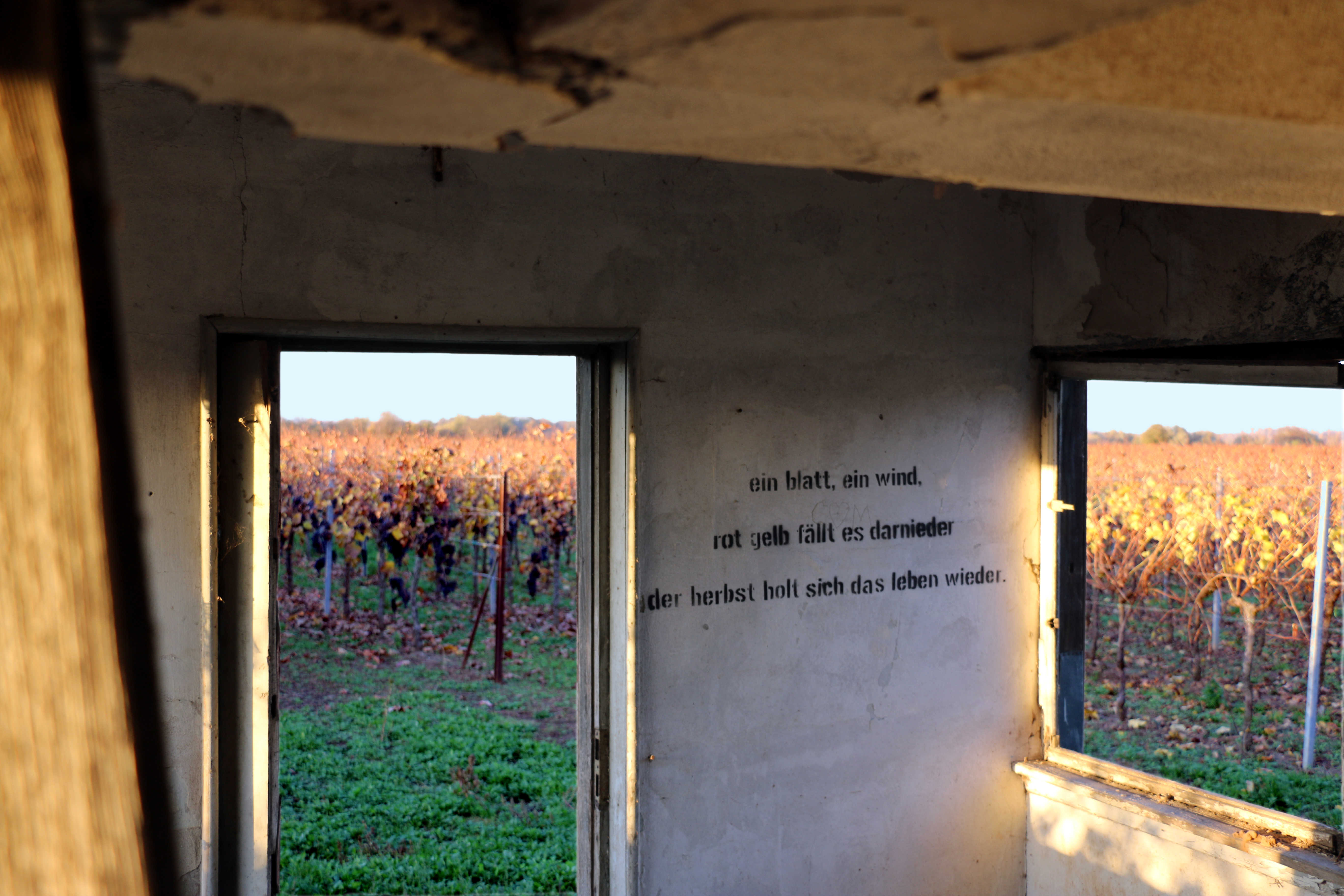 and here the translation of the lines:
one leaf, one wind,
red yellow falls it down
autumn collects life again.
picture of the surrounding area at sunset: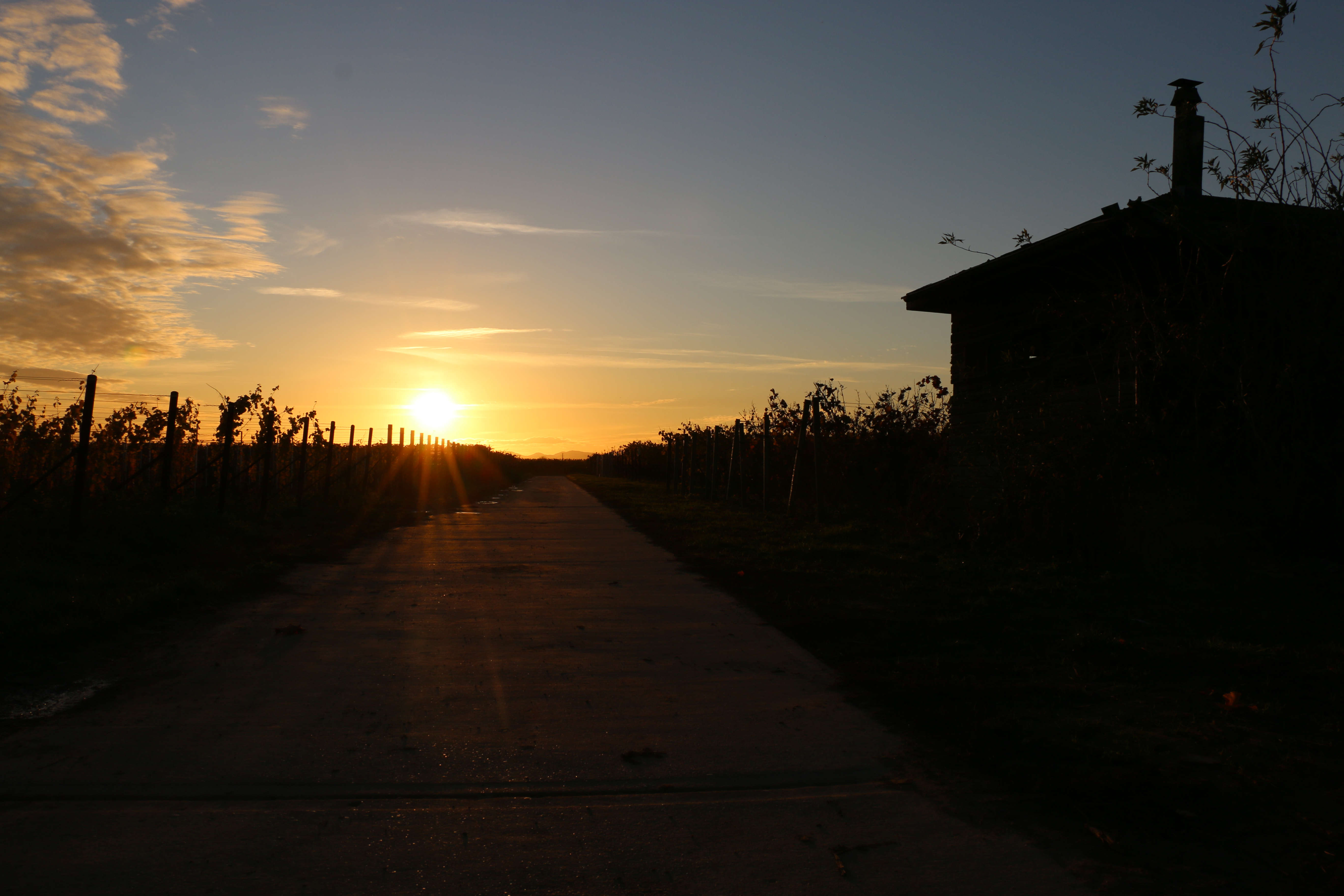 ---
hier der beitrag zum CCC's Street Art Contest #12 von käpt´n kalle. frisch aus der sprühdose an der wand und noch nicht einmal so alt wie der post von digi-me. auch wenn der künstler den begriff "streetart" wegen des ausverkaufs eher kritisch betrachtet und sich der ort nicht im urbanen raum befindet, so liegt die hütte doch an einer straße (auch wenn es eher ein feldweg ist) ;).
es ist wieder herbstzeit in der pfalz. doch nicht nur nach der jahreszeit. momentan mutet es oft an, als befände sich die ganze welt in einer untergangsstimmung. überall scheint die angst und panik den menschen zu beherrschen. was die zukunft bringt wissen wir nicht. der angst das regiment zu überlassen ist jedoch keine gute idee. vielmehr sollten wir hoffnung walten lassen (uns nicht durch die schlagzeilen verrückt machen lassen). in jedem ende liegt ein neuanfang. in den reifen abgeernteten trauben beispielsweise neuer wein. und gewisslich, egal wie unangenehm der heutige tag gewesen ist, auch morgen wird die sonne wieder aufgehen.
das verlassene häuschen geht seinem ende entgegen. bald werden nur noch trümmer an dem unbekannten ort auf dem land mitten in den weinbergen der pfalz zu sehen sein.
wer weiß, wie lange käpt´n kalles worte an dieser wand prangen werden.