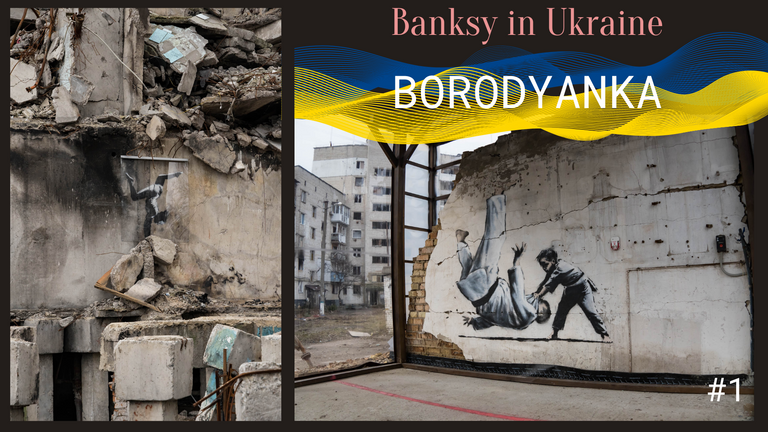 I am often ashamed of my weakness. Ashamed in front of those who went through this apocalypse and survived, who lost loved ones, lost their home. But did not give up and continues to live.
They could make it, and I can too. So let's go on.
Initially, the idea was to capture all graffiti authored by Banksy, an England-based street artist and political activist. He secretly visited Ukraine in Nov 2022.
I made my trip on Feb 25`2023. It was Saturday, a day off, so my husband and I visited all these small towns as they are very close to Kyiv. All these photos were captured on that day.
The first point was in Hostomel. I shared it in my post Banksy's graffiti in Ukraine. My visit to Hostomel. Today it's about Borodyanka.
To give you a vision, a year ago on February 26, the offensive of Russian troops on Kyiv direction from the north was stopped here. An imaginary line along the Borodyanka - Bucha road.
This small town impressed me so much that for a couple of days, I hallucinated the burnt roofs of the houses here or there. It was completely unlike anything I had seen before. When I saw damaged houses here, then somewhere in another block maye, or in the other end of the city. It was different here. I was driving down the main street, and on both sides big empty black eyes from window openings stared at me.
We dropped the car near this Police Station.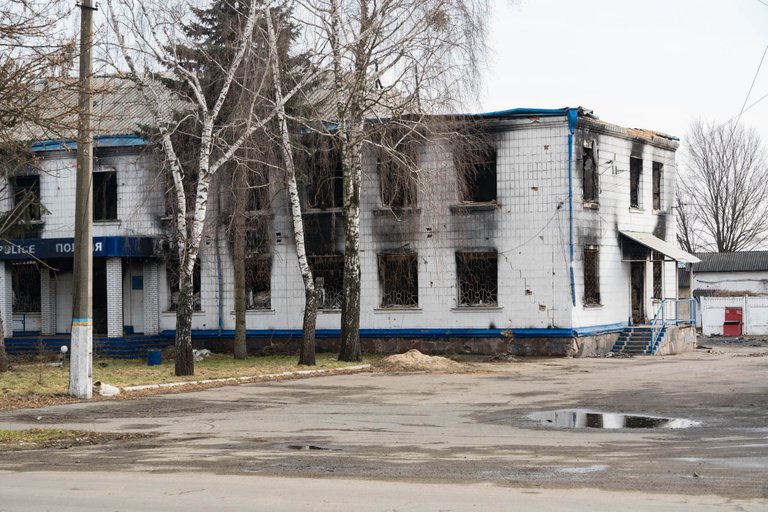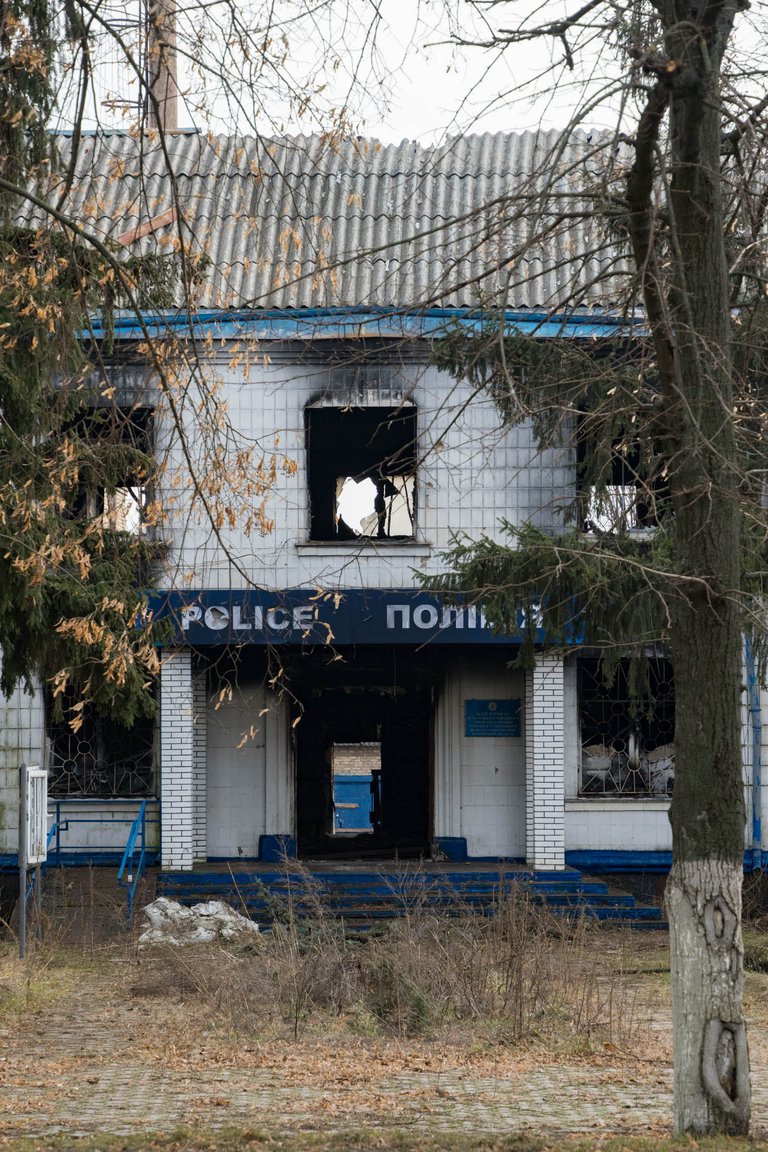 And this is local Employment Center.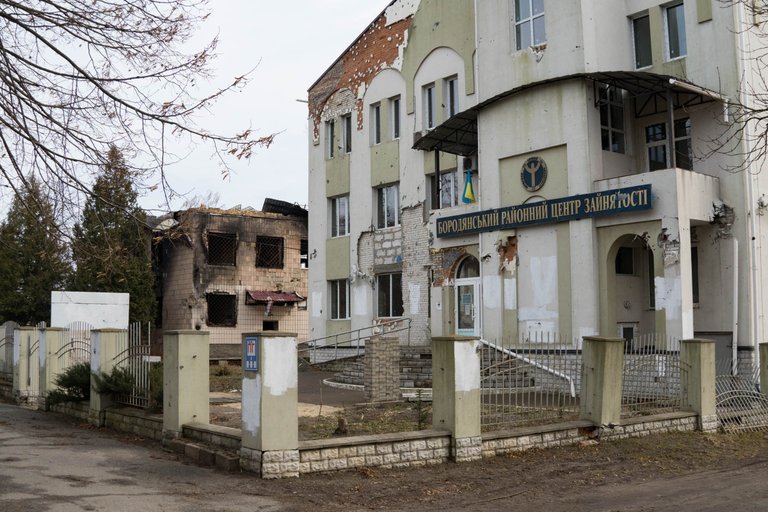 The difference between these cities and Kyiv is that in Kyiv very quickly began to restore the houses destroyed by shelling. They immediately began paving the streets. And here... almost everything remained as it was on those days.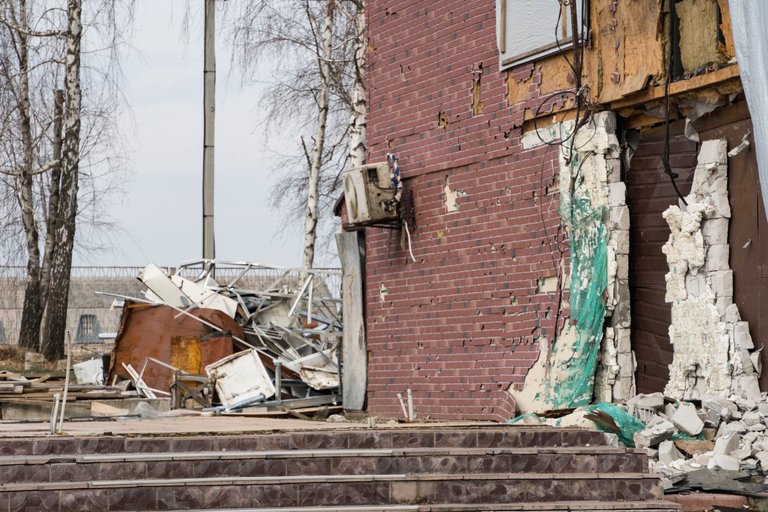 There are traces of shrapnel on the asphalt.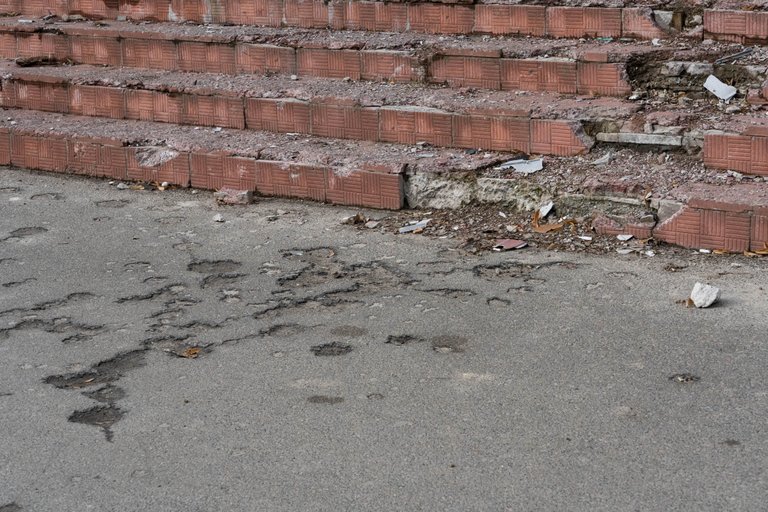 Fresh flowers near the obelisk dedicated to the defenders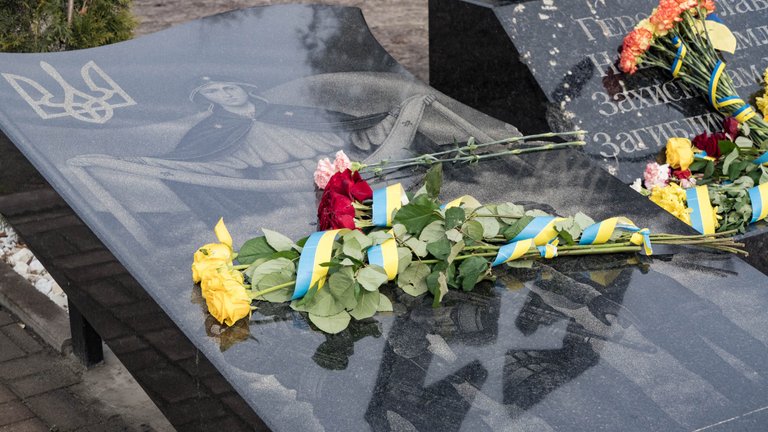 A plate with the inscription - DTEK. We return the power (or the light, meaning electricity). It is the largest private investor in the energy industry of Ukraine. They had harsh times this winter, when Russian troops constantly fired at our energy facilities.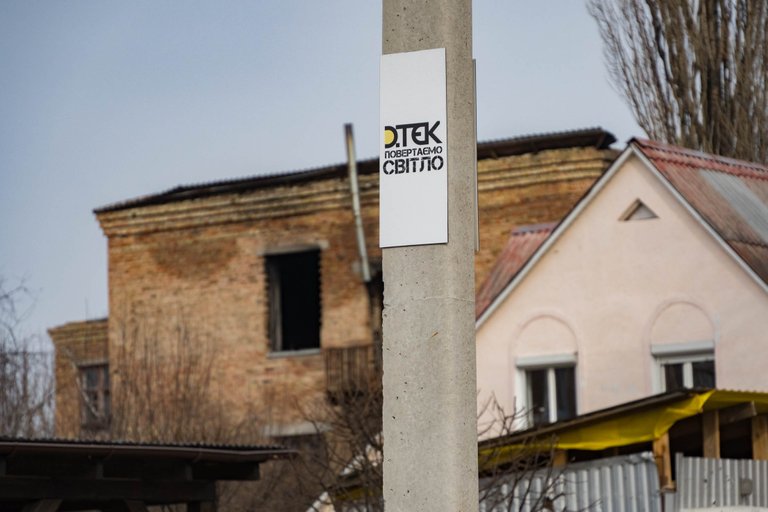 Restoration work is ongoing on some facilities. I have no idea how this can be restored though.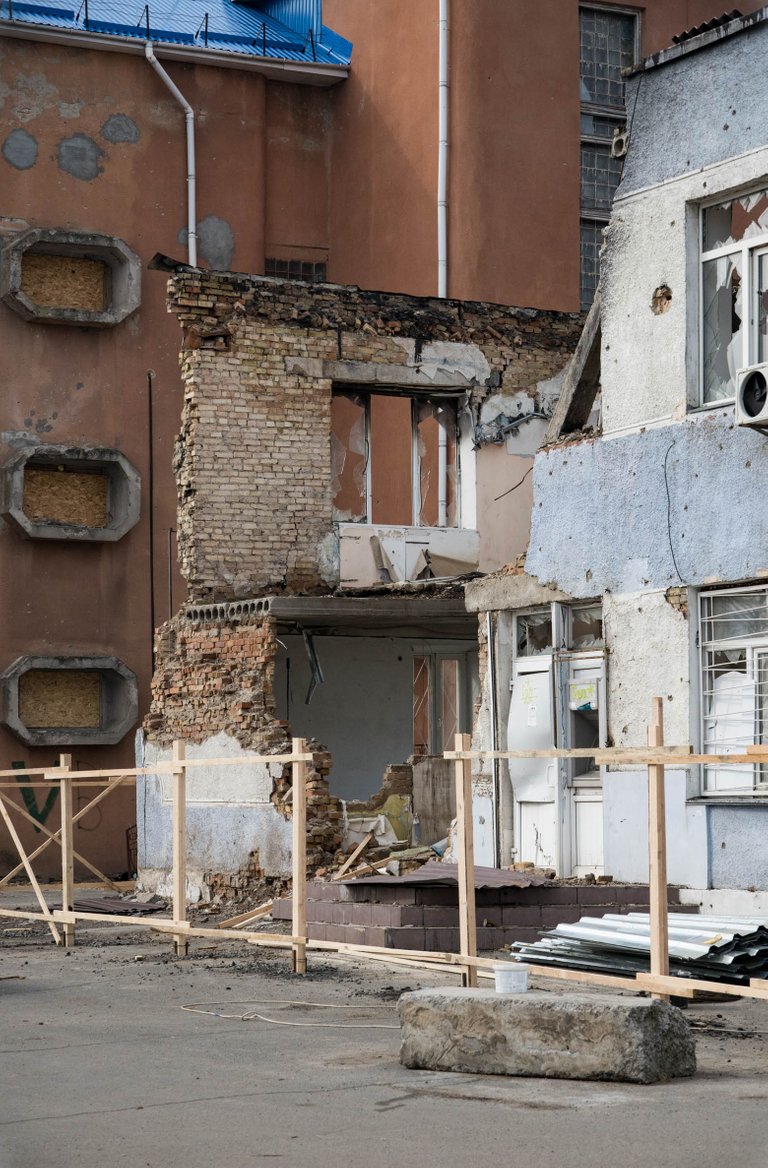 Most of damaged buildings stand as is.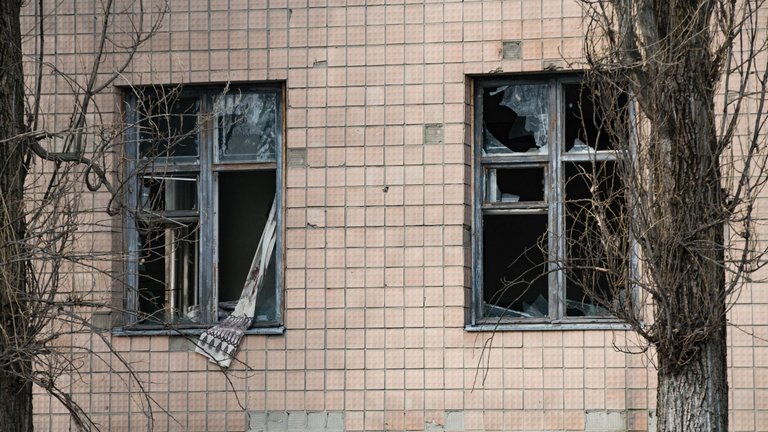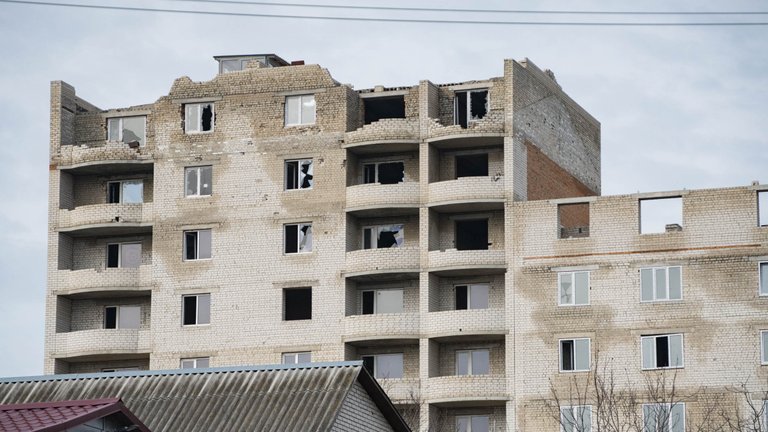 The inscription in Russian: Stop! Mines!
This is the gate of the operator of telecommunication services. Once he was the only one in the country. I even once worked for them.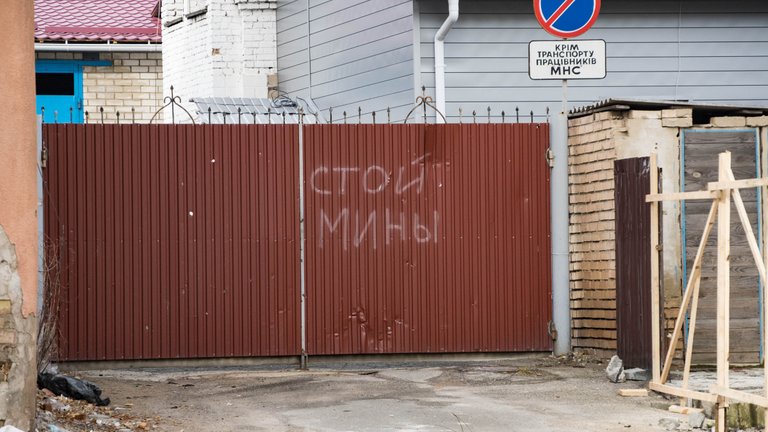 There is a small market on both sides of the street. Today is Saturday, market day. They sell everything, dairy products, eggs, sausages, clothes, building materials, seeds. Spring is coming.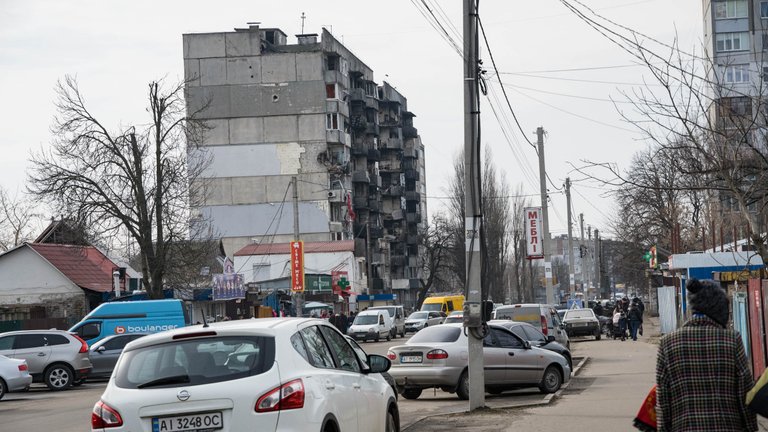 Next to this.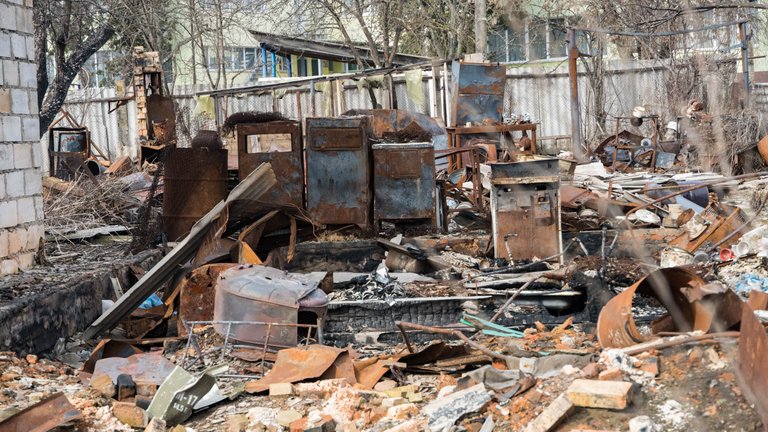 In the morning, the sun shone kindly, but when we drove into Borodyanka, the wind picked up, the sky became gray and gloomy. It seemed that it would rain soon.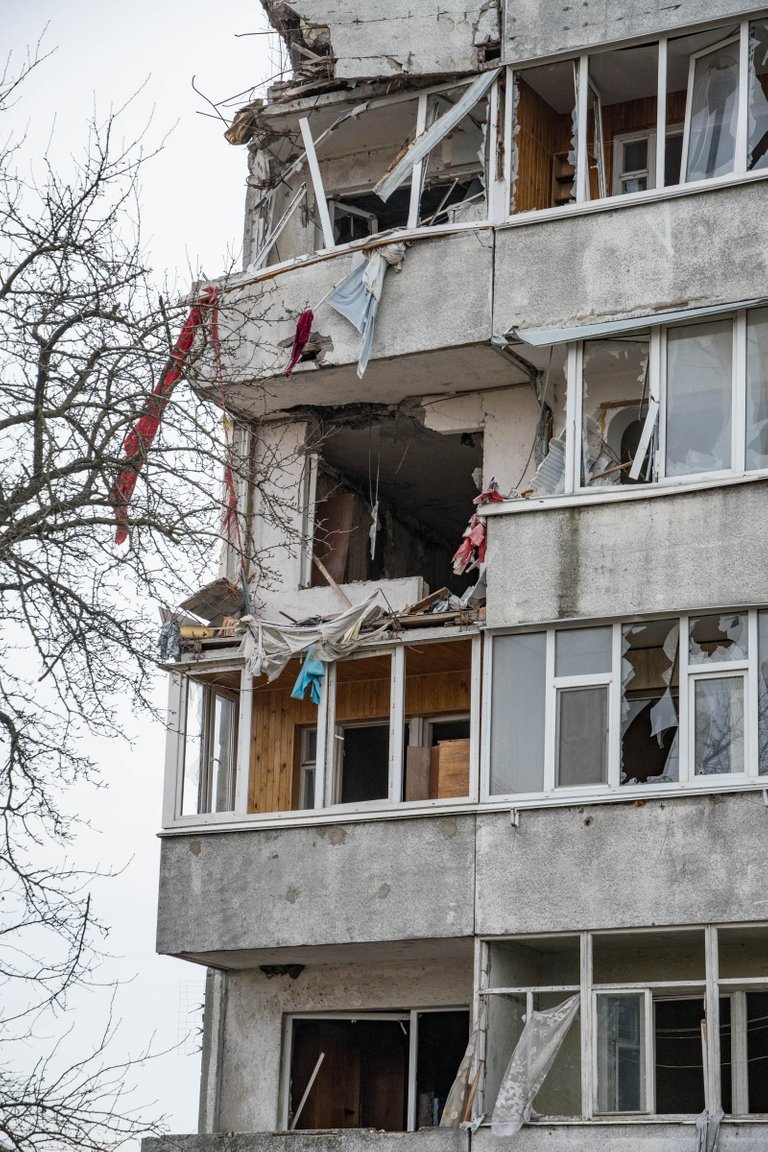 The houses seemed dead. Only the remnants of the curtains fluttered from the wind.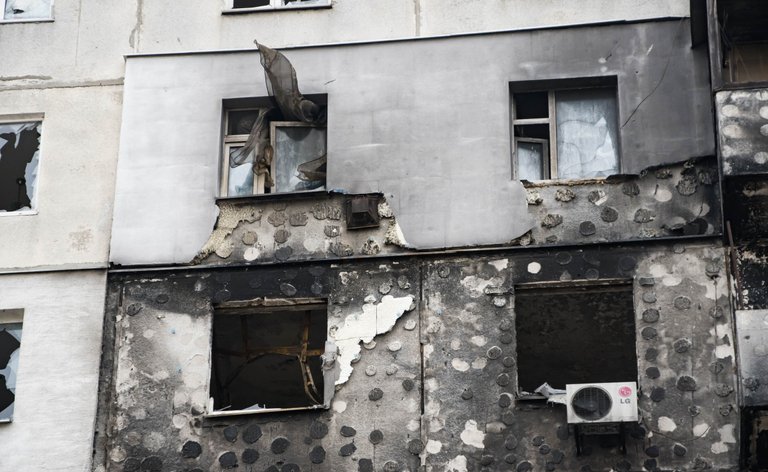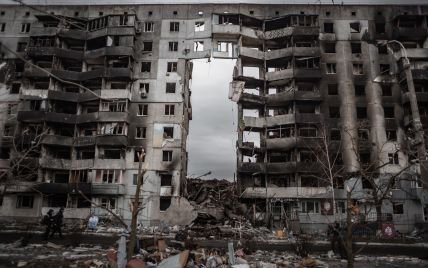 You've probably seen this house on the news. This is how it looked in March-April. The arch from the survived upper floors was later dismantled, or maybe it simply collapsed down.
And this is how it looks after a year. Gosh, there is soo much work to do here...
The inscription on the large banner - Get the RF out of the UN!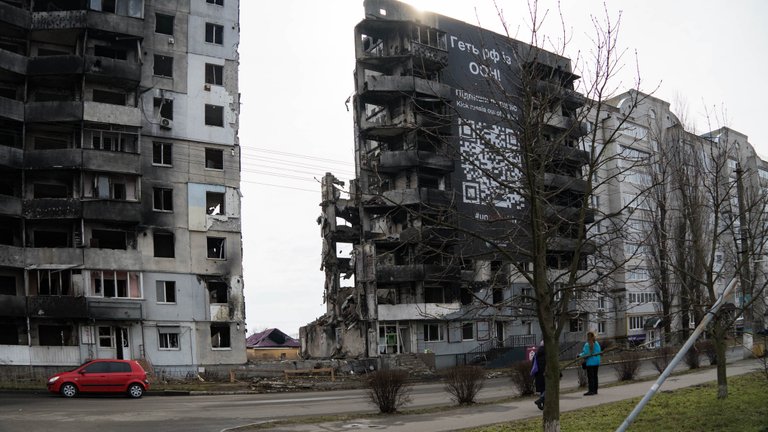 I guessed that the first Banksy was most likely somewhere here. Because he chose for his graffiti houses that were badly damaged.
In fact, it is already visible in this photo (try to find it!. But then I didn't notice it. We decided to first find the second one that was further along this street.
In the description I found on Internet there were addresses with house numbers. But it's better to navigate here using online maps, since there are few number plates left.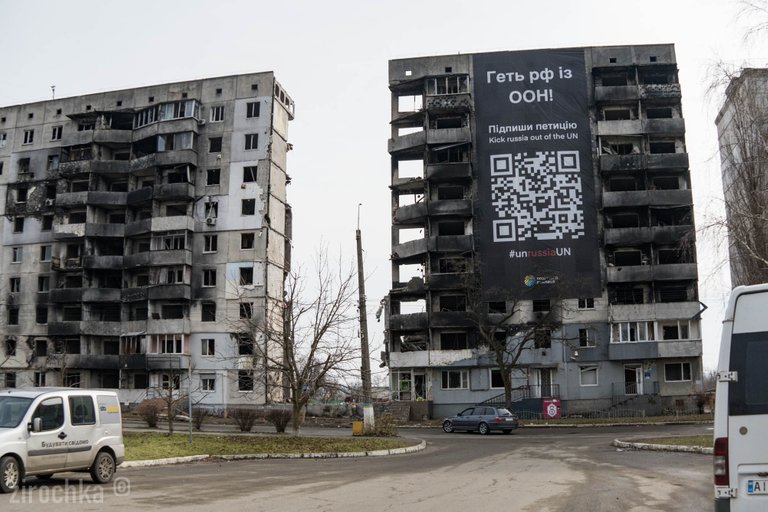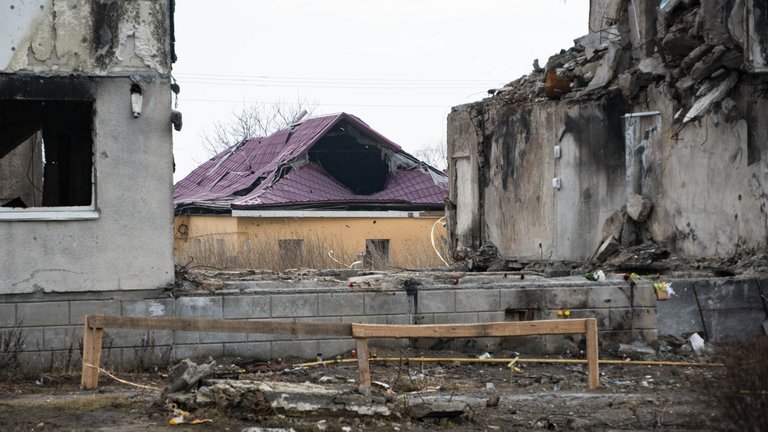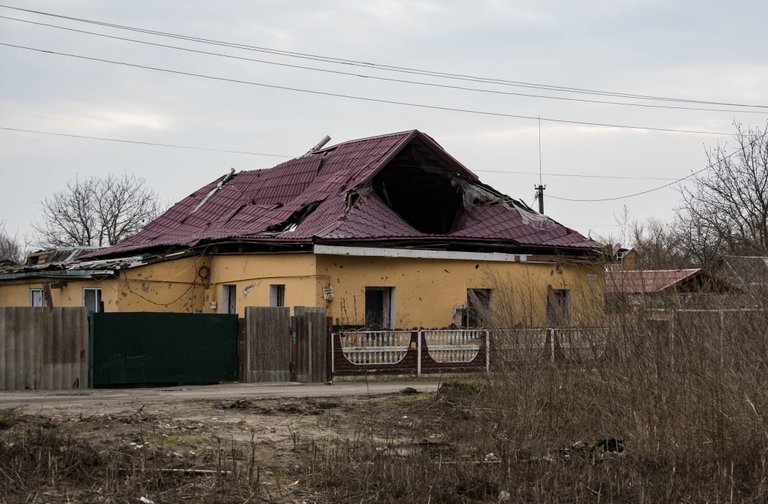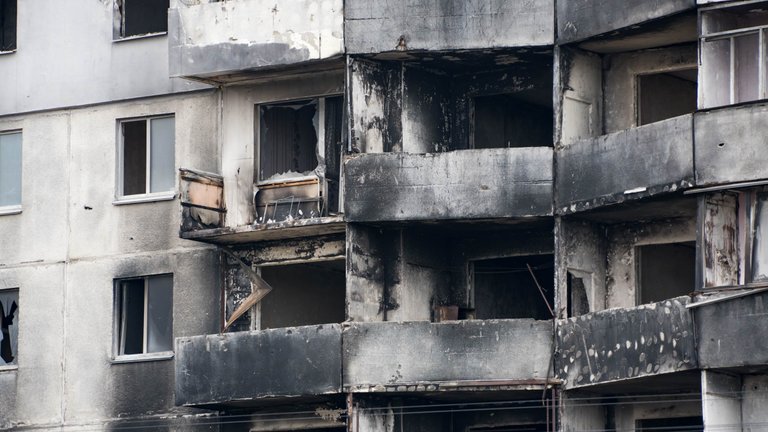 Now that I've been there, I often recognize Borodyanka in war reports. Journalists are regular guests here, I think. They are here because this is their job. Or their excuse. But why am I here?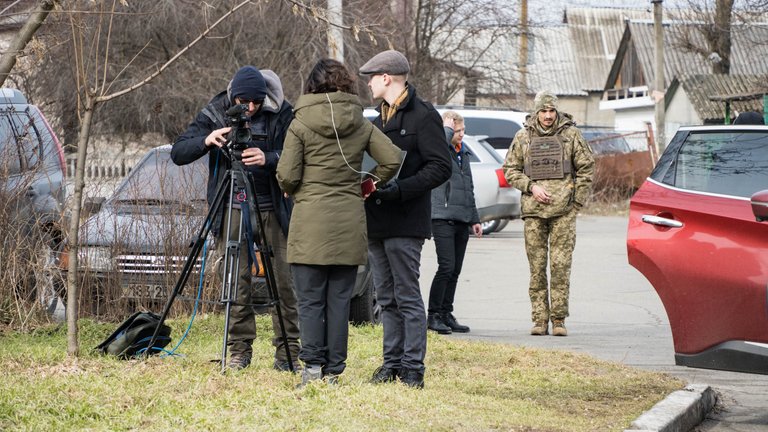 I probably had to live through this trauma, this grief. In order not to carry these black demons in my heart.
I understood why our leadership always brings foreign guests - presidents, ministers - here and in neighboring similar towns. I used to think it was a bit unethical. And now I understand. It doesn't matter which video you watched and from where, or how many. It is impossible to feel from watching a video what you feel when you are here, walking among these houses.
And this is a bust of Taras Shevchenko. Monuments to him can be seen all over the world. Earlier, Ukrainians considered him literally the father of the nation and a prophet. Now we see that he really saw the future.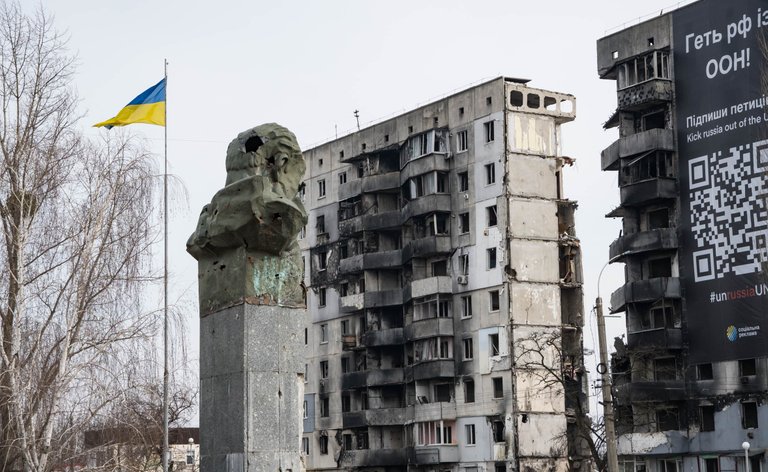 He stands in the square opposite this wounded house, sadly bowing his head shot by rashists. I think this bust should be kept in a museum.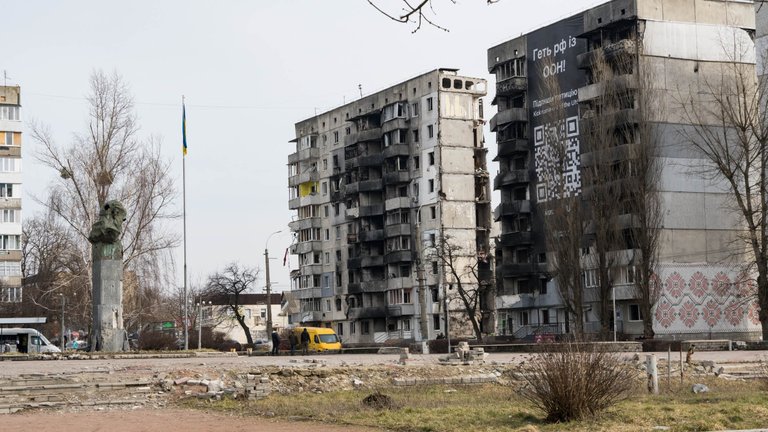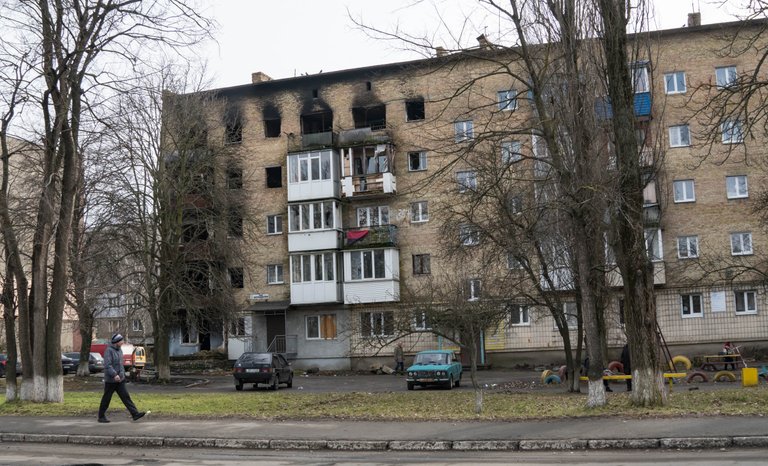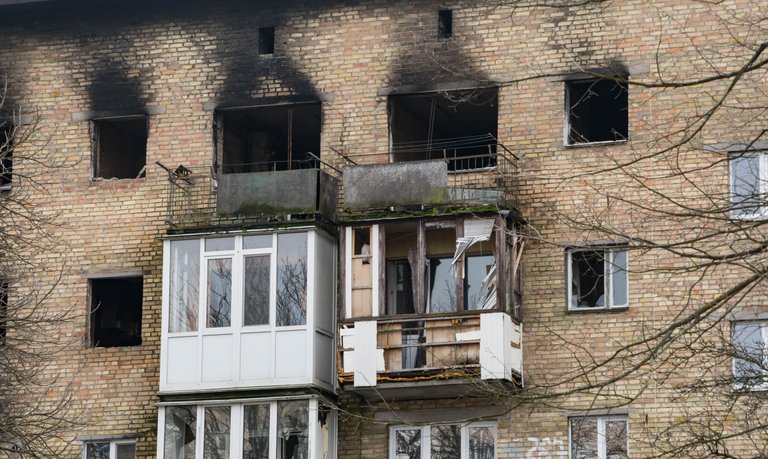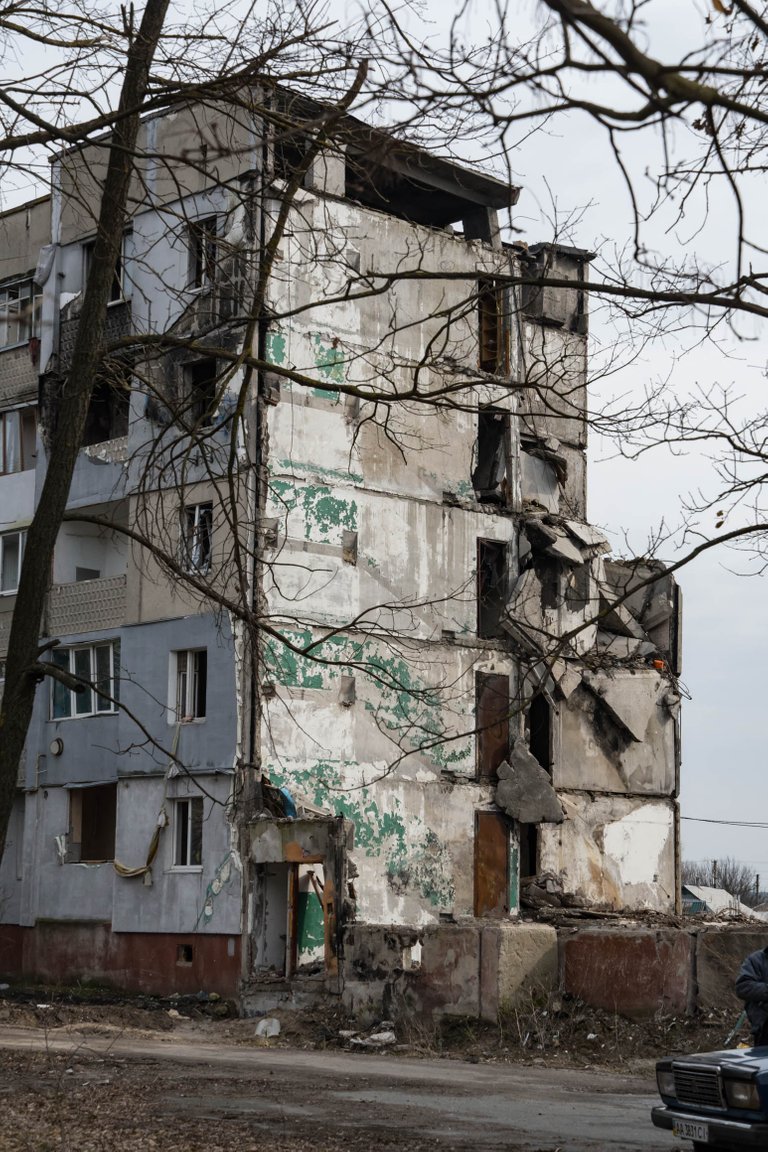 These are all different houses. There are so many of them. Too many.💔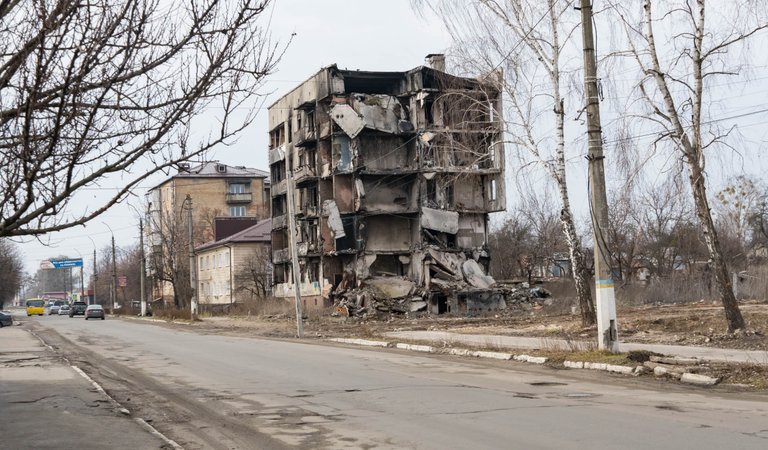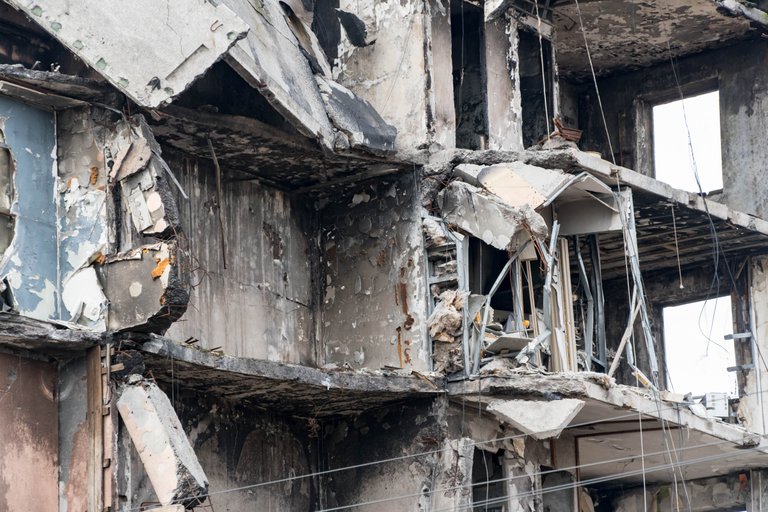 Cats. Was this pile of trash and rusted iron their home a year ago?
---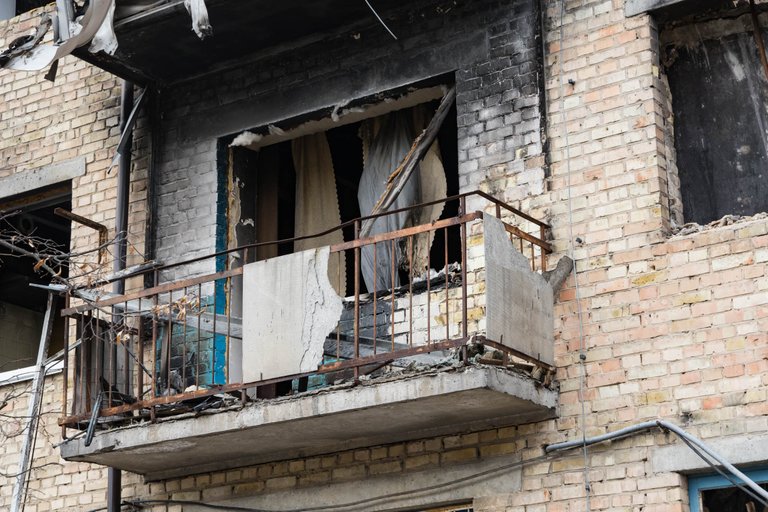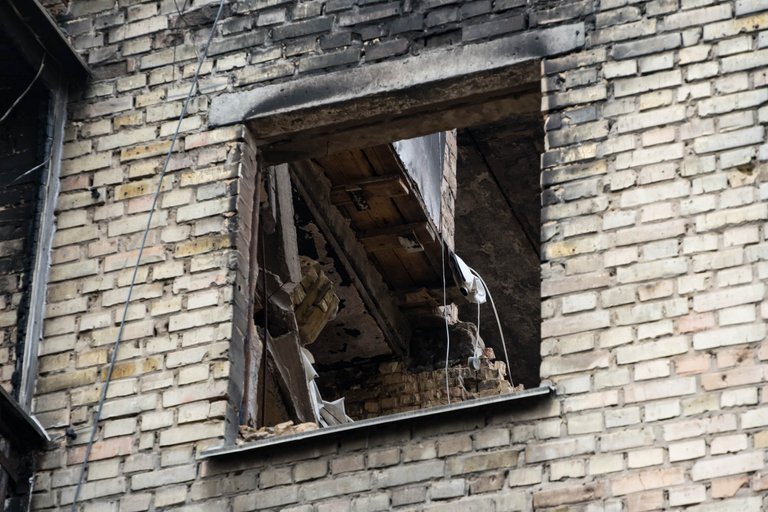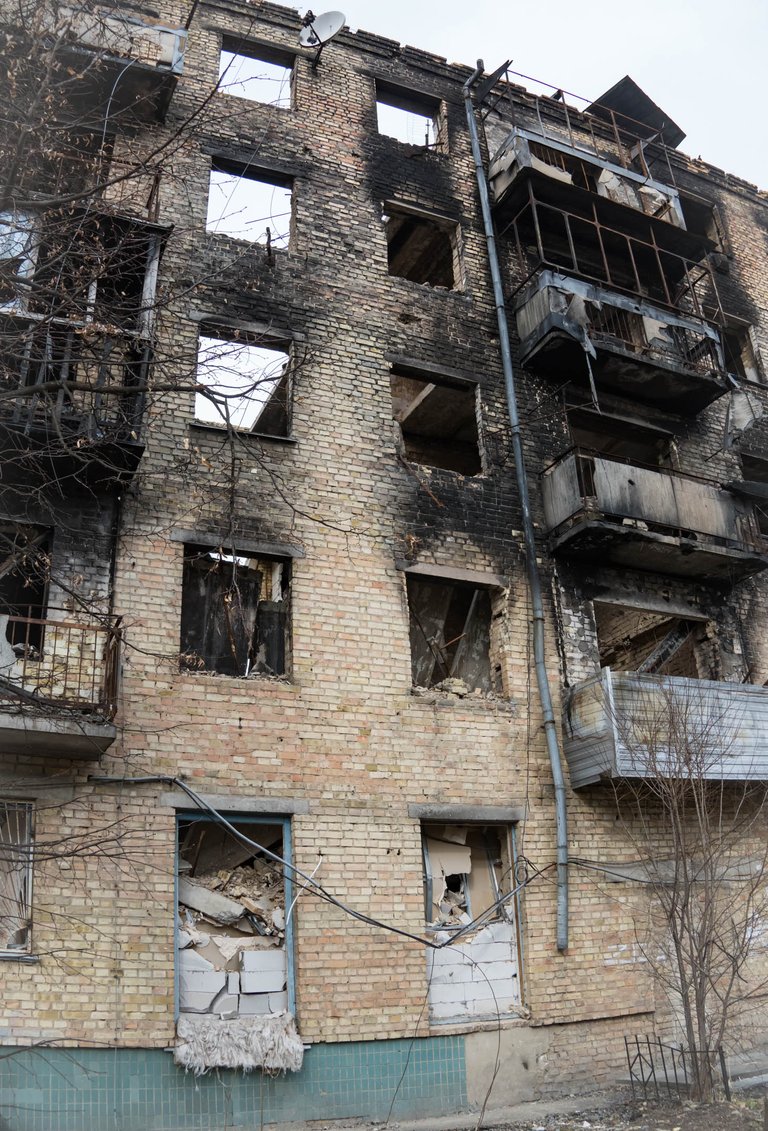 The multi-storey building on the right once was one whole. Now the middle entrance is completely destroyed.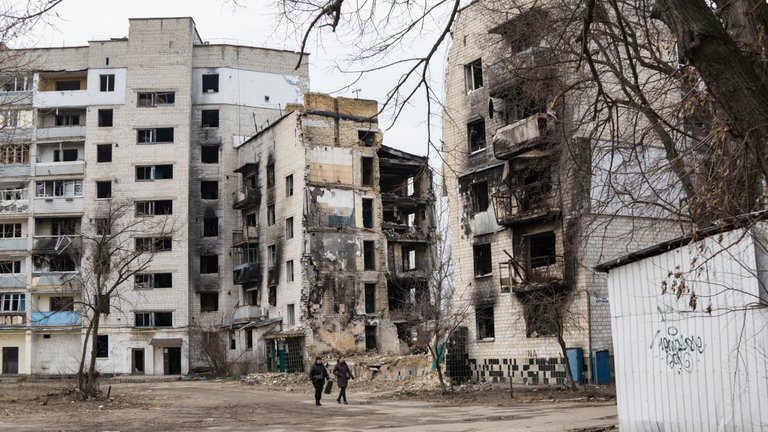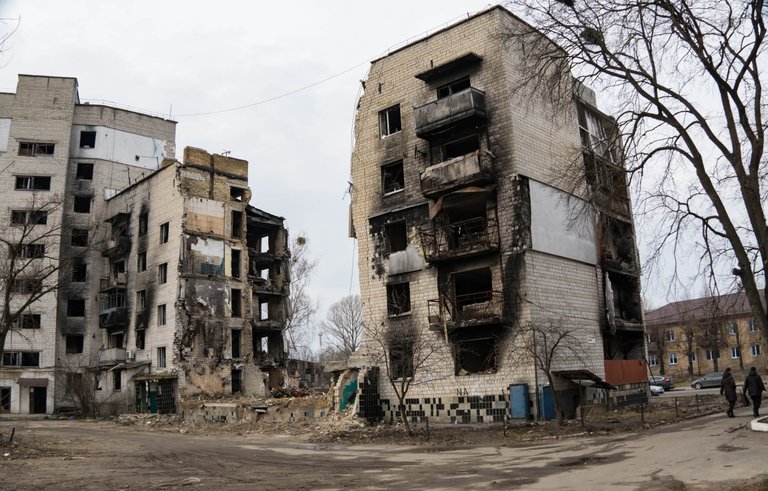 Inscription "Food store".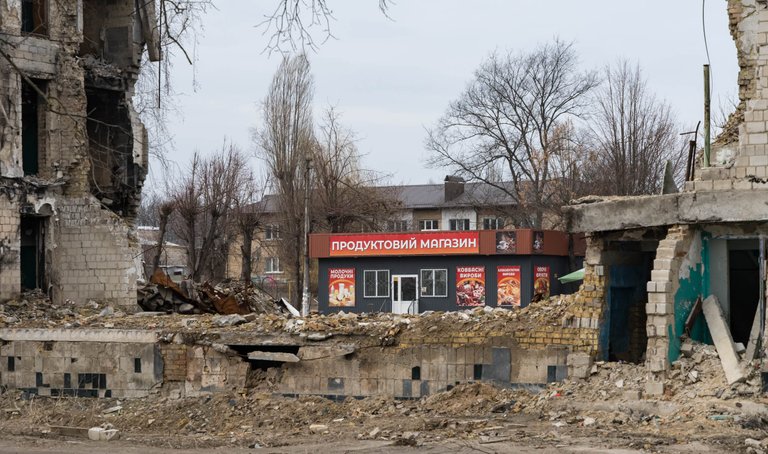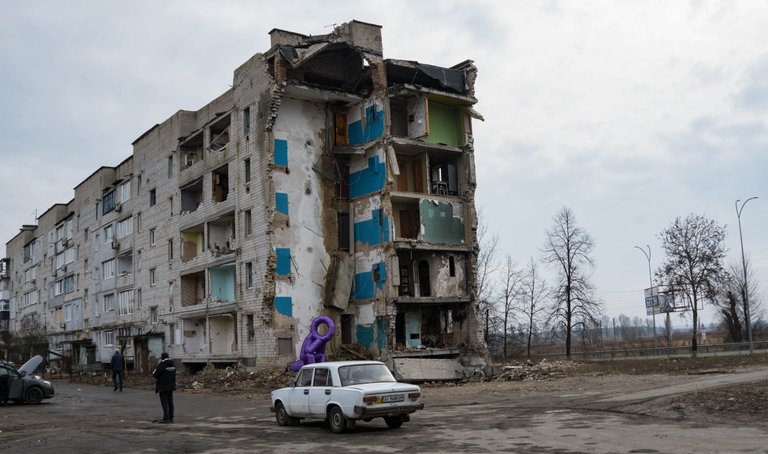 ---
---
Here we go. I found it!
Looks like someone learned their lesson. A glass cube was built around the fragment of the wall with graffiti. It has a door and it is open. Security alarm was installed inside. Fine. I hope this one will not be stolen.
I just read that the local authorities plan to transfer it to a museum.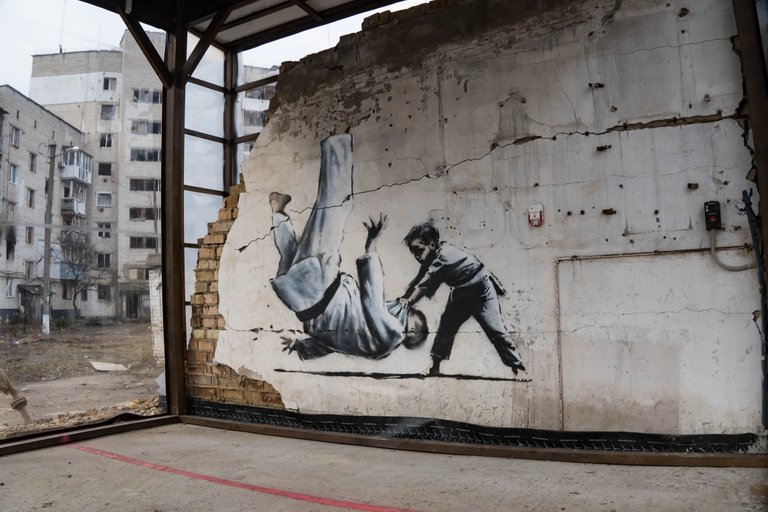 Banksy depicted a man who is thrown to the floor by a boy. Both are in the uniform of judokas.
There may be several interpretations of this work. But we saw in the image of a man exactly Putin, who, by the way, is fond of judo.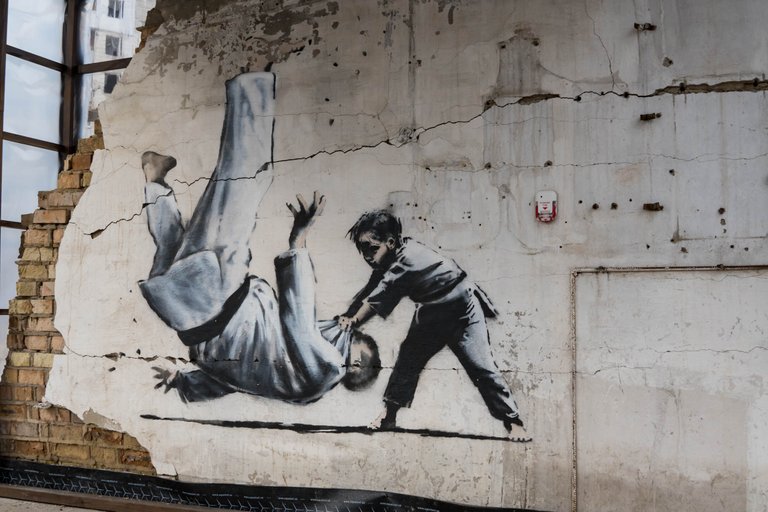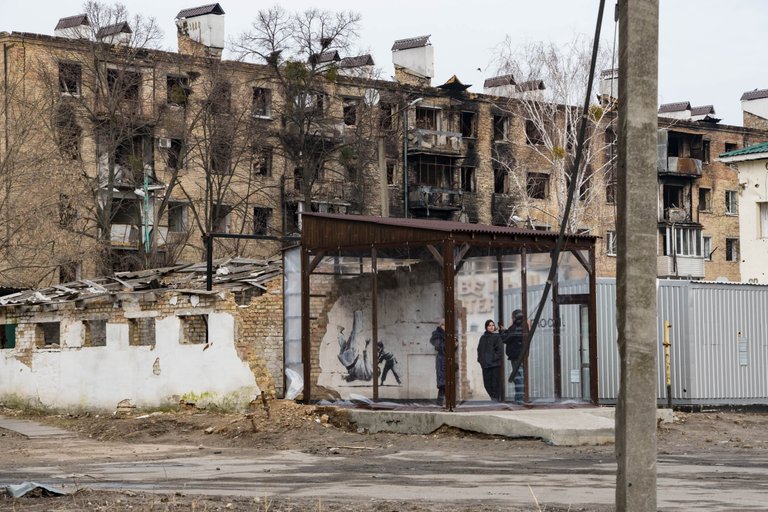 Well, looks like if I continue this post will be too long. People don't usually like longreads. So I better stop. Let's continue next time. Soon.🙂
Thanks a lot for your time and attention 💙💛
Stay tuned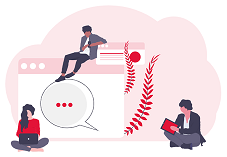 Need a free Hive account? Get yours now
Thanks to @hivepeople for the banner!