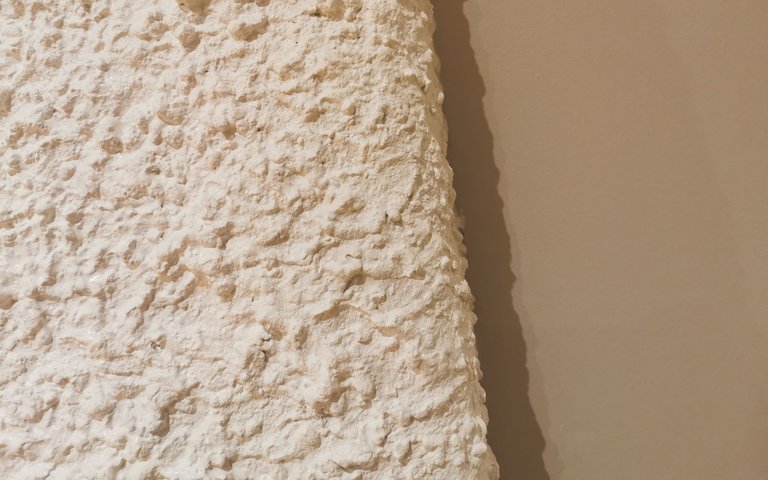 We have almost finished painting the inside of the house, but "almost" is still quite a lot left. Tonight I painted the surrounds of the fireplace and the fireplace itself. We have cleaned it up so that it is now one smooth wall surface (previously it was a mix of surfaces) and painted it the same color (with a latex-based paint to take the warmth) as the rest of the walls, but the rough casting we painted white, which after years of open fireplace grime build up washed away, it looks really clean and bright. Eventually we will close off the fireplace to make it cleaner and also more practical as a heating unit in the winter, at which time we will decide on whether to do anything to the red brick.
The built-in wooden cupboards to the left (pictured below) and the twin on the other side of the room and out of shot, will be painted next week, after they are adjusted by someone who hopefully cares more for straight lines than the person we paid last week for it. I could have made them crooked and ill-fitting for free. As long as they look good later, I don't mind.
Things are starting to come together in this area and we will hopefully sand and paint the floors in the next few weeks, so that maybe by summer we will be able to enjoy the room a little, which won't have any furniture in it, since we have no money for such luxuries. A lot has been going out every month for the last year and I am looking forward to being able to save a little of our income and knocking some of the debt out.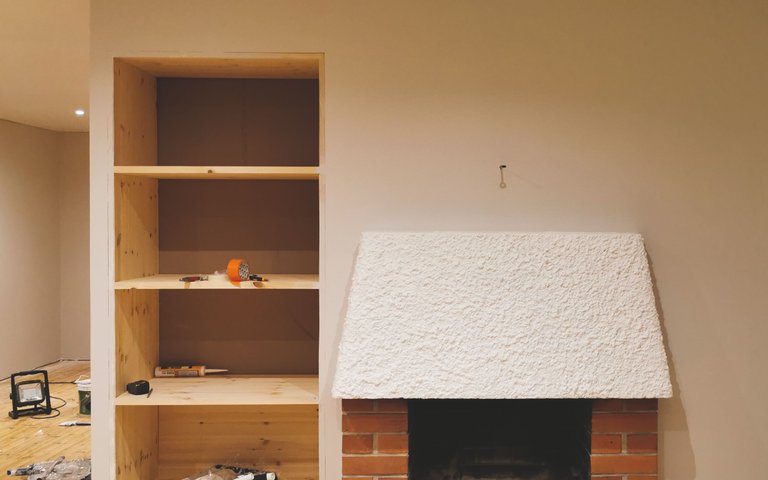 I would love to be able to start investing fiat again - as my last direct investment was the 2020 March dip, which is a very long time ago. I have been able to invest a little over the last few months from yield earnings, but it isn't really "profit" as there has been quite a lot of impermanent loss due to native token price reduction on the pairs. As long as they keep returning okay for a while though, it should be fine. What would be lovely is if Cub Finance is able to generate some major investment interest and start locking up some value into CUB itself.
I don't really understand how the interest is generated though, as it seems that some new DeFi pools are able to almost immediately get a massive amount of value pushed into them at release, regardless of whether the team is known or not. This makes me question the legitimacy of them, as even if the yield is high, I would suspect that large stakeholders would be very wary of aping into a new platform that hasn't even been audited yet - but a few hundred million seems to go into some of these in a matter of days. Yet, The Leo finance and Cub team are known, are developing, are making sure the code is audited and are trying to build sustainability - but struggle to get a twentieth of the TVL. I suspect there is far more to this than marketing exposure.
The same kinds of questions arise in regards to Hive too, as it should be a no-brainer for at least every crypto person to have an account here at minimum, but that isn't the case. I have always wondered why people will happily buy into tokens that have no social presence or use case at all, but seemingly not even know about all the tokens that do. How are people finding and choosing the tokens they are investing into?
But, I am not too concerned about lack of people here at the moment, although I would love more to come, take and build a valuable digital life on Hive. It would also be nice to get a higher amount of normal people in to dilute the concentration of crazy people who seem to end up on Hive. There really are some pretty unstable folk around here and I wonder how they manage and if they are the same in real life, or they hide versions of themselves out of sight. I would suspect that if many of them acted IRL like they act on Hive, they wouldn't be able to hold a normal job and might struggle financially - which explains why they are attracted to Hive.
The desire for "easy money" drew many here, with most discovering that it is far from easy to get the money consistently. With their expectations dashed on the blocks, many of them drift away or double down on their crazy. It is amazing at how many of them quit time and time again, yet are still here posting, time and time again. I find it pathetic how much time and effort they spend here, while apparently unhappy with being here - an opt-in platform. Someone would have to be pretty broken or desperate to opt into something they strongly dislike.
Everyone has issues - some more extreme than others.
My issue at the moment is that I am covered in paint and think it is time for bed. Tomorrow, we are going to try and take Smallsteps to a farm to see some animals during the day, as she has been awesome over the last months, so the painting can wait, while we take the time to do something a little special. I will try to get the camera equipment organized too, as it is rare that we are out of the house these days and I haven't been out of the city in over half a year, which is insane.
Time for a shower and a rest.
Taraz
[ Gen1: Hive ]