It is an extremely clean and organized city, but what's the most important, is that people are really friendly and altruistic, they always smile and give you a state of happiness and tranquility. It's a great place, filled with wonderful places, perfect to create memories and live an unforgettable experience.
Barcelona is the capital of Catalonia and is the second largest city in Spain, after Madrid. Although it is a very large city that hosts 1.7 million inhabitants and hundreds of thousands of tourists, it offers a state of quiet, order and safety. 
Here is the famous Sagrada Familia and the home of the renowned FC Barcelona football team where the famous Lionel Messi plays.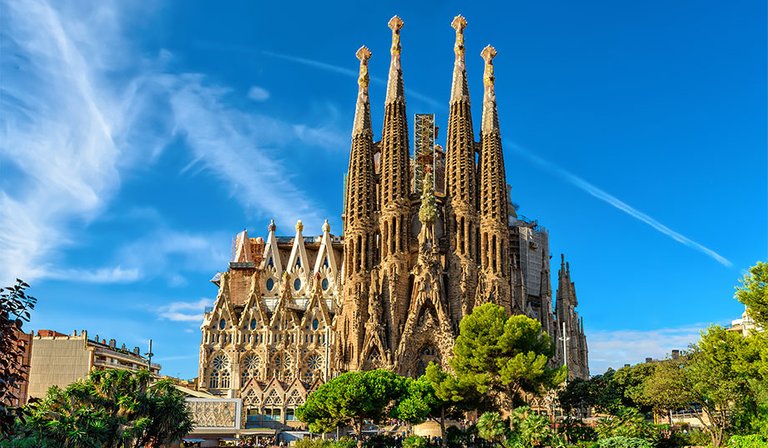 Source


St. Josep La Boqueria
It is the largest and most famous market and is located in downtown Barcelona (Las Ramblas). 
The program is Monday-Saturday from 8: 00 to 20: 30 and it is preferable to go to the market before 14:00 if you want to get rid of the agitation. 
The colors found there are overwhelming. 
While just looking at the pictures, the gourmet in me jumps up like a dwarf in my head saying that's heaven. It's just like a festival of color and feast.
The food is varied. You will find seafood such as black shells and white shells cooked in garlic sauce, paella (rice in tomato sauce and roasted vegetables in the pan), and tapas (it is an appetizer that is served before the meal and is largely made of olives and pickles), exotic fruits, juices, vegetables, nuts and, of course, the nachos specialty, which is mainly served with beer.
The atmosphere of the market and the Las Rambla area is fantastic, it gives you the feeling that you live, not simply exist. It is full of tourists and the street music is everywhere you go. You don't even need your headphones, just leave them at the hotel. 
You feel almost like you're at a wonderful carnival, surrounded by people that give you a state of happiness and enthusiasm.
Sagrada Família
Sagrada Familia is a huge church in Barcelona, a church that is still unfinished, although the construction began in 1882. The funding sources come from the receipts on the entrance tickets and the donations. 
In 2010 it was raised to the rank of Basilica Minor, a title which is offered only to churches of vital importance to Catholics and in order to receive it, there are certain requirements.
The church has 18 towers, in the order of height representing the 12 apostles, the four evangelists, the Blessed Virgin and the higher tower representing Jesus Christ.
Filming is forbidden in the church, you are allowed only if you get an authorization beforehand. But I can tell you that the sensation you have when you enter the church is overwhelming. The 170-meter-high ceiling and the enormity of the church make you feel so humble, and without wanting, you do not know how to express your enthusiasm that you are in such a place. 
The thought that mankind has been able to build such a marvel, such a masterpiece makes you wonder what great things we could do, and how at that time they had such a good sense of geometry and architecture. While observing every detail, one cannot imagine how they were carved and matched to perfection without having advanced machines or computing tools.
It's such a wonderful place and it's definitely one of the most amazing places that you must visit before you die.
Quick reminder: as I've told you in a previous article, Travelogue is a series of articles started with my brother, who's working on boat and is traveling around the world.
Here's a little more from Barcelona. I bet my brother knew that I love strawberry cakes. 

Don't forget to follow for more!