Hey steemies!
Wow...that was quite a heated 24 hours we all just lived thru on the steem blockchain! Unreal what unknown information can do to a community. I think it's fair to say many of us felt little blindsided by the whole thing, maybe a memo could have been in order as a courtesy? Nonetheless, the community quickly rallied together to discuss potential outcomes and solutions, it was nice to see how valued the freedom of speech and decentralization quickly topped the priority list as to why many dedicated so much time effort and money to this community to keep it alive and moving forward despite the economic winter in the crypto sphere. Tempers may have flared, many saw a sort of blockchain apocalypse but it showed the passion of it's community...Steemit has a future because of all the dedicated users that cared enough to stay, the same ones that just went thru a nail biting emotional 24 h. Will it be good, will it be bad? Only time will tell ,one thing is for sure, we are all in this together navigating a ship in uncharted waters towards social media and economic freedom.

Shot 1/250 sec. f/8 31 mm, ISO 200. The Iconic Lake Louise and Victoria Glacier view.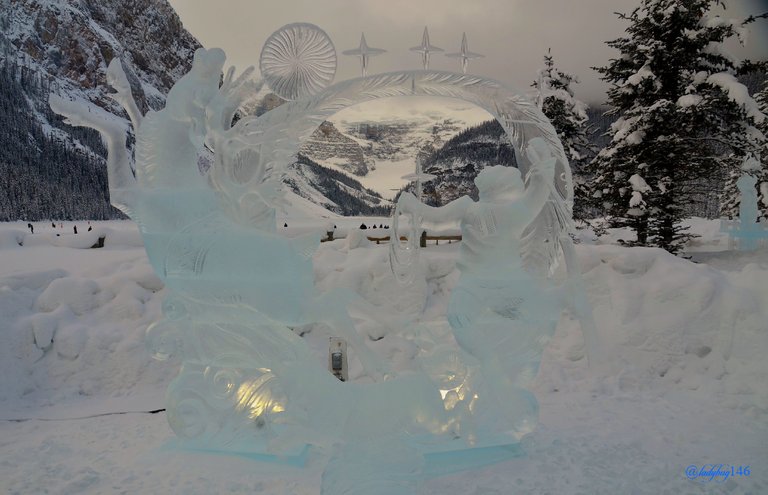 First place winner, Legend of the Suncatcher.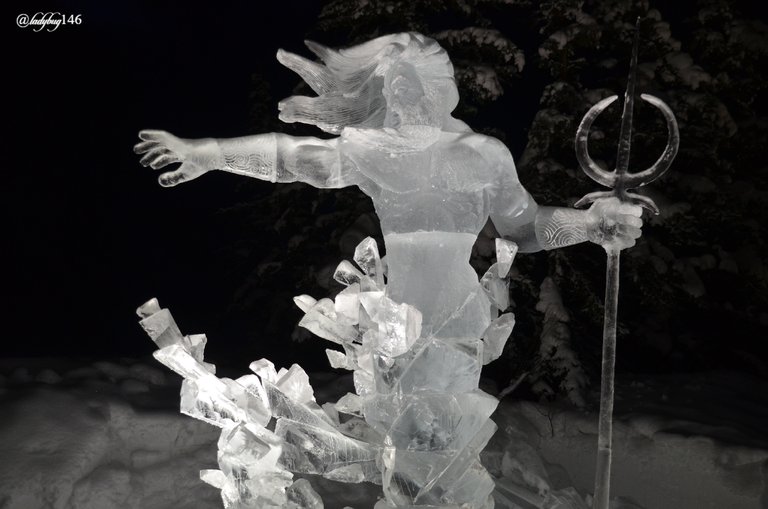 Shot1/30 sec. f/4 26 mm, ISO 800. Foziden- God of the Lake, voted crowd favorite.
In the meantime, lets keep filling our virtual treasure chest with more interesting content and continue our journey in making this the greatest place on the internet with the coolest content and hottest discussions on the block. In that event, winter isn't over yet nor am I done celebrating the cold and this blockchain needs a little ice too cool off the jets after the recent news that just unfolded, this might be the perfect time to bring you a new kind of ice. I have a love-hate relationship with winter but I have to admit this is worth freezing for, Lake Louise and Fairmont's ice carving competition. If anyone knows how to celebrate winter in an over the top classy family affair, it's Fairmont...go big or go home!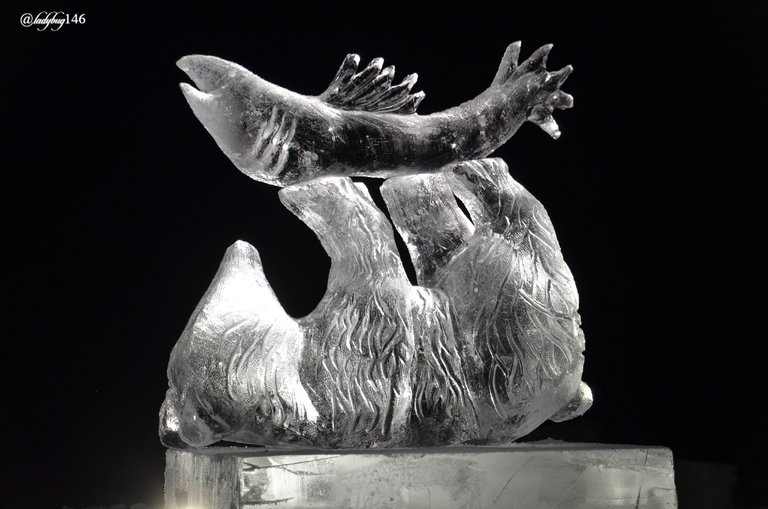 Shot 1/125 sec. f/5.3 65 mm, ISO 900.
Ice Magic carving competition is part of a bigger festival called Banff Snow days that happen from mid to end of January in all of the most popular attractions across the park. One of 3 international ice carving competitions in Canada (Edmonton and Ottawa), Fairmont Lake Louise have proudly been hosting the carving competition and dazzling it's visitors with towering frozen masterpieces for the last 26 years with a large prize pool in various disciplines attracting talented veteran sculptors from all over the world in a fierce battle of complexity. The devil really is in the details.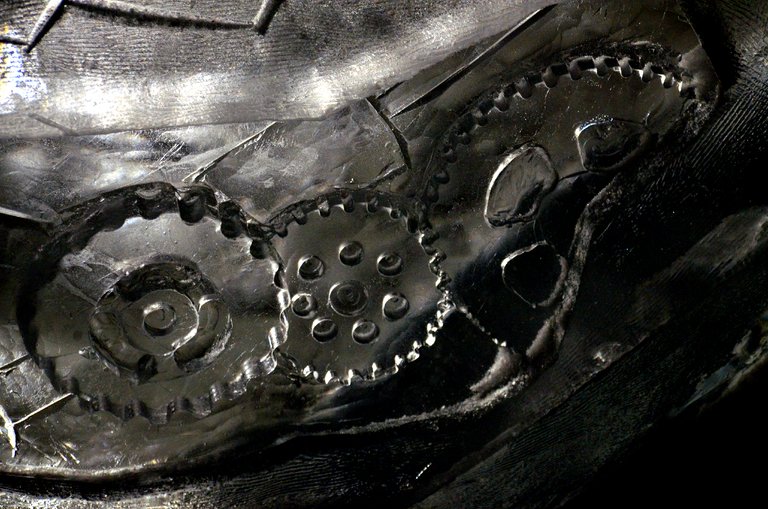 A close up of one of the sculptures revealed hidden fine details in the ice.
Before we get to the competition details, lets take a walk around and let me explain the Lake Louise resort in better detail. Chateau Lake Louise is a high end resort located in one of the most beautiful part of the Rockies, seriously, this is what makes Banff! In the summer, it's emerald waters from the glacier feed attracts large crowds from sunrise to sunset. The iconic Moraine Lake is located just a few kilometers up the mountain but is only accessible by vehicle in summer due to high avalanche and safety risks involved. In the winter, Lake Louise is always accessible and well maintained as the host to some of our favorite Canadian outdoor activities.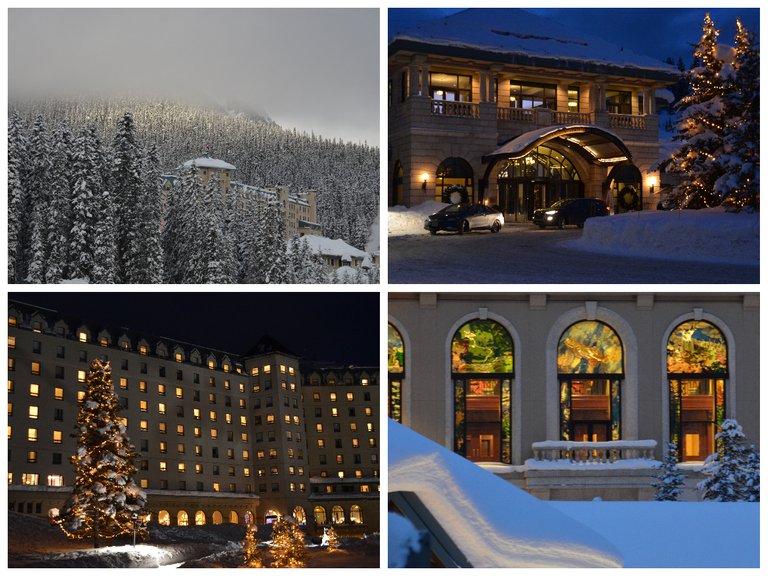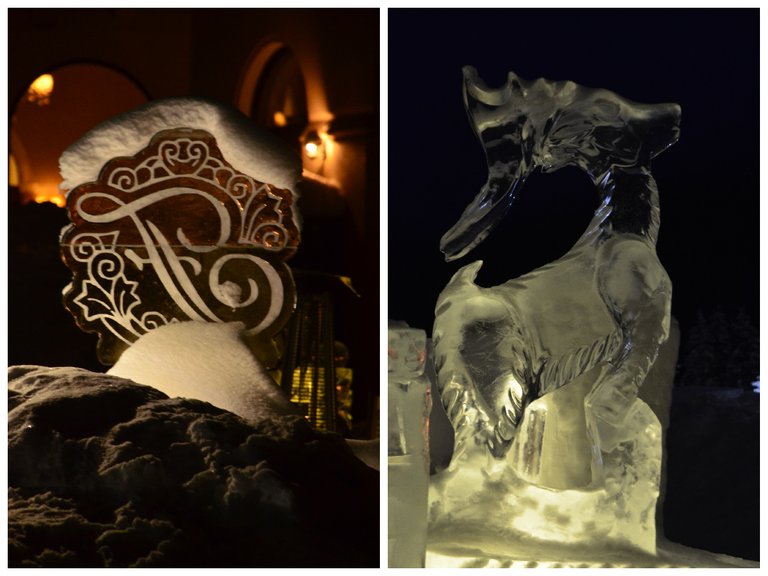 You are not required to stay at the resort to have access to the recreational area. The Lake freezes over to be turned into a natural hockey and skating rink in front of the dreamy Victoria Glacier view large enough for everyone. Many seem to just drop by and run but they are not dong this place justice. Hidden in the tree line, a trail will take you along the edge of the lake and solve the mystery of how far the lake really goes behind the mountain view (not that far but it's a nice walk). Once the lake is frozen over, it's possible to walk across it's 2.4 Km trek across the 70 meter deep (220 feet) natural marvel (bring cleats to walk across).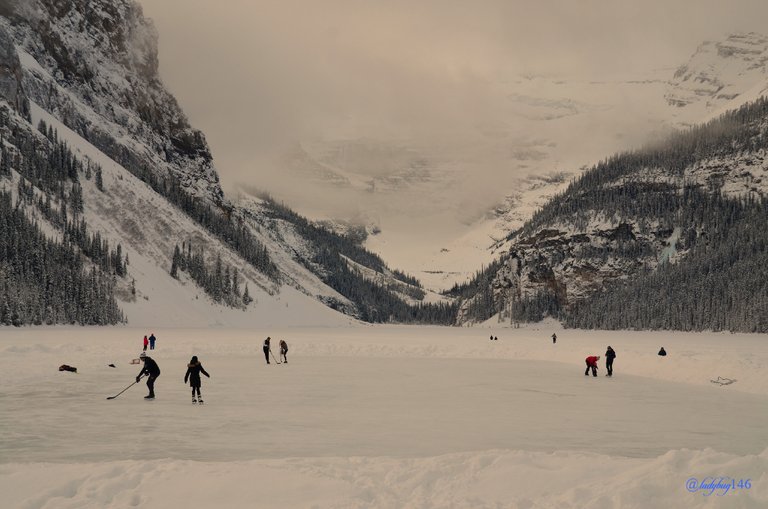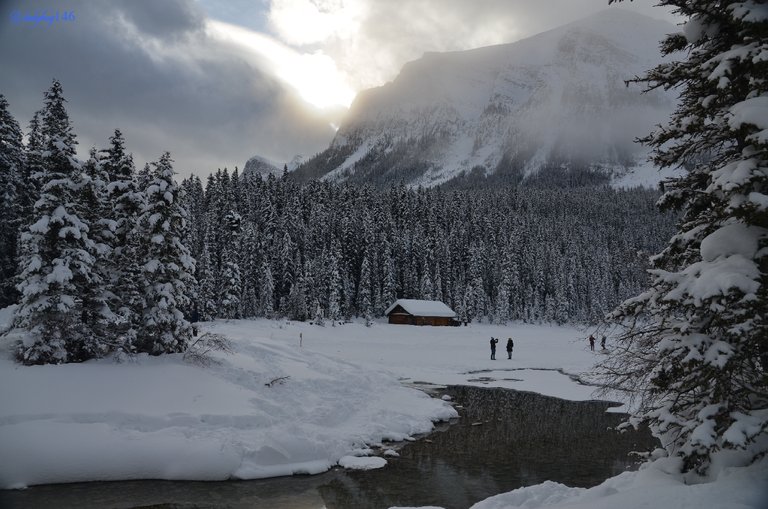 What inspired the names of the location and glaciers? Lake Louise was named after Princess Louise Caroline Alberta (1848-1939), the daughter of Queen Victoria and wife of the Governor General of Canada during her time. Lake Louise is one of Canada's most popular ski resort with it's spectacular aerial front row view of the Fairmont in a gorgeous backdrop and having one of the longest season with consistent powdered snowfalls due to it's high altitude. The season generally runs from early November to Late May, the attraction also has a gondola for an easy way up but we didn't have time to go, we were only there for the day having driven from Jasper. Normally staying in Banff would be much closer, we just wanted an excuse to go down the Icefield Parkway but more on that in a future post...yep more snow in the steemit forecast. 😱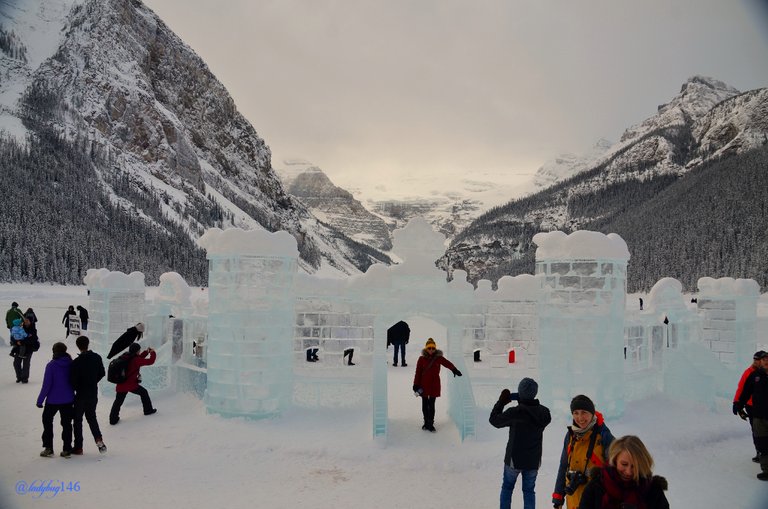 Shot 1/250 sec. f/8 18 mm, ISO 180
We started our Lake Louise dream by taking a hike across but first, I was trying to keep this quiet as long as I could until now, there is something else on the ice I had to see besides the competition or the view. How about and ice palace? It's not like the Edmonton Ice castle or even close to the same size but every year, the resort builds a little ice palace gateway to stop for a great selfie. Unfortunately, if you want a clear picture with nobody around, go early...like 8 or 9 am early and you should only encounter a few people, anytime after that it will get really busy especially if it's warmer out even after dark.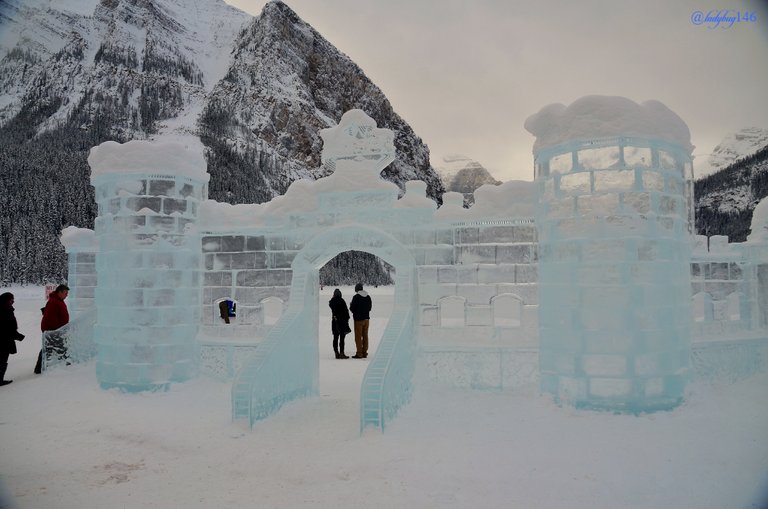 Shot 1/250 sec. f/8 18 mm, ISO 160
Crossing the lake, I was getting a little un-nerved the closer we got to the center, @silvergingerman was freaked out by the clear ice from Abraham Lake's bubbles, I on the other hand do not like ice that I can't see thru especially with wet footsteps in the snow that lined the sides of the temporary lake trail. I knew it was all psychological so I kept going. There was a solid trail that had been used for days after one of the longest extreme cold streak in decades plus the resort is pretty good at identifying and flagging hazardous areas for safety. I have canoed on this lake and it's one of our deepest lakes, the water is crystal clear and looking down is like looking into a big emerald abyss, there is no seeing the bottom. I felt much better after reaching the shore and I certainly didn't want to take the same way back. No regrets, I got to see a view that would have otherwise been hidden from the trees.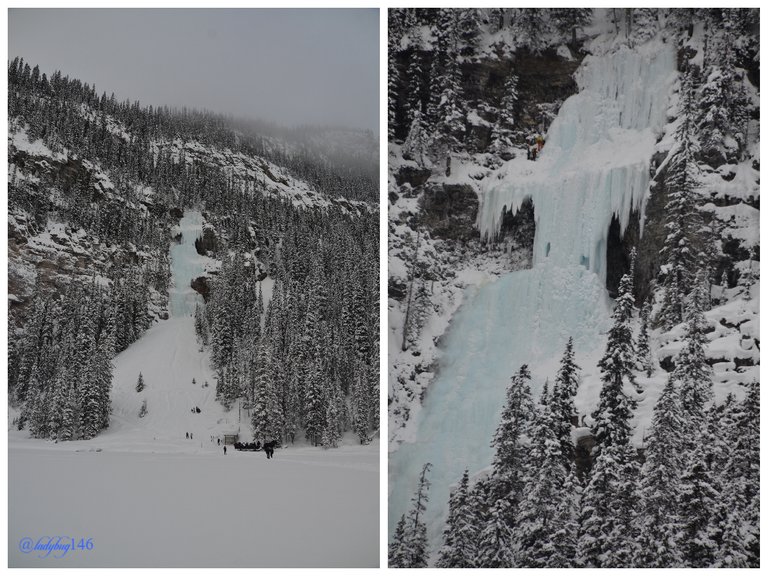 We never noticed this before mostly coming here in summer of early November before the lake freezes (for the amazing contrast with the water and the snow, best looking time of year to go). Up on the hill must have been one of those underground water stream system exiting, there was this giant ice wall & cave just at the end of the lake trail before continuing on to Lake Agnes. We saw people up there and a trail to go up, there is obviously a specialized tour or a way up. we didn't go, we continued on towards lake Agnes but not the entire way, only up to the boulder fields. Going passed the boulders in the winter is dangerous for frequent avalanches and very remote and there was actually one just days before.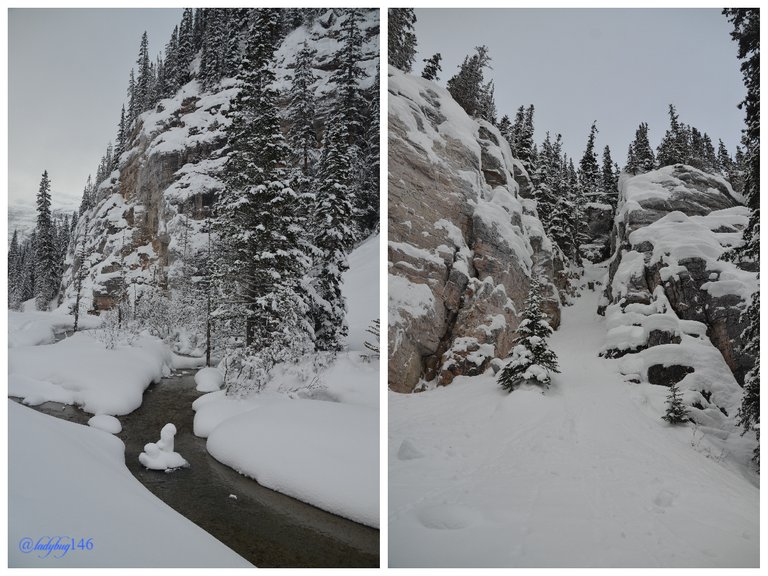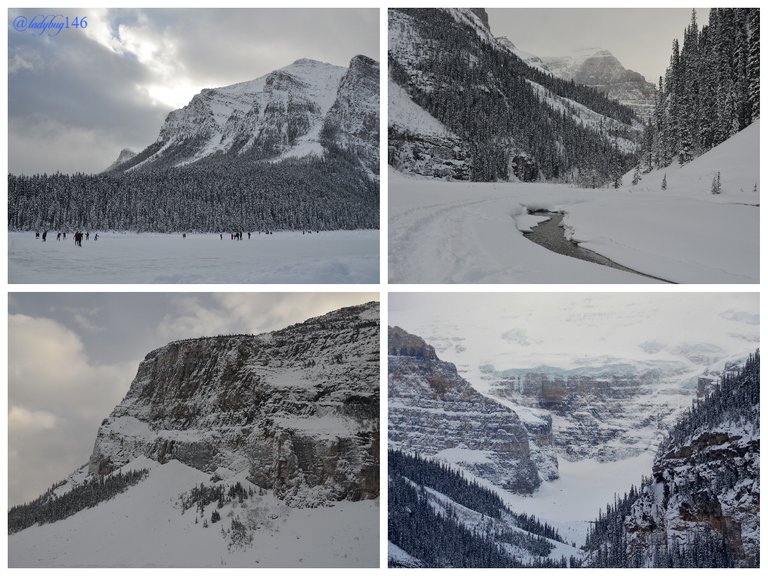 We took the trail back instead of the ice, the drawback with the trail is that it's narrow and shared with horse sleigh rides. Of course Lake Louise and Fairmont have horses near by! We didn't have time to go as they were closing when we got off the trail but we did have to go into the snow bank to let them pass, a good chance for some close-ups as they were passing me by except I didn't anticipate sinking butt-cheek deep into the snow in the process...Oopsy! I didn't even reach the bottom of the bank, it was soft and the more I tried to get out the deeper I sunk in...Quick snow! That is some winter Indiana Jones stuff. We all got a good laugh out of it, including those on the sleigh ride under a warm fuzzy blanket and then @silvergingerman pulled me out of my snow well before I got fully swallowed by the snowbank, anything for a picture. 😂😍😆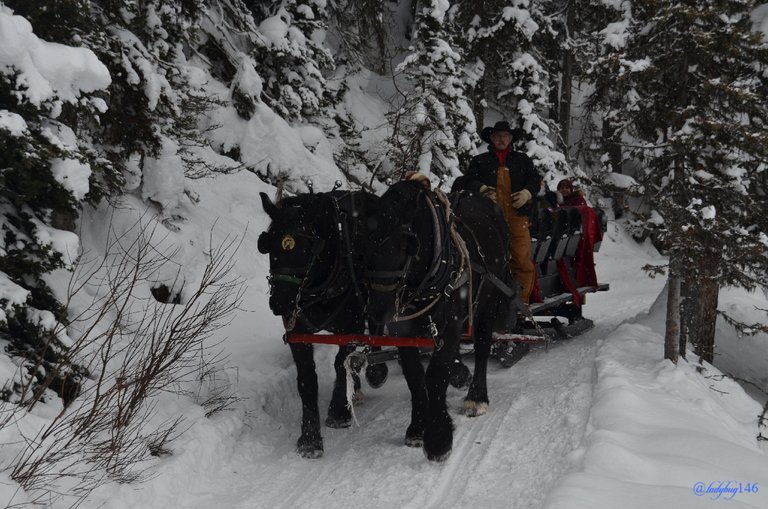 Shot 1/200 sec. f/7.1 46 mm, ISO 200
Now time to get back to the Ice Magic carving competition, I wanted to wait until after dark because they had a nice backdrop in the daylight with the mountains , the fine details don't come out as well until night and all lit up. The competition isn't held on the ice but closer to the hotel/ mini-mall entrance. On the way there, we passed by an ice bar. I'm not sure if it's here all winter or just the competition. The bar has seats carved into the walls and fire to warm up to a drink with a view, bear in mind it has very limited hours of operation.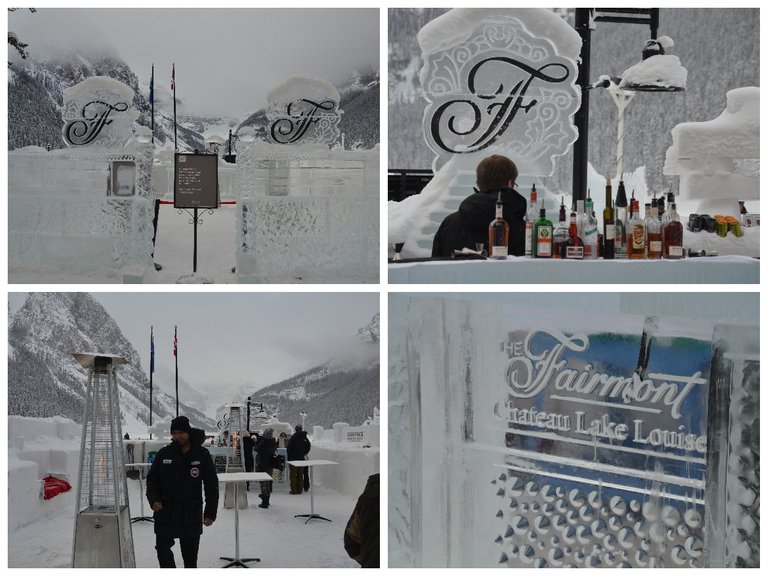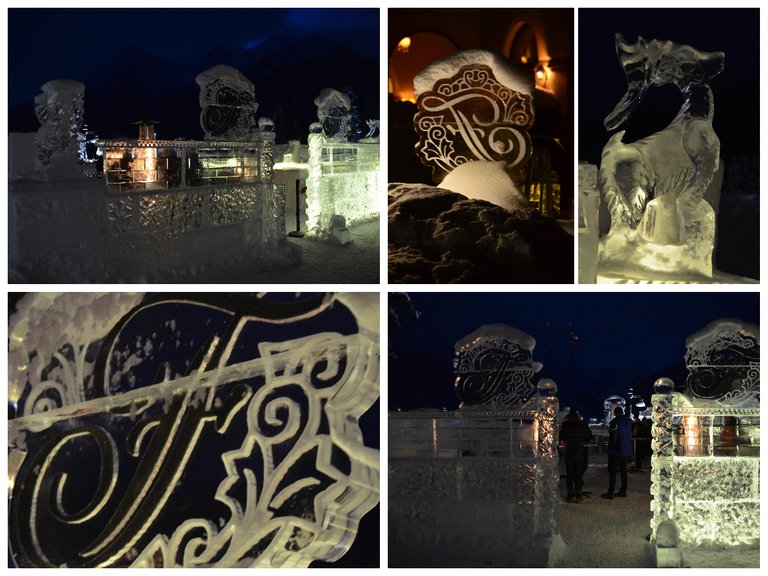 The Ice magic festival has several competitions to take part for the carvers, one that lasts for several days allowing them to carefully design and craft their most beautiful masterpieces to be judged and a fast competition "One carver, one block, one hour" where they have to compete in a speed carving challenge both to be judged on the same Sunday. During the week-end is when the carving magic is happening and does have a cover charge to enter due popularity and high demand. During the week it's free to view but the action is on pause until the next week-end where the carvers host family oriented workshops and tips to create ice wonders for a total of 10 days worth of festival. The statues are only available for viewing for about 2 weeks and then get destroyed. to See these beauties next year, plan ahead.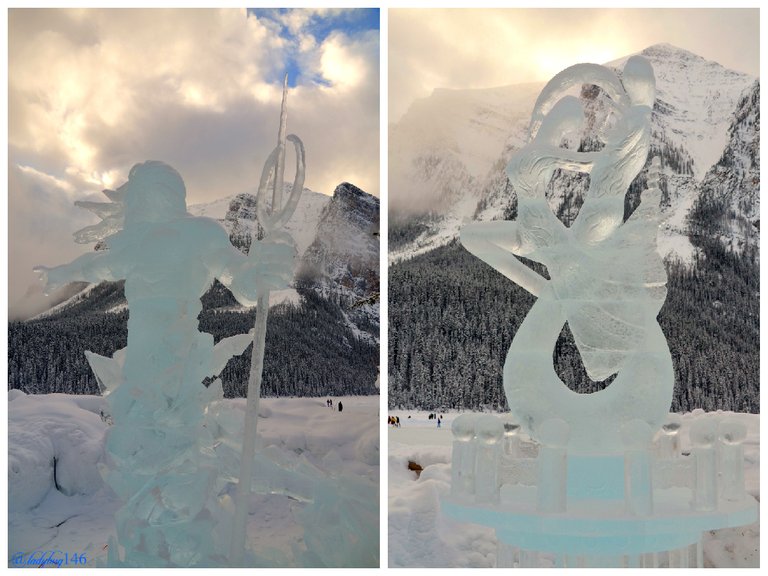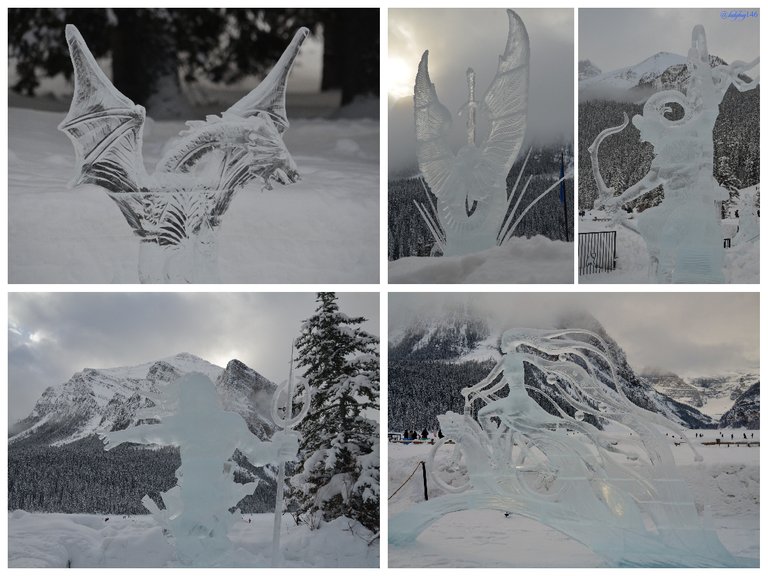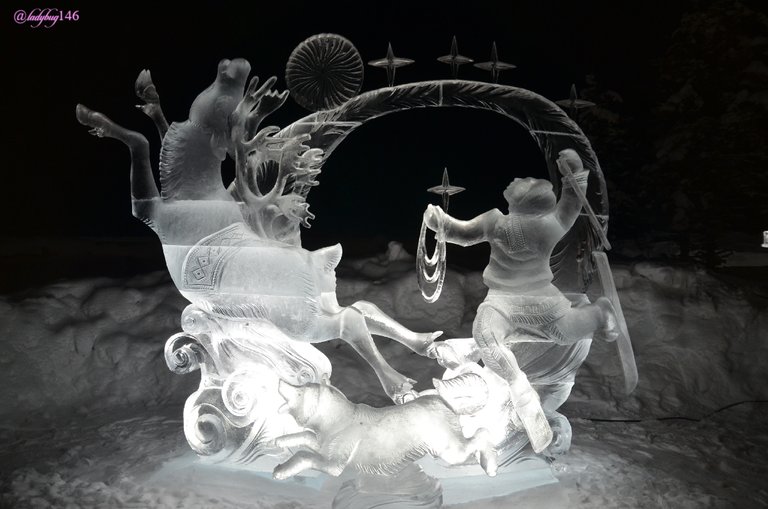 Shot 1/60 sec. f/4 22 mm, ISO 640. In first place was " Legend of the Suncatcher" by team Sakha (Egor Stepanov & Alexey Andreev, Russia).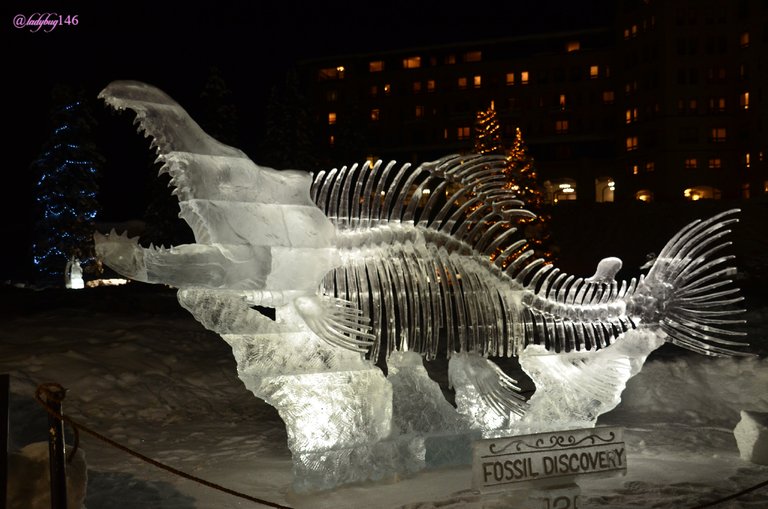 In second place we have "Fossil Discovery from team Japan (Junichi Nakamura & Shinichi Sawamura)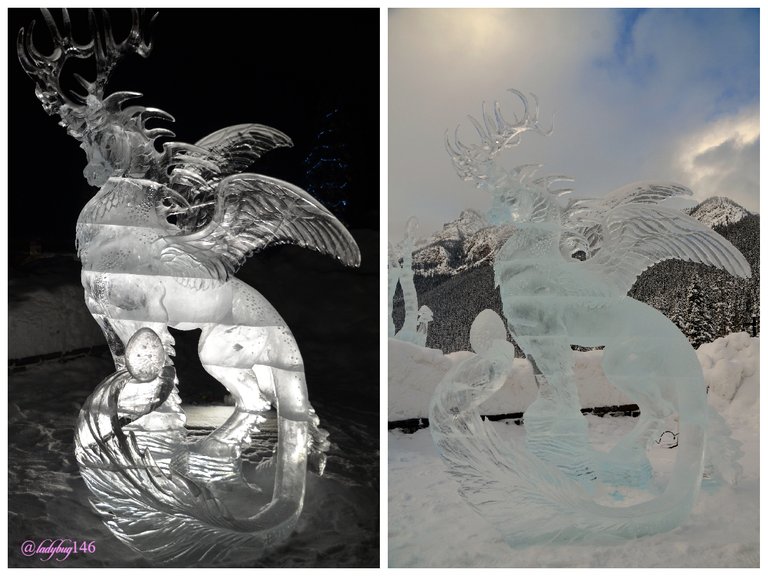 In third place we have "Griffin of Lake Louise" by team Jupiter (Ben Rand & Chris Foltz, USA)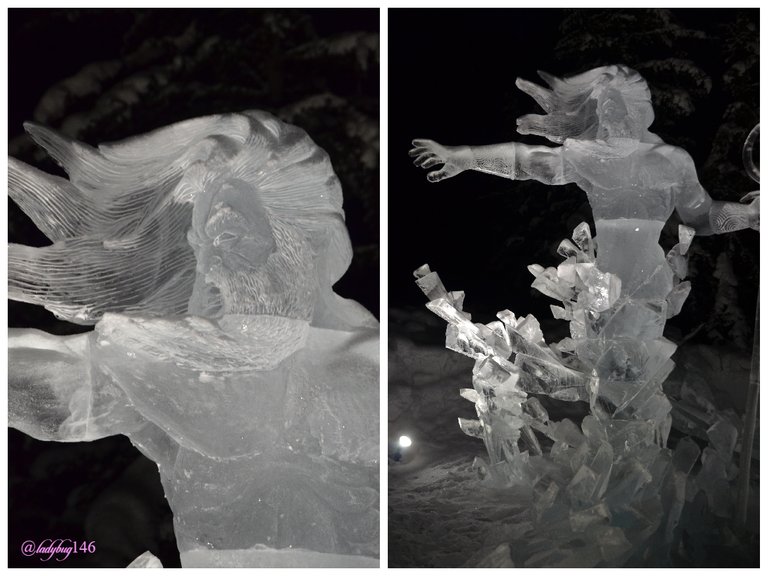 Chosen as the crowd favorite, also my favorite, "Foziden - God of the Lake" shimmering in the light as the ice crystals were starting to form in the fine details.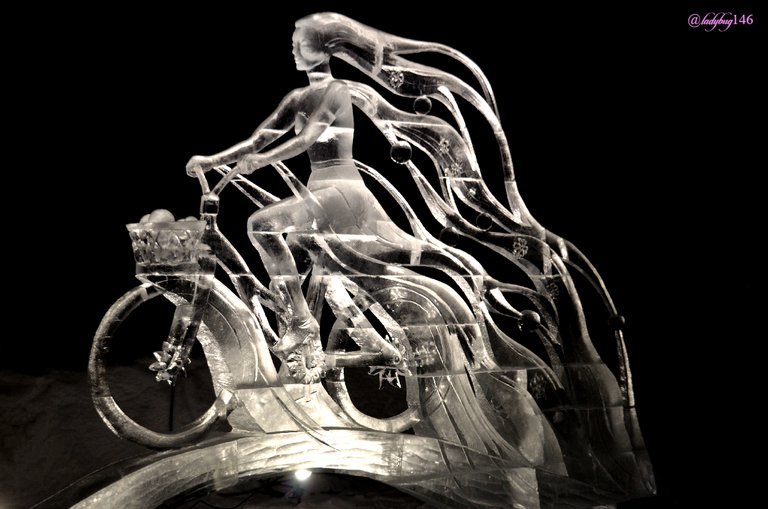 "Velo-Muse" by team Ledus (Karlis Ile & Maija Puncule, Latvia)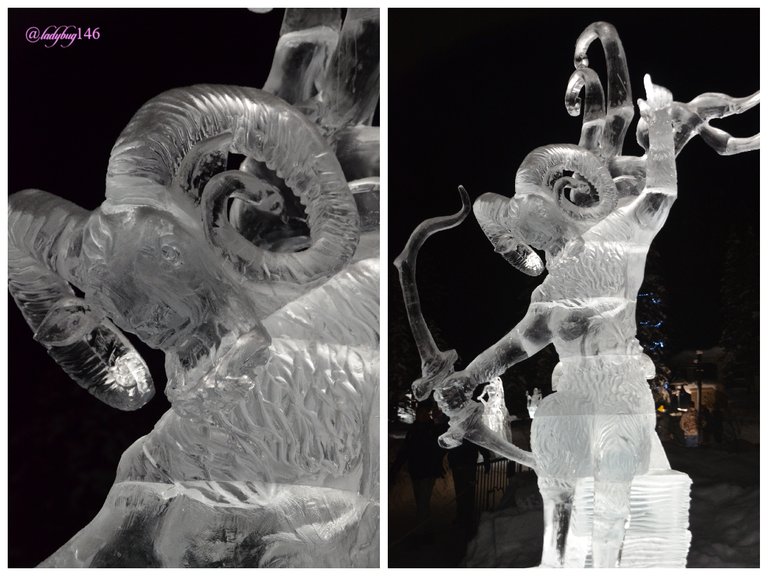 "Guardian of the Wild" by team Scott and Victor (Scott Harrison, Canada & Victor Dagatan, Philippines)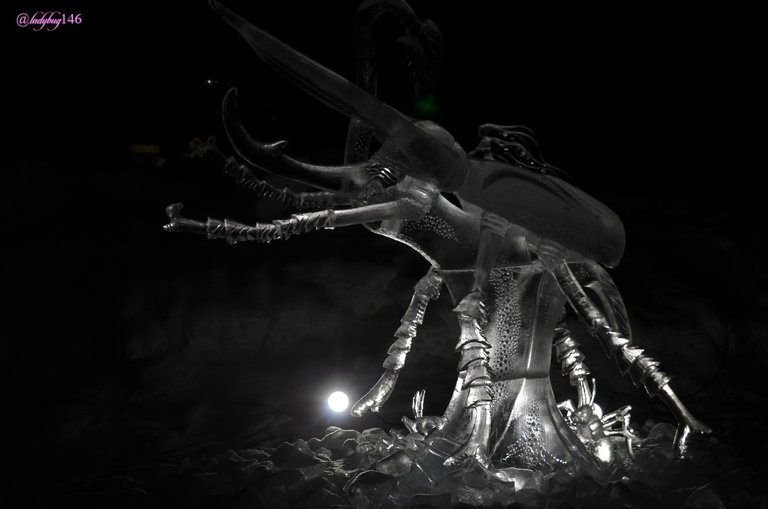 I was a long day overall but well worth the long drive. We left our hotel before sunrise to make the most out of the little daylight we get and as per usual, we had a great time with everything. The refer to it as a town but there isn't one only hotel and resort staff lodging with a few stores. At the Fairmont, there is a mini-mall and some grub inside for a warm up break. More local oriented type shops are located at the intersection before going up the mountain. They are worth checking out while there for local art from first nations or trinkets from a trading post type shop.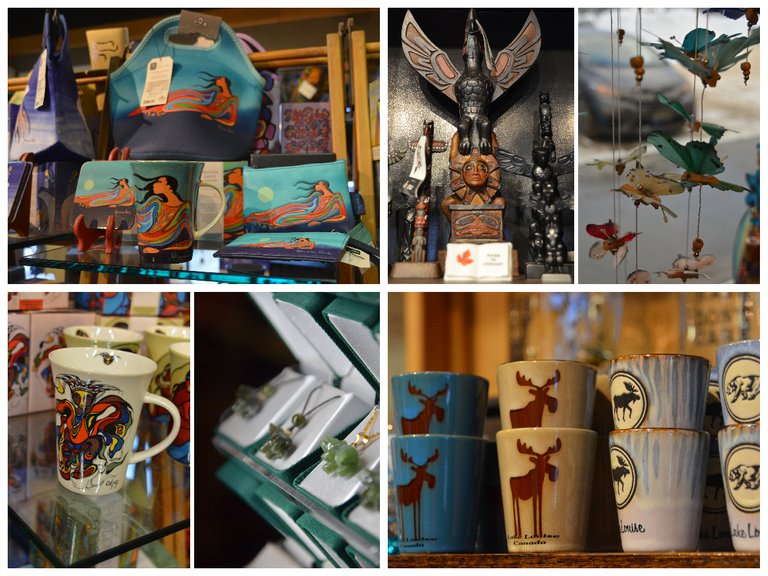 Bow River Trading Company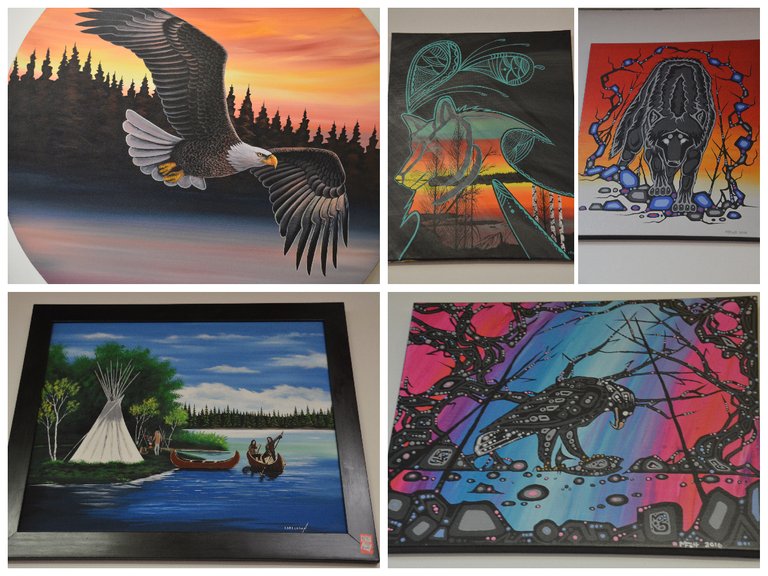 Painted by various local artists. This fine art can be found at Samson Native Gallery.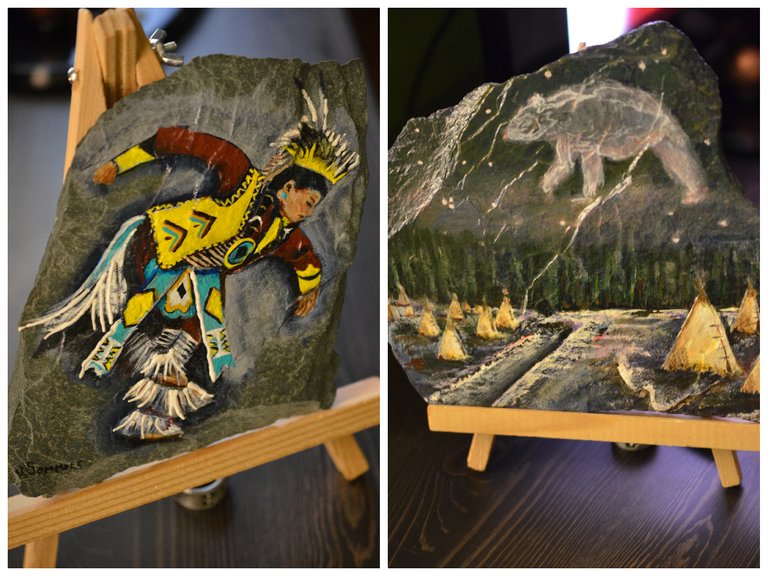 Hand painted shale rocks.
All Images taken with Nikon D7000
Cheers! X🐞X