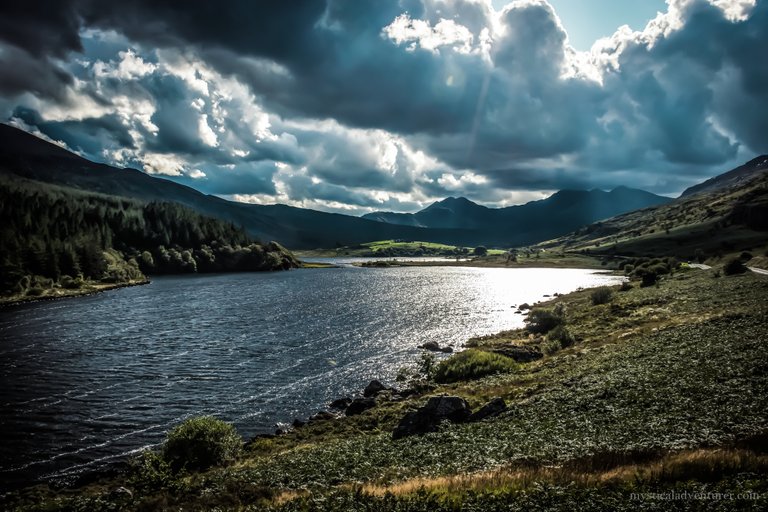 Welcome back!
Today I come to you with more beautiful places found in North Wales.
Some weekends I plan intense trips, filled with lots of physical activities and strict itinerary but other times, I just want to drink coffee and relax in beautiful places, admiring wonderful views. And this weekend I aimed for exactly that.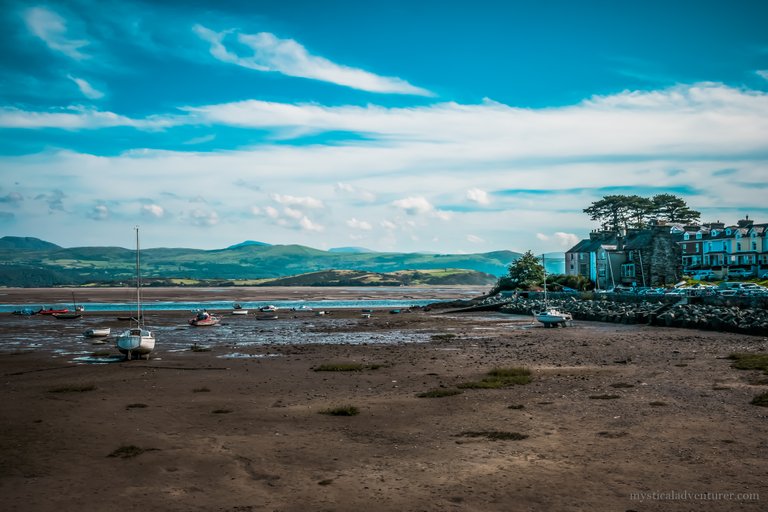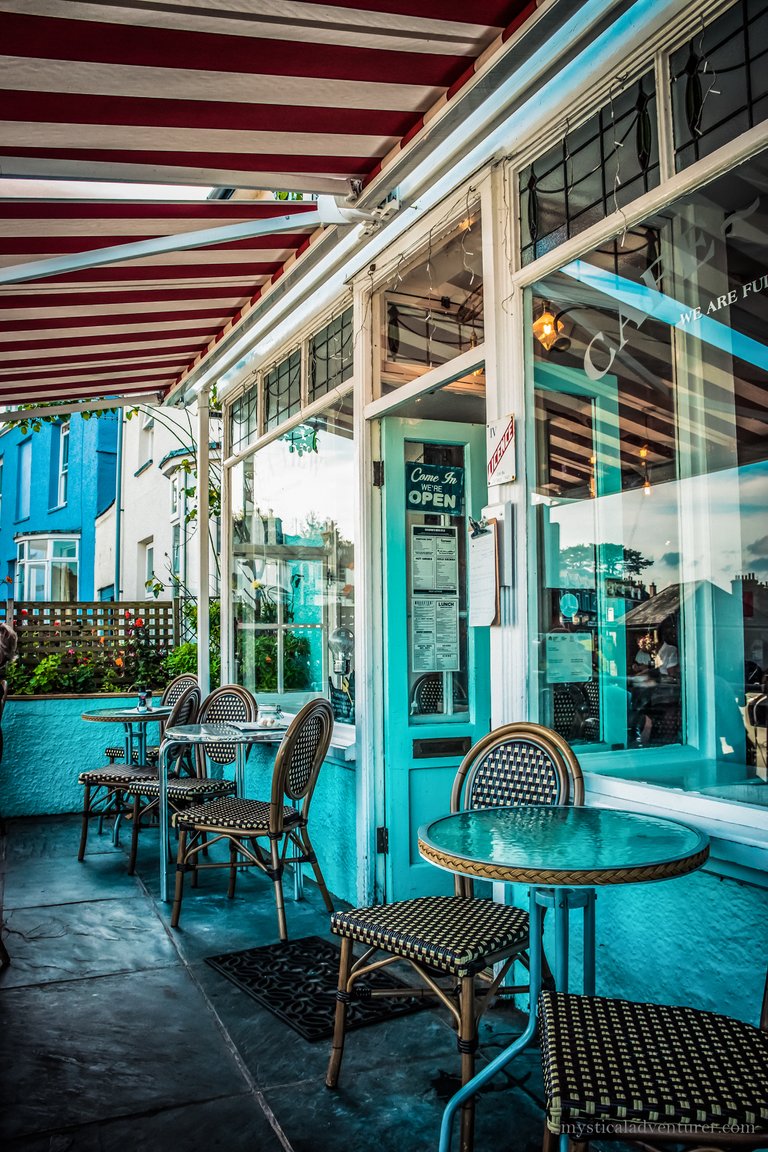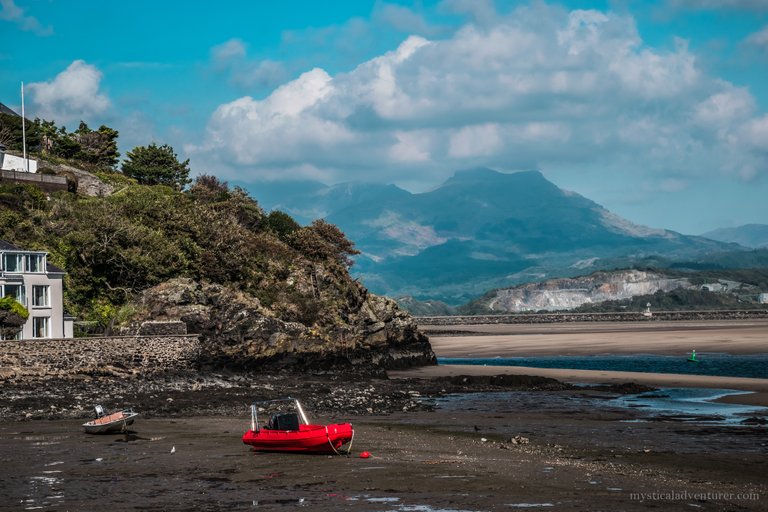 So, I grabbed my book and started my journey early in the morning heading to adorable little seaside town called Morfa Bychan. Surrounded by Welsh hills and mountains this place has such a peaceful atmosphere, ideal for a quiet afternoon reading session. I went to a nearby café with a cute 50's vintage aesthetic and officially began my day there. After reading countless of chapters and consuming several cups of coffee, I decided to head over to the nearby harbour. The sun was shining bright over the blue sky and if it wasn't for a gentle cold wind, I'd never guess it was September.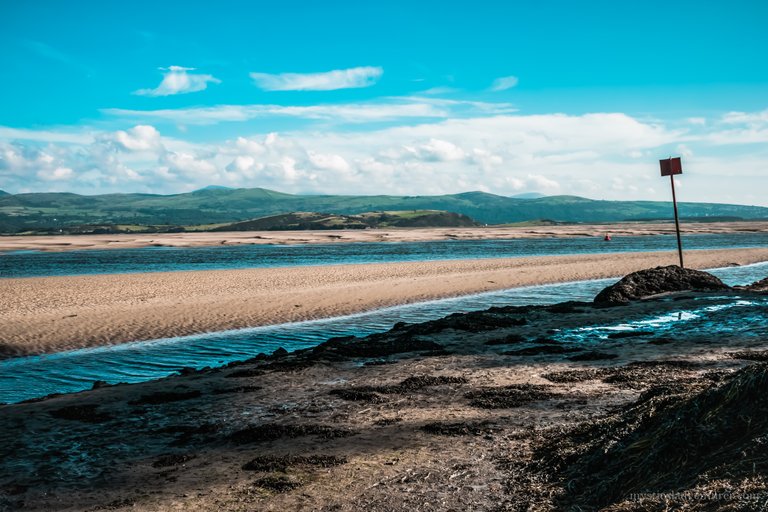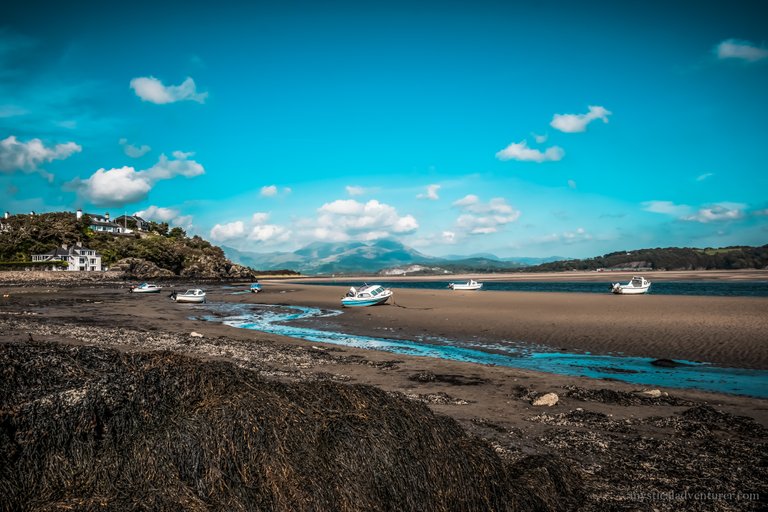 I walked down the harbour and as the tide was out, I got to admire a few boats up close. I watched the skinny streams of seawater flowing gently across the sand leading up to the mighty mountains in the background. A train passed across, near the mountains in the distance, leaving a trail of steam behind. I felt as if I was in a Ghibli movie. I'd take deep breaths of fresh sea air and felt the weight in my chest, that's been there for a long time- subsiding. We all need a break sometimes. Shortly after, I decided to head off to another place I wanted to see before making my way back that day.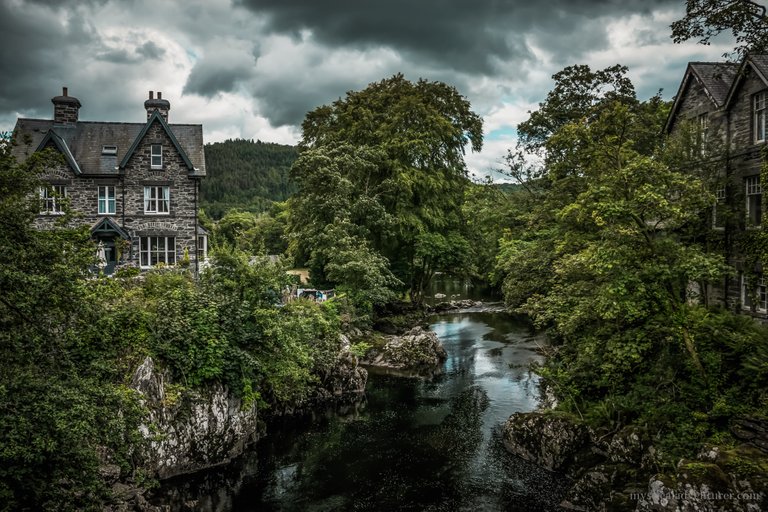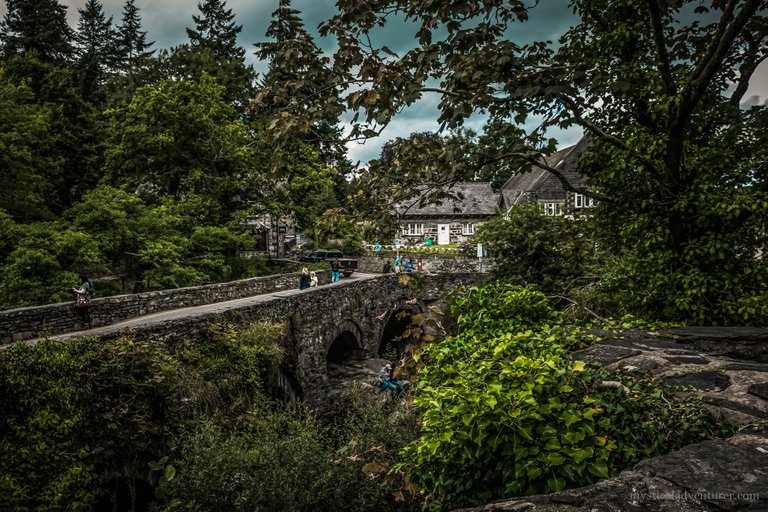 Once on the road again, I noticed afternoon clouds cover more and more of the sky, making a truly moody scenery. Heading to Conwy, I witnessed some beautiful views and then- I arrived at a small town enriched in forest and hiking trails.
I walked around the town and admired the traditional Welsh stone built houses, surrounded by cute and unique shops with nature scattered all around. I observed the river and the abundance of forests in the background, I promised myself to come back and explore the variety of beautiful hiking trails this place offers. As soon as the clouds started clearing and revealing rays of sunshine in those afternoon hours, the town seemed to have woken up. Crowds started emerging from shops and cafes- families, tourists and hikers. The pace picked up pretty fast and while I was still aiming for a quiet and peaceful day- I decided to leave early and head onto the next place. So off I went, driving on the windy roads surrounded by pine trees and the nature that started to take the colours of fall in some places.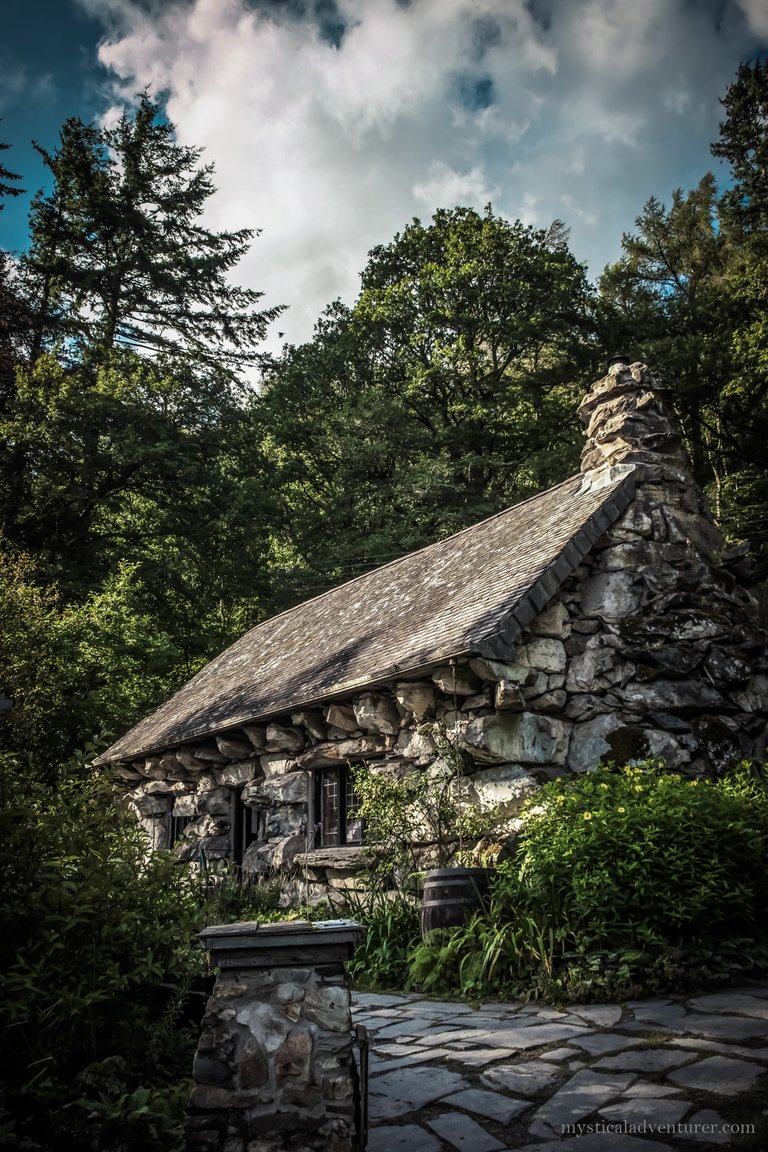 Since the first time I laid my eyes on 'The Ugly House'- I knew I needed to explore this magical place. Buried in the trees and greenery with a charming gate and a pathway that leads the way to this boulder-built house that looks more magical than ugly as its name suggests, I was in love. The legends claim that the house was made as a thieves and robbers hideout, therefore giving it the ''ugly'' reputation that sprung the idea of its name.As I was walking down the stone pathway leading to the house, I was mesmerized and felt as if I was in a fairytale, making my way to an old witch house, hidden deep in the woods.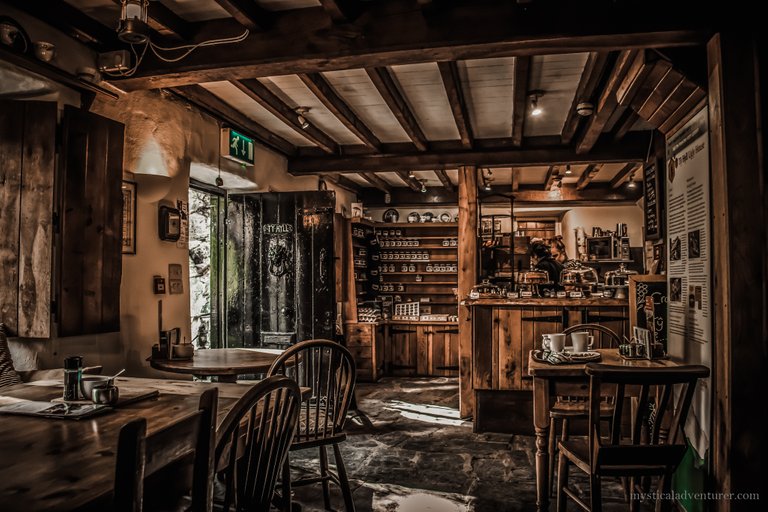 Now this place is a public tearoom- for hikers and travellers visiting Snowdon regions. Entering the place I was stunned by the rustic wooden structures mixed with stone floors and a fireplace. I can't fully describe the magnitude of the beautiful atmosphere I've encountered, the smiles of workers welcoming you, me sitting down drinking hot brewed coffee by the fireplace with smells of freshly baked goods rising in the air.
I brought out my book again and sipped on my coffee, deepening myself into the written stories and from time to time – looking up to appreciate the window views with leaves rustling in the breeze and birds hopping around on branches. This moment felt so perfect.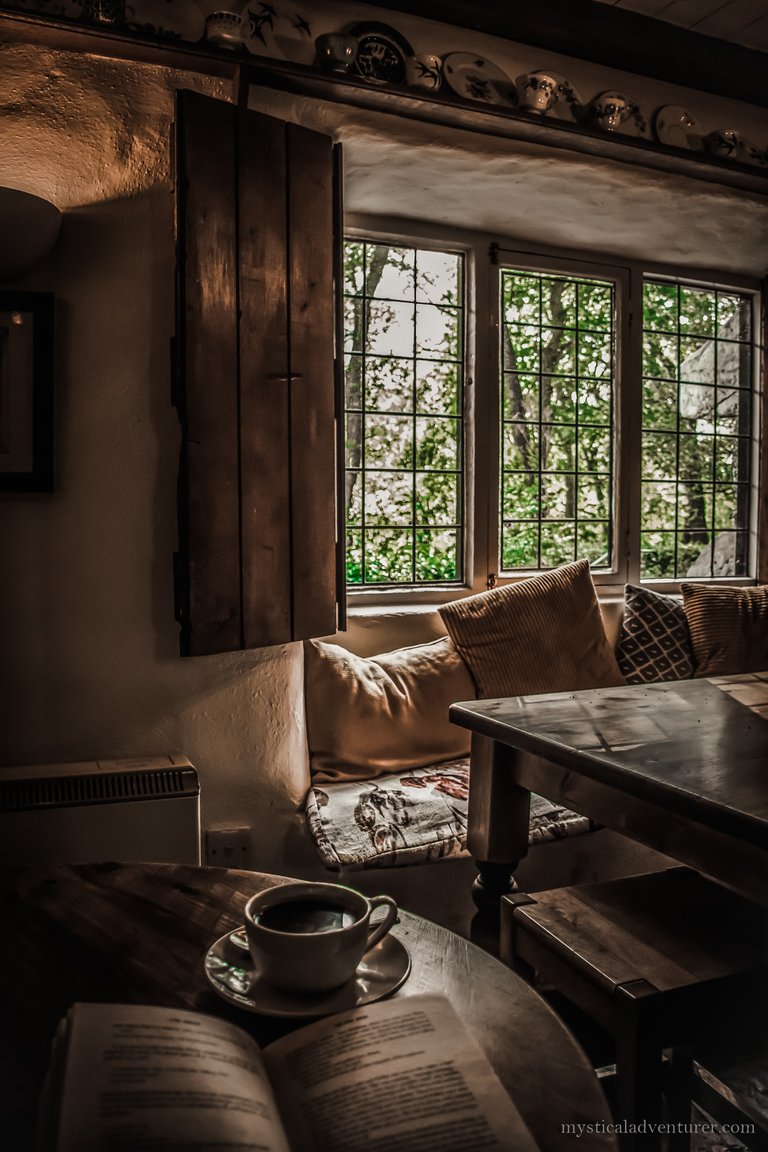 Outside the house, there's some short paths, where you can see some honey bee nests scattered all around the property. I walked around the paths, surrounded by stunning flowers and a genuine woodland charm. I wish this place was a b&b because I would love to stay there for a couple of nights and lengthen the magical atmosphere I felt while there.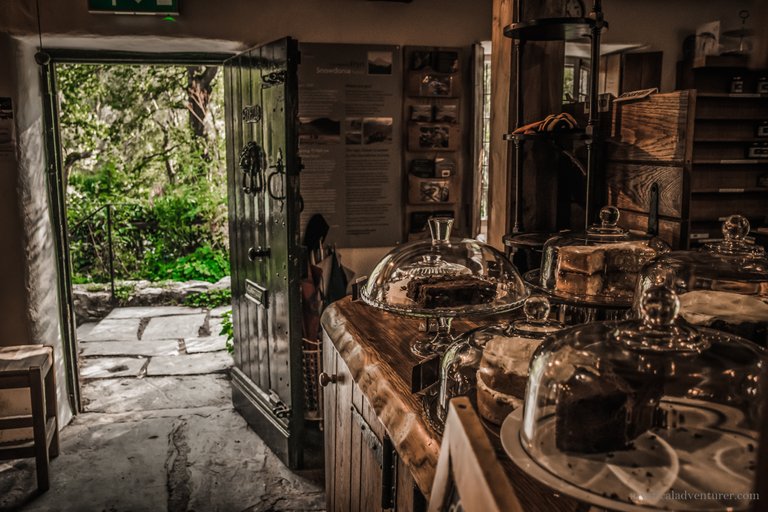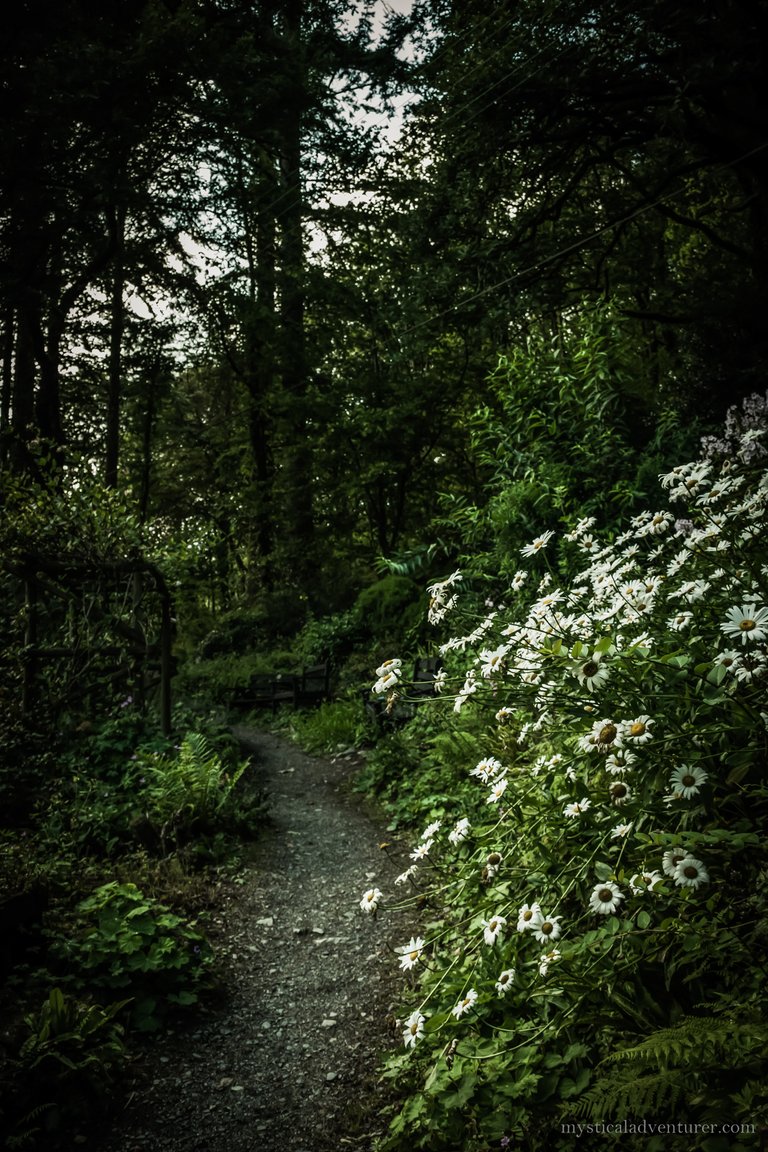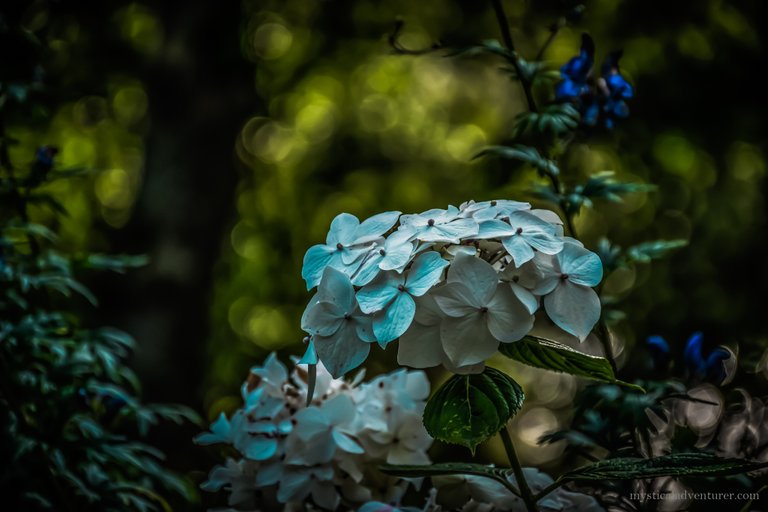 I mean it's needless to say that this place is a must see, if you are passing by. I highly recommend it for people of all ages, so that you can go in and truly enjoy being in a moment and take in the beauty surrounding you. As the sun started going down, the whole place was getting darker and more moody, the wind picked up and fresh got crisper and colder. It felt like the first signs of fall. I never can get used to how quickly the sun goes down in autumn and winter.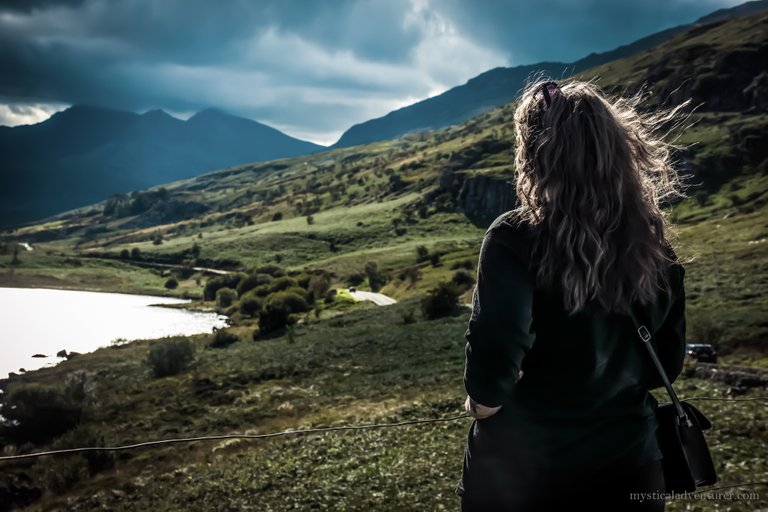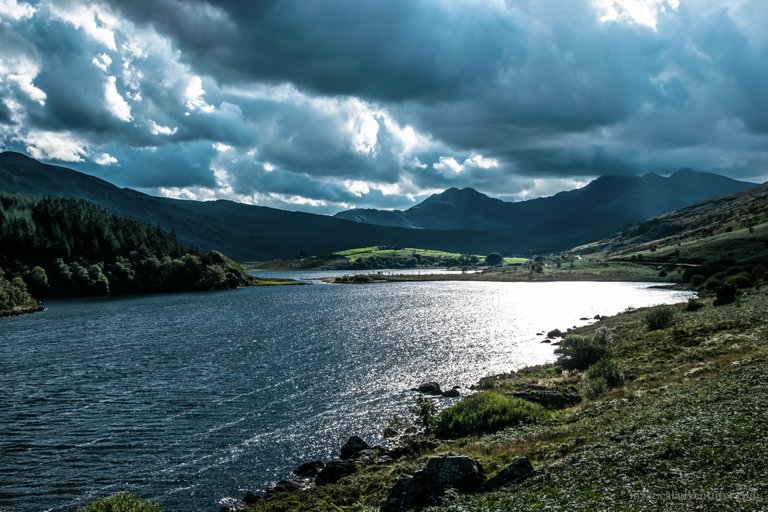 Driving back home, I stopped one last time, at a beautiful viewpoint of the mountains. I love moments like this, the moments when you're faced with such immense beauty that your perspective on life shifts, and suddenly all the daily problems and worries seem so small. It's moments like this that fuel me with life. I stood there breathing in fresh air, with gratitude overflow- having witnessed so many beautiful places and having has so many little perfect moments. I felt recharged, peaceful and happy. So if you take anything from this blog (apart from these pretty places to add to your travel list) - is to remember to take some time for yourself, we all need some quiet moments in life and while it's hard sometimes to squeeze them into our busy lives, it's important we do- even just 10 minutes of silence and fresh air outside, on a walk or sitting on a bench somewhere in a park, can make a massive difference. Take care of your body, mind & soul.
I hope you enjoyed this blog post!
For a full version please visit www.mysticaladventurer.com !
Please upvote/share and comment your thoughts!
Until next time,
Marta x