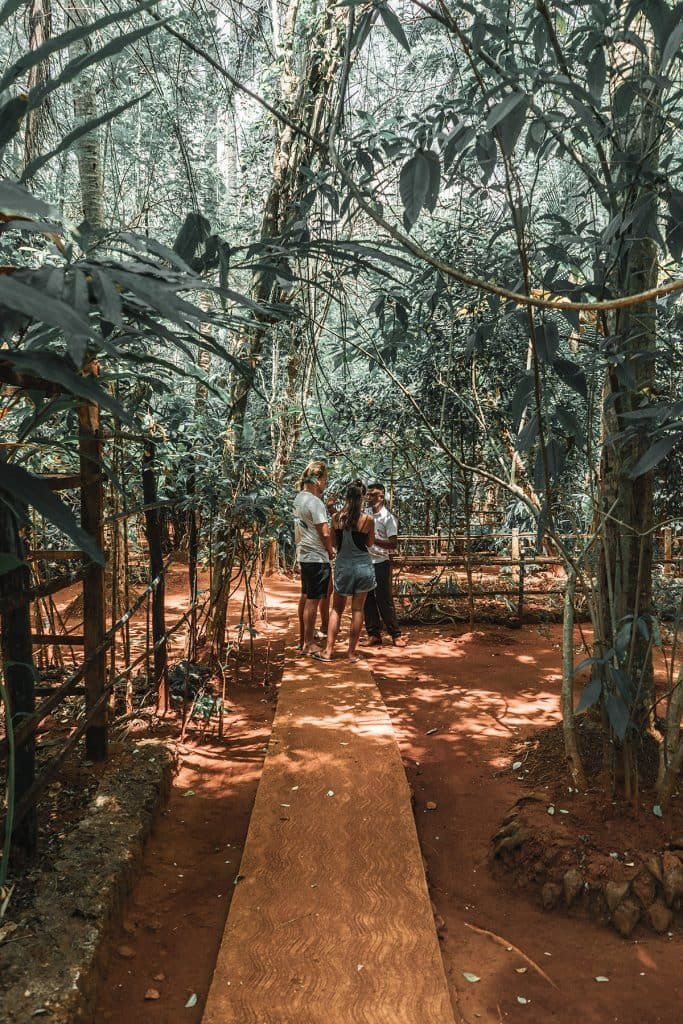 Visiting at least one spice garden in Sri Lanka is a must! So when you are writing down "What to do in Kandy" make sure to note a visit to a Spice Garden. The closest to Kandy and the most popular one is Ranweli Spice Garden, where you can learn about different spices and plants that are used in cooking and in Ayurveda healthcare.
IMPORTANT: There will be many spice garden employees trying to get you to go on a guided tour with them. The tour is free. However, in the end, the person will try to sell you "free" massage services, saying that the masseurs are students and love performing massages for practice. Then they will ask you to pay as much as you want, indicating that 10$ is a good price for a 15-minute massage, right there on the spot. Then the person will also try to sell you very overpriced products, like body and hair care essentials. You can easily find these products at local supermarkets, so we would not recommend spending much money at the spice gardens. Also, the person taking you for a tour will explicitly as for tips at the end of the tour.
Much love, fam!!! ❤️❤️❤️
Love you all!
If you are interested in our travels or our lives we encourage you to connect with us through one of the social platforms below.
Find us here and join our community!
Find our annoying faces on YouTube as well - https://www.youtube.com/travellit?sub_confirmation=1
If you feel particularly adventurous, become a part of our Facebook community (our moms and a couple of other great people) - https://www.facebook.com/travellitoriginal
Follow our daily adventures and stories - https://www.instagram.com/travellitoriginal
We tweet about remote islands with lightning fast wifi - https://twitter.com/mytravellit
Our blog - How to find cheap flight deals, budget accommodations, travel itineraries and how to make travel affordable while still super fun - https://mytravellit.com/