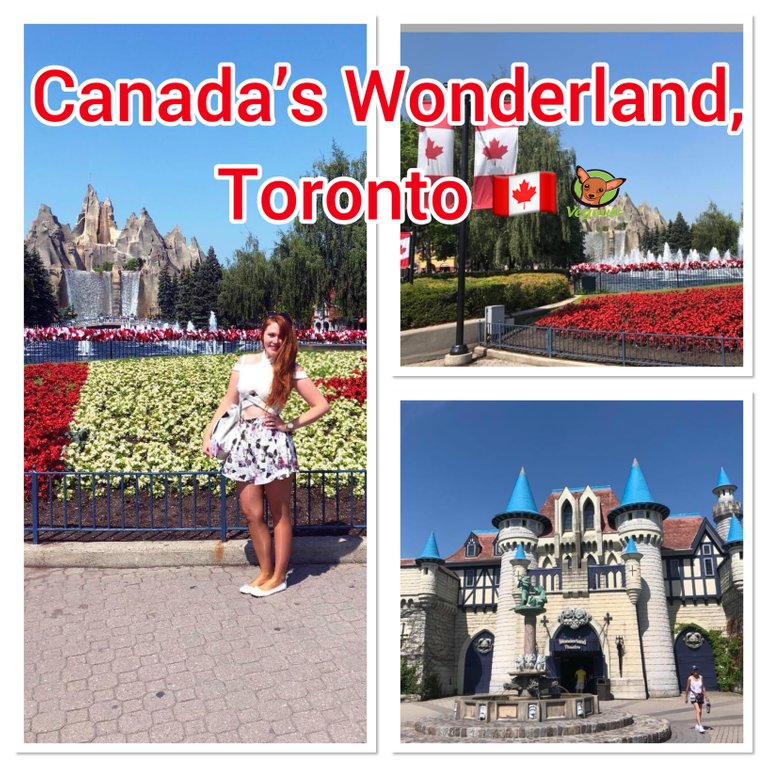 Dear Friends, let me take you on a fun trip to Canada's Wonderland on the outskirts of Toronto, Canada. It is an extra special trip as I was there during the Canada Day celebrations. Canada's Wonderland is a 134-hectare theme park located in Vaughan, Ontario. Located about 25 kilometres/15 miles north of Downtown Toronto. It was established in 1981 as the first major theme park in Canada. Canada's Wonderland is Canada's largest theme park and welcomes over 4 million visitors every year. It is home to some of the tallest and fastest roller coasters in the world like Leviathan. If extreme thrills aren't your cup of tea, there's no need to worry, you can enjoy Wonder Mountain's Guardian, an award-winning 4-D interactive dark ride. On top of all the amazing rides and attractions, Canada's Wonderland has incredible shows. Featuring water stunt shows, lumberjack events and even a Cirque Du Soleil spectacular in their very own Canterbury Theatre. To finish off your day at Canada's Wonderland, a mesmerizing light show is displayed across Wonder Mountain. This is the Disneyland of Canada.
To find me, look for my Chihuahua's face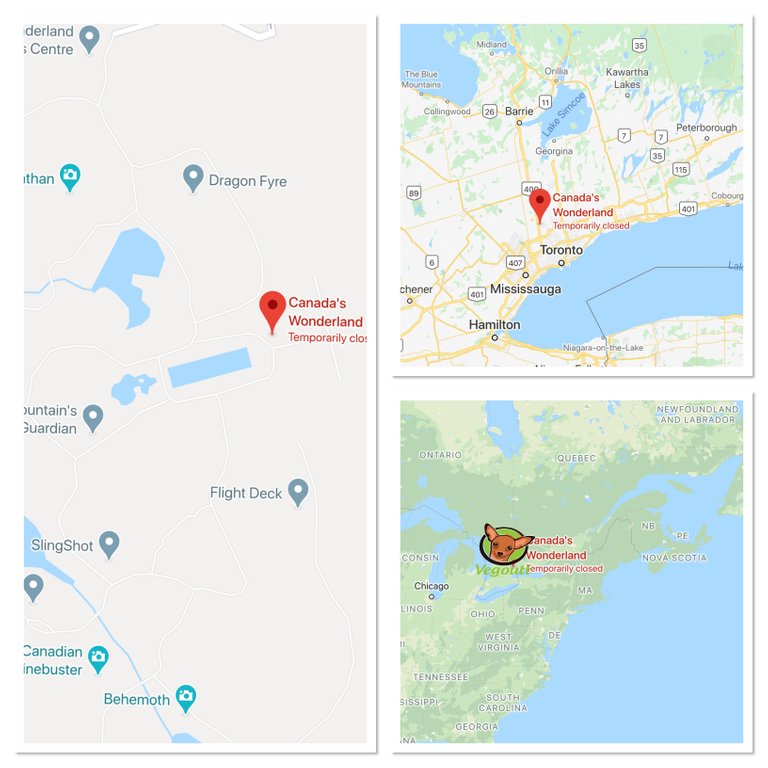 Canada's Wonderland Park Map

I have been very lucky to travel all across the world, sharing my adventures with you. As a performer myself, I have met a lot of talented people who I call friends. Prior to my visit to Canada's Wonderland, I had become friends with the performers at Grouse Mountain in Vancouver, Canada. I have visited Vancouver twice and I can say it is one of my favourite cities in the world for a number of reasons. My friends who performed on Grouse Mountain were going to be a part of the Canada Day celebrations at Canada's Wonderland. I was a flight attendant at the time and elected to complete some of my Boeing aircraft training at the Canadian Flight Academy in Toronto. This allowed me to spend Canada Day weekend at Canada's Wonderland.
My friends at the West Coast Lumberjacks are a group of extremely talented individuals. They not only are professional lumberjacks, but they also perform live shows that are incredibly funny. A lot of hard work and training goes into what they do. As the name suggests, they started off on the West Coast near Vancouver. However, they have since performed live all over the world. They have been featured on Canada's Got Talent, the Amazing Race and the Bates Motel television series in the United States.
West Coast Lumberjacks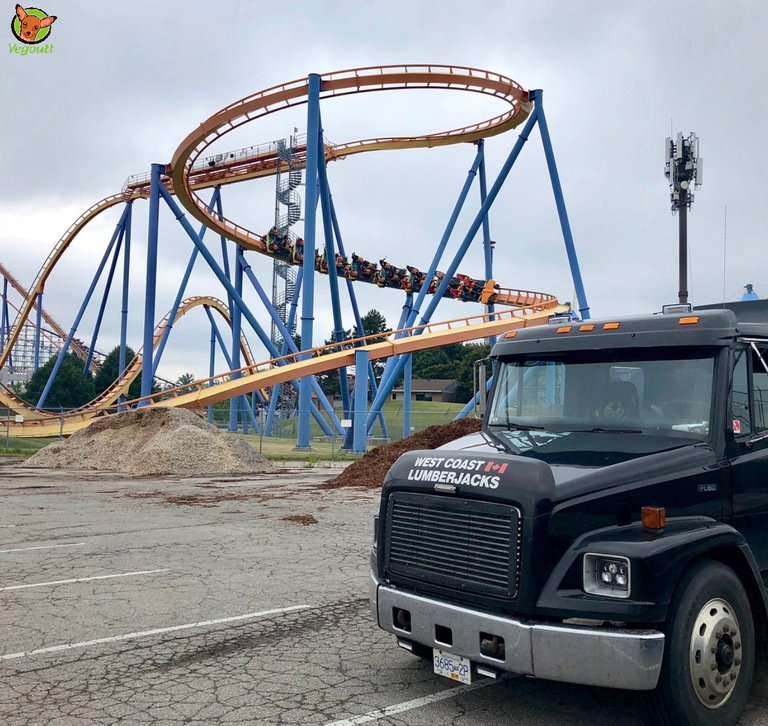 I travelled in their truck with them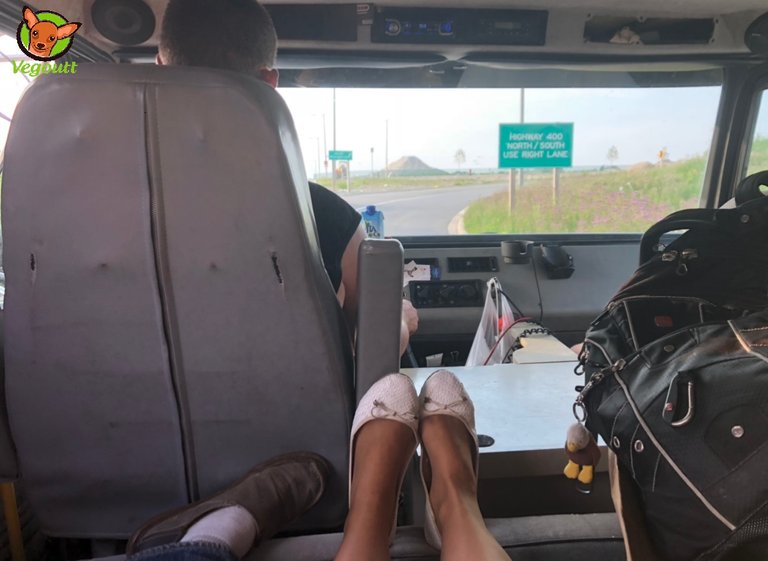 Grouse Mountain, Vancouver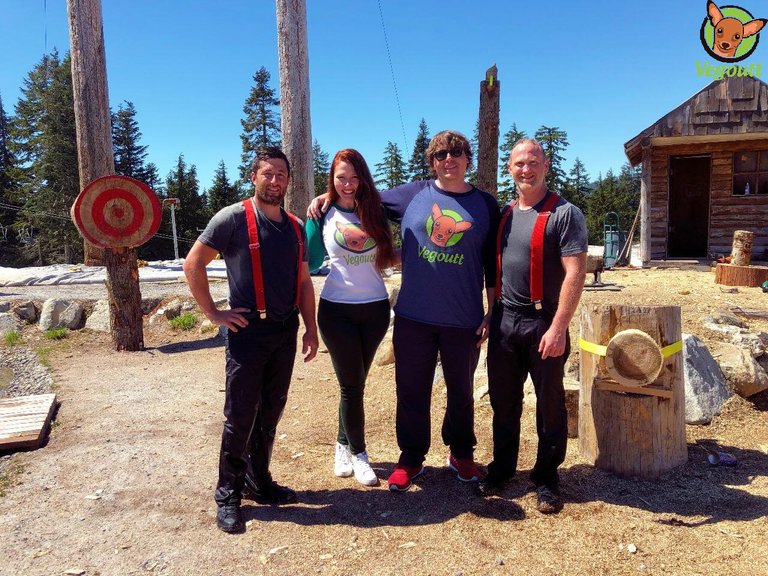 I stayed in a hotel near the airport, approximately a 15 minute drive away from the park. Even though I have lived in Singapore and Australia previously, I was not expecting the heat in Toronto. It was the hottest weekend I have ever experienced in my life and that's in Canada. It really breaks the stereotype doesn't it. Canada day falls on July 1st. This particular year, it was a Sunday.
Canada's Wonderland car-park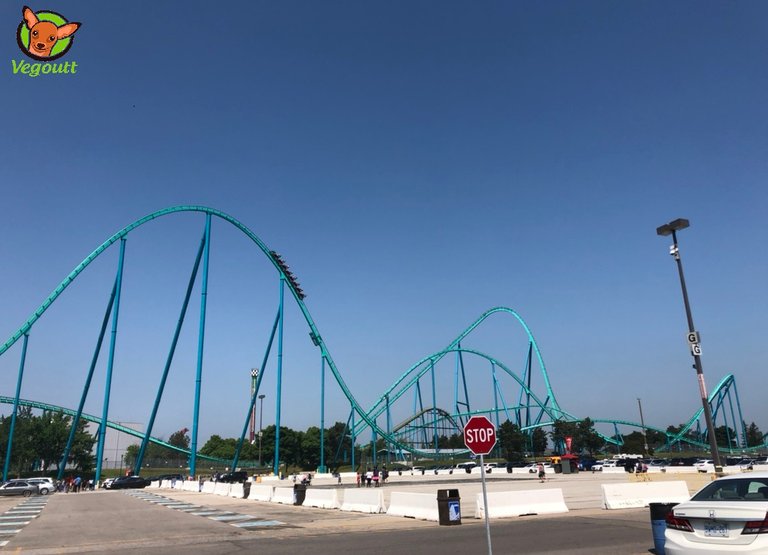 Canada's Wonderland Entrance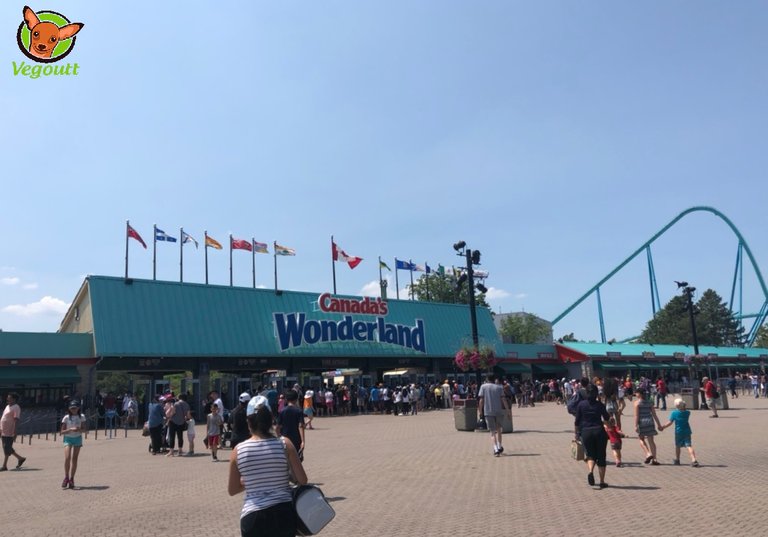 One of the perks of being friends with the cast is free entry into the park. I myself have actually worked at a theme park. I worked at Warner Brothers Movieworld in Australia for over 5 years. I had given out my fair share of free theme park tickets. The Lumberjack show was advertised all over the news the morning before Canada Day. I suppose it is a big tradition in Canada and it does showcase Canadian traditions and practices. You really can learn a lot of interesting facts in the show and the pivotal role in history the lumberjacks of the past held.
Morning News, Toronto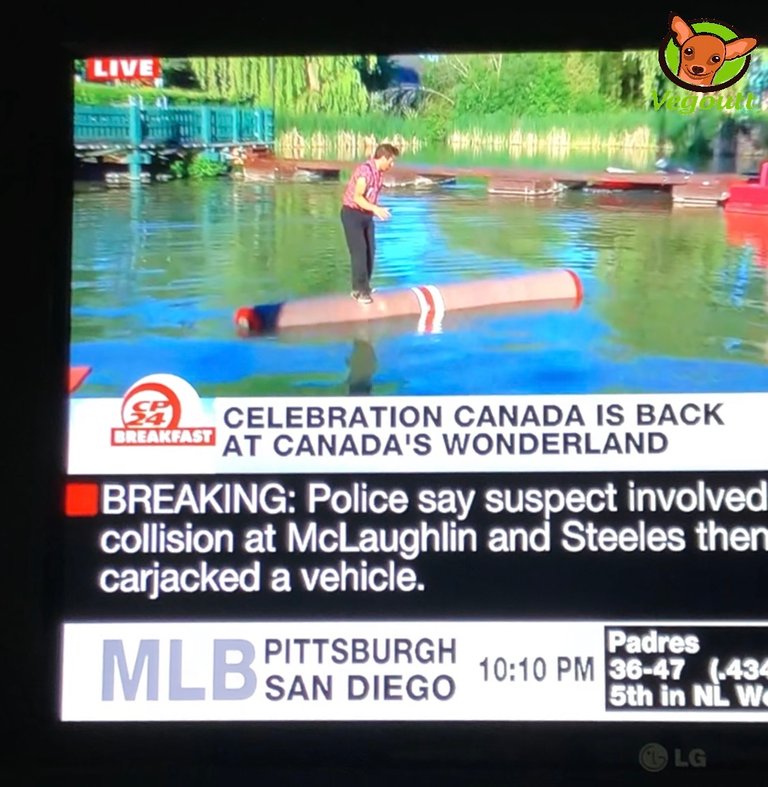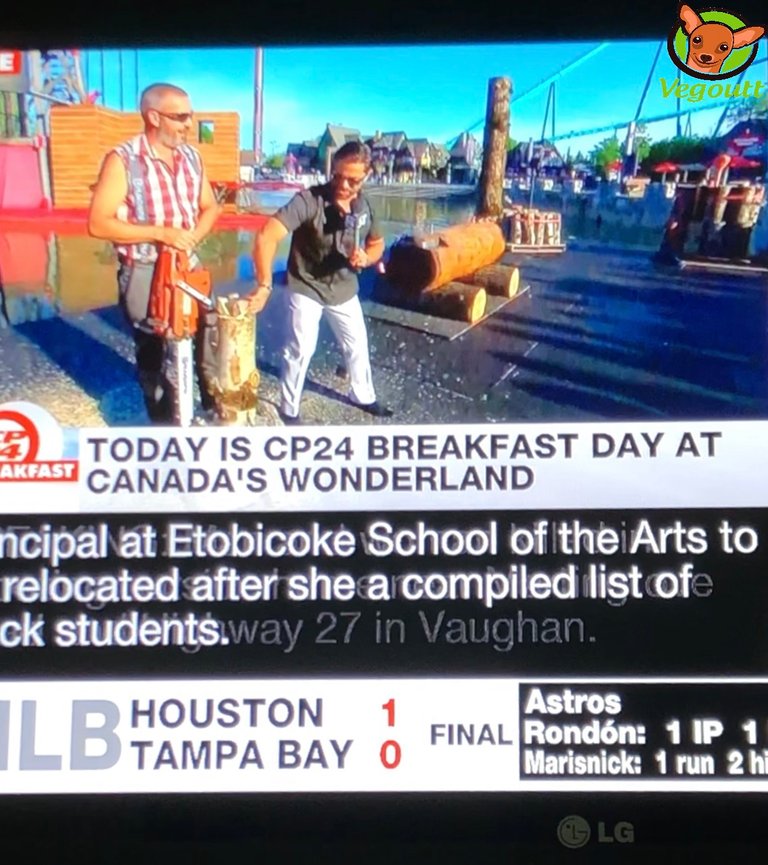 While my friends rehearsed for their shows. I enjoyed the park. Canada's Wonderland has 17 roller coasters alone and is ranked second in the world by number of roller coasters. It is home to the World's tallest, fastest and longest dive coaster, the Yukon Striker. Overall it is home to 70 attractions including a 2 million gallon, 20 acre water park called Splash Works. On this incredibly hot weekend, that is the place everyone in Toronto wanted to be. I absolutely love thrill rides, I am an adrenaline junkie and I am certain that everyone in the Greater Toronto Area heard my screams.
Ariel view, Canada's Wonderland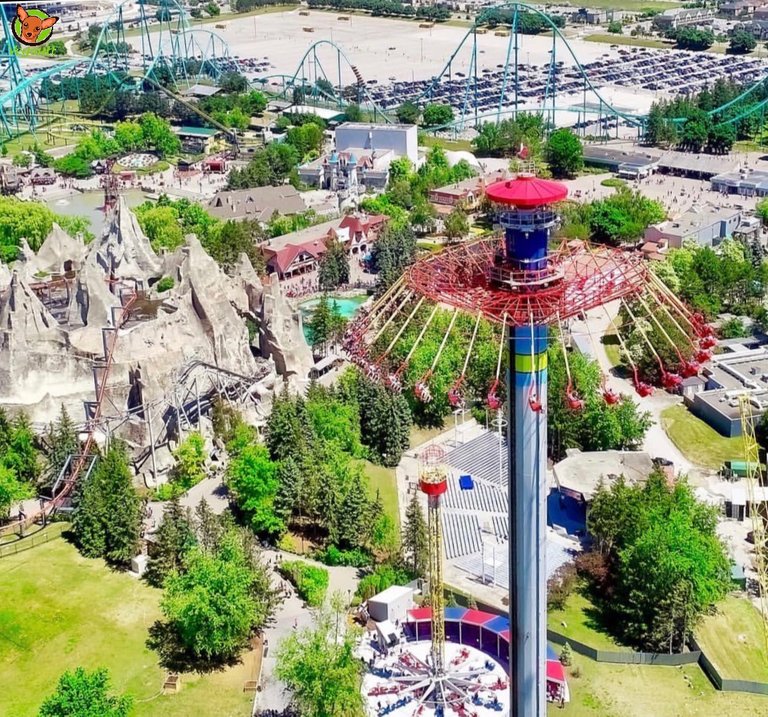 Beautiful Entrance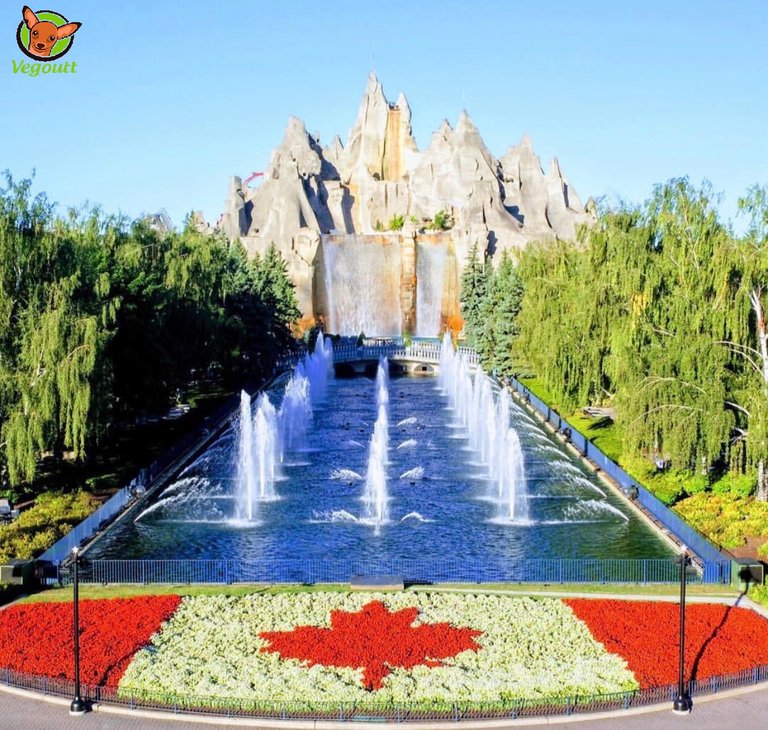 I was sweating already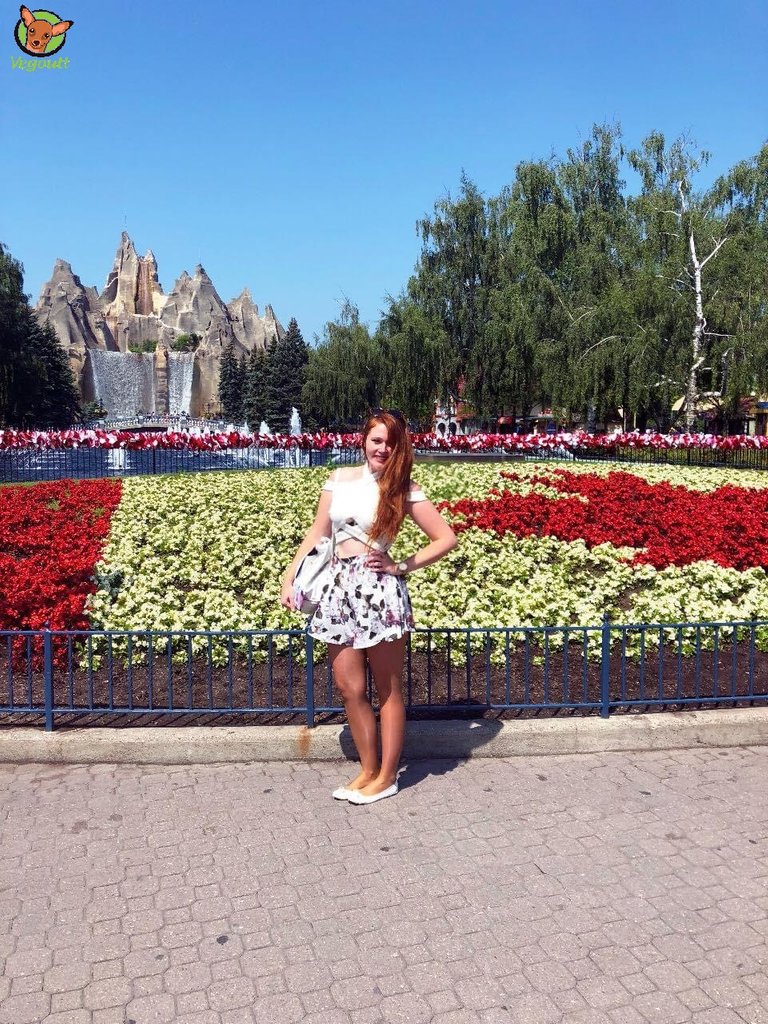 Canada's Wonderland really is the theme park to suit everyone. From your toddler to your grandparents, there really is something for everyone. I am a huge Disney fan and have visited Disney Parks around the world many times. They are famous for their theming and attention to detail. I have to admit that Canada's Wonderland does an amazing job. The park is absolutely beautiful. It has some of the most plants, flowers and trees that I have ever seen in a theme park like this. Not to mention the beautiful lakes and waterfalls scattered throughout the park. The best thing about Canada's Wonderland in my opinion, is that they send zero waste to landfill. The park is very flat, wheelchair friendly and there are many seats scattered around the park.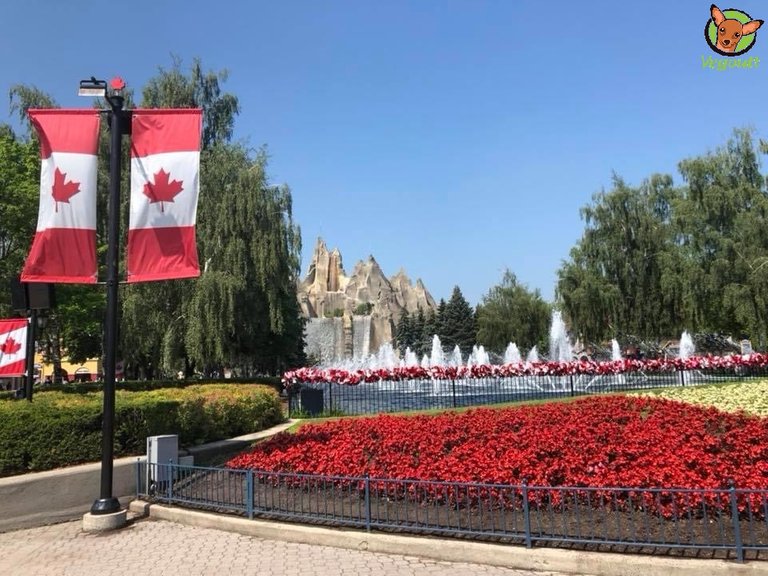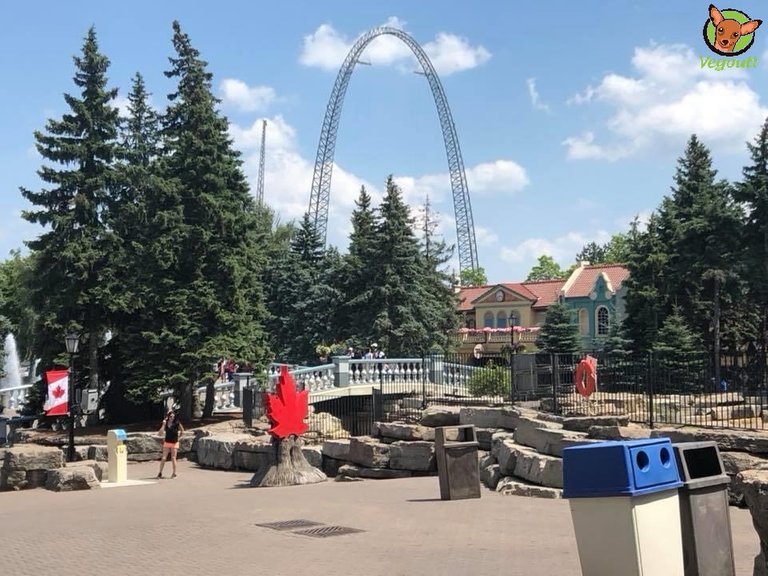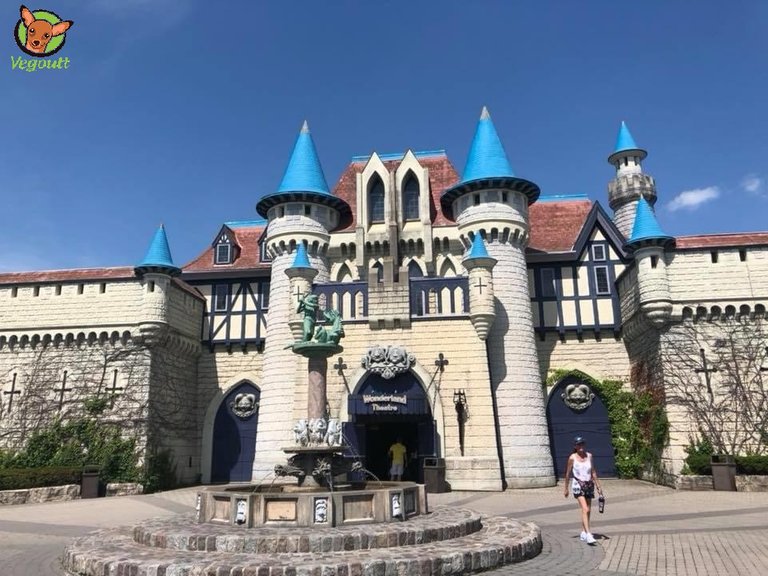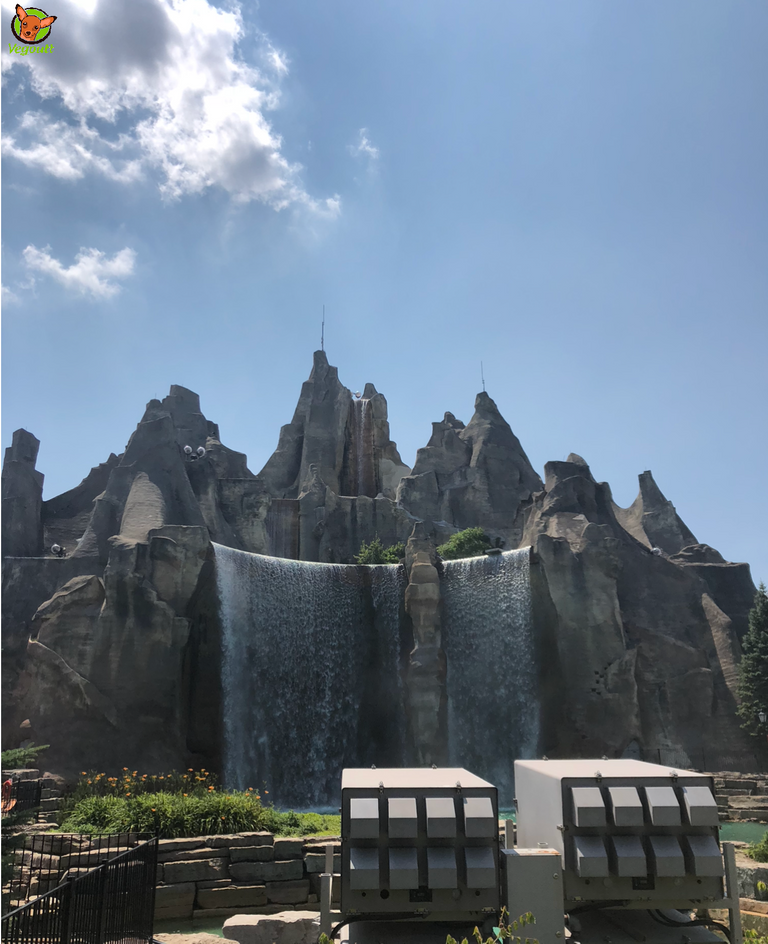 My favourite thing to get on a hot day is an ice cold frappuccino from Starbucks. I am in luck because Canada's Wonderland has its very own Starbucks on site. I am vegan and Toronto was named the best city in the world for vegan options. Toronto is home to Vegandale, a whole suburb dedicated to vegan outlets. Yes I did go there, the first day I was in Toronto in fact. I will share with you my experience there in another blog.
The food and drink options in Canada's Wonderland was huge, so much variety. From donuts and waffles, beer and pizza to cafes and even a traditional authentic Asian restaurant. Now the fact that I grew up in Singapore, I love Asian food, I mean proper authentic Asian food. I love my food and get so disappointed when it isn't right. So not only does Canada's Wonderland win top marks for vegan options but in food authenticity as well. I know what you're thinking, the food and drinks will be so much more expensive in a theme park than outside. Well, usually that is the case, but I can say that the prices in the park matched outside in the city. Thank you Canada's Wonderland for not exploiting your visitors.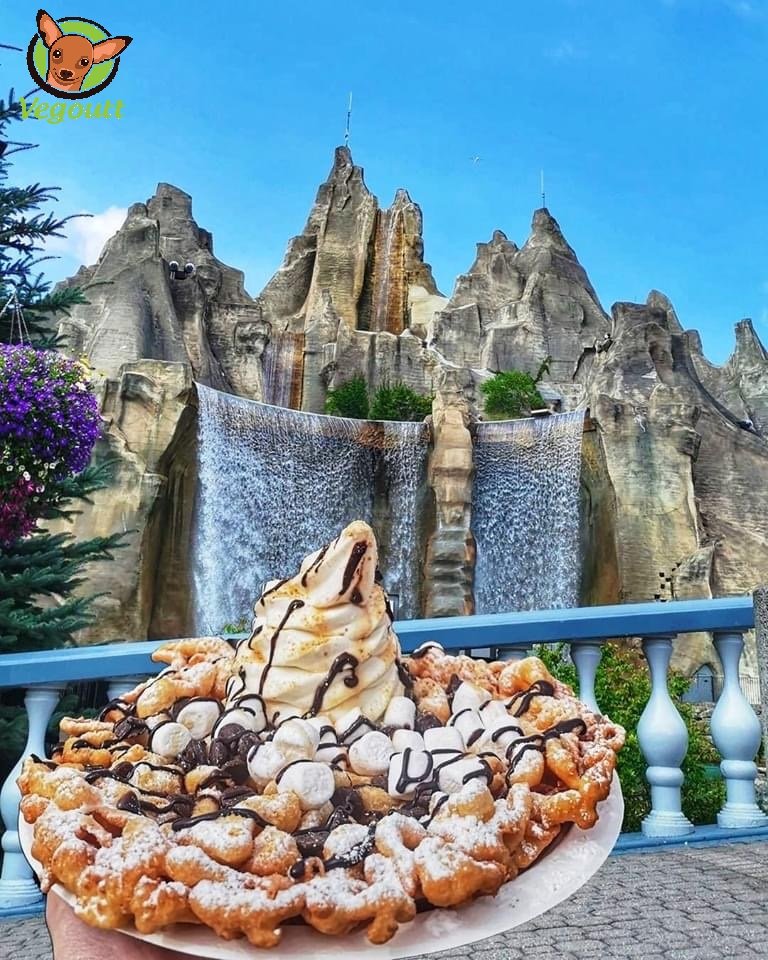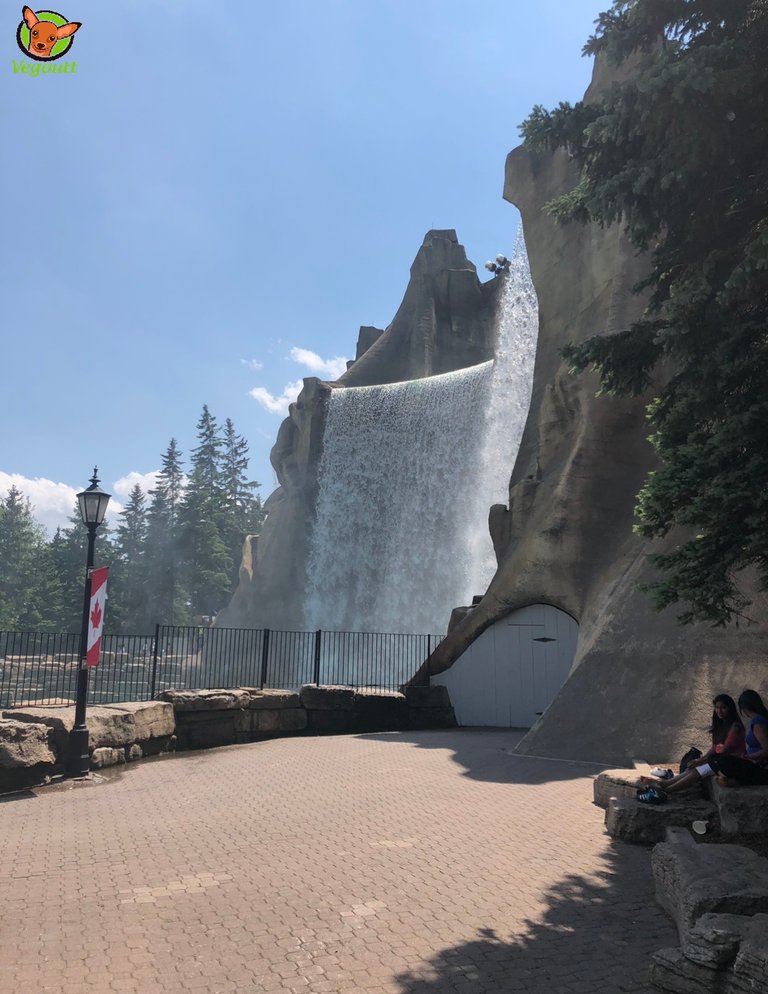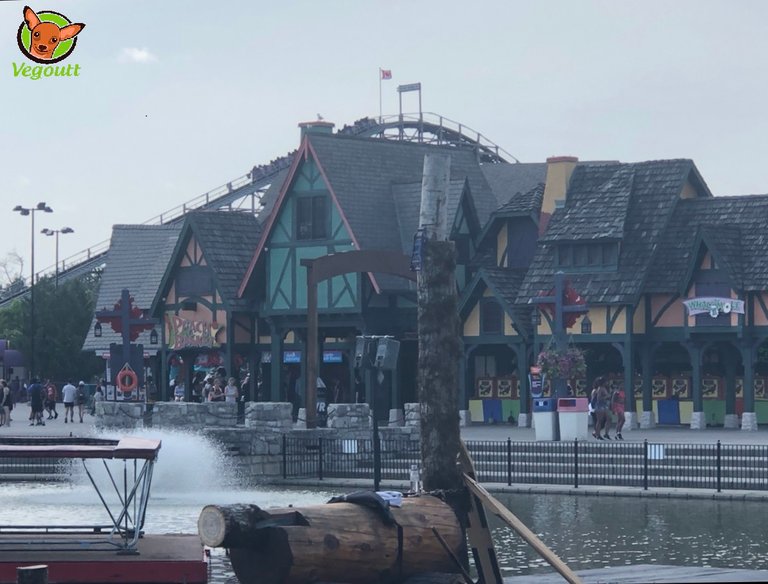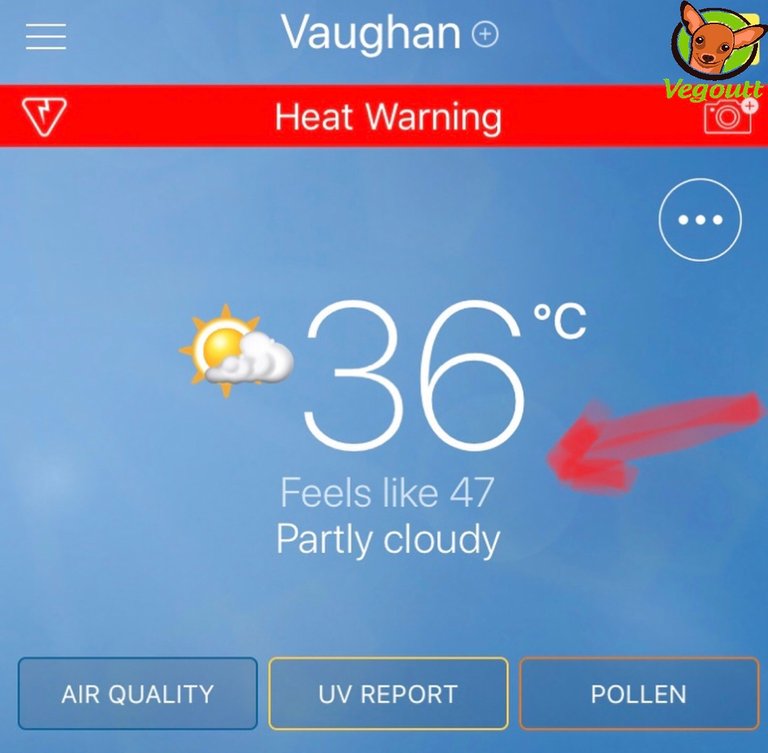 After exploring the park, going on several rides and filling my tummy with delicious treats, it was time to go support my friends at their show. I headed backstage to the performers green room. For those of you that don't know what a green room is, it is basically a place the performers go to relax. It is where all the costumes for the shows get washed and prepped. Where the performers rehearse and also where they usually eat their lunch. This green room is a two-story building, still referred to as the green room funnily enough. When I worked for Warner Brothers Movieworld, I was in charge of all the wigs. I can just imagine how sweaty these wigs would be on this exceptionally hot weekend. I enjoyed my frappuccino with my friends. They performed 3 shows daily. I made sure I was sat in the front row supporting them, carrying bottles of cold water of course. They were performing on a little stage by the lake in an area called Celebration Canada. The show consists of a few competitions between lumberjacks, sawing logs, rolling logs in the water, throwing axes, chopping trees, climbing trees and even carving a little wooden chair that is given away to a child in the audience. It is a comical show that displays a lot of skill and hard work. I am very proud of them.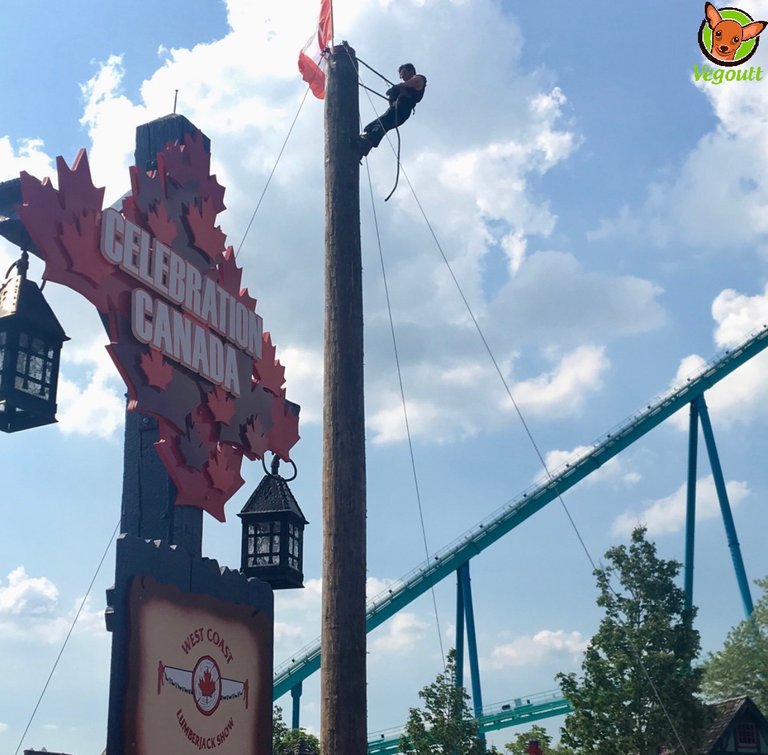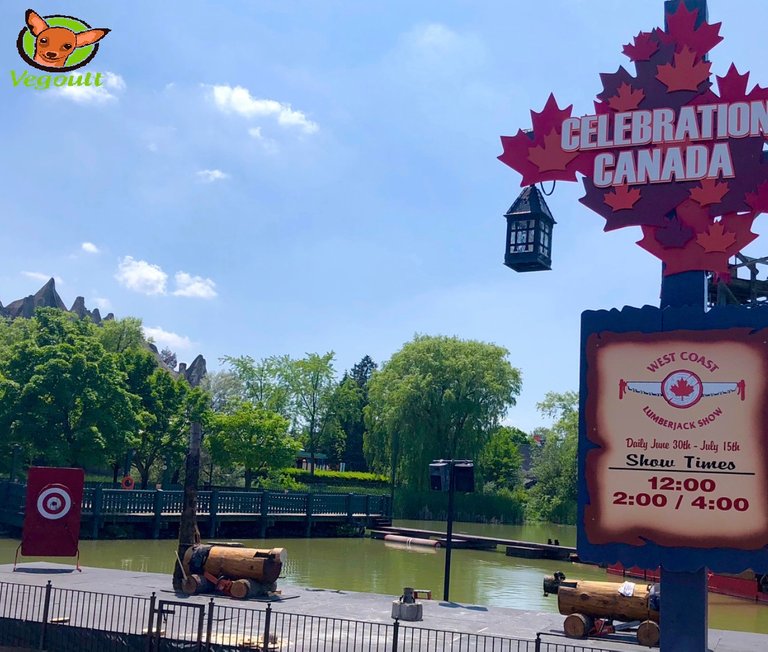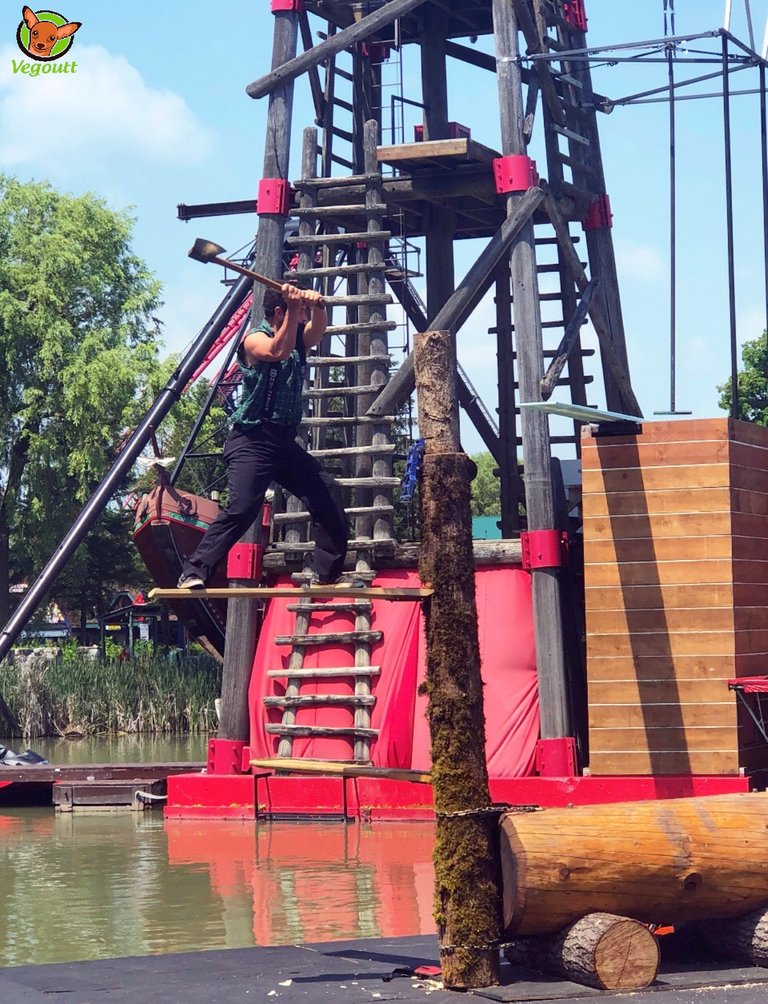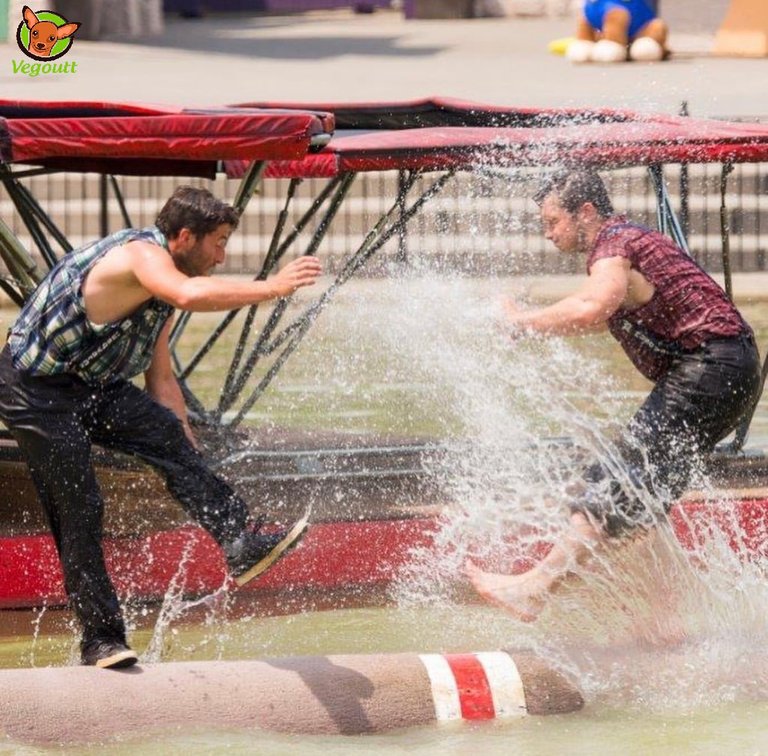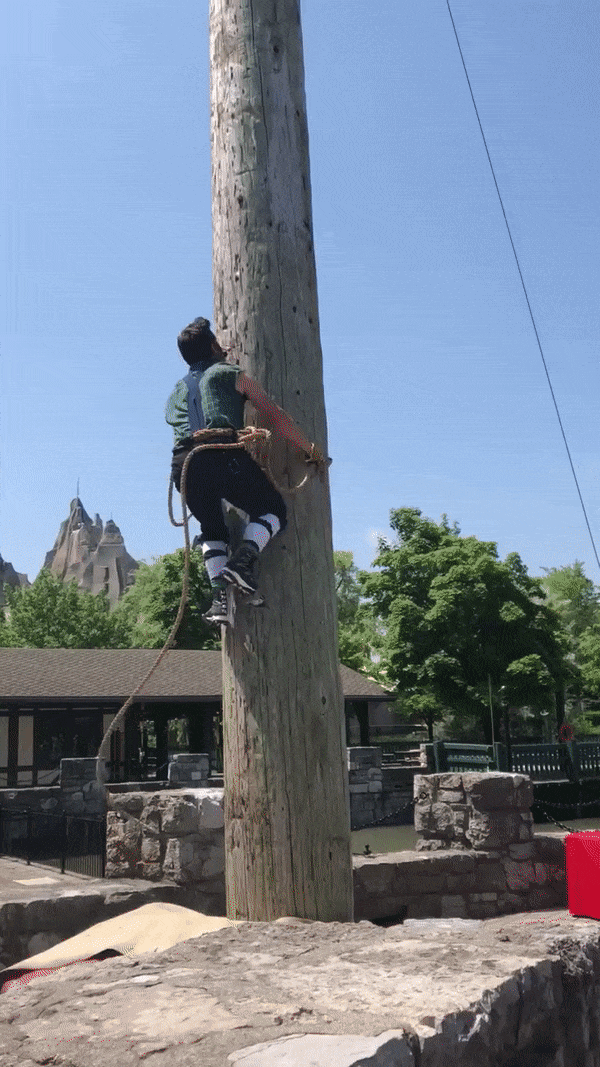 After their last show of the day, my performing friends got changed and we watched some of the other shows going on in the park to support the other performers. We enjoyed the acrobatic water show that took place in the same area as the lumberjack show as well as the amazing Cirque Du Soleil production in the main theatre. The Canterbury Theatre is the size of any theatre you would get on London's West End or New York's Broadway. It was a spectacular show and should not be missed on your visit. Especially since the shows are all included in the price of your entry ticket. These are quality shows with talented performers that you have to pay for in any other setting.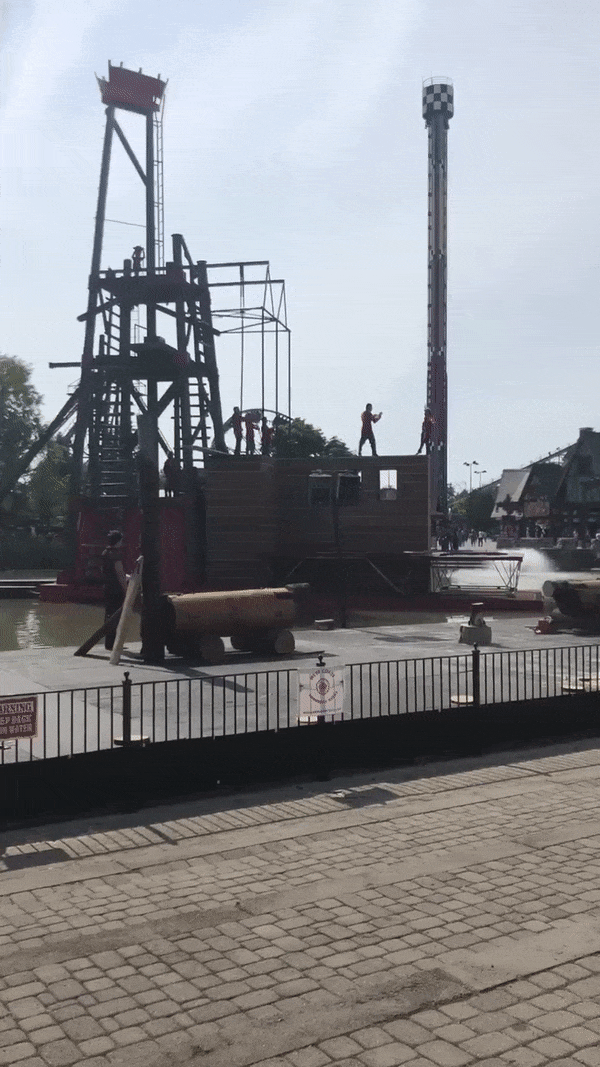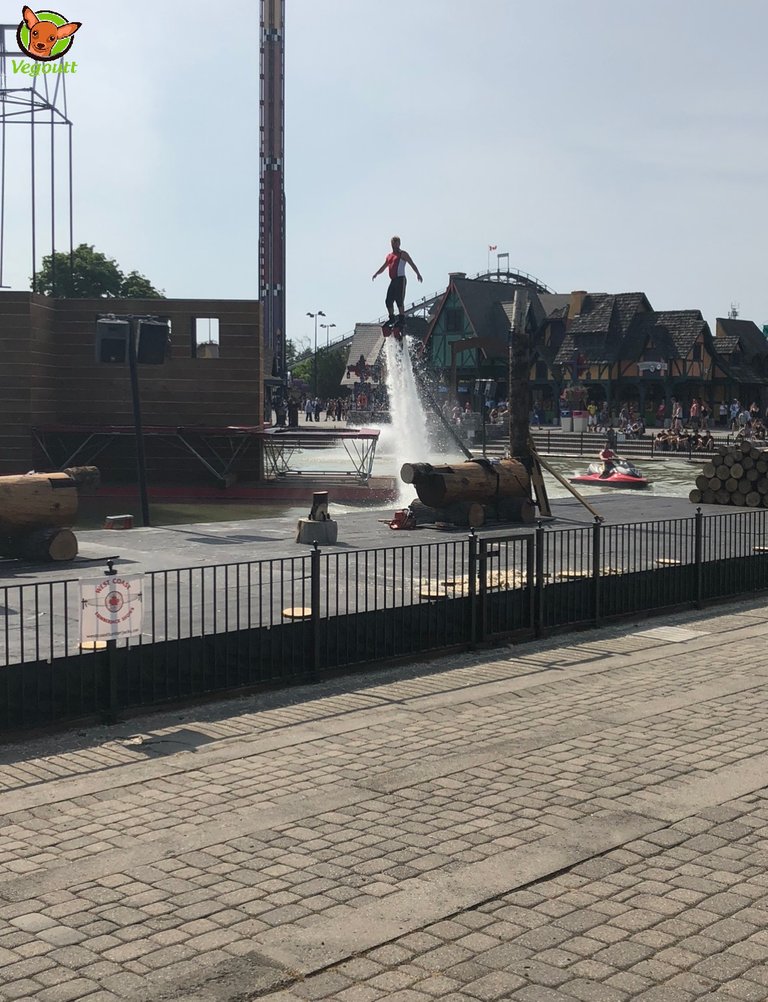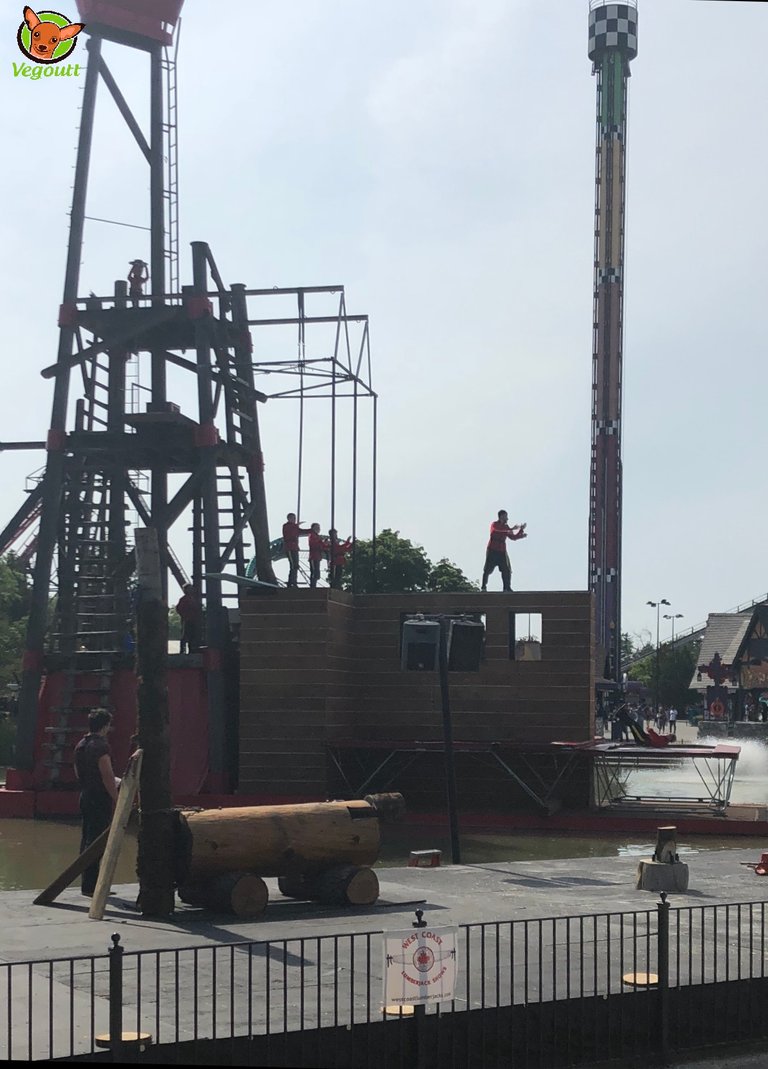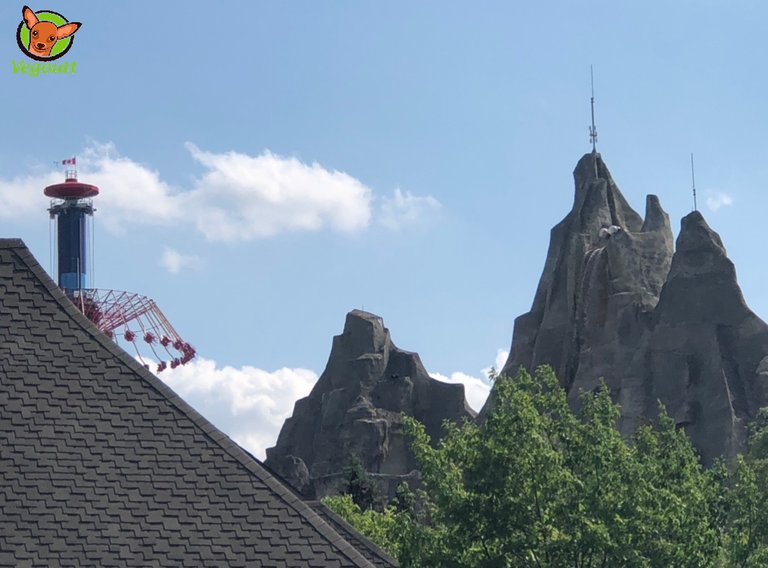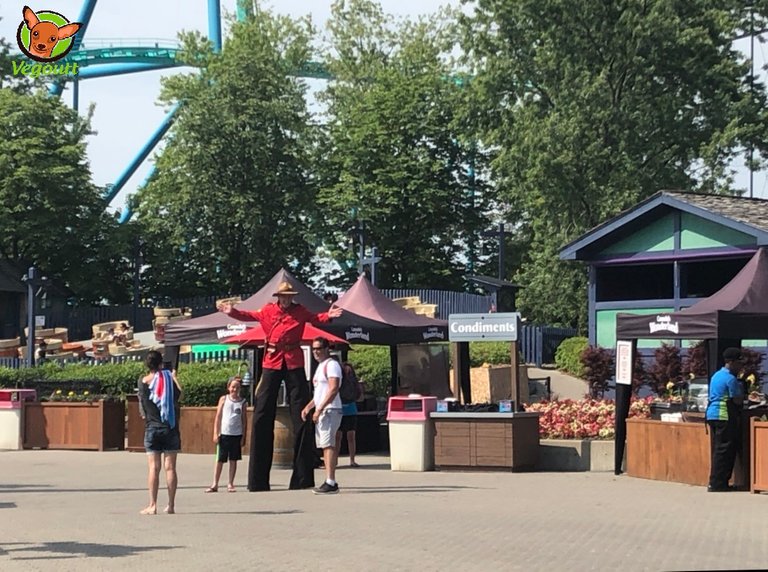 After enjoying the shows, it being the middle of summer, meant that we had hours of daylight left before the night-time fireworks display for Canada Day. The fireworks began at 10pm. We decided to enjoy the rides together as a group. Of course with any group of friends, you have the thrill seekers and the ones that would rather watch. I got to enjoy some of the thrill rides again which was great. Being able to enjoy the park with a group of friends was definitely better than exploring it on my own. Don't get me wrong, I have travelled all over the world by myself. I highly recommend it in fact. It has given me a great deal of independence. I just think that a theme park in particular is better enjoyed with friends or family. That way you can laugh at each others terrified expressions.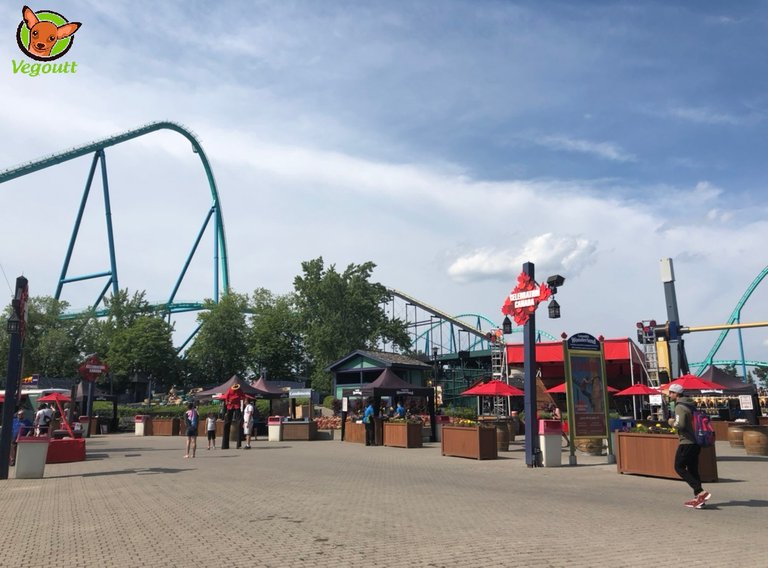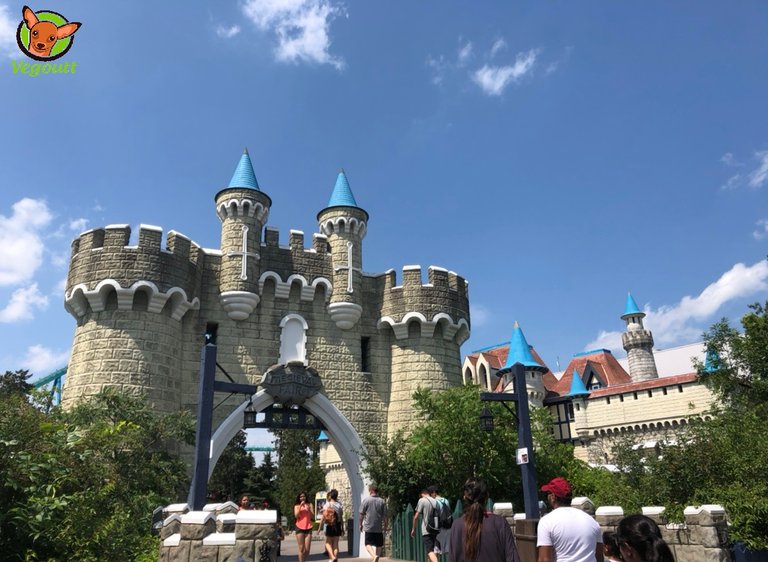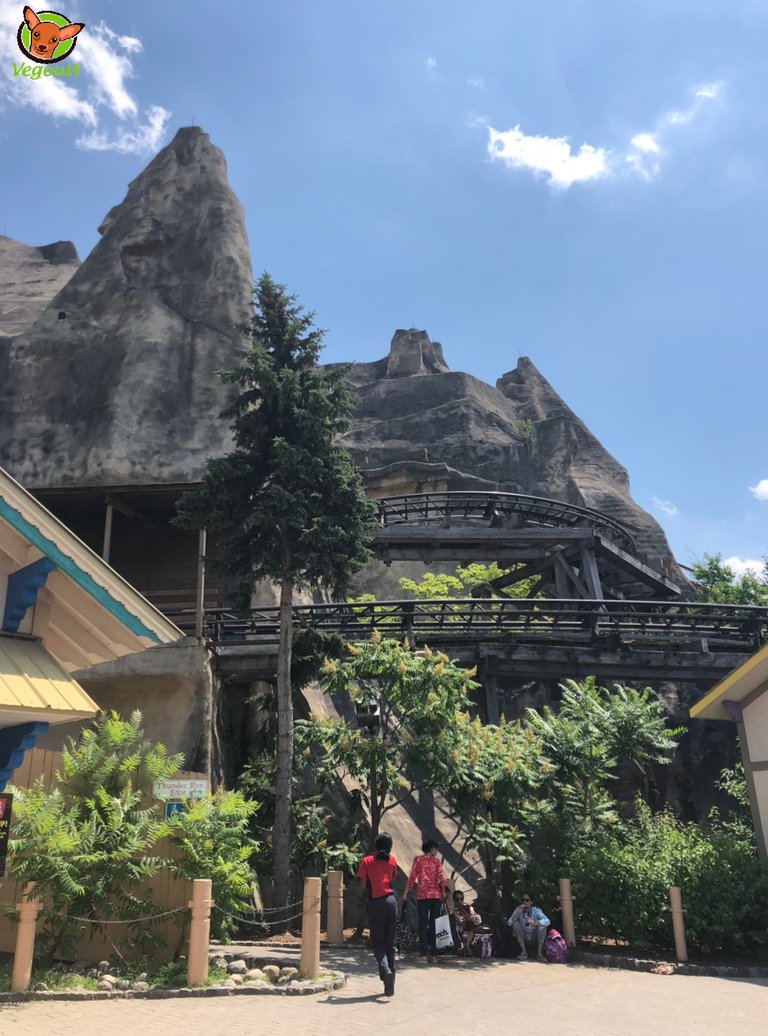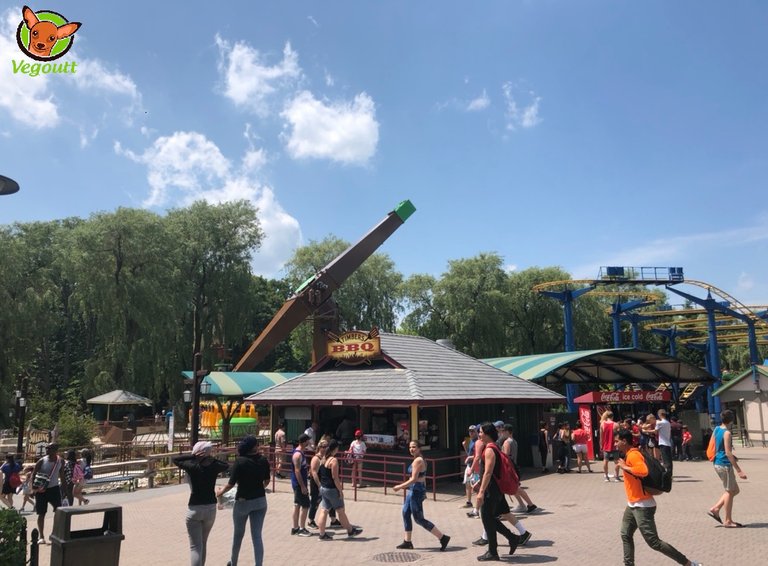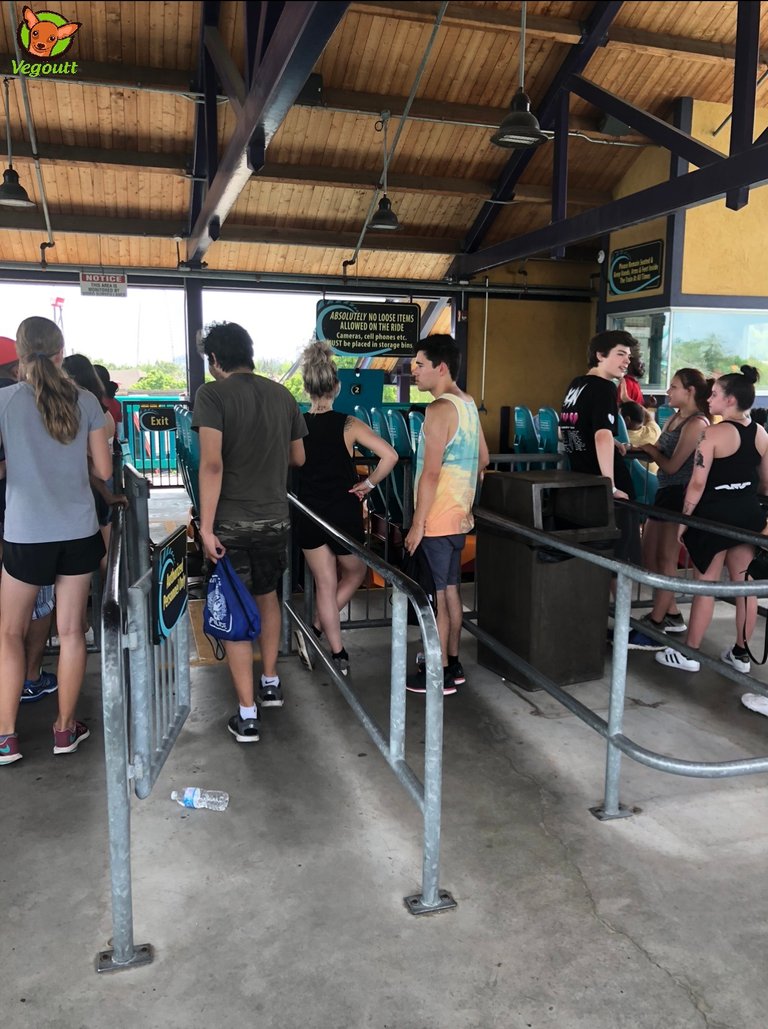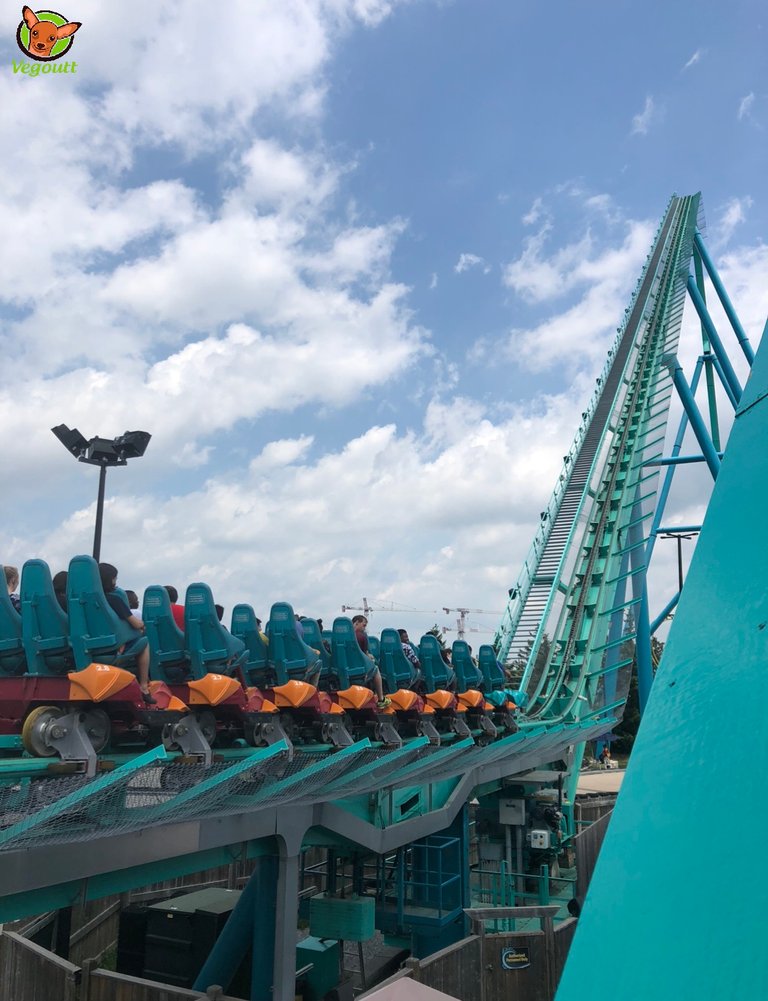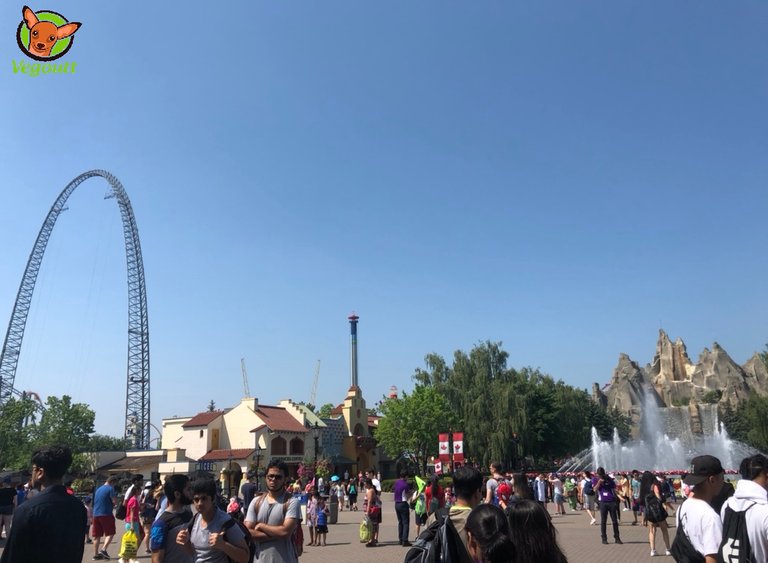 We sure did make the most of our time. We even got the cutest themed cookies to enjoy, gluten free and vegan, delicious. The perfect treat to celebrate Canada day. Before we headed out, I had to have a look in the souvenir shop. I was expecting, well, Canadian themed items. I was laughing in the store as they sold so much Japanese anime. I had been in Japan only the month before so I found it really funny. The famous fried egg anime character and pusheen the cat. If I hadn't of just come back from Japan, I am sure I would of broken my bank with purchases.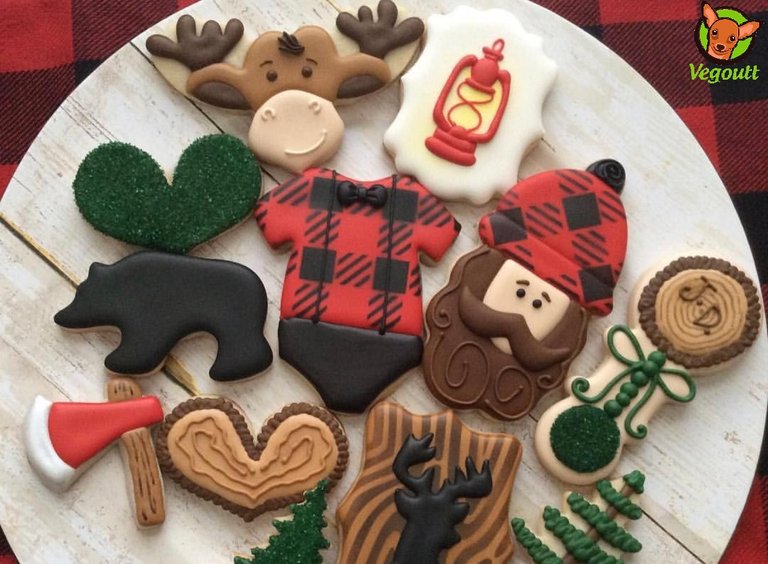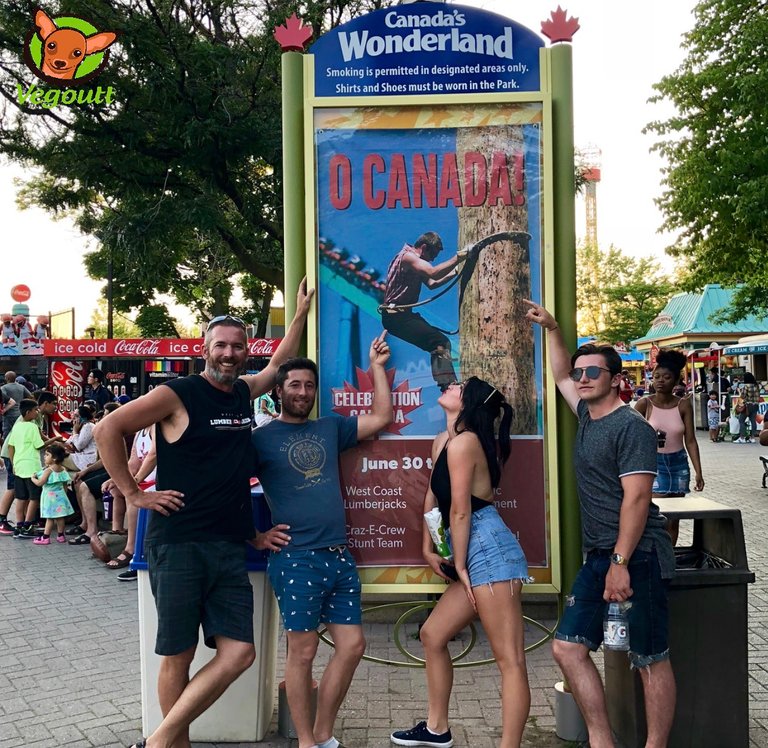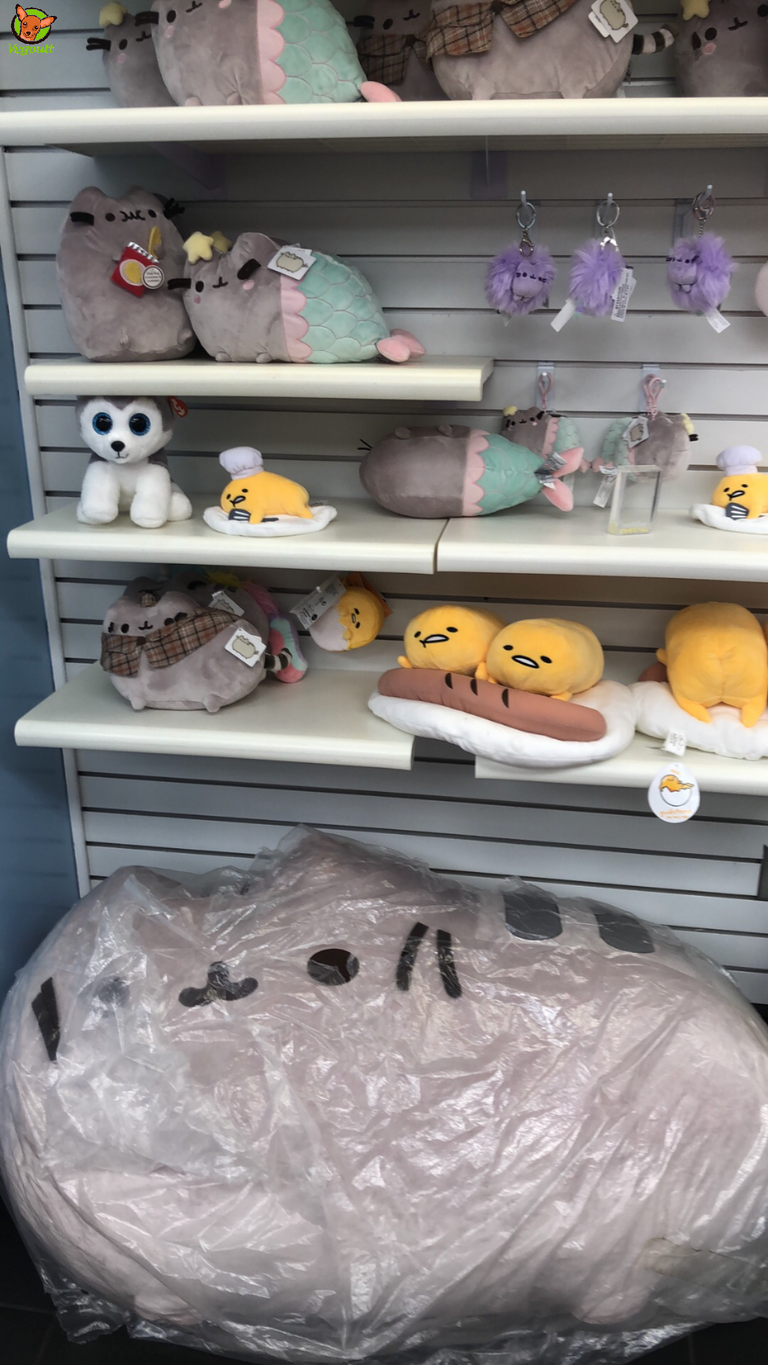 As the daylight faded into night, we headed to the car park and into the back of the truck. This Truck has travelled absolutely everywhere. We got some cushions and we all sat in the back of the truck watching the spectacular fireworks display. It was beautiful. In the smoke, you could see the roller coasters still going around late into the night. We enjoyed the fireworks for about 20 minutes. Happy Canada Day you beautiful country.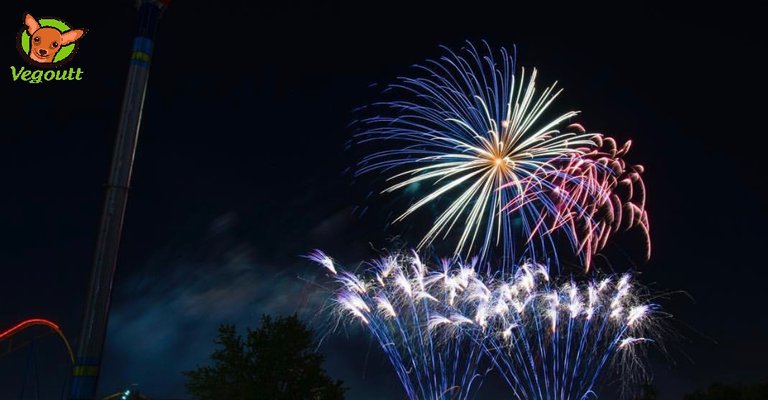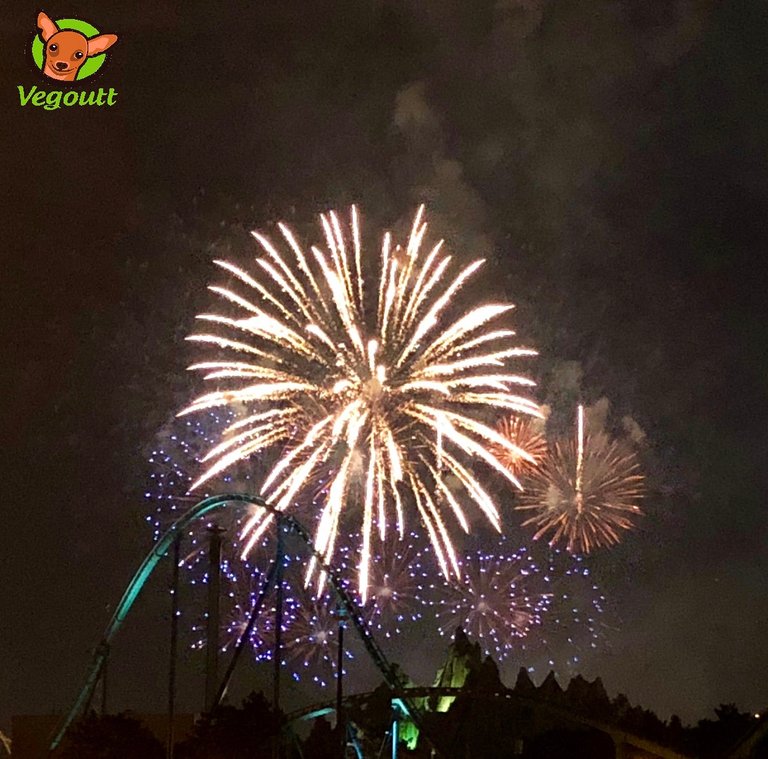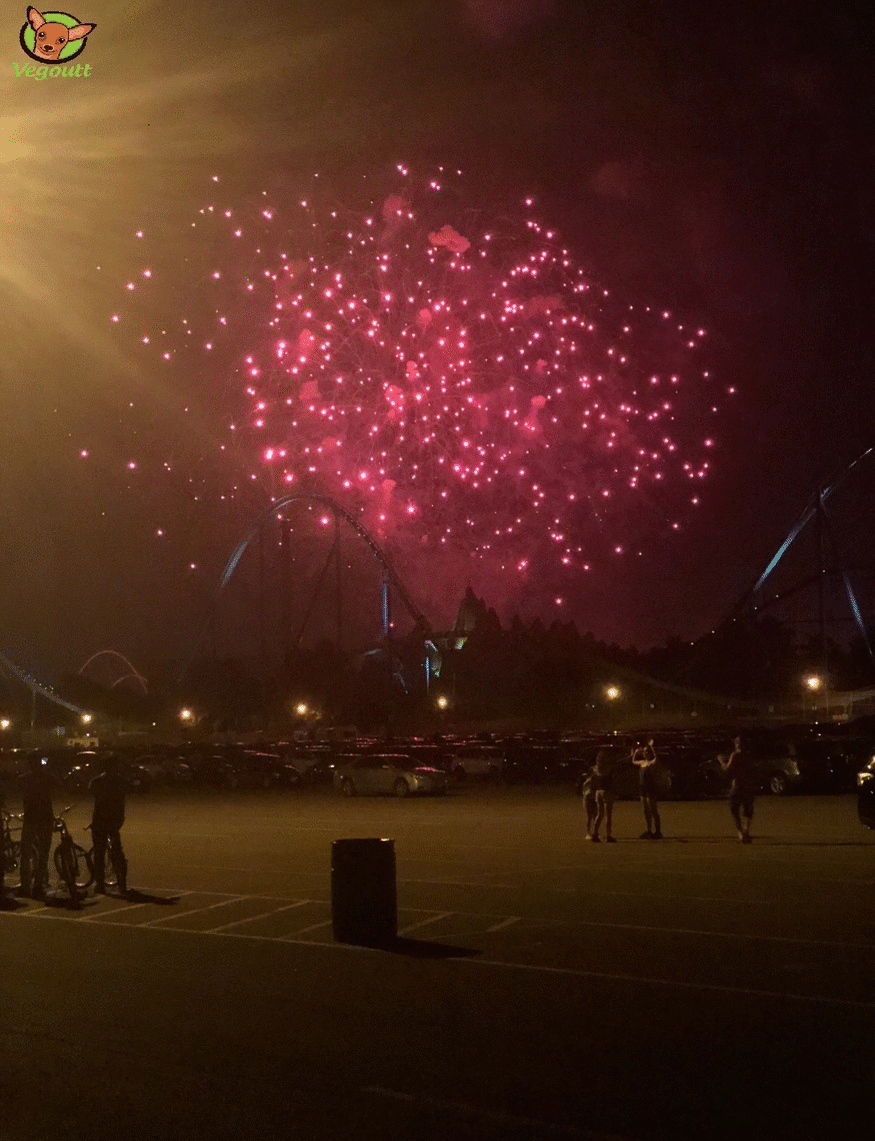 There you have it, Canada's Wonderland on Canada Day. We ended the weekend with dinner together at the performers apartment block. I am always grateful for my travels, adventures and experiences. I believe the best things in life are the people we love, the places we've been and the memories we've made along the way. I am very saddened to say that one of my friends from this trip, Gage, passed away only two months ago. He was 19. I dedicate this blog to his memory. He was taken far too soon. Remember, cherish every moment with the ones you love, you never know the value of a moment until it becomes a memory.
I hope you have enjoyed my blog on Canada's Wonderland, thank you for reading and I look forward to sharing more adventures with you, until next time, Vegoutt Everybody!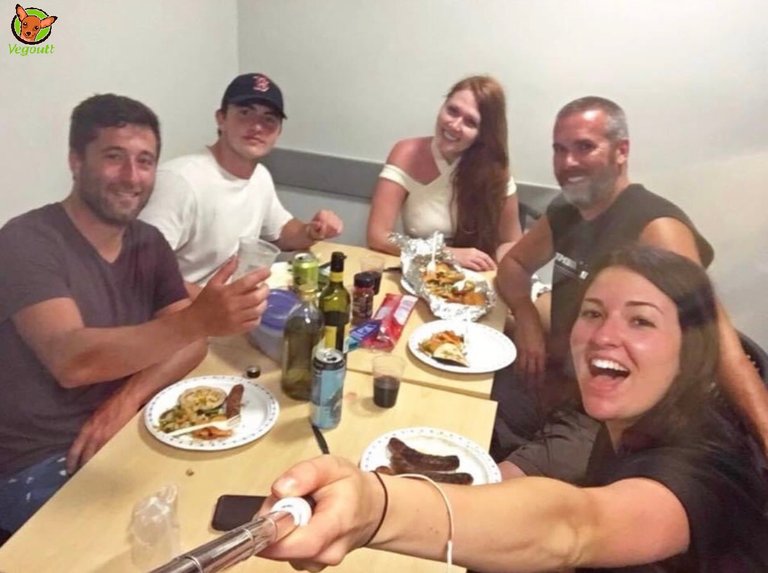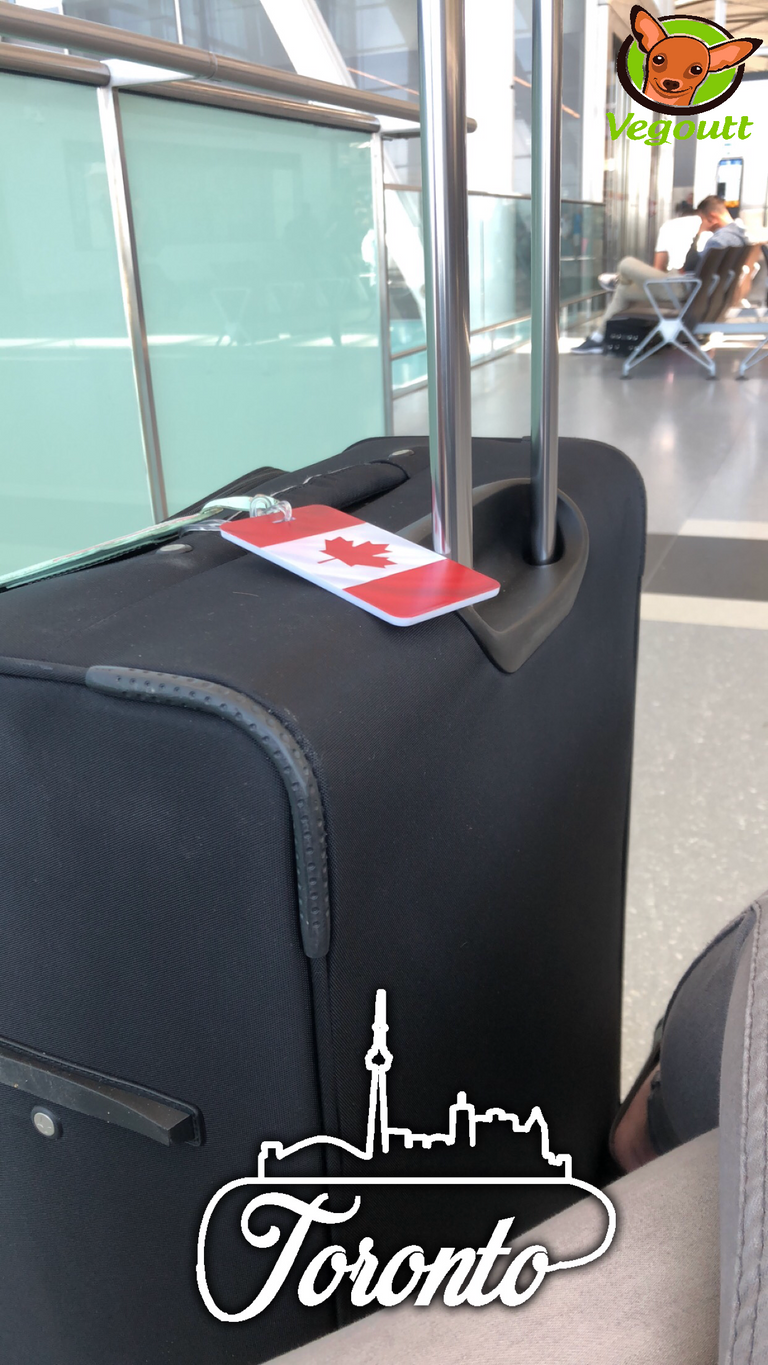 Rest in Peace Gage, forever fly free as the flag does, gone but not forgotten- "2000-2020"