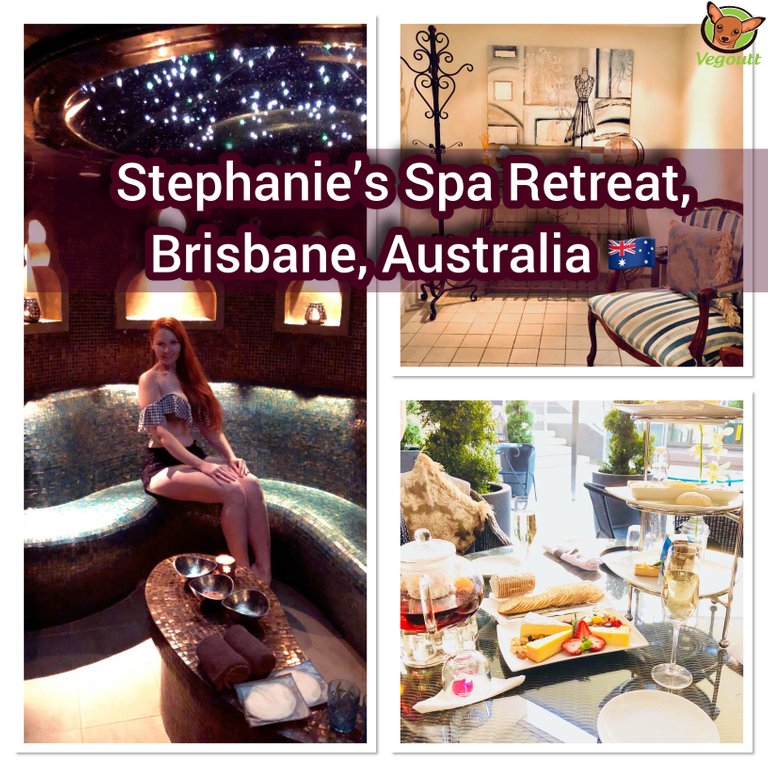 Dear friends, let me take you on a blissful journey of relaxation and self discovery at Stephanie's Spa Retreat in Brisbane, Australia. I lived in Brisbane for close to 15 years. It is a vibrant and bustling city that has grown not only structurally, but, in culture as well. In a city filled with 2.5 million people, it can be hard to find ways to relax and unwind. I was lucky enough to stumble across a wonderful retreat right in the heart of the central business district. Stephanie's Spa Retreat can be found in the Sofitel Brisbane Hotel. The Sofitel hotels across the world are famous for their five star luxury and classy French style. Stephanie's Spa Retreat was no different, it delicately blends elegant French style with sophisticated modern luxury. This was the perfect Birthday treat for my best-friend.
To find me, look for my Chihuahua's face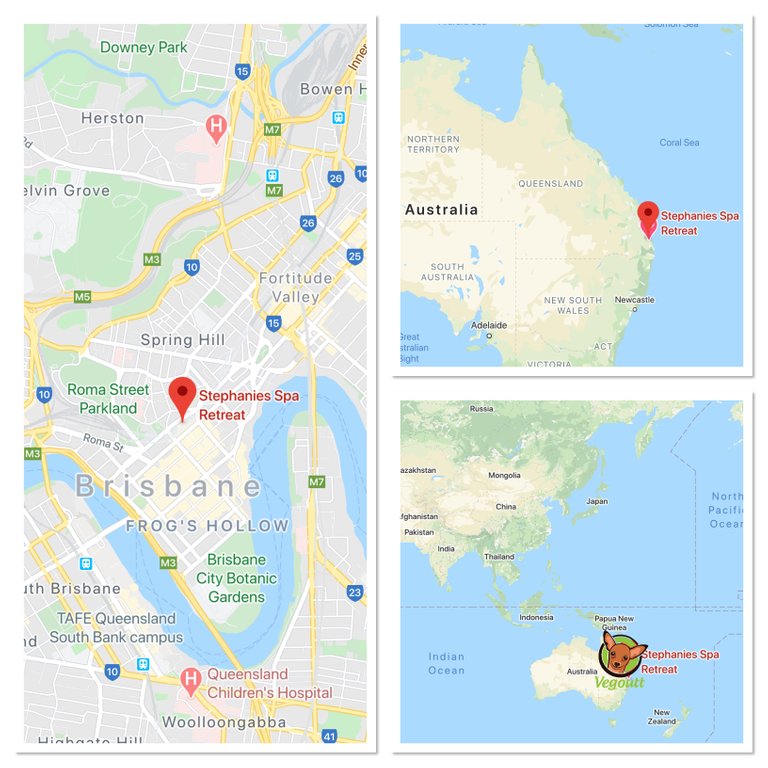 The morning started off with picking up my best-friend for her surprise Birthday outing. I drove to a beautiful cafe in Brisbane called The low Road Cafe. I have to say that this cafe does the best avocado toast anywhere in Australia. I worked as a Flight Attendant for many years and have eaten at a lot of cafes all across Australia. It is absolutely divine. If anyone reading this blog is planning on visiting Brisbane, make sure to visit the wonderful cafe. We enjoyed our delicious breakfast, fresh faced and ready for our spa day.
Avocado on Sourdough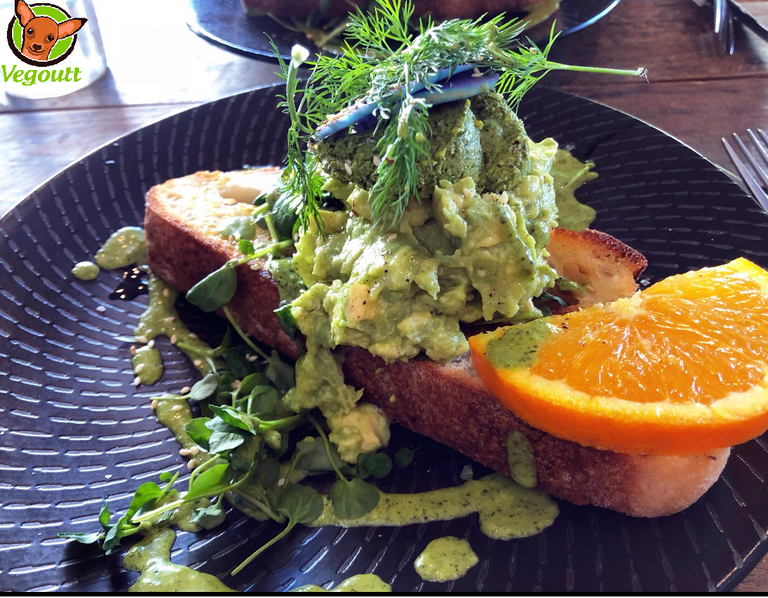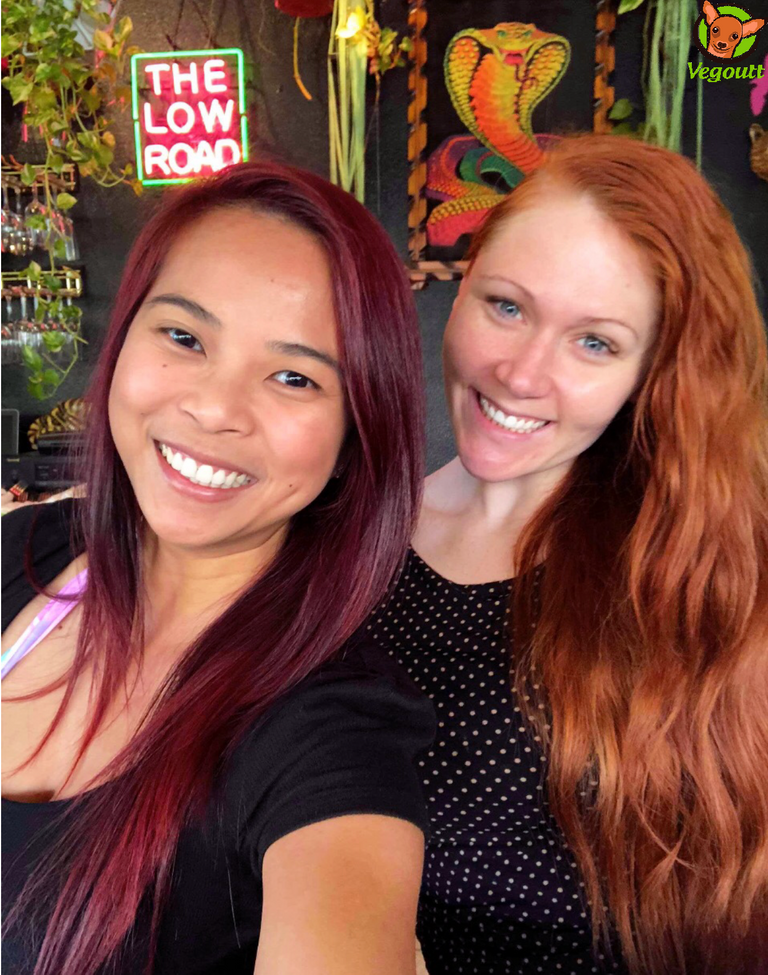 Tucked away on level 3 of the Sofitel hotel is Stephanie's Spa Retreat. I had booked for the two of us to enjoy the Opal Rasul Steam Temple and French High-tea. I wasn't quite sure what to expect. It blissfully combines a peaceful and meditative experience with a cleansing, invigorating spa journey. As you enter the spa retreat, the backdrop is the centre of Brisbane City. As soon as you walk through the doors of the spa, you are transported into a serene French retreat.
Brisbane C.B.D
Sofitel Lobby
Stephanie's Spa Retreat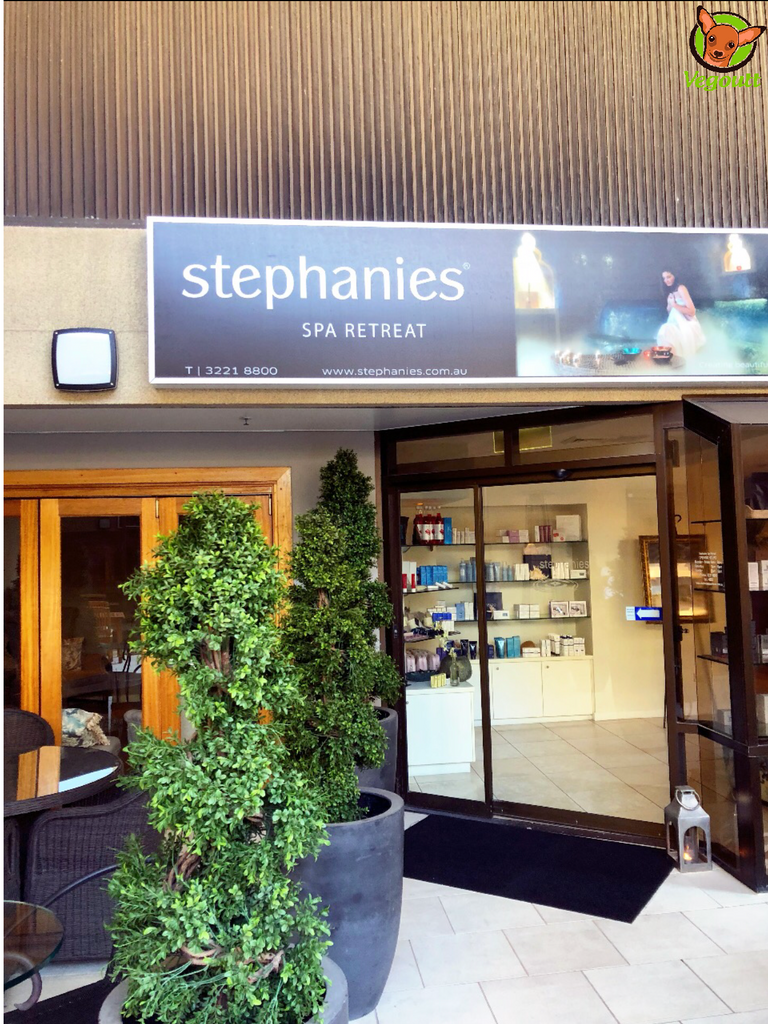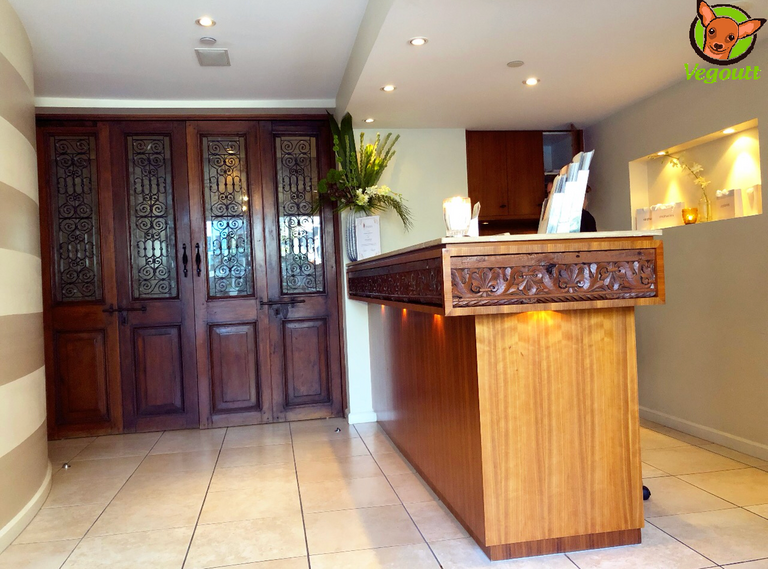 The beautiful aroma of French Vanilla filled the air and our senses. We were greeted by one of the lovely spa therapist's, she showed us to the elegantly decorated dressing room. We were given our own private lockers filled with fluffy robes and soft slippers. We took our time getting ready and just enjoying the ambiance of the dressing room. Once we were ready to enter the Rasul steam temple, we left the locker room, the spa therapist then walked us to the steam temple.
The locker Room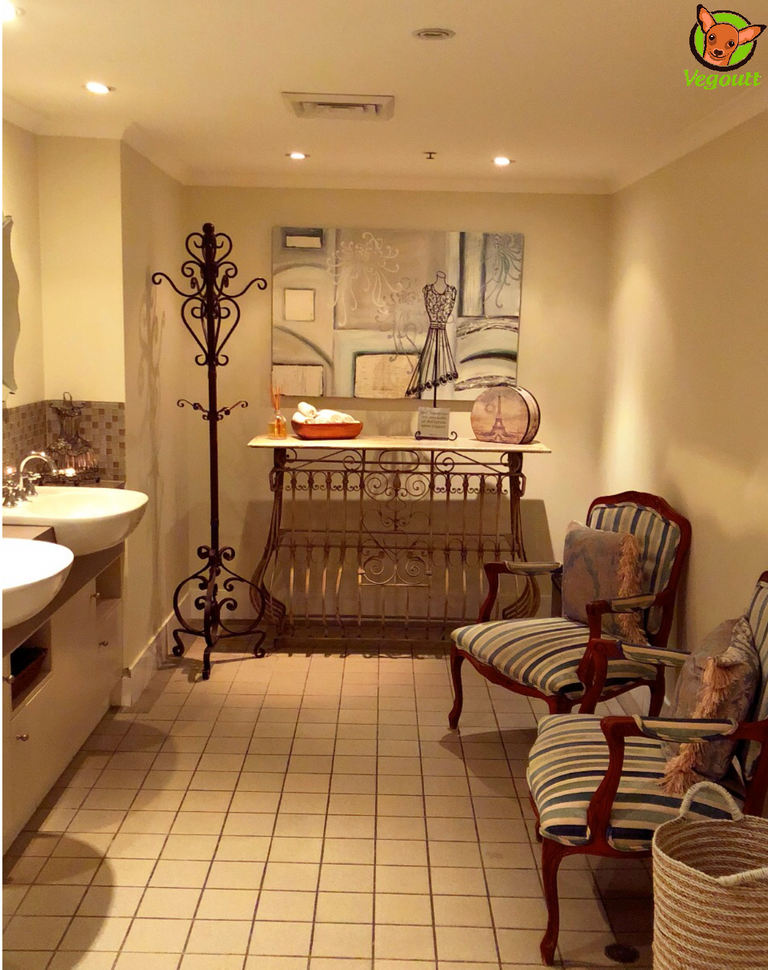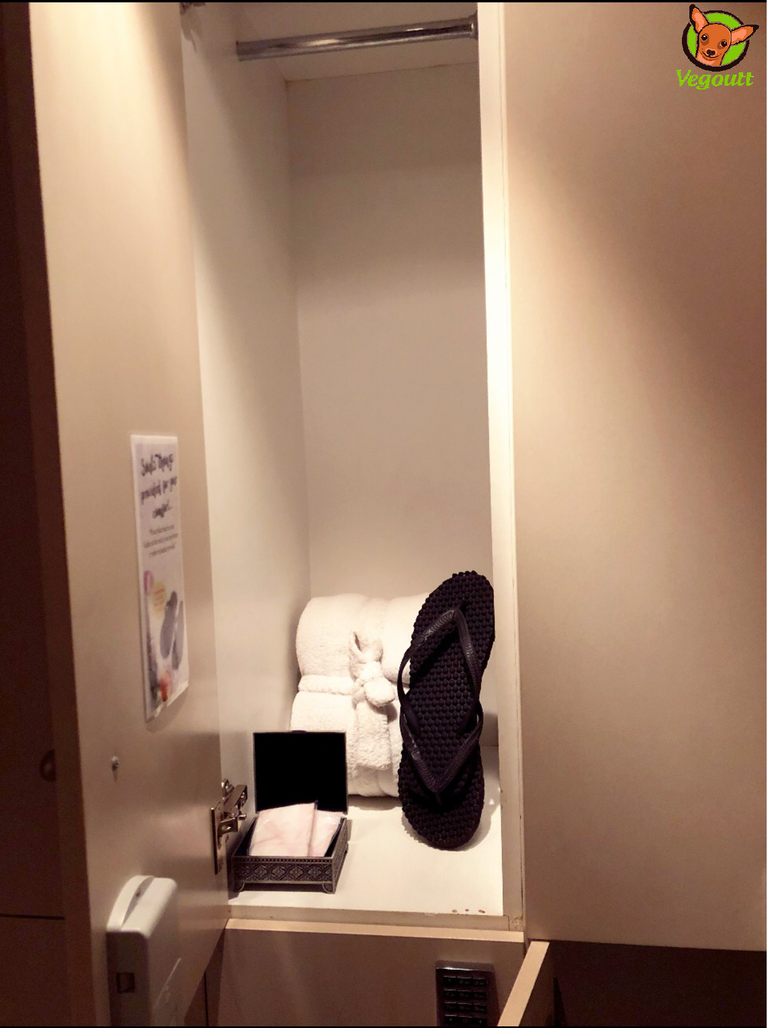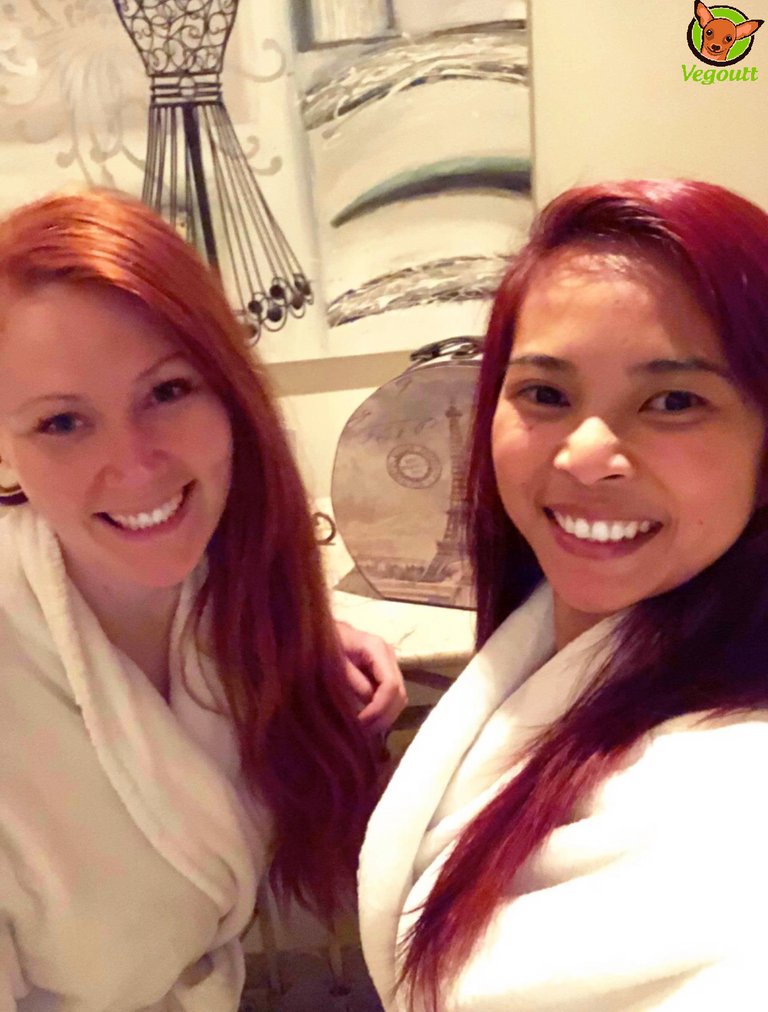 At the entrance to the steam temple, the therapist explained to us the process. We had 1 hour to enjoy the temple to ourselves. There were several luxurious natural mud's for us to cover ourselves in while relaxing on the stone. After the hour was up, there was an adjacent private rain shower room to wash ourselves off. The Rasul Temple was breath-taking. I am a huge fan of crystals and geodes. I believe in not only their physical healing properties but their spiritual ones as well. The ceiling of the temple was adorned in crystals that sparkled. This particular combination of minerals for cleansing and detoxifying is an ancient one.
We covered ourselves with the different mud's and laid out on the warm stone benches. It was so tranquil and peaceful. Then, when we thought this place couldn't get any more magical, light natural rain started falling from the ceiling. The combination of the gorgeous aromas, the rain and the sound of birds singing was heaven.
Entrance to the Rasul Steeam Temple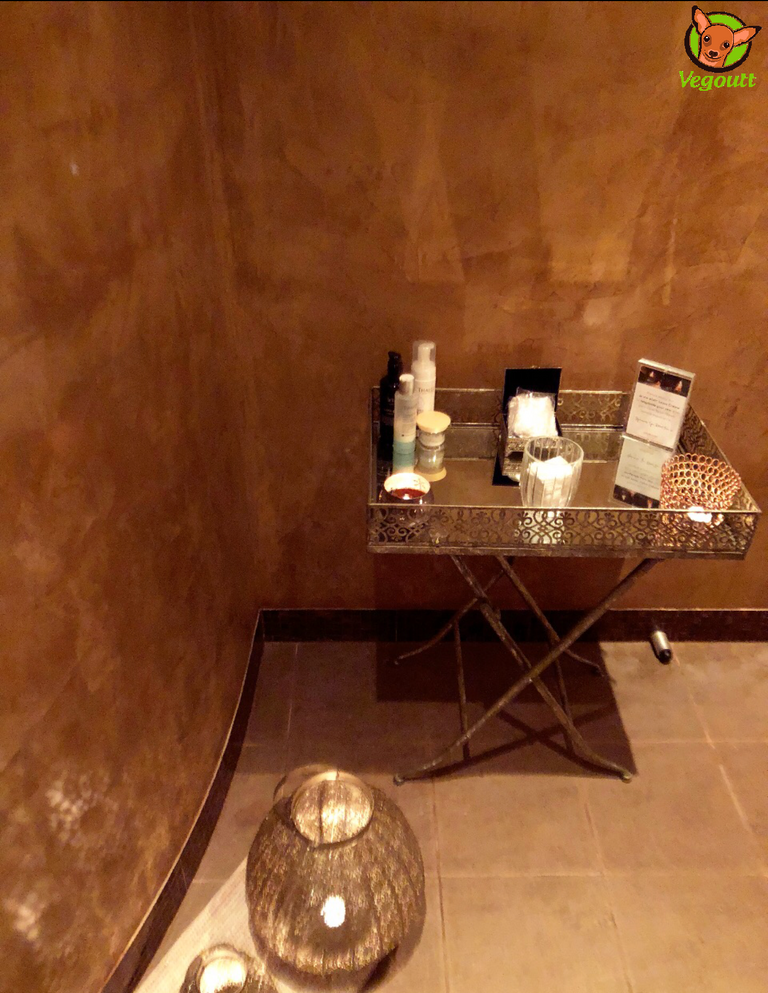 Rasul Steam Temple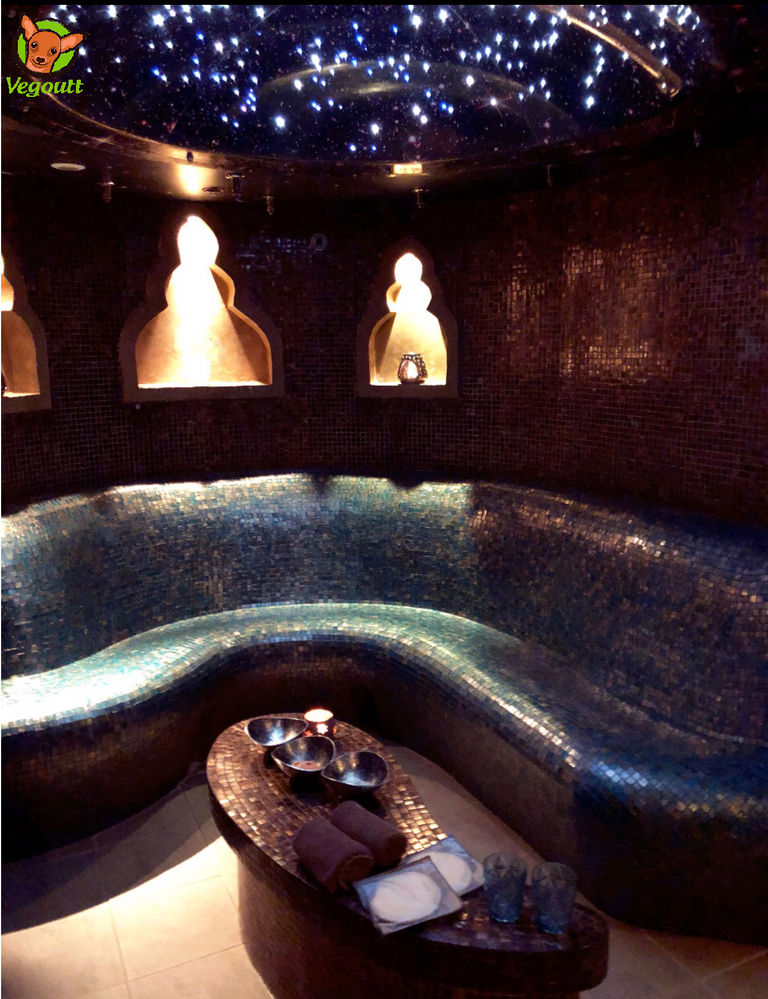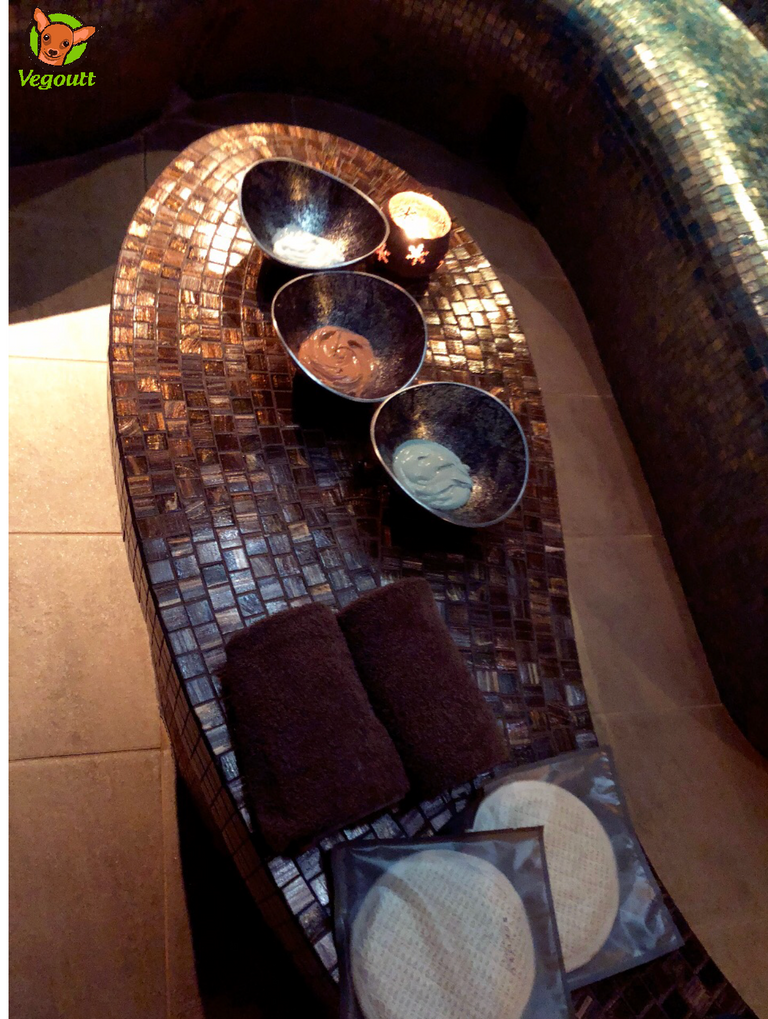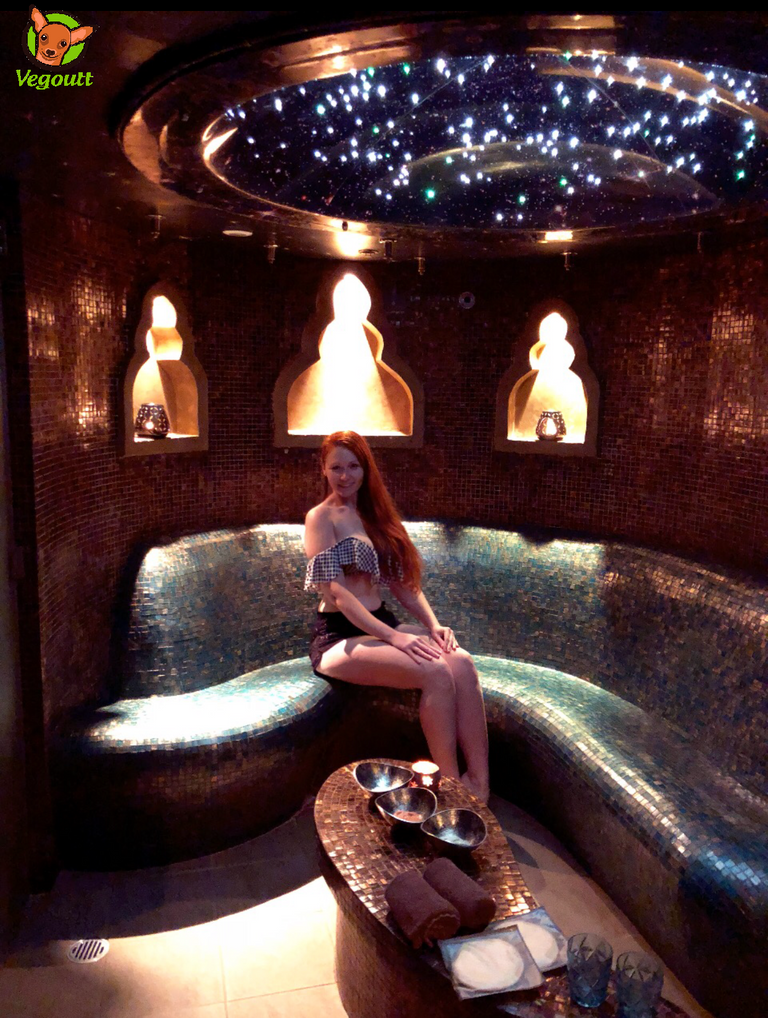 I have to admit that was the most relaxing hour of my life. The lights in the Temple got brighter to subtly inform us that our hour was up. We headed into the private rain shower rooms to wash off and get dressed. Once dressed, we were lead into a private sitting room with two glasses of French Champagne and all the French magazines you could ever want. We enjoyed sharing our experience of the Rasul temple over our glasses of champagne while our high tea was being prepared.
Sitting Room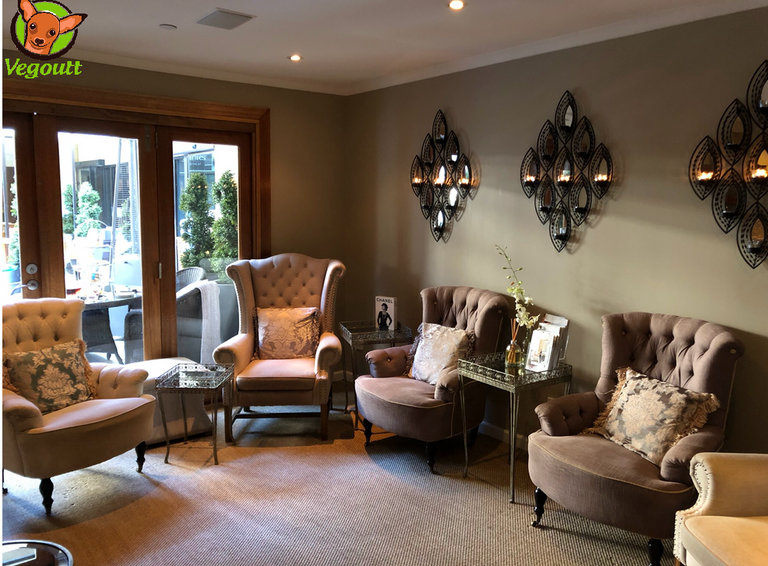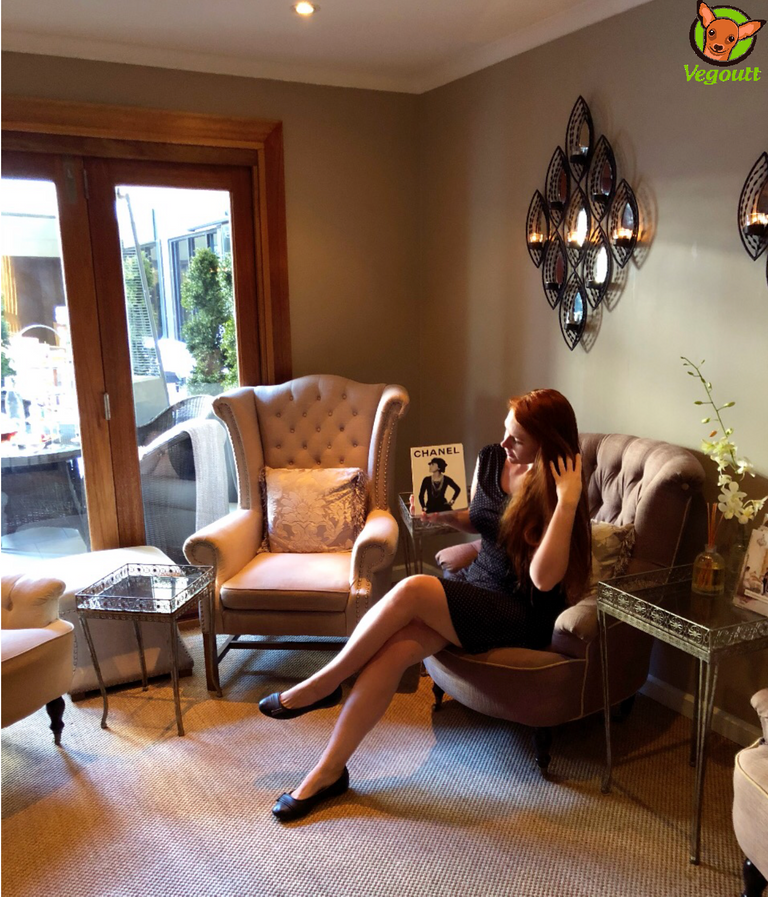 After a few minutes, our high tea was ready. We walked out onto the open patio and were blown-away by the spread of food. It was all prepared with the finest quality fresh ingredients with a French twist. Everyone at the Sofitel was incredibly accommodating as my best-friend and I have different dietary requirements. They were able to split the high-tea into a half vegan and half non-vegan spread.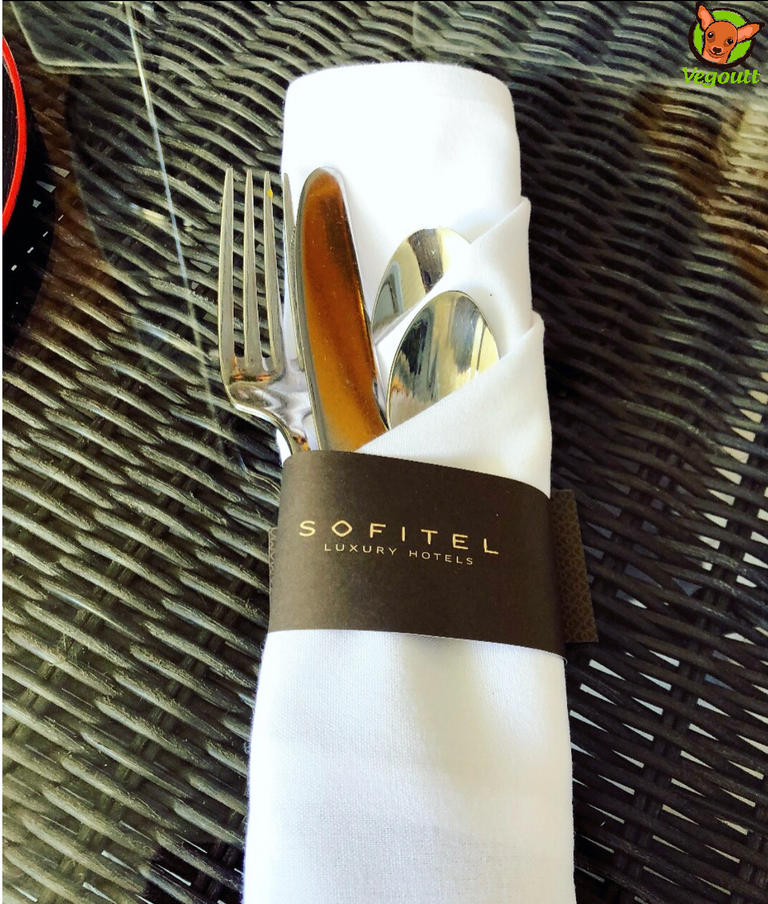 Our High-tea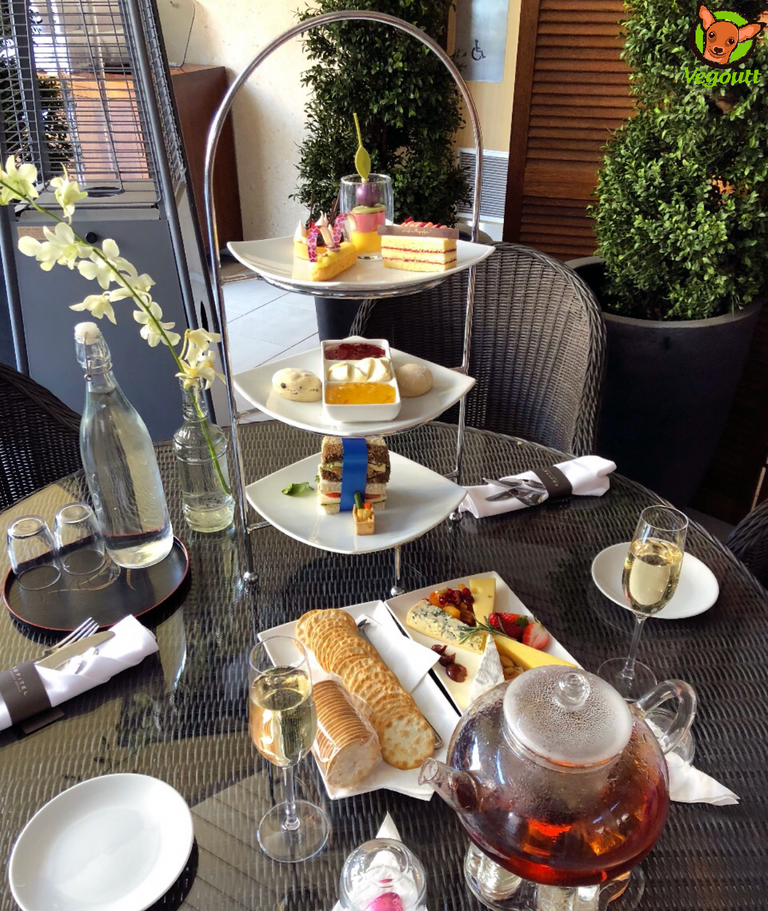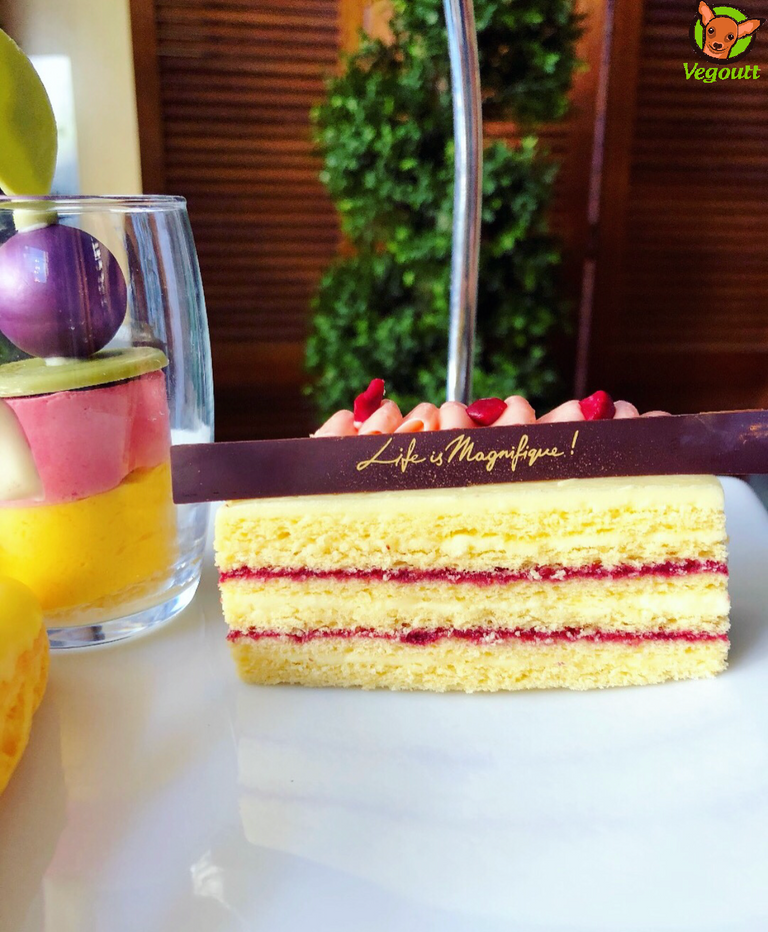 We were spoiled with cakes, scones, cheeses, fruits, nuts, crackers, sandwiches, parfaits, champagne and tea. We had a very large variety of teas to choose from, fruity teas and leafy teas. You could even request a combination tea. We choose a French vanilla and rose tea. It was full of flavour. The most impressive thing about the tea was that it was served in a glass teapot resting over a little fire. This kept our tea hot.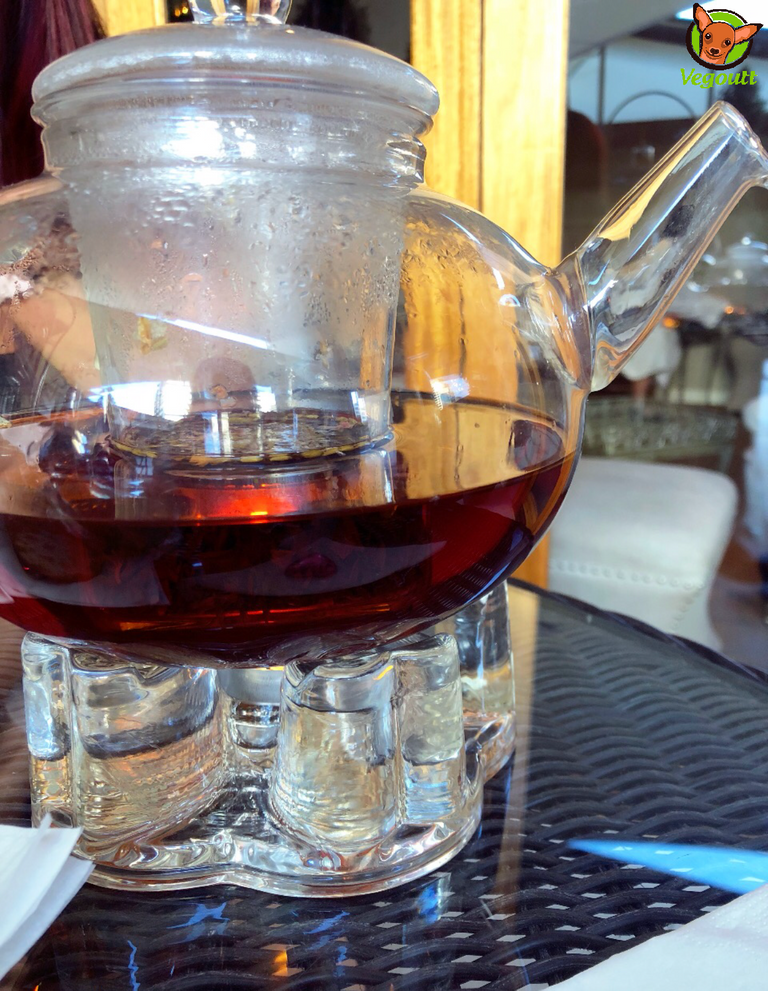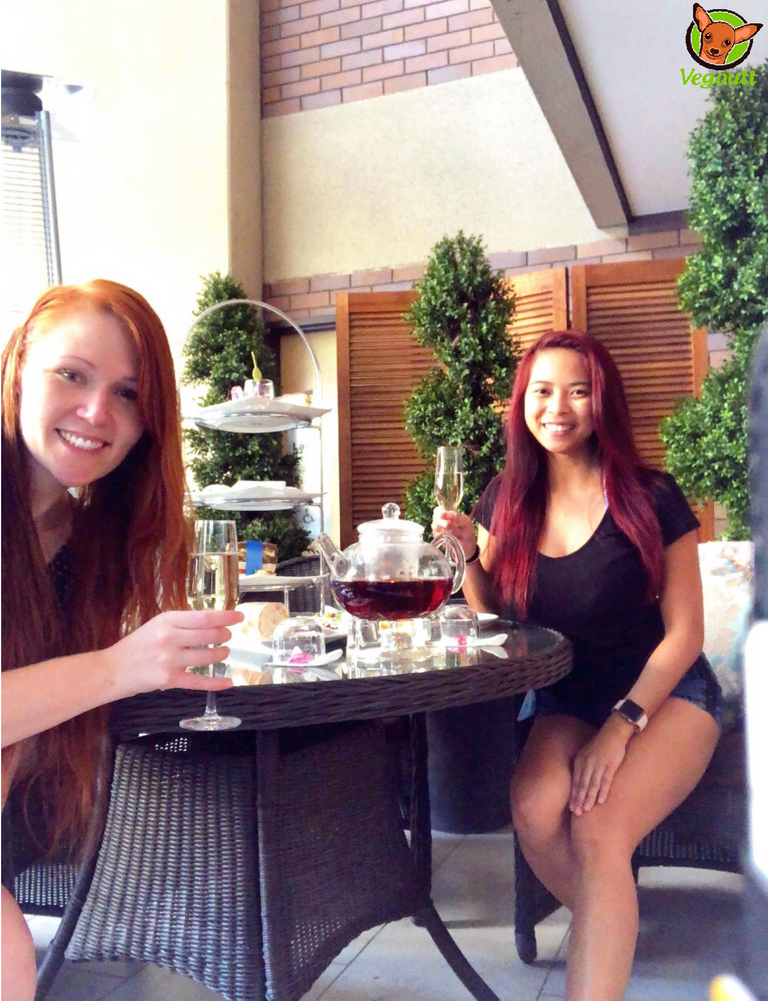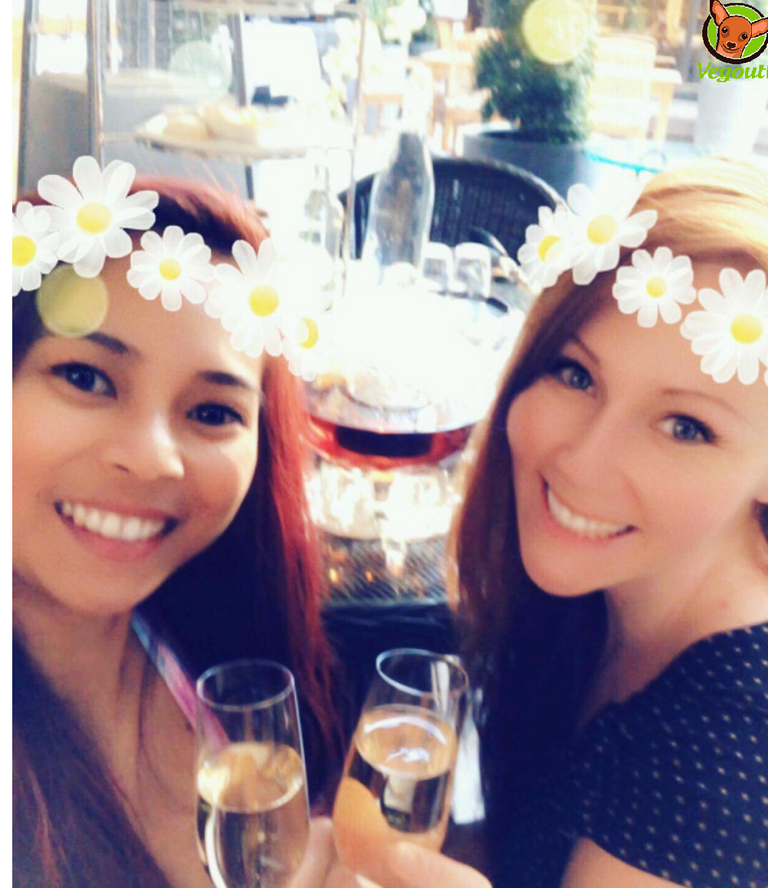 The best thing about the entire experience was how private it all felt. We didn't encounter any other customers while we were at Stephanie's. Overall, we spent about 4 hours relaxing in the temple and enjoying our high-tea. There are many different packages and treatments available to choose from, there is definitely something for everyone. The treatments can be enjoyed by yourself, in a couple or like we did, a girls day.
I hope you have enjoyed my blog on Stephanie's Spa Retreat, Brisbane, Australia, thank you for reading and I look forward to sharing more adventures with you, until next time, Vegoutt Everybody!