Our first night in the Icelandic western fjords. We woke up without a hurry. Quick breakfast, yerba mate and brief drive to the second hot springs this trip. Before me, Przemek and Martyna another few days of admiring the nature of one of the most deserted corners of Iceland.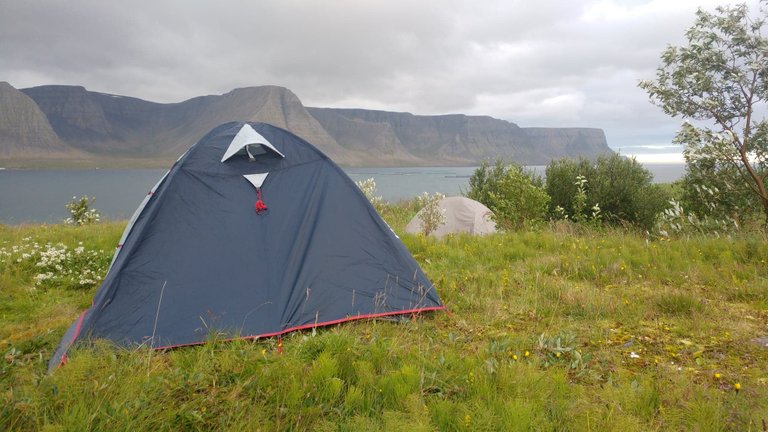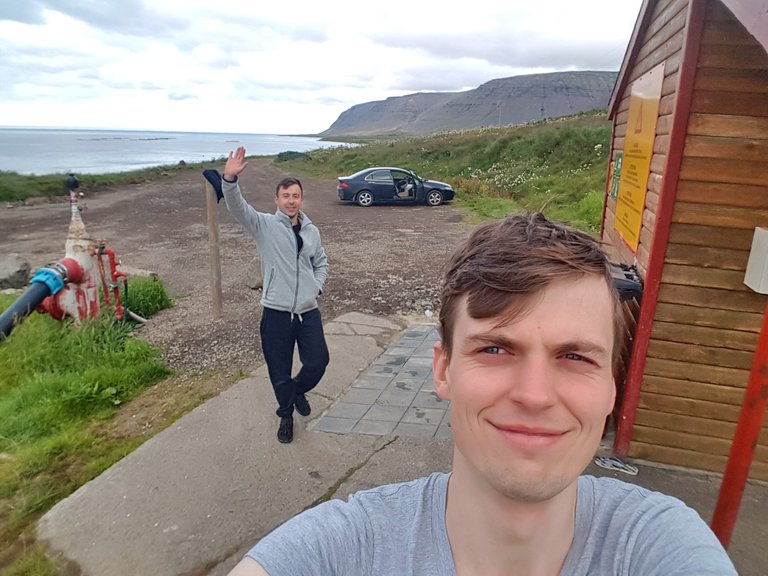 Having arrived at the springs, we were happy to find that this time the springs were all for just for us. Pollurinn, the "puddle" - because that's how they are called — are three small basins, two shallow and one deeper. They don't look spectacular in the pictures, but the aesthetics is not the most important in this case. The puddle shocked us with its temperature. Inserting my hand into the deepest basin, after a few seconds I took it out almost with scream.
– This temperature is inhuman! It is impossible to bathe here.
And yet - yesterday night we saw a group of Icelanders in this place, having a great time sipping beer. How, how?! How was it possible? The water was REALLY hot. It seemed that by jumping into it, you can seriously burn yourself. We were already planning to give it up completely and go further, but it turned out that the shallower pools are... "Just" hot. Very hot, but bearable. After a while the temperature becomes comfortable. After several minutes we decide with Przemek very slowly, gradually enter the main basin. It was not easy, but it worked. The whole immersion lasted a decent 10 minutes — we started with our feet, slowly descending to our legs, submerging our hands and at the end of the whole body. Nobody dared to dive in the head. Sitting inside required effort and concentration, as well as very deep breathing — it was an inner fight, but caused a lot of satisfaction. Completely different springs than those from yesterday. Then a cheerful Chinese family arrived and we decided that such a morning bath was enough for us. We set off forward.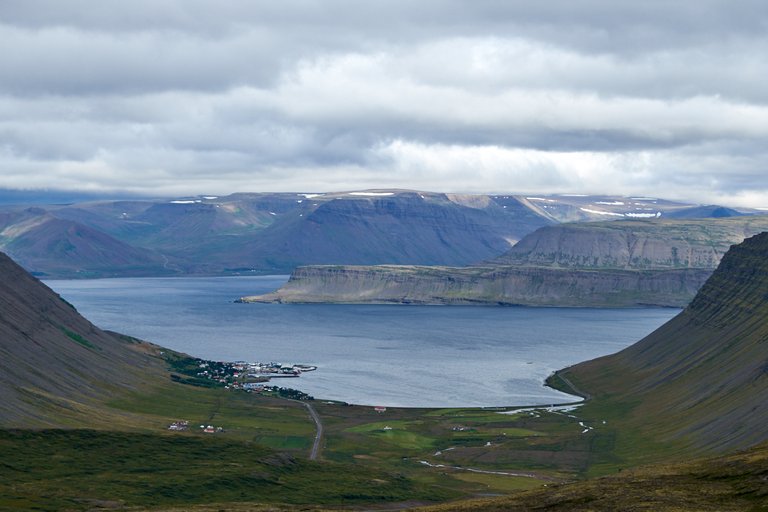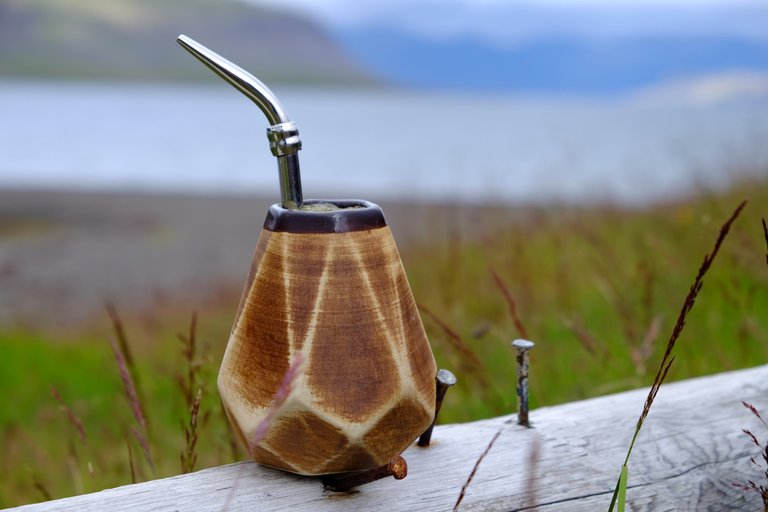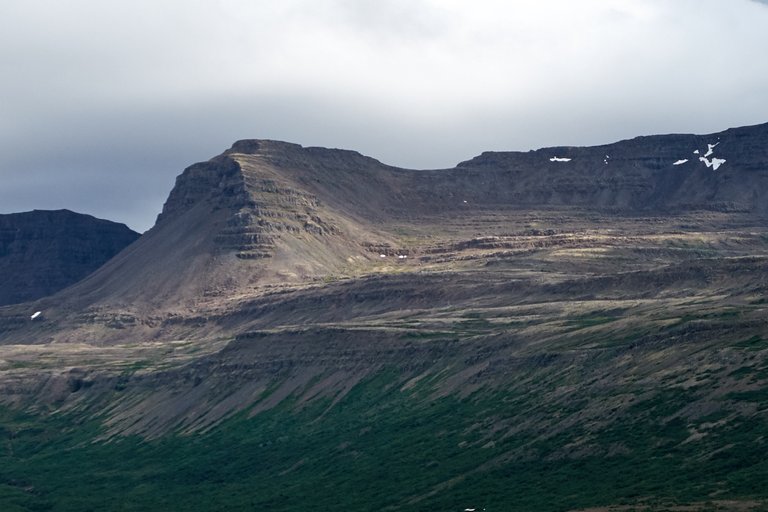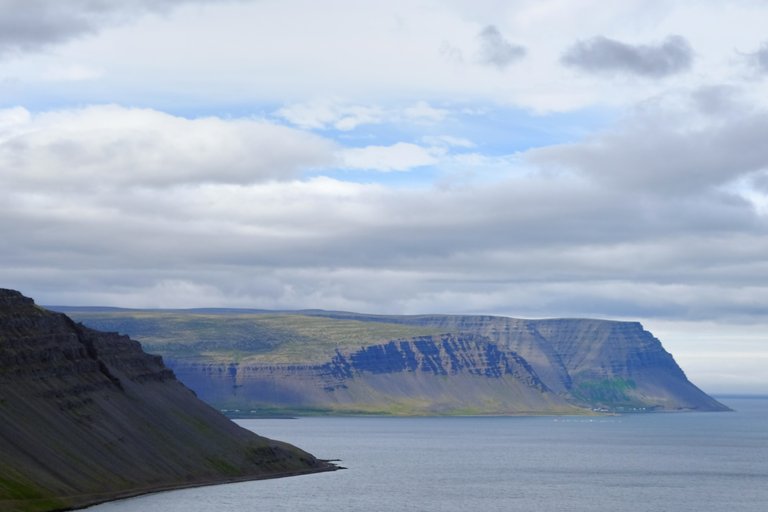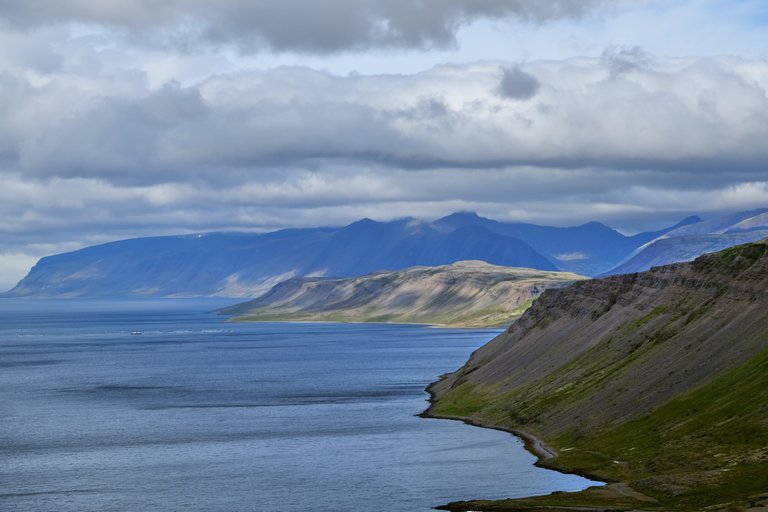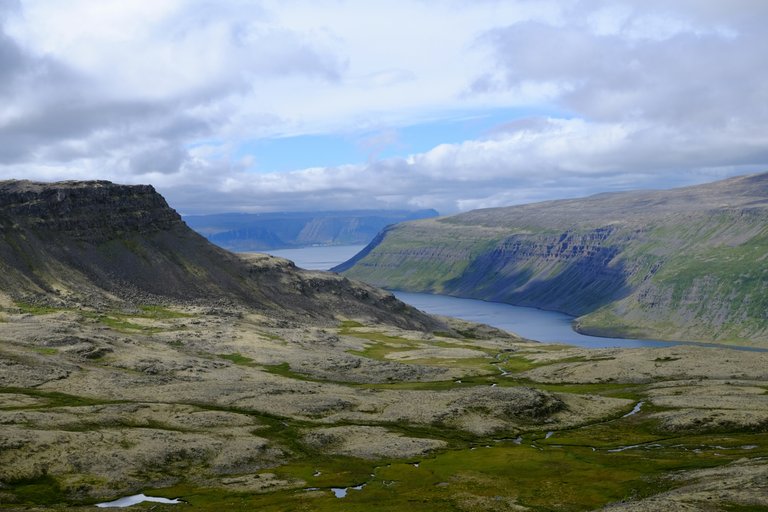 "Another waterfall" went through my mind, knowing that Dynjandi is our next goal. How wrong I was! As soon as it appeared from across the fjord, it impressed us at once.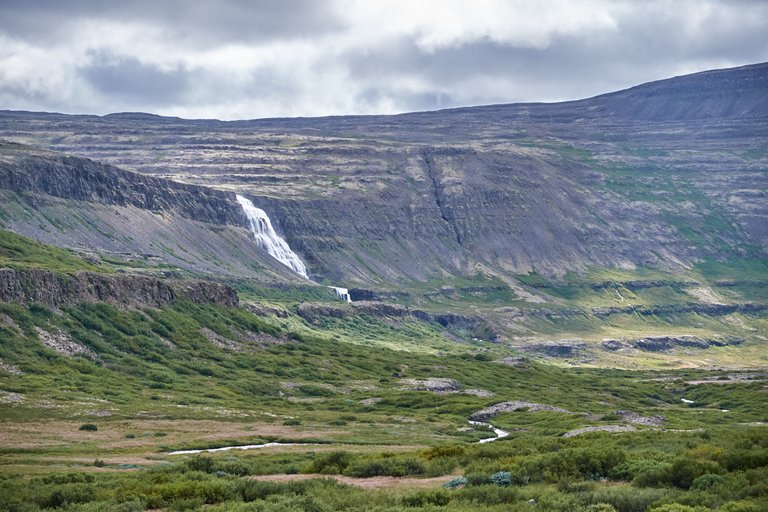 It became clear on the spot that it was probably the most sought-after place in the region. The only place in the Westfjords where we can say that we met quite a lot of people. Dynjandi covered almost the entire field of view, when one looked at it directly. There was a path leading to the best viewing "terrace", which every now and then revealed smaller, tiny waterfalls, invisible from below, and which perfectly fitted in with their huge, "older brother".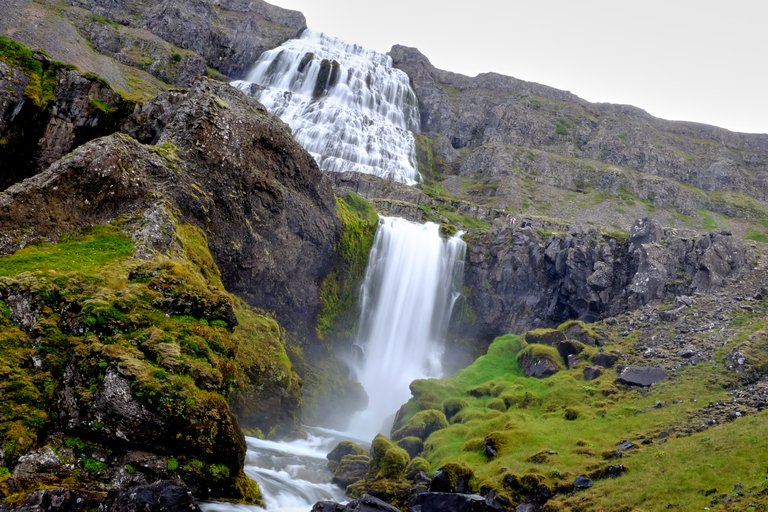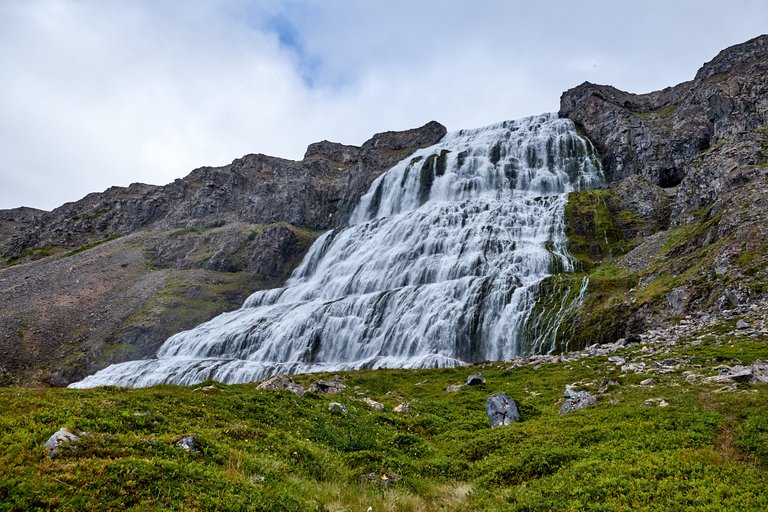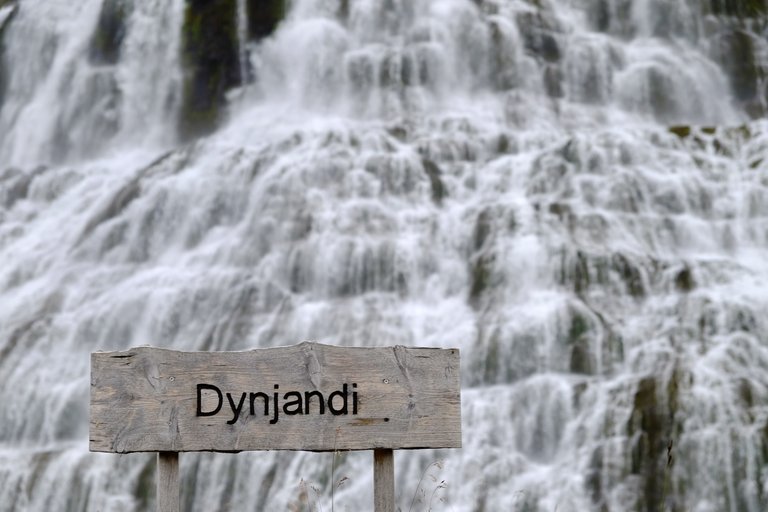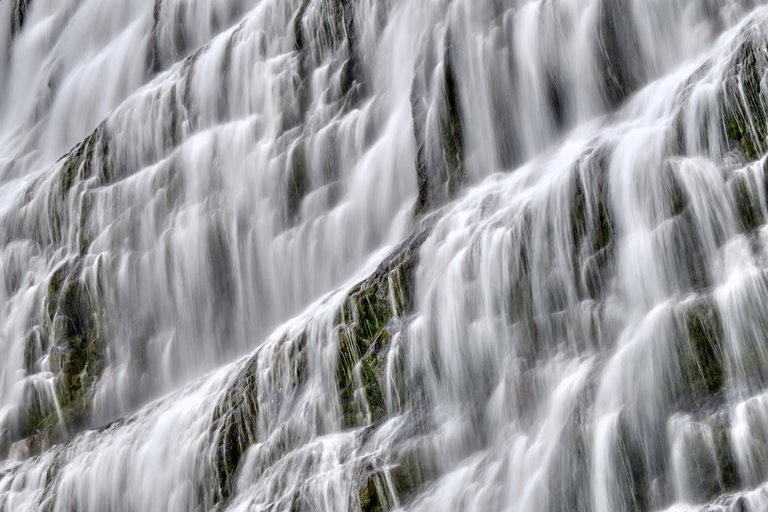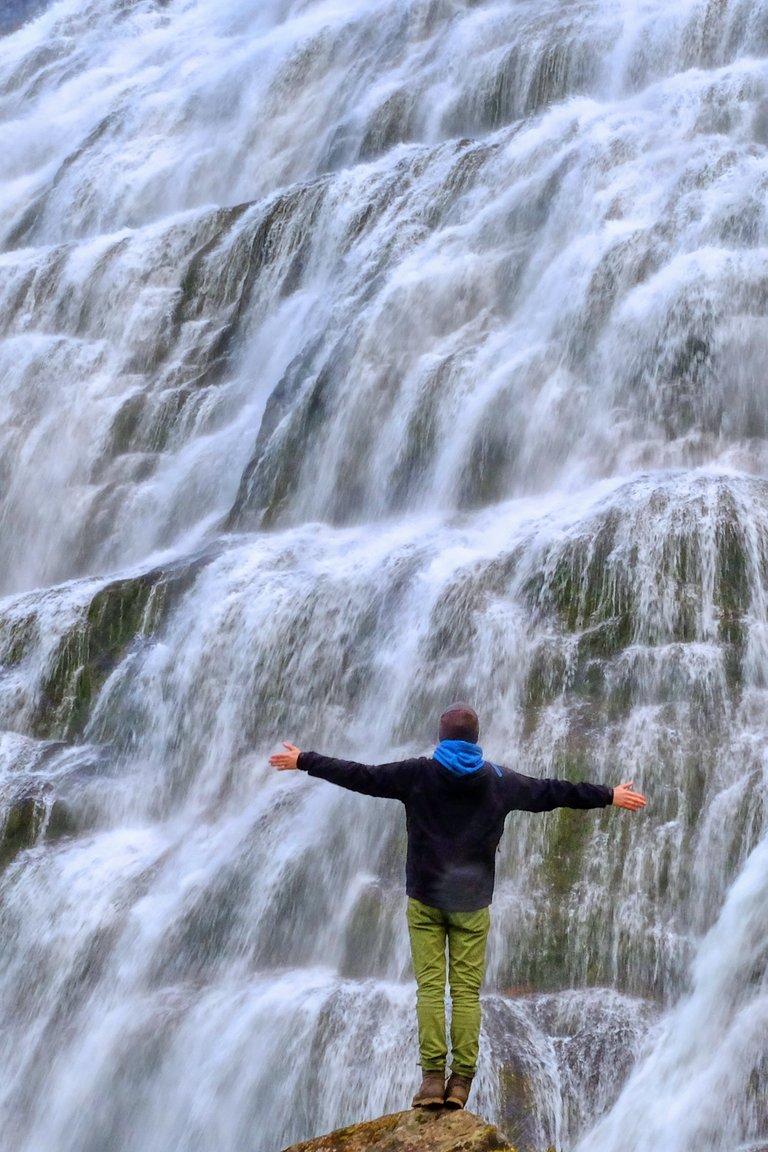 Dynjandi means simply "thundering". I didn't think that any waterfall in Iceland would make such an impression on me. We contemplated it for a longer time, approaching it higher and closer, then drifting away again to see it in all its glory. A water wall 100 meters high and 30 to 60 meters wide, thrown out of the mountain ridge directly in front of the observer - we can only try to imagine what the Vikings felt when they discovered this place.
In the late afternoon we arrived to Ísafjörður, the "capital" of Vestfirðir. It was my second time in this town - a few weeks earlier I took a boat from this town to Hornstrandir. One of the most remarkable villages, very interestingly located and laid on the arched plan which enters the sea. We stopped there for fresh fish and a cool beverage, also devoting a moment for a walk around the area. Once again a strange thought comes to my mind - if I didn't know that I'm in Iceland, I would think that this country is poor - rusty sheet metal houses, weeded gardens, lots of various old equipment outside. Who would have thought that this is one of the richest nations in Europe, duh, in the world!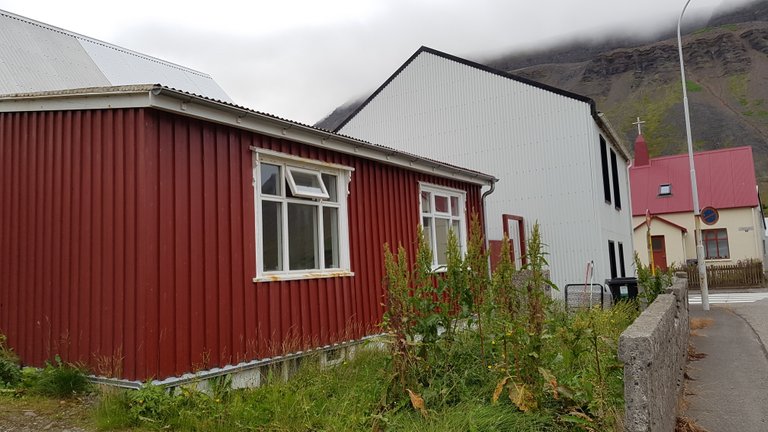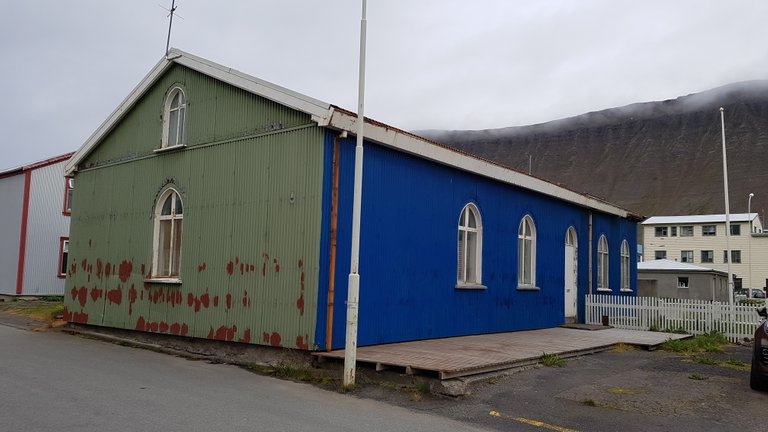 With our stomachs full to the brim, we embarked on another long ride — all in order to spend another evening soaking our asses in hot springs. After many hours of driving along the coast and a dozen or so minutes of searching for our destination, we found an entrance to the desired place of rest. Unfortunately, it turned out that the owner of the springs no longer makes them available for everyone and the road was blocked by a barrier, asking us to contact the owner, in case we wanted to enter... The Internet did not mention this circumstance. It was late and... there was no phone number. The springs were not near to any house, so we decided to simply... bypass the barrier and use the spring anyway, despite the prohibition. We set up the tents outside of the private area and after our bath was finished, we cleaned everything up, as if we had never been there.
It was so dark that I don't have any photos for you, but believe me, that evening was really pleasant - we took out a long time "maturing" in our trunk wine and pulled out some "funny cigarettes". The spring was really warm, but not burning like the previous one. We were playing music and when THIS was playing, I realized that I had not completely consciously fulfilled my teenage dream, which swept through my imagination somewhere at the age of 15, 16, when I listened passionately to Sigur Rós - to find myself in Iceland, to feel it, to feel what this music is about on myself and in myself. It struck me that I hadn't thought about my stay in Iceland yet in the context of those early dreams, which later seemed to have lost their meaning. And here I am - I discover this country truly, I relax in a hot spring, even listening to Sigur Rós with my ears under the warm surface of sulfur water... If there is something like combining the feeling of nostalgia with cliché, that's exactly what I experienced at this moment.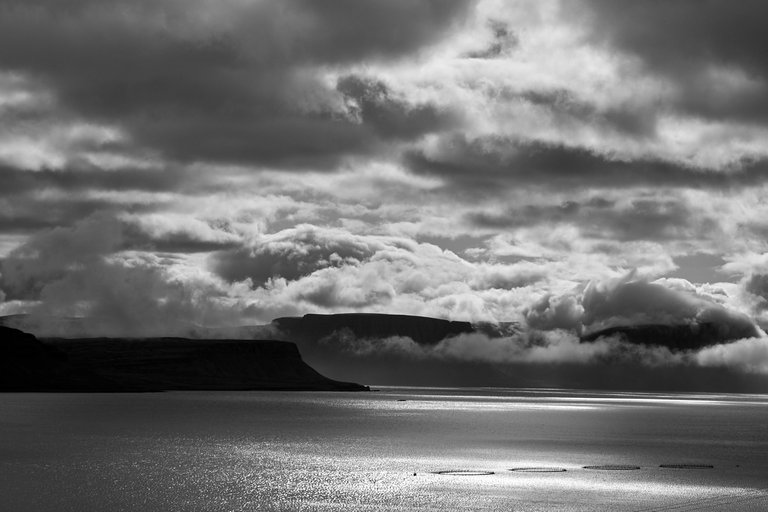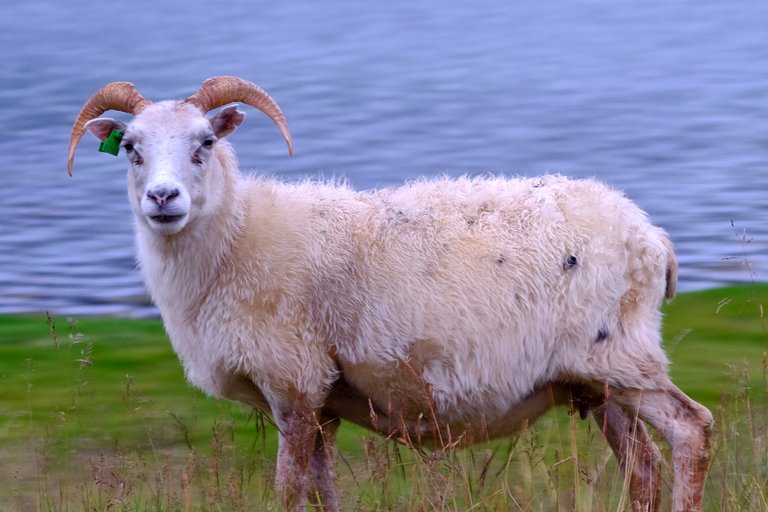 The last day brought a lot of excitement. In front of us Strandir — an area of western fjords usually overlooked by tourists, which, however, contains some pretty cool locations. The day was cloudy and gloomy. It was constantly raining. We get to a tiny village called Djúpavík. It looks like taken straight out of Scandinavian thrillers. As if each of the local inhabitants had hidden a dark secret. In fact, during the whole, more or less two-hour stay in this place we do not encounter anyone. Djúpavík seems to be a dead village. Although village is a too great word - there are literally only a few houses standing alone and one big factory.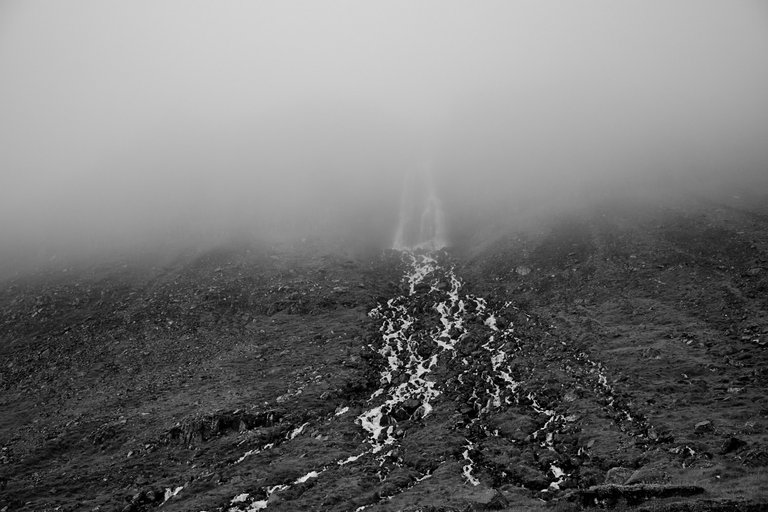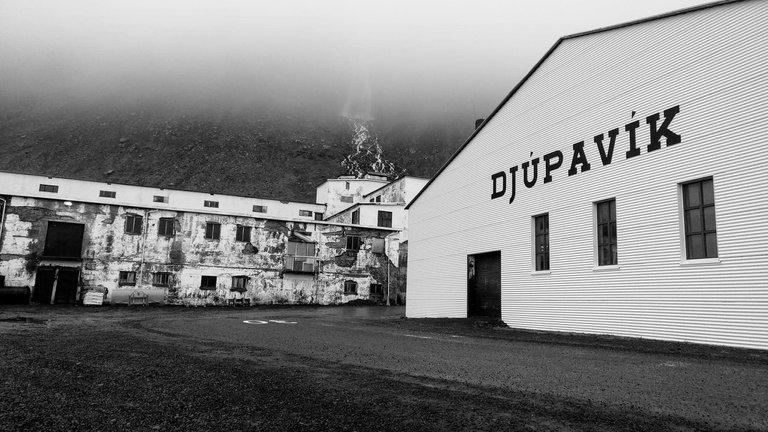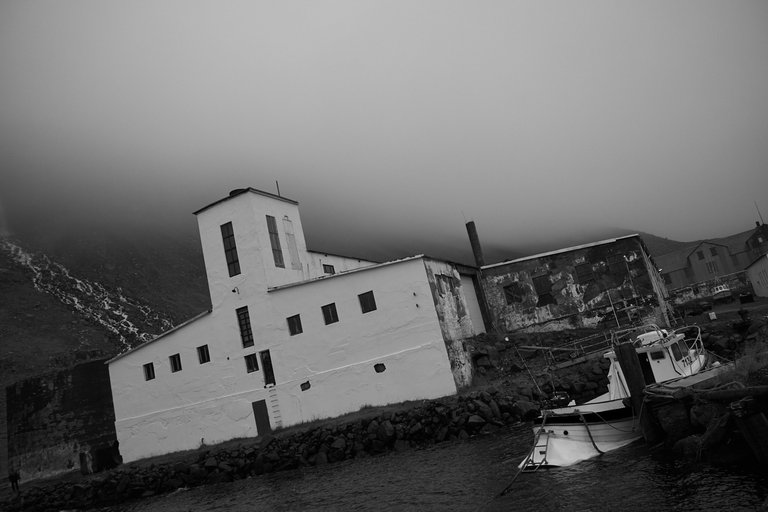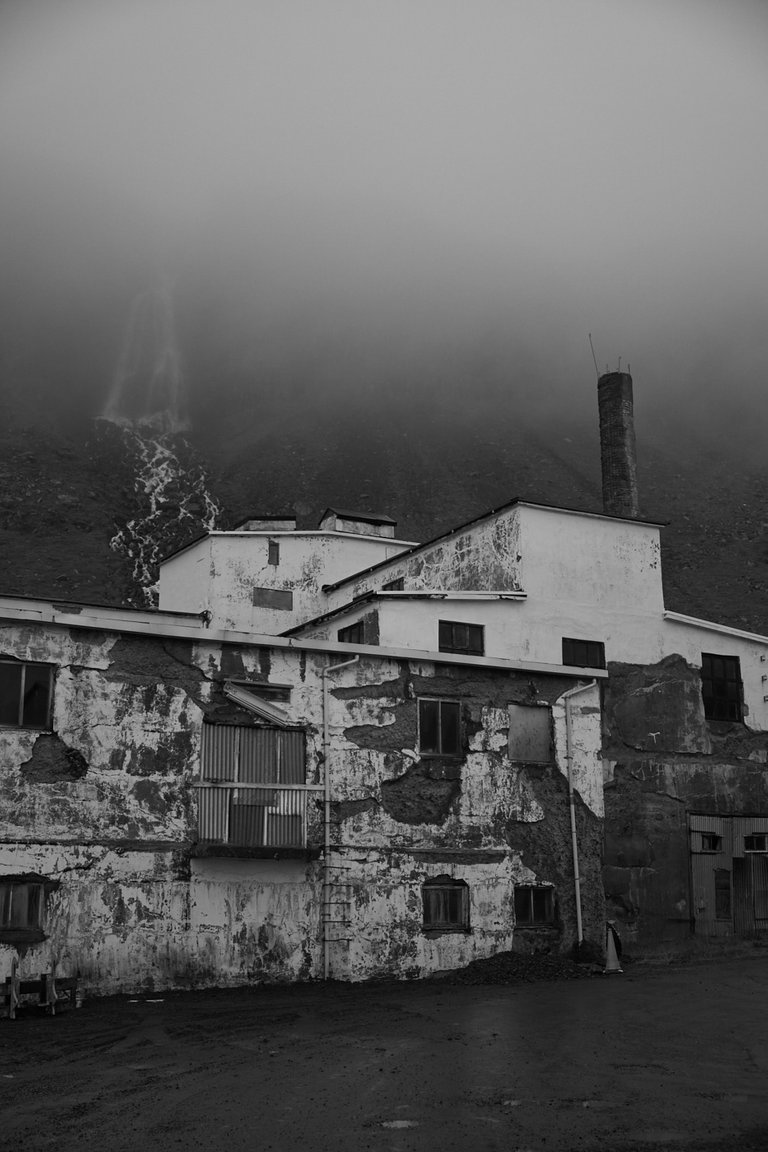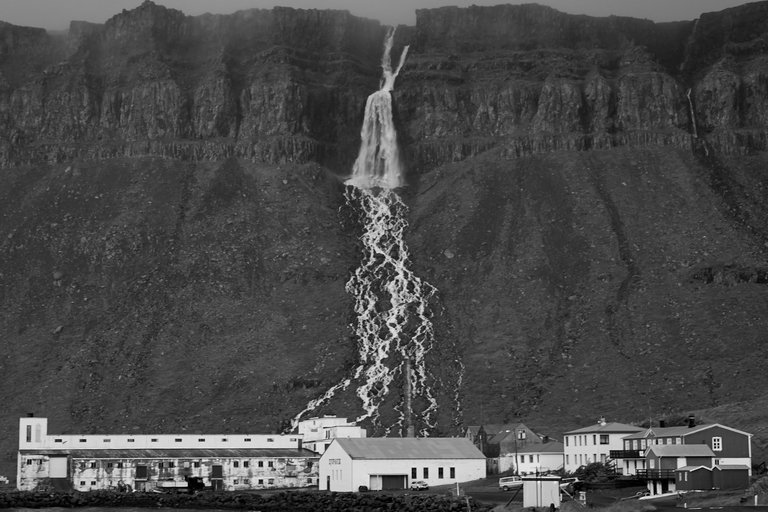 This settlement was established in 1917 around a herring salting facility, but the factory failed after two years due to the economic crisis. In 1934 a completely new concrete poured factory was built in its place and for many years tons of herring were successfully salted here. However, in 1954 the factory went bust again and then turned into a museum and later into an open art gallery - which is still the same to this day.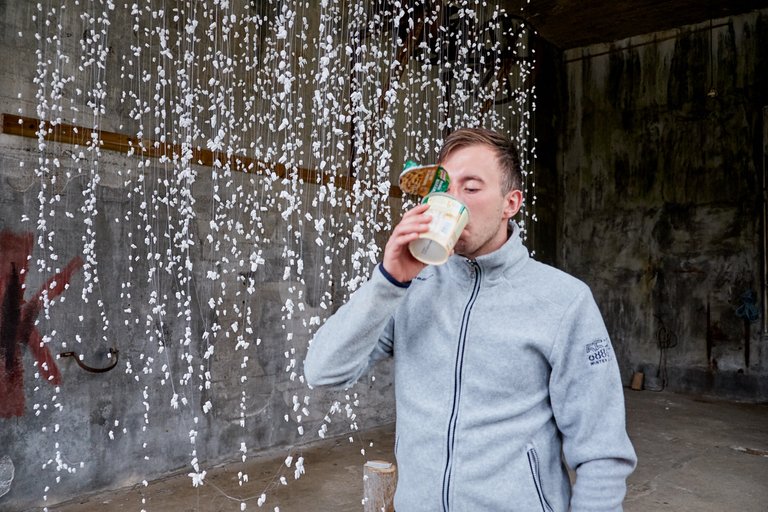 The factory can be explored almost entirely freely. We even managed to enter a huge silo. Due to the rain and lack of any other place, we ate a very late breakfast... Inside the gallery (taking care of tidiness, of course). All was left alone and was not watched over by anyone. The Icelanders' faith in people sometimes amazes me to this day, but it apparently works somehow.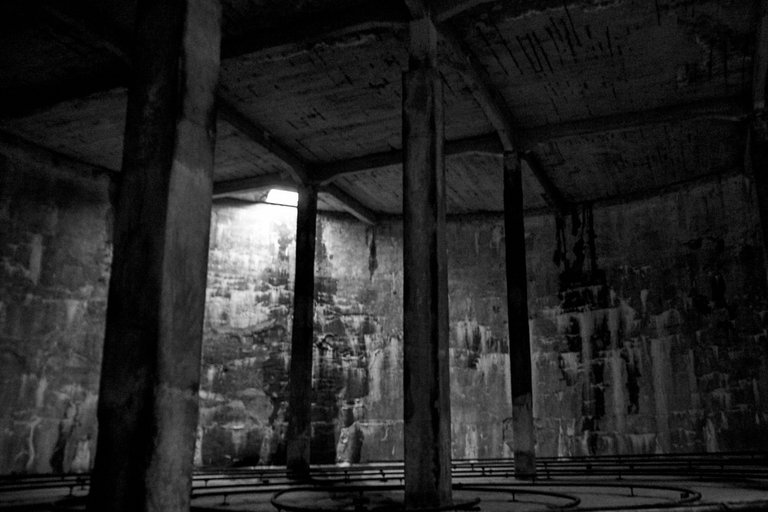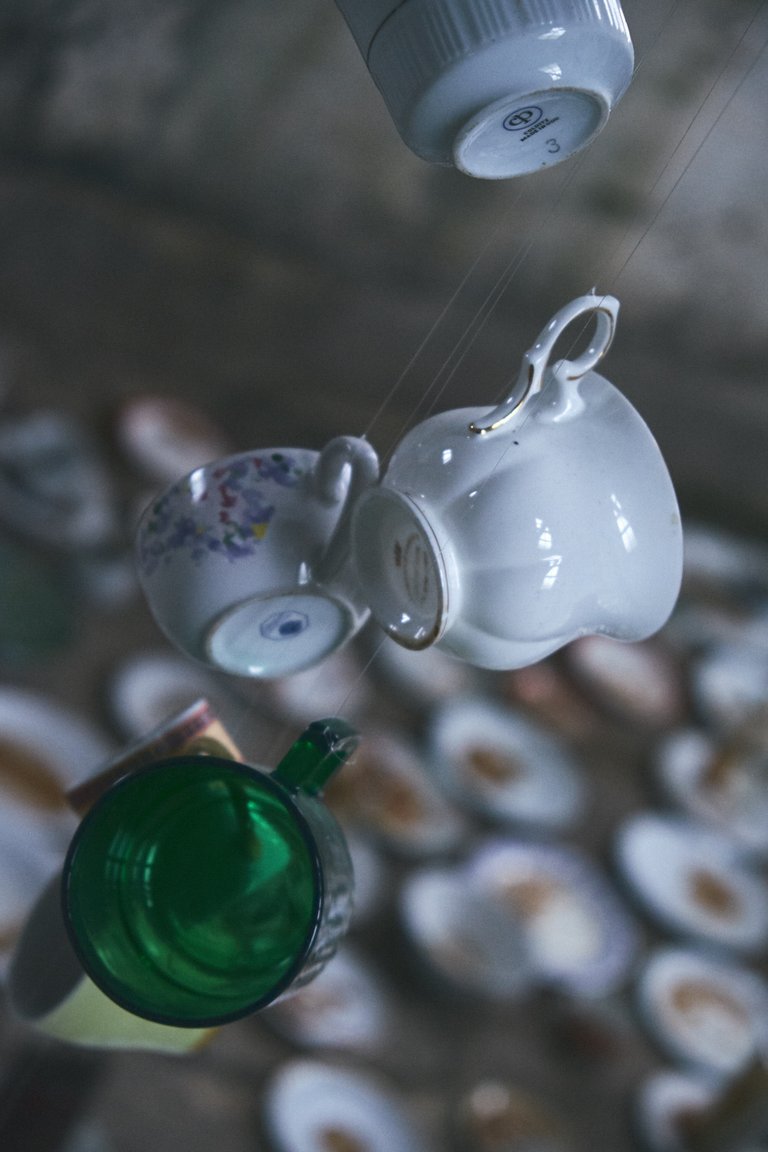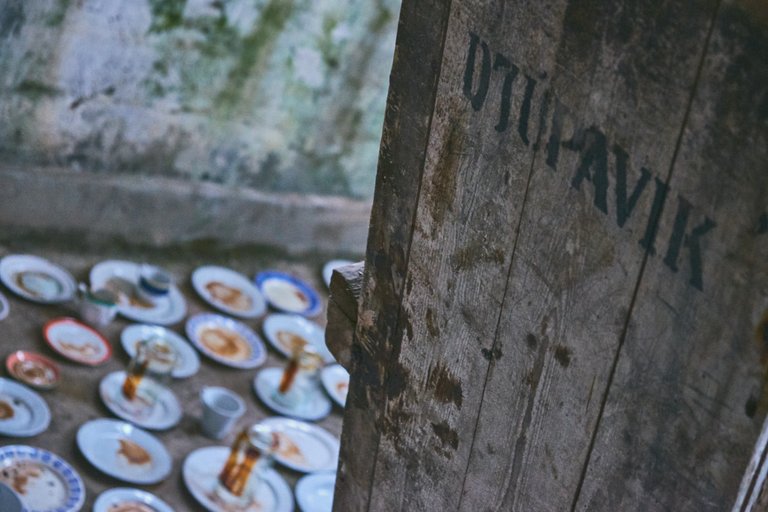 I know that you are probably tired of reading about soaking our bodies in hot springs, but one more unusual place of this type was awaiting us. It was located at the tail end of a gravel road that required laborious but careful driving. Outside of it there is nothing and nobody else, you can continue the way by foot so you can reach Hornstrandir in a week, but no one lives there. The weather that day was really nasty, but it suited the area's feeling of oblivion.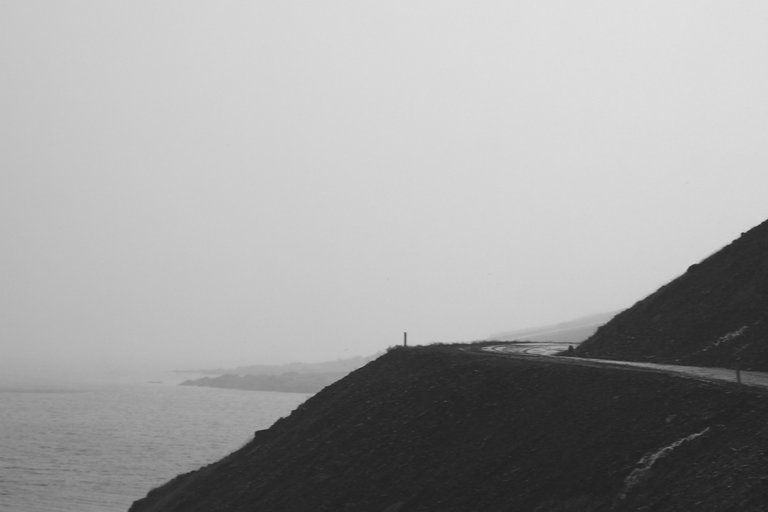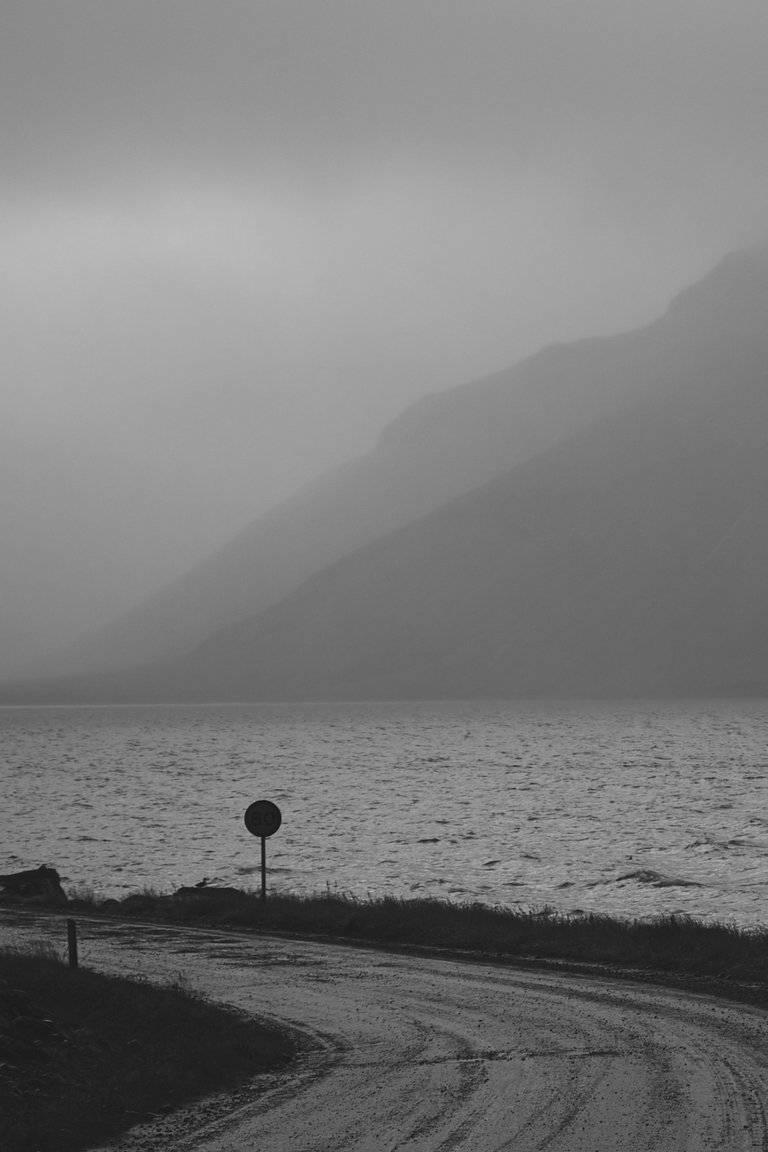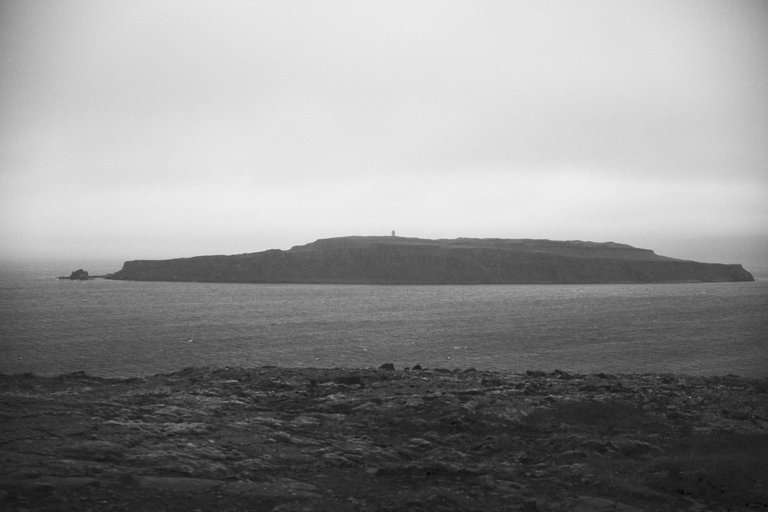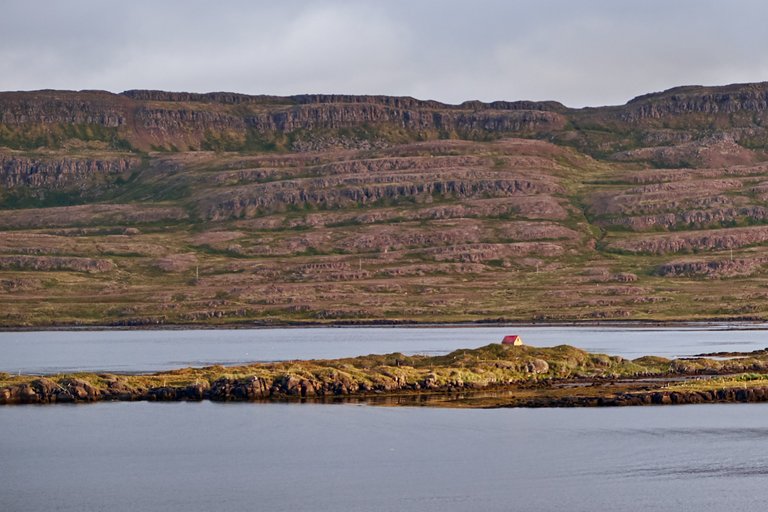 "Infinity pool" as they say - Krossnes. Thermal, hot spring water right next to the sea shore. A safe, warm haven of pleasure, no matter what the weather is around. Dressing rooms, showers, sauna - everything a tired, cold soul needs. Absolutely nothing around. Looking into the emptiness of the misty sea, at this end of the world you can forget where, who, or rather what you are. We forgot ourselves until our fingers wrinkled to the skin.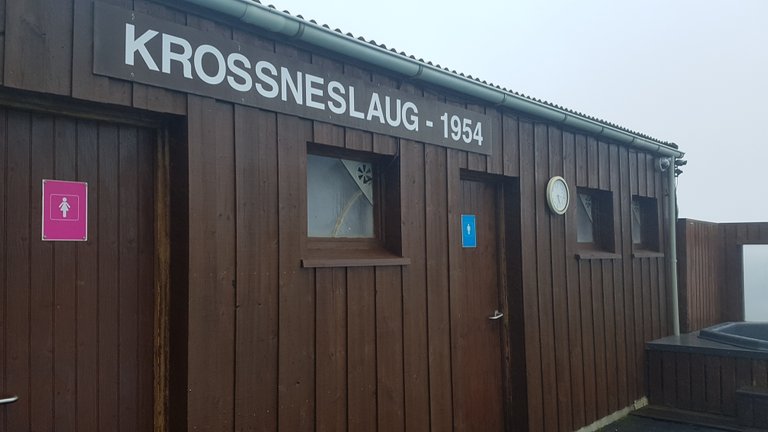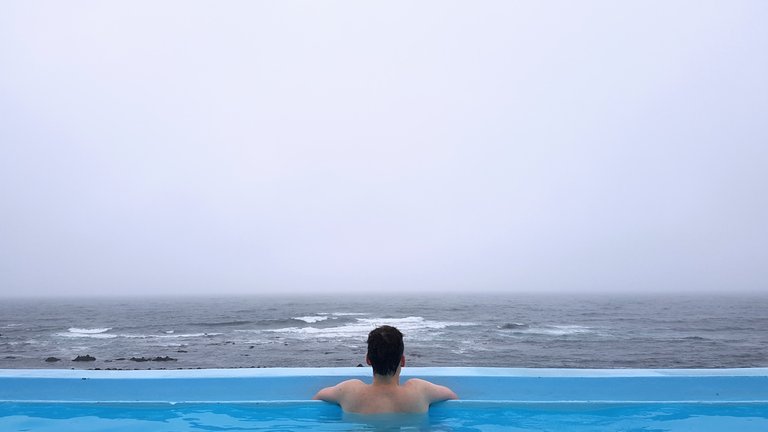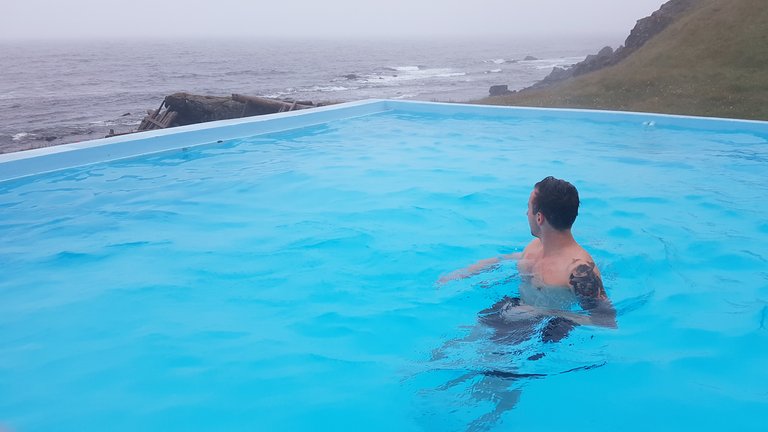 We came back along this 90 km long road and reached one more place, with another hot springs, where we spent the night on the campsite. The springs, however, were continuously occupied, so the next day Przemek and Martyna simply started heading towards Reykjavík, and I was supposed to detach myself from them on the main road and set off towards Akureyri. Earlier, however, we had to deal with... a flat tyre and an attempt to find a mechanic, a vulcaniser or someone with a tyre in this boarded up village. The whole situation ended with a careful ride with the spare wheel put on...
This was a goodbye to Vestfirðir. We experienced a lot, but many places were tempting to stop for a longer time, so as to appreciate nature, barely obliterated trails and flora and fauna in peace and quiet. Will I return there for the third time? Could be! Meanwhile, I was heading towards Akureyri, where I were going to meet @nero12, but this is a completely different story...