---
From the Community, for the Community: DApps.Buzz
---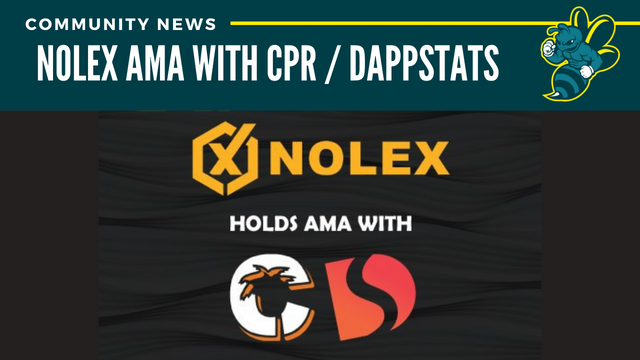 Have you heard about CPR or NoleX? If not – it is about time. On Monday this week NoleX, which is a very promising Crypto-Exchange, where you can trade more than 15 crypto tokens already – the newest one being CPR (Crypto Paradise Token), held an AMA with one of the creators of CPR/DAppstats. Let me tell you one thing - it was overly exciting, and everyone could learn tons about the people behind the project, how it works and what the advantages are if you join in. For those of you who could not attend I have the whole AMA here for you: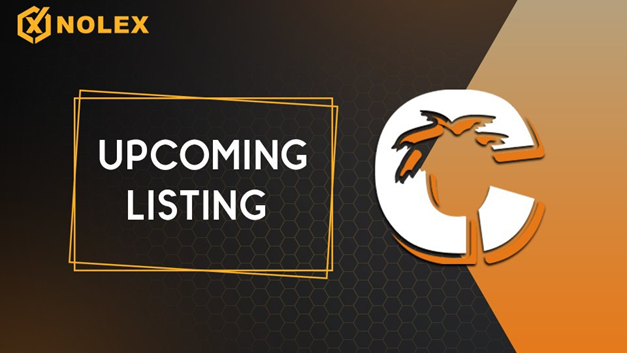 (CPR LISTED @NOLEX)
NoleX -Chevkev: Today we are going to talk about the $CPR token and the Dappstats project. Everyone grab a coffee and lets start off this party!
NoleX -Chevkev: Can you tell a bit more about yourself and why you started the project?
CPR - CryptoSID: Ya I would be happy to answer this, I joined the cryptocurrency world back in August 2017, which was a great time to join as I got to witness the best bull run this space has ever seen, sadly I was still new to it and ended up having invested in scam projects rather then good coins or projects, one of them was Bitconnect 😅...
CPR - CryptoSID:  Fast forward from Jan 2018 to Jan 2019, I probably invested or joined at least 50+ Dapps on ETH which ended up failing, closing, or out right exit scamming and then that same wave came to the Tron blockchain.
CPR - CryptoSID:  After losing so much money and realising I am not the only one, in fact a majority of people end up losing money because of scam projects, we decided to make a platform which will work in helping people join the Dapp space and feel safe rather then blindly hoping to get lucky.
CPR - CryptoSID:  This is where things got a little tricky as we wanted to make a platform where it does not rely on people to lose just so others can make money rather we wanted to make a platform where everyone can make money while becoming a long term project which people can trust and rely on.
This is when the idea of DappStats was created 😁
NoleX -Chevkev: Well explained! We are looking forward to hearing more about dappstats. What have you been working on in the past few months?
CPR - CryptoSID:  This is an interesting one. If you ask some people they might think nothing is being worked on 😅, main reason for this is because majority of the work which goes on any platform is usually in the backend and the community gets to see it once it goes live 😁.
But the truth is we have been working on a lot of improvements for DappStats since we launched it in Sept while also working on some strategic partnerships. We are a community driven project, so we are always open to suggestions and improvements. At the end of the day our goal is bring the best possible results for our community and allow new users joining the Dapp space to have a safe place where they can see details about Dapps or ask questions and help in our community group.
For the latest updates which we covered during the first quarter of 2020, you can check our article on Dapps.Buzz which has recently joined the Crypto Paradise ecosystem as well 😊 to become stronger together, High-five  @Bomio 😉
NoleX -Chevkev: Do you have a preview of the platform that you have been working on?
CPR - CryptoSID:   Yes definitely, DappStats.com launched in Sept 2019 and has been online since then for everyone to utilize. 😁 Other then that we announced back in Feb the name of our next project under Crypto Paradise eco system 😁, The projects name will be BloxVault. Sadly with this global crisis because of the pandemic things drastically slowed down for this project. So while things were slow we did not want to waste any time and instead shifted our focus to adding major features to DappStats and I am happy to announce that we will soon have IOST and EOS blockchain Dapps added to our site for tracking 😉.
NoleX -Chevkev: What is the use-case of your token and what makes it unique compared to other tokens?
CPR - CryptoSID:  This is a good one, has a fun story behind it: So now we had the idea of a great platform but where do we start or how do we fund it, we had 100s of questions like this running in our heads and during our discussions.
At this point we were faced with another issue, we couldn't share the idea with the public about DappStats yet as one of our competition could implement it before we launched and we would fail even before we started 😅. So to over come this obstacle we launched CPR tokens, its main purpose for us was to provide us with enough funding to get DappStats launched and running. This covered our interest, but what about the community?
What benefit do they get from buying CPR tokens?, these were our thoughts in the beginning stages and that is when we decided since these investors are supporting us at such an early stage without even being aware of what we will launch, we decided to make Crypto Paradise into an ecosystem of platforms where CPR holders get the most benefits for supporting us.
We offered CPR tokens for 0.25 trx each and each person who held CPR tokens got an airdrop of 1:1 DappStats tokens when we launched DappStats ( Price for DappStats token is 1 trx each ) and if this wasn't enough we wanted to sweeten the pot further for our supporters so we decided to also give 1:1 airdrop of all future projects we will make in the future under Crypto Paradise.
NoleX -Chevkev: You told me about this feature, so all $CPR holders will automatically participate in future projects.
CPR - CryptoSID:  If they are holding CPR tokens when the snapshot is taken then yes they will get the airdrop.
NOLE VIP - Swenqie: Holding or freezing?
CPR - CryptoSID:  Just holding in your wallet.
NoleX -Chevkev: What can we expect in 2020 from your project?
CPR - CryptoSID:  We have lots planned and have been working on things to get as much achieved as possible in the shortest period .
As mentioned above, BloxVault ( 2nd project of Crypto Paradise ) is something which is being worked on and we hope to be able to share the whitepaper for it very soon with everyone. On DappStats side as mentioned some major things which have already been achieved can be seen in the article listed above while more work continues. Some things which we can expect during 2020 are:
IOST blockchain
EOS Blockchain
Profile system on DappStats
A new look to the dividend system page
These are just a few of the things, we have other things planned which we would rather surprise everyone with instead of spoiling it by mentioning it now 😉
NOLE VIP – Classe M.: You have a vip club too? @CryptooSID
CPR - CryptoSID:  Yes we have DappStats VIP group aswell
NOLE VIP - Michael: @CryptooSID what is the requirement /buy-in to get access to the VIP room?
CPR - CryptoSID:   VIP group has a one time fee of 2500 trx ...
NOLE VIP - Michael: Oke nice.. and do we also receive an amount tokens ?
CPR - CryptoSID:   @Cryptomichael82 here is an example of tokens given out during March and all the main benefits of VIP group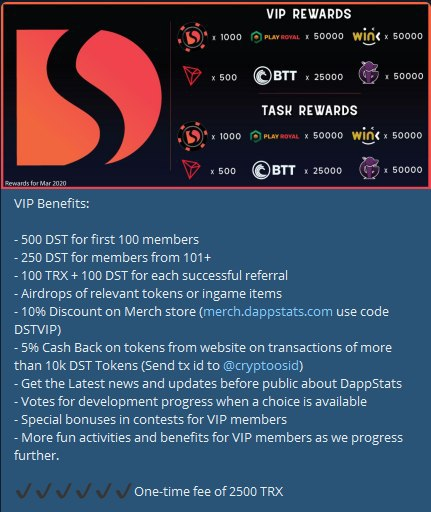 NOLE VIP - Jeroen: How many VIP members are there now?
CPR - CryptoSID:   Its a close knit group right now with 40 people.
NOLE VIP - Swenqui: What's the benefit of VIP?
NOLE VIP - 8uHole: And the advantages to join VIP?
DApps.Buzz - Patrick: @CryptooSID What Was Your Favorite Toy Growing Up?
CPR - CryptoSID:  Umm, tricky one. I guess I have to say I was a big fan of TMNT, atleast thats the first toy coming to mind from my childhood 😅
DApps.Buzz - Patrick: @CryptooSID What Personality Trait Has Gotten You In The Most Trouble?
CPR - CryptoSID:  Curiosity and pushing limits on everything 😂
DApps.Buzz - Patrick: @CryptooSID What Is The Best Piece Of Advice You've Received?
CPR - CryptoSID:  NEVER GIVE UP!!   ..There is always light at the end of the tunnel, all you have to do it reach it!
DApps.Buzz - Patrick: @CryptooSID last question from me 😃 What's The One Food You Could Never Bring Yourself To Eat?
CPR - CryptoSID:  HAHAHA, Barbequed fish 😅
NOLE VIP - Andreas: @CryptooSID I am already in DST VIP but heard the 1st time of CPR. Is there also a CPR VIP room? The DST airdrop for CPR holders is over or will there be another drop?
CPR - CryptoSID:  No, We only have one VIP room the DappStats VIP room. Yes the DST airdrop for CPR holders happened in Sept 2019 and no more DST airdrops will happen.
NOLE VIP - Michael: Uhh.. sorry, I maybe don't understand well excuse me for that 😅But the snapshot is then over?
CPR - CryptoSID:  DappStats token was airdropped already in Sept 2019 to the CPR token holders who were holding the tokens at that time... Now if you buy CPR tokens then you will benefit from the next projects airdrop
DST - Slothly: @CryptooSID where can I get DST? 🤔
CPR - CryptoSID:  You can buy DappStats tokens directly from DappStats.com by click on the token sale button on the top.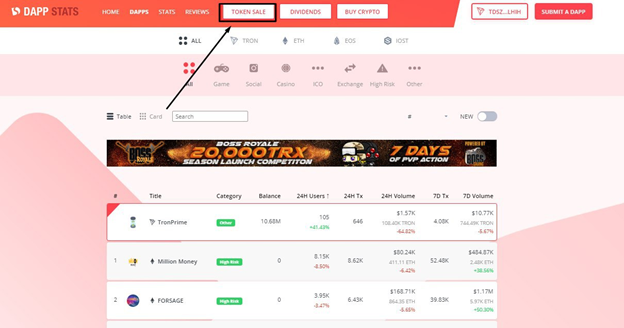 NoleX -Chevkev: Thank you for the info DST! Is there anything else you want to share to the VIP room?
CPR - CryptoSID:  Ill take a little time on this one to explain DappStats , how it works and why we are unique compared to our competitors. So at the end of the day DappStats and its competitors all provide the same thing which is Analytics on Dapps from different blockchain which includes total balance, users, transactions, volume and other things.
What makes us unique is the community first attitude we kept since the inception of the idea of DappStats. We are the only Dapp Analytic site which has a revenue share model in place for DappStats token holders to benefit from but we did not want to stop there, we wanted to make it more interesting for everyone to become a part of our community and that is the reason we have kept a revenue share breakdown of 55% is shared with the token holders, 10% is used for investments to increase the dividend pool further and only 35% is kept by the platform for further development, maintenance and other things
NoleX -Chevkev: Well that explained the idea of the CPR token and dappstats! Thank you for taking your time to explain everything. Now its time for the VIP, does anyone has any questions for @CryptooSID 🚀🚀
Thank you for participating in this AMA VIP!
CPR - CryptoSID:  Thanks for the warm welcome and giving us the opportunity to introduce Crypto Paradise and DappStats to all of you here.. It was a pleasure being part of this 😁.... If anyone has any more questions later or needs help with Dapps, please don't hesitate to ask in our community groups
CPR - CryptoSID:   OH almost forgot. DappStats token airdrop 😅
CPR - CryptoSID:   whats the function to airdrop again? @slothlyd ? 😅
CPR - CryptoSID:  @chevkev can you please snow this for the community 😊
*tipping Chevkev from Nole so he can airdrop*
All in all it was a great AMA and an amazing crowd with great and funny questions! Don't' forget now you can trade CPR on https://nolex.org/main/CPRTRX.html Hopefully you know more about CPR , DST and Nole now if not here are some more useful links for you:
https://dappstats.com/ - Official DappStats Website
https://medium.com/@chevkevtron – Everything you need to know about NOLE.
https://medium.com/@chevkevtron/nole-vip-club-vision-2020-and-beyond-678541eeb678 - NOLE VIP Group Info
---
From the Community, for the Community: DApps.Buzz
---